This post may contain affiliate links. It doesn't cost you anything extra and it keeps our lights on, our families fed, and our dogs spoiled. For all the juicy fine print, see our affiliate disclosure
Take a look at the ingredient list on your doggie treats or kibble.
You'll often see pea protein, pea fiber, and pea starch among the top ingredients.
But why are peas so high up in dog food that claims to be grain-free? And is it a good thing?
Keep reading to find out what pea protein is, why it plays a role in dog nutrition, and how much is too much?
What is Pea Protein in Dog Food?
Pea protein, pea flour, pea starch, and pea fiber are all substances derived from whole peas.
Recently, there has been a shift in the behavior patterns of customers.
More and more pet owners have become aware of what exactly crude protein on dog food labels means.
People are no longer willing to feed their beloved pets low-quality meat.
Hence, companies can't get away with using carcasses, animal by-products, and other filler material.
Similarly, buyers understand that non-animal-based proteins are not good for their dogs. Many have shifted to grain-free pet food options.
To combat this, pet food companies have developed new tactics.
These involve shifting to new, cheap protein sources and alternative fillers, unrecognizable to the untrained consumer eye.
Pea protein is one such item. It boosts the protein content of the food.
Now manufacturers can get away with using lower quantities of meat-based protein.
Related: Carrageenan in Dog Food: Is it Safe for Your Dog?
Is Your Dog Driving You Nuts During the Day?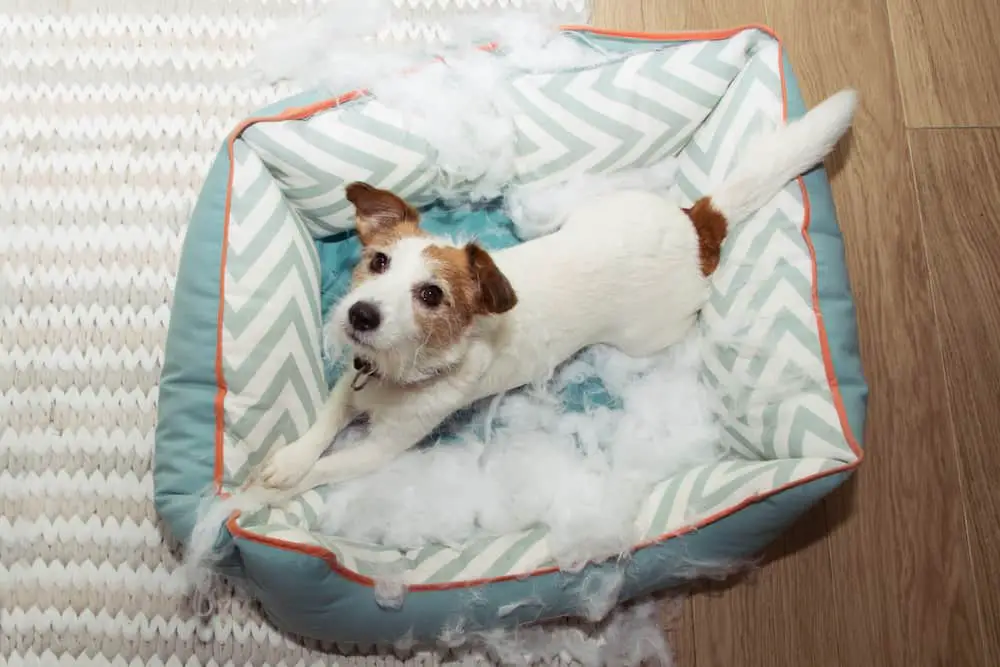 Get Our List of 11 Awesome Indoor Activities to Keep Your Dog Busy and Out of Trouble!
Is Pea Protein Good for Dogs?
Your dog needs animal-based proteins to fulfill its nutritional requirements.
Pea protein is not good for your dog's health.
In fact, it may actually be keeping your dog from getting the proper nutrients because you took the crude protein percentage at face value and didn't look deeper into what it meant.
As a pet parent, you may think your dog is getting the right amount of protein. The misleading marketing may prevent you from fulfilling your dog's meat protein needs.
Is Pea Protein Bad for Dogs?
Apart from being a vegetable protein, pea protein is also a starch-based filler. It has high quantities of insoluble fiber.
All of this is bad for your dog's digestive system. In fact, recent research has shown a link between pea protein and canine heart disease[1].
It isn't just keeping your dog from getting the nutrients it needs; it is actively harming your dog.
Additionally, dog food companies use a tactic called ingredient splitting[2]. That means they just separate the fillers.
So they'll list corn protein, corn starch, cornflour, and corn fiber separately on the label.
That way, even if the meat quantity is actually lower than the combined corn quantity, it'll appear as the first ingredient on the label.
This is incredibly misleading and, if you don't catch it in time, it can compromise your dog's diet.
Sources of Pea Protein in Dog Food
When we talk about pea protein, we're not referring to sweet green peas.
Pea protein comes from field peas or whole peas. All derivatives like pea protein, pea starch, pea fiber, and pea flour come from green-field peas.
Related: What is Crude Ash? Why is it in Dog Food?
How Much Pea Protein Do Dogs Need?
Your dog needs a minimum of 18 percent dry matter protein[3] to meet its daily nutritional needs. However, the ideal requirement is around 22 percent.
Of this, the majority should be animal-based protein obtained from:
Some plant-based protein may come from:
But this should be in the minority.
If your dog is not eating digestible forms[4] of high-quality protein, it may result in symptoms like digestive issues, skin rashes, excessively waxy ears, molting, or malnourishment.
That is why you should choose a dog food brand that highlights a single meat protein source and is suitably nutritious.
Dog Foods With Pea Protein
Often poor quality, cheap dog foods have a high amount of pea protein. These are some of the brands you need to look out for and avoid.
1. Blue Buffalo Wilderness Chicken Recipe lists peas and pea protein as the third and fourth ingredients. These are followed up by other derivatives of whole peas like pea starch and pea fiber.
2. Purina Dog Chow – Purina has long been a popular yet problematic pet food brand. In addition to artificial preservatives, flavorings, colors, and multiple filler ingredients, it also has corn derivatives.
Despite the high price tags, their other protein sources are simply bone meal and low-quality parts that can cause constipation or other health problems in dogs.
3. Pedigree Dog Food is a common dog food brand that lines department stores and includes ingredients like low-quality meat by-products, wheat gluten, artificial flavorings, carb-heavy fillers, and corn byproducts.
Not only does it not meet your dog's nutritional requirements, but it is also known for causing liver problems.
Other brands known to use pea byproducts in their dog foods are Taste of the Wild, Fromm, Pure Balance, Earthborn Holistic, Purina Beyond, Blue Buffalo, Nutrish, Crave, Rachel Ray, and Kirkland.
Dog Foods Without Pea Protein
High-quality dog foods will not resort to cheap tactics to boost their protein values. These are the brands you need to explore.
1. Nutro Ultra Adult Dry is an amazing corn-free kibble option. The first five ingredients are chicken, chicken meal, whole brown rice, brewers rice, and rice bran.
There are no corn, wheat, soy, and pea derivatives. Overall, there's 25 percent crude protein with high-quality animal-based sources.
2. Rachael Ray Nutrish Limited Ingredient is an amazing budget-friendly formula without any corn extracts.
The 20 percent crude protein comes from lamb meal, brown rice, ground rice, dried plain beet pulp, and chicken fat. This, too, comes without corn, wheat, soy, gluten, or peas.
3. Nature's Logic Canine Venison Meal is meat-based with premium ingredients.
It has a 34 percent crude protein level obtained from venison meal, pork meal, lamb meal, millet, and chicken fat.
Not only is this food high in protein, but it is also gluten-free, corn-free, wheat-free, soy-free, and pea-free.
Other brands that do not use pea byproducts in their dog foods are Acana, The Farmer's Dog, Health Extension, Orijen, Nature's Logic, Go, and Ziwi Peak.
All these companies still use plant-based ingredients. But you'll see whole legumes like chickpeas or peas included in safe quantities.
Conclusion
At the end of the day, it's important to feed your dogs high-quality protein if you want them to be healthy and fit.
Knowing what to look for is a huge part of that, and deciphering the ingredient list can be complex for beginners.
But if you see pea protein or any other pea derivatives on the ingredient list, you know it's not a good brand.
Resources