This post may contain affiliate links. It doesn't cost you anything extra and it keeps our lights on, our families fed, and our dogs spoiled. For all the juicy fine print, see our affiliate disclosure
With a million other things to do we've all gone the easy route (on occasion) when it comes to feeding our pets.
A cheap large bag of kibble or other food often does the trick but how does it really affect your pet?
The ingredients in pet food and dog food in particular can vary massively. Some commonly used ingredients are controversial in nature and might be causing your dog unseen problems to their digestion and overall well-being.
Some of the ingredients in cheap dog food aren't even safe for dogs to eat.
The good news is that you only really need one high quality product when it comes to feeding your dog with the odd treat thrown in.
Today we'll be going over Pure Balance dog food.
This is a well-known company who have been in the pet food industry for some time with consistently high scoring reviews.
This article will go through a full break down of the ingredients in the Pure Balance Grain Free dry dog food.
We'll cover what is in there and which ingredients might be considered controversial by some.
We'll also go over the health benefits that certain types of ingredients might have and how you can best be aware of these for your pet.
We've gone with the pea and salmon flavors for this one.
Let's get into it.
There is a lot to cover in terms of ingredients and we will be spending a good amount of time going through each item and the current understanding of its quality and impact on your dog's health.
Who Makes Pure Balance Dog Food?
The short answer is Wal-Mart. The longer answer is we're not sure. Wal-Mart has not stated who is actually producing the dog food, just that it will be the mega-mart's store brand.
Related: Tips for Storing Dog Food Safely
The Recipe
Both of these products are in the Grain Free Pure Balance dog food line are dry dog foods. There is also a non-grain free line of Pure Balance food available
Unfortunately we don't have the full information on their nutritional values available from the comp any and as such we will be unable to offer you specific advice on what stage in life is appropriate for this product.
This also varies depending on the species and as such it will be down to your own understanding of your dog's needs and point in life to determine if this product is suitable after reading the remainder of the Pure Balance dog food review.
Related: Do Dogs Need Grain Free Dog Food? Is it Safe?
Pure Balance Dog Food Ingredients
· Salmon
· Salmon meal
· Dried ground peas
· Pea protein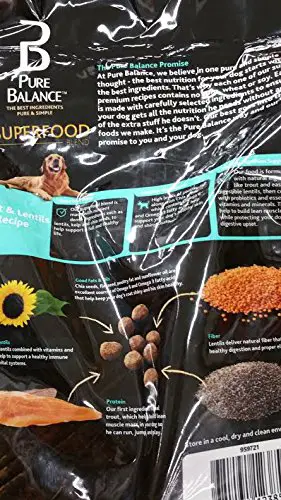 · Tapioca
· Fish meal
· Dried plain beet pulp
· Poultry fat preserved with tocopherols
· Dried carrots
· Sunflower oil
· Potato
· Calcium carbonate
· Salt
· Flaxseed
· Potassium chloride
· Zinc proteinate
· Vitamin E
· Iron proteinate
· Choline chloride
· L-ascorbyl-2-polysphosphate
· Manganese proteinate
· Copper proteinate (learn about copper sulfate)
· Niacin
· D-calcium pantothenate
· L-camitine
· Biotin
· Sodium selenite
· Vitamin A supplement
· Riboflavin supplement
· Thiamine mono nitrate
· Vitamin B12 supplement
· Calcium iodate
· Pyridoxine hydrochloride (what is pyridoxine hydrochloride?)
· Vitamin D3 supplement
· Folic acid
That enough for you?!
There's lots to go over here and it's good news, for the most part.
Is Your Dog Driving You Nuts During the Day?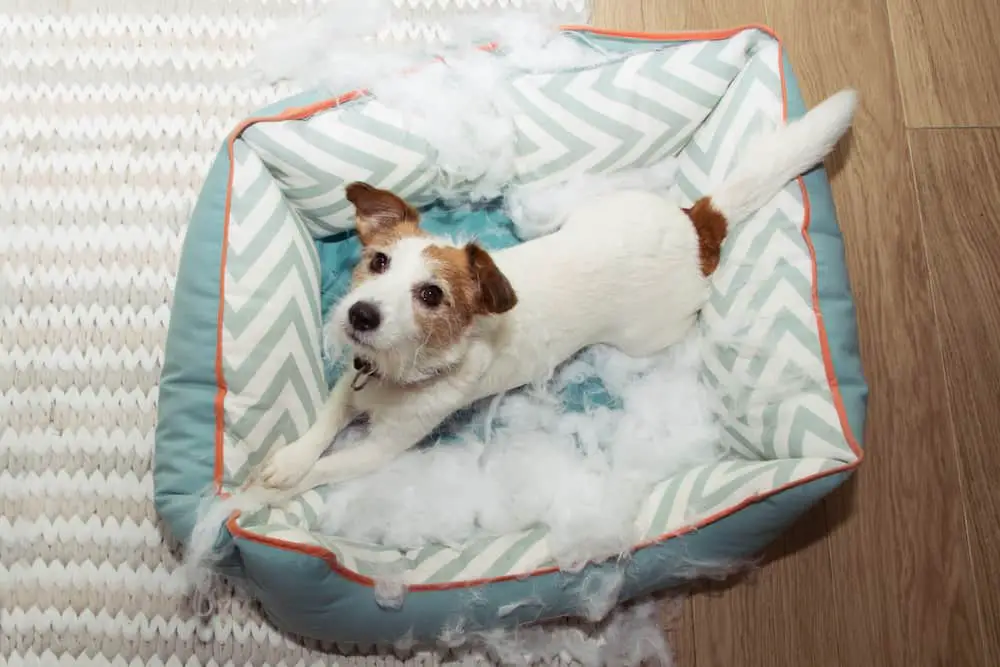 Get Our List of 11 Awesome Indoor Activities to Keep Your Dog Busy and Out of Trouble!
The quality level of this product is overall very high and before getting further into the nitty gritty we're happy to state it's a great quality product that will help keep your dog healthy.
There's a good level of fiber in this product line with the stated amount in an average package to be close to 5.5%.
You're also looking at a fat level of 15% and around 24% protein.
This is done through a guaranteed analysis so you can be comfortable of the levels being accurate. Pure Balance dog food does well here.
Salmon
As it says on the tin the main ingredient in the dog food is salmon.
This is a fantastically healthy fish whatever grade it comes in and contains a particularly high amount of omega 3 fatty acids.
The downside to salmon is the water content, which is around 80%.
This means that while there might be a significant amount of salmon in the product its total amount shrinks down massively once processed.
Salmon meal

Salmon Meal is the second ingredient.
It's officially noted as a concentrate of meat which is great news as salmon meal will have around three times the protein of straight salmon meat.
This helps contribute to a high and very healthy level of protein in the overall food as is indicated by the 24% total.
The usual process for obtaining fish meal includes taking the ground tissue from a fish that is not yet decomposed in addition to fish cuttings.
These are gleaned off the back of commercial level fish harvesting operations which helps provide the product while keeping cost low.
Dried ground peas
Dried peas are a great way to add carbs to a pet food and this product is no different from many quality items out there in its addition of this source.
It's worth noting that there is a high protein content per gram for ground peas and that this may be worth considering when compared to the amount of meat content which is the other main protein source.
We'll also point out that they're a very dense source of fiber.
Tapioca
This is a carb that is more loaded with starch than others such as the ground peas and is drawn from a plant called the cassava by extracting the tapioca from its roots.
It's a good source of fiber and has the added benefit of being gluten free. You will often see this in foods that we eat.
Pea protein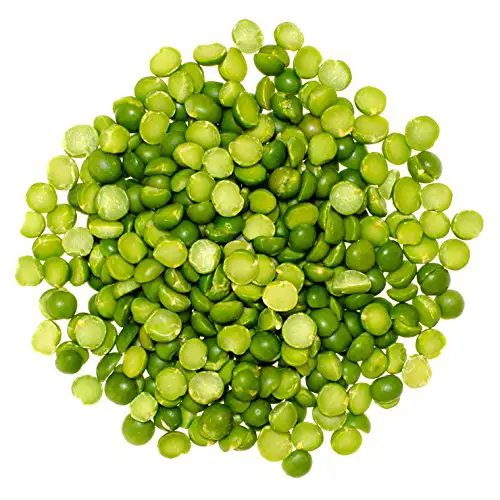 This is included in the recipe and is sourced from the remaining produce once the more starch loaded part of the vegetable is removed during processing.
It's very high in protein at nearly eighty percent but due to the amount actually included in the recipe it isn't a primary protein source in the product.
It is however worth noting when considering any cutting of costs that several sources of protein from cheaper sources such as these can make for a high protein count at the expense of including more of the expensive main meat source.
Fish meal
This is a meat concentrate and further aids the high protein count of the food.
The source of this in this food is sadly not known and as such it's hard to report on the specific property or species this is obtained from.
Beet pulp
This ingredient is somewhat questioned by some researchers and product developers.
Beet pulp is created as a byproduct of sugar beets when they are processed on an industrial scale.
It is a high fiber product but is criticized if used in certain food products such as this. This is due to it being a very low cost product that is used as a filler.
The flip side of this argument is that research has indicated that beet pulp is very beneficial to both blood sugar levels and intestinal health in animals.
It's our own opinion that while it's a smart choice to add in this pulp due to it being a low cost the science shows it has nothing but positive effects on the health of your dog.
We view that as a win win situation that can help lower the final cost of the product more than anything, giving a benefit to you when you purchase.
Poultry fat
Moving on in the list we come to this animal fat source. This is a by-product of when any poultry source is rendered.
Rendering is similar to when a soup is made in that the full product is boiled.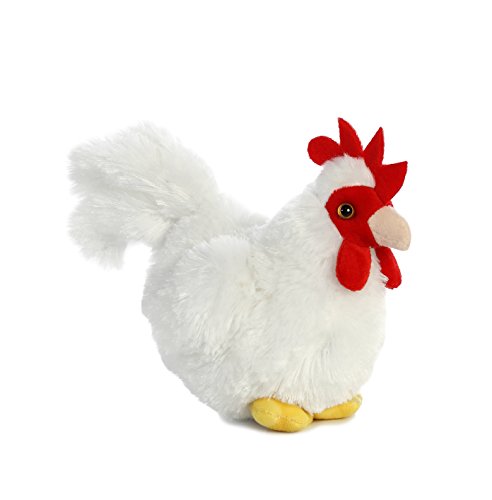 This causes the fat content to rise to the top of the container where it is skimmed off and stored separately.
There are some great health benefits to poultry fat when it comes to dog food – it is very high in both omega 6 fatty acids and linoleic acid.
The downside is that it can be hard to confirm the quality of poultry fat when it's added to products such as these.
The benefit your dog will get from it varies depending on the quality of the original meat and the rendering process.
Dried carrots
While carrots are another filler item they do have some health benefits that your dog will enjoy.
This is namely the amount of beta-carotene that's included in all carrots as well as minerals and another source of fiber to aid in digestion.
Sunflower oil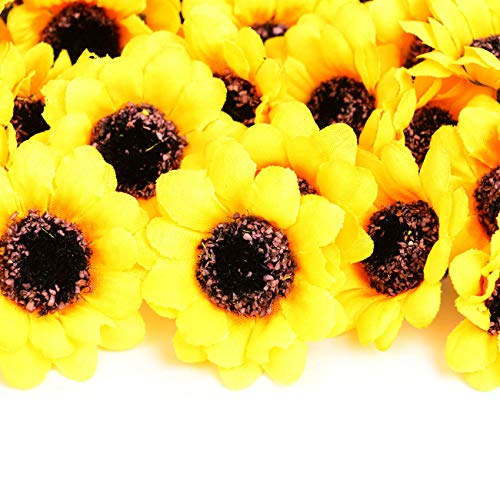 When it comes to actual nutrition this source is very similar to safflower oil which is often used in animal foods.
Both of these are great sources of fatty acids. It is however worth noting that sunflower oil doesn't contain any omega six.
This means it's generally considered a little less nutritious than an oil like flaxseed or canola which are more expensive.
There are also a few different variations of sunflower oil. It can also be a helpful carrier oil when using essential oils on your dog.
Some of these are of a higher quality and cost than the rest and it's another unfortunate case here of not being able to confirm the specific type so as to comment on its quality and what it can do for your dog.
Flaxseed oil
As we mentioned above this one's a great source of fatty acid. Omega 3 is high in flaxseed oil.
It also has the benefit of being very high in fiber so long as the grinding of the seeds is done properly during the processing stage.
We will also again mention the high protein value in this ingredient.
It's a further contribution to the non meat protein levels which is a cheaper method of upping that nutritional value.
Chelated minerals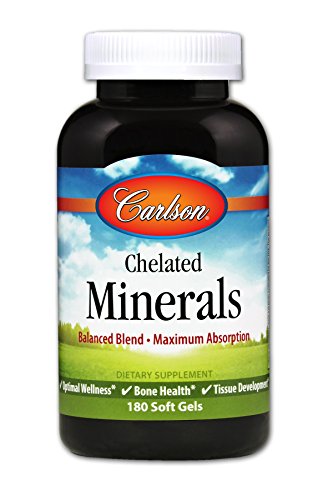 An interesting one to point out and good news in terms of quality.
Chelated minerals are minerals which have been chemically altered so as to attach themselves to various protein sources within the food (meat or non meat).
The addition of chelated minerals is generally an indicator of a higher quality product.
Its presence means that the nutrition within the food will be better taken on by your dog when it eats the food instead of being passed once digested.
And the rest
Beyond this point the recipe list moves into minor additions as well as flavorings and preservatives.
These are listed clearly but aren't worth going through exhaustively as the volume of them means they won't drastically affect the quality of the dog food either way.
I
s Pure Balance a Good Dog Food?
After taking all the above into consideration and weighing against other popular dog foods it's a fair conclusion that this product is above average in quality.
It has a range of protein sources of which some are cheap.
It also however has good fish content and the addition of higher quality ingredients such as the chelated minerals mentioned above.
The fat to protein ratio for the product is just about even at approximately 51%. It's a reasonable level for Pure Balance dog food.
The content of protein, fat, and carbs also appears to be average when compared to other leaders in dog food products.
The higher quality of this product is a conclusion also reached when you consider the fact that it is gluten free.
The fact it can hold up reasonable levels of the above nutrition while staying gluten free is a testament to a well designed product that serves a specific health niche.
In Conclusion
It is important to note that the estimate of this product can never be fully accurate.
We mentioned several times that there is a lot of variation in ingredient quality for certain items depending on its source and how well it was handled and processed.
It's not uncommon for this to be the case and certainly is nothing to worry about. It is however worth bearing in mind when you weigh the product up against other competitors.
Ultimately Pure Balance dog food appears to be a great product that has the benefit of being gluten free.
It includes a number of items that will help aid in the digestion and well-being of your dog while providing an adequate amount of carbohydrates, proteins, and fats.