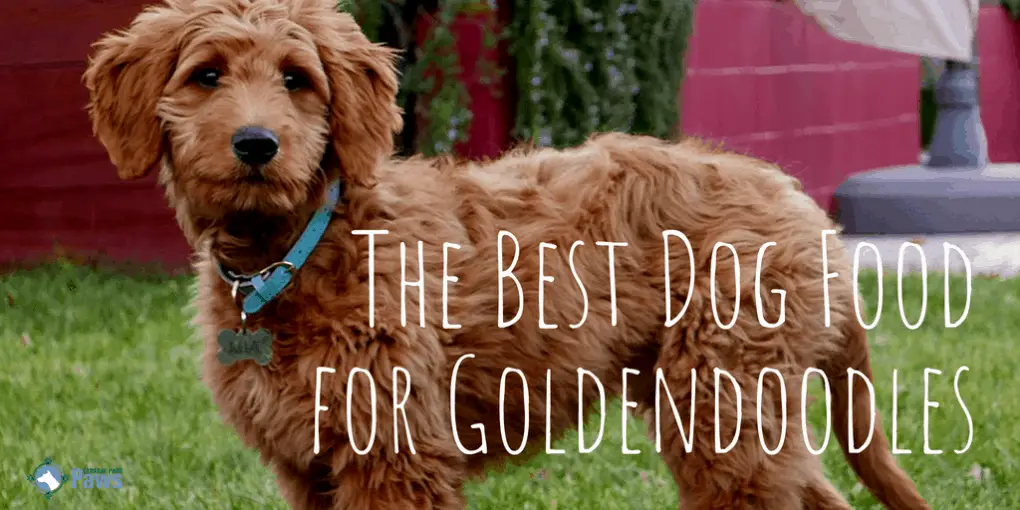 I'm so excited today to be able to announce we've got a new member in the family! My sister and her husband have adopted a perfect little puppy! He is an adorable Goldendoodle.
Like any new parents, they wanted to do a little research into what the best type of dog food would be for their little fur baby. We put our heads together and got started with the research.
After considering the needs my sister's Goldendoodle puppy had based on his lineage and looking up info on ingredients and special needs of the breed, we came up with what I think is a pretty darned good list of top options. Now all she needs to do is get her puppy crate trained, and she'll be good to go!
What is a Goldendoodle?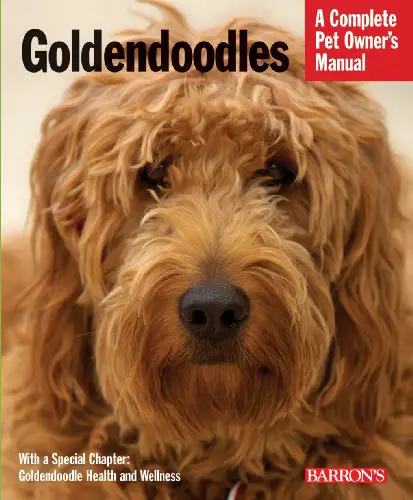 Goldendoodles are fuzzy teddy bears come to life. I kid you not, they look too adorable to be real.
This breed is a type of hybrid that is a cross between a golden retriever and a poodle. It is also sometimes called a "Groodle," but I personally don't think it has quite the same ring to it.
They were first bred in 1969 by author, nurse, and humanitarian, Monica Dickens. Recognize the last name? That's right. She was the great granddaughter of author Charles Dickens.
The new hybrid breed of dog started gaining popularity in the 1990s. The goal was to produce a bigger dog that is hypoallergenic for people who suffer from asthma or allergies.
Goldendoodles inherited the poodle's intelligence and the golden retriever's ease of training, making them ideal for use as pets, agility dogs, therapy dogs, guide dogs, as well as search and rescue dogs. They tend to exhibit friendliness and patience with children and strangers, making them ideal for family pets.
They come in many sizes and colors depending on who the parents are and the lines of breeding they come from.
Looking for a dog but can't decide which doodle to get? Check out our comparison of the Labradoodle vs Goldendoodle.
Types of Goldendoodles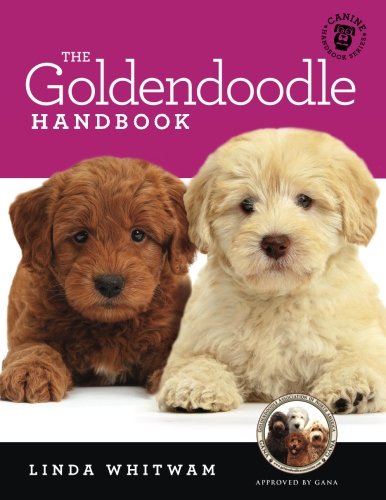 Not all Goldendoodles are the same size. Once you get into cross-breeding and second generations of Goldendoodle, different traits from the genetic makeup of the dogs begin to emerge.
There are a lot of results that can occur. Goldendoodles range from miniature (from being bred with a toy poodle breed) that can be as small as 15 pounds to a large standard Goldendoodle that can reach up to 90 pounds.
This article from goldendoodle.com discusses the science behind breeding and the results that affect everything from length and curl of the coat to the shedding gene.
Goldendoodles' Special Needs
Goldendoodles are a hypoallergenic breed that experience only very light to no shedding unlike most dogs. Goldendoodles tend to have high energy and stamina and they need to be exercised and played with daily.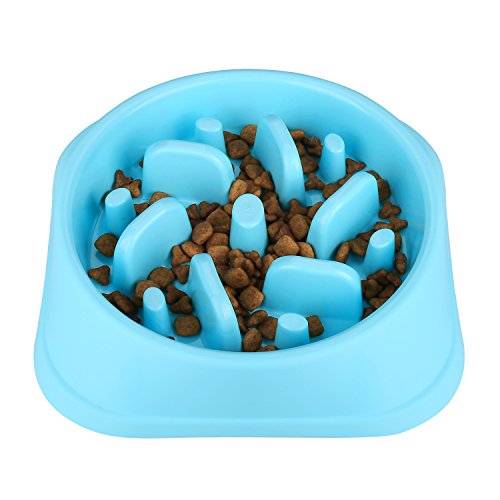 Some Goldendoodles have been known to have sensitive stomachs, especially when changing foods or if they are able to get a hold of something that they most likely should not have.
Sometimes a special bowl designed to help slow down your dog's eating can help to lessen this issue. These bowls are shaped to make the dog work to get the pieces out, thus preventing them from gulping down their food.
When it comes to the health of a Goldendoodle it is hard to say what may be wrong since they are a hybrid animal and come from many different variations of lineages that are added to each new litter.
A few issues that are high on the list may be Von Willebrand's Disease that can cause bleeding to not clot and can have serious injuries if not properly taken care of. Patellar Luxation or "trick knee" is also another condition Goldendoodles may face where their joints can pop out of place and be quite painful for the dog to endure.
Another condition that the Goldendoodle may have is Progressive Retinal Atrophy (or PRA). This is where the dog's retinal slowly disconnects from the dog's eye and will lead to night blindness and eventually total blindness. Other health issues that a Goldendoodle may have the possibility of acquiring include doggy arthritis, hip dysplasia, allergies, elbow dysplasia, bloat, hyperthyroidism, and ear infections.
To help combat some of these health concerns for your dog you can feed the dog in two smaller feedings during the day instead of one big meal, maintain the dog's weight, and watch for any signs of an allergic reaction.
Ideal Diet
Ingredients
Vegetables – Look for varieties of dog food with plenty of antioxidants such as nutrient-rich produce. Even though there is not a cure for the Goldendoodles losing their sight, this can help slow the process down for the dogs.
Fatty Acids -A diet with omega 3 and 6 fatty acids, chondroitin, glucosamine are a good way to help the dog's joints stay strong in order to help fight against "trick knee" taking over. Also included in omega 3 is DHA which helps support the dog's brain and eye development.
Protein – Your dog food should contain a high protein intake. Most of the protein should also come from meats and rather than all from plant sources. Goldendoodles can digest protein better from meats than they can from plants.
Healthy Fats – Fats are important for Goldendoodles due to their high activity levels.
Low Carb – A low carbohydrate diet is necessary to keep a Goldendoodles blood sugar at a steady level. Some carbohydrates are good such as sweet potatoes instead of regular potatoes.
Gluten-free – If your Goldendoodle is allergic to wheat you may be able to use other substitutes such as barley or oats in the dog food.
Portion Sizing
Goldendoodles are a hybrid, and they are not all alike. They vary greatly in size and weight and have to be treated to their own meal plan.
The ideal food for your dog depends on the dog's age, health, activities they participate in, the size of the dog, and if they are spayed or neutered. Those are all factors to be taken into consideration when you're accessing how much your dog should be eating daily.
The goal should be to help your Goldendoodle to maintain a healthy weight and stay strong and active.
Best Dry Dog Food for Goldendoodles
What to Look for in Kibble for Goldendoodles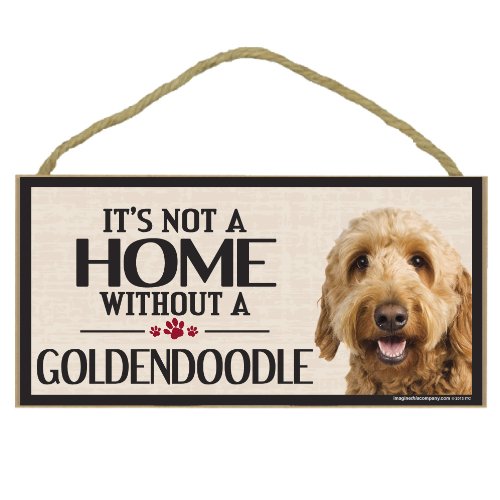 You want a dog food that is high quality that will fit your Goldendoodles needs. Meat is an important ingredient that should be on the top of the list.
Pay close attention to ingredients that are whole meats versus a meat meal. The difference is that whole meat will contain water. It sounds like there may be a great amount of protein, but if it's watered down, does it really count?
A meat meal is a powder substance that is dry but contains the correct value. Neither one is worse than the other you just want to make sure that you are getting the correct amount of protein for your Goldendoodle.
Look out for the carbohydrates that are in the dog food to ensure they are on the low-glycemic levels for your Goldendoodle's blood sugars. If you already know that your dog has allergies to something, make sure you check your dog food regularly, sometimes ingredients may change without warning.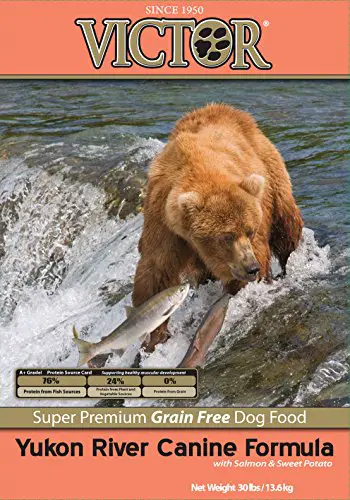 Specs
Made in the USA
High protein
Grain-Free
Gluten-free
Promotes healthy skin and coat
First ingredient is Salmon
Overview – This dog food is high in protein and fat that a Goldendoodle needs. On the low-glycemic spectrum by using sweet potatoes in their dog food instead of using regular potatoes. This product does not contain any corn, wheat, soy, gluten, or any grain by-products. A great source of omega 3,6, and vitamin E to help support healthy skin and coat for the Goldendoodle.
What You'll Like – Has a selection of ingredients that are great for a Goldendoodle. The right amount of proteins and fats while also staying clear of raising the dog's blood sugar. Has ingredients to also combat digestion issues for dog's that may have sensitivities.
What You Won't – The price is really high for this dog food. Even at the smallest bag size, it is $2.20/lb of dog food if you buy the biggest bag.
Recommendation – Has a great balance of everything that is needed for a Goldendoodle's diet, I highly recommend if you have a dog that has some sensitivities.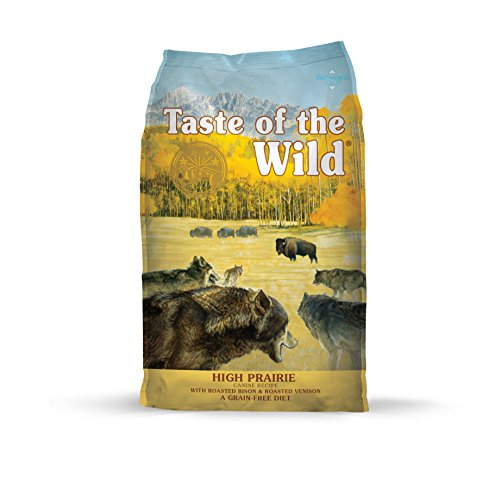 Specs
Lamb is the first ingredient followed by lamb meal as the second
Has Superfoods and Antioxidants
Does not have any grains, corn, wheat, fillers, artificial flavors or colors, and no preservatives
Has probiotics that are suitable for dogs
Made in the USA
Overview – A great source of nutrition for Goldendoodle. Has live probiotics to help with a dog's GI tract. Good amount of proteins and fats that are needed.
What You'll Like – The first two ingredients in this dog food is lamb and lamb meat to make sure the dog is getting a high amount of protein.
What You Won't – While it does use sweet potatoes to help fight against blood sugar it still has real potatoes in the ingredients as well.
Recommendation – I recommend this for dog's that may have digestion problems with the simple digestion-friendly ingredients and the probiotics.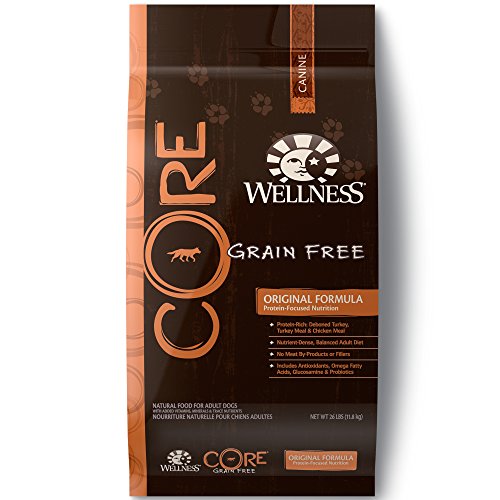 Specs
First three ingredients are deboned turkey, turkey meal, and chicken meal
Gluten-free
Grain-Free
Antioxidants
Probiotics
No soy, eggs, artificial flavors or preservatives
Great assortment of vitamins
Overview – Great source of high protein. A significant amount of vitamins that are needed for dogs are directly in their food. Does not contain any grain and is gluten-free for dogs that have sensitive stomachs.
What You'll Like – Great natural ingredients for dogs health. Can work great for dogs that have trouble digesting.
What You Won't – Dog food is on the higher price.
Recommendation – Has a high amount of proteins and fats that are great for Goldendoodles, especially ones with sensitivities.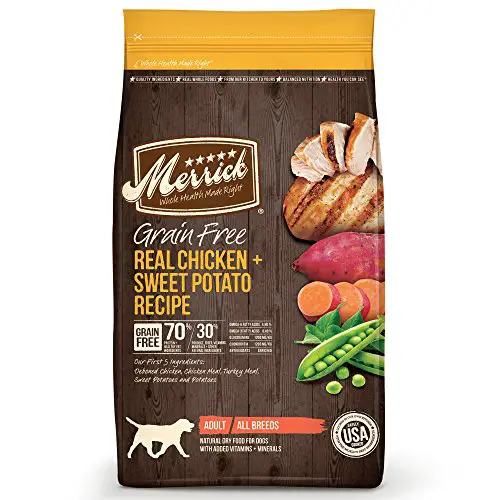 Specs
Grain-Free
Gluten-free
Has a high amount of Glucosamine and Chondroitin for extra support with hips and joints
First three ingredients are deboned chicken, chicken meal, and turkey meal
Overview – May add extra support for dogs that may have trouble with their joints. High amounts of protein and fats that are great for Goldendoodles. Has a great source of amino acids and minerals incorporated in this dog food.
What You'll Like – Along with the first three ingredients being meats, the fourth ingredient is sweet potatoes. This is helpful with staying on the low-glycemic levels for a Goldendoodle.
What You Won't – Unfortunately, the fifth ingredient is regular potatoes. The good may outweigh the bad depending on how your dog is with their glycemic levels.
Recommendation – This is a great dog food that could work for your dog as long as their blood sugar is not of any concern.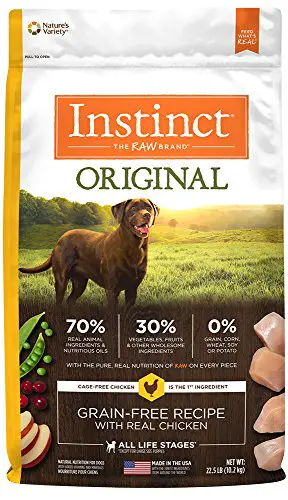 Specs
First three ingredients are chicken, turkey meal, and chicken meal
Cage-free chicken
Does not have any grains, potatoes, corn, wheat, soy, by-product meals, artificial colors or preservatives
Coated in freeze dried raw (Part taken straight from Amazon, idk how to reword this piece or if you would need to)
Made in the USA
Calcium for joint health
Overview – Great for all stages of a Goldendoodles life from puppy to senior. Great for all a Goldendoodle needs with their predispositions. All pieces of the dog food is covered with raw that is freeze-dried to give great tastes to for your dog.
What You'll Like – It is an all-around great type of food for any Goldendoodles no matter their stage in life. Easy to read ingredients to ensure proper nutrition for your dog.
What You Won't – Be sure to check over ingredients for any changes that may have occurred if your dog has allergies or digestion concerns.
Recommendation – This is a great product that has a great taste that your dog will want and can help increase their chances of avoiding digestion, allergies, and joint difficulties.
Best Canned Dog Food for Goldendoodles
When choosing a canned food, step one is to check what is actually inside the can. Carefully chosing a food with quality ingredients is just as important when choosing wet dog food as it is dry food.
Most canned dog food costs more than dry food, and special care is needed to avoid any unhealthy consequences from happening to your dog.
Once canned dog food is opened and left out for just two hours it can already be contaminated with bacteria. Also, refrigeration may be needed for some types of wet food.
Wet dog food is about 75% of water but is generally higher in protein than dry foods tend to be.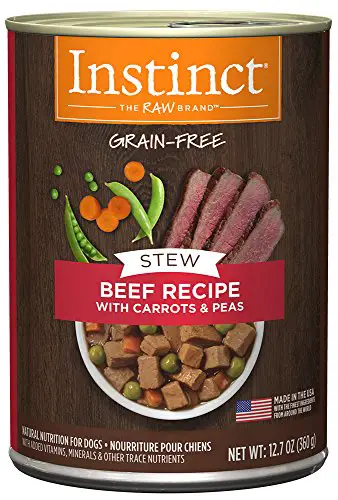 Specs
Cage-free chicken
First three ingredients are chicken, chicken broth, turkey broth
Assortment of Minerals
Does not have any grain, corn, potato, wheat, soy, and artificial colors or flavors
USA raised beef
Overview – Can be used as a full meal or mixed in with dry dog food. Great source of protein and fat for a Goldendoodle.
What You'll Like – A great choice that has options of being a full meal or mixed in as a top off.
What You Won't – Priced around $2.99 per can.
Recommendation – This is a great choice for dogs with sensitive stomachs that still need the high protein and fats.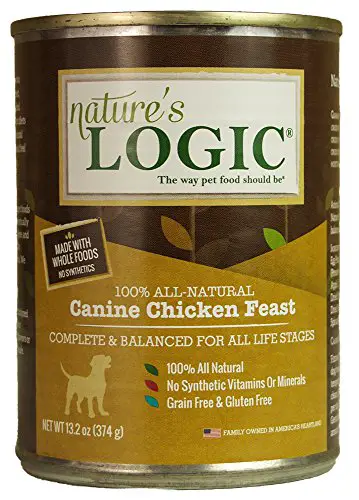 Specs
No MSG
First three ingredients are chicken, chicken broth, and chicken liver
Has over 95% animal ingredients
100% natural ingredients
Grain-Free
Gluten-free
No Ingredients from China
Overview – Is great for all dog life stages. All natural ingredients without sacrificing any protein. Has a high amount of proteins and fats that are great for Goldendoodles. Low in sugars for dogs. Does not have common allergen ingredients that some dogs may be allergic to.
What You'll Like – Has a healthy ingredient list that is great for Goldendoodles that may have allergies to certain ingredients. Also has low sugar for Goldendoodles that may have trouble with their blood sugar.
What You Won't – Price is high at $2.70 per can.
Recommendation – This is a great choice of wet dog food that covers all stages of a dog's life and is a healthy balance for Goldendoodles that may have health problems.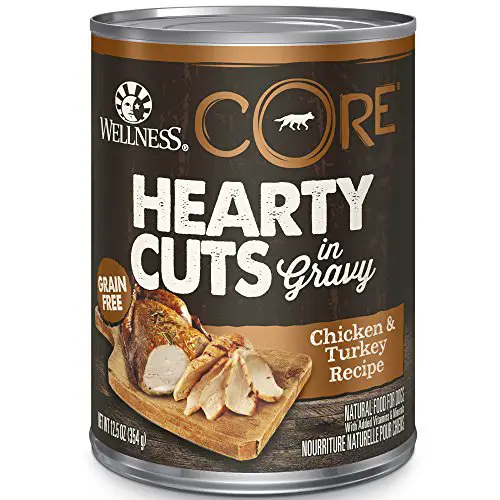 Specs
First three ingredients are chicken, chicken broth, and turkey broth
Grain-Free
Does not have any wheat, corn, soy, meat by-products
No artificial colors, flavors, or preservatives
Overview – Uses sweet potato and not regular potato. Has great vitamins to help a dog have a good immune system. Natural foods that help a Goldendoodle have more energy. High in protein to help energy last longer. Does not have any kinds of wheat or grains that may upset a Goldendoodle's digestive system.
What You'll Like – Can be used as a whole meal for the dog or able to be mixed in with dry food. High in protein and fats.
What You Won't – Price is high at around $2.91 a can.
Recommendation – This is a great product full of protein and fats that are great for a Goldendoodle.
The Final Verdict
Anyone of these dog foods would be great for a Goldendoodle. You just have to pay attention to what is in each one and have a good idea what you feel your dog needs or does not need.
If your Goldendoodle has trouble with their blood sugar levels, I do not suggest going with a dog food like Merrick Grain Free Real Chicken & Sweet Potato Dry Dog Food due to having sweet potatoes as their fifth ingredient.
If your dog may be prone to or suffers from joint pain I would suggest a type of dog food like Nature's Variety Instinct Grain-Free.
When switching dog food just remember to do so gradually so that the dog's body can become use to the new food and have an easy time transitioning
I would recommend a combination of both dry and wet food for your dog. My top pick for the dry food is Nature's Variety Instinct Original Grain Free Recipe Natural Dry Dog Food. This is a great choice to cover many of a Goldendoodles basic needs. Does not have high starches, helps improve joint health, and is a great source of high protein and fats.
For the wet dog food, which could also be combined with your choice for dry, in I would try NATURE'S LOGIC Canine Feast. This is a well developed wet dog food that is suitable for Goldendoodles to enjoy while being on the safe side against allergies that Goldendoodles tend to be prone to.