This post may contain affiliate links. It doesn't cost you anything extra and it keeps our lights on, our families fed, and our dogs spoiled. For all the juicy fine print, see our affiliate disclosure
On a recent phone call with my sister, we were talking about our dogs. I know…surprise, surprise. The topic of flea control came up.
"I'm thinking about putting my dog on a pill."
"Oh, yeah? Wait a minute. I thought she was fixed. Why would she need the pill?"
It's a good thing my sister is pretty.
Oral Flea Medication
I explained to her that oral flea medication (A pill, not THE pill) is the most effective type of treatment and prevention available. You can avoid the messy residue that drops and flea collars leave behind.
It won't stain your clothes, rugs, or furniture, and no more having to separate animals during the application process.
One of the advantages of this type of flea medications is that the pills can work as soon as four hours from ingestion.
They also come in chewable tablets for dogs who have trouble taking pills.  Some may last longer than a typical one-month application.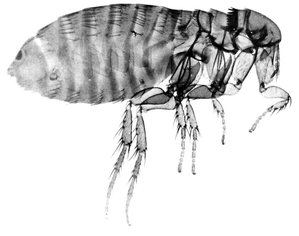 Some flea medications are available in combinations with heartworm or tick preventatives, reducing the amount of pills you have to get your dog to ingest as well as the amount of money flowing out of your pockets.
The disadvantages are that these oral flea meds for dogs may require a vet's prescription, and most do not guard against ticks or other parasites.
Another issue is that they can kill adult fleas OR flea eggs but usually not both.
Because of this, pills are often used in conjunction with drops as the pills kill the current pests and the drops prevent new ones from breeding throughout the flea's life cycle.
If this sounds like something you might be interested in, it's important to note that there is no universal best flea pill for dogs.
The best flea pill for your dog is going to depend on your particular circumstances.
Lucky for you, I've already done the research! Just check out my list of the top flea pills available and see which one works best for you.
As always, you should consult your vet before making any changes to your dog's flea medication treatment.
Is Your Dog Driving You Nuts During the Day?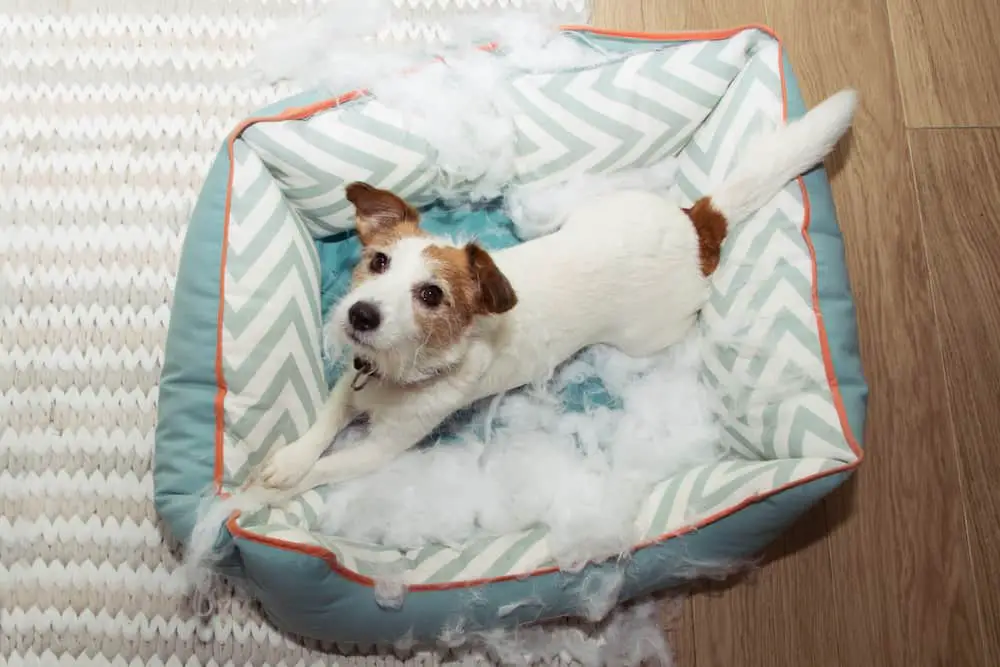 Get Our List of 11 Awesome Indoor Activities to Keep Your Dog Busy and Out of Trouble!
Best Flea Pills for Dogs
Depending on your situation, pills can be a great choice for keeping your dog safe from harmful parasites.
Be sure to choose carefully, however, because while some medications prevent future infestations, others only kill current ones. And don't forget to treat your yard for fleas as well as treating your home for fleas to help prevent reinfestation.
Used in tandem with another method like flea drops, these can be very effective at keeping your pet flea free. This one-two punch is one of the best flea treatment options available.
Flea killing pills for dogs can be divided into two basic categories, prescription and over-the-counter.
Over-the-Counter Flea Pills
You can pick these pills up at most pet stores or online. You won't need a prescription from your vet but it's still a good idea to get your vet's opinion on which oral flea pill would be best for your pup.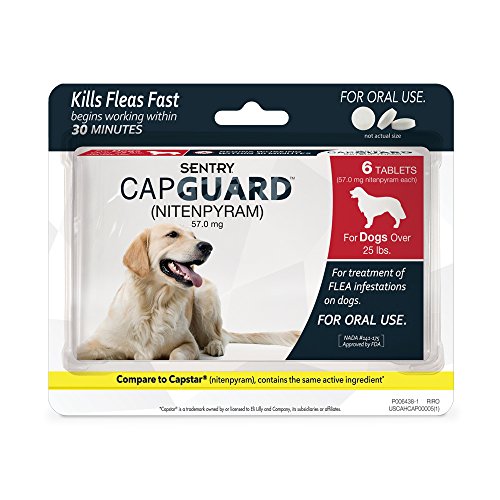 This is a once a day tablet to get rid of current infestations. It can start working in as little as 30 minutes and is very effective.
If you are struggling to get ahead on your flea problem, this is a good way to wipe out the adult fleas who are laying eggs and start on a prevention method to keep them from coming back.
The CapGuard name may be misleading since it doesn't actually "guard" but rather kills but these pills are very effective at exterminating the buggers.
Keeping a few tabs on hand in case your mutt brings home some unwanted friends is a good idea.
The pricing is also very reasonable.
Daily pill that is effective and reasonably priced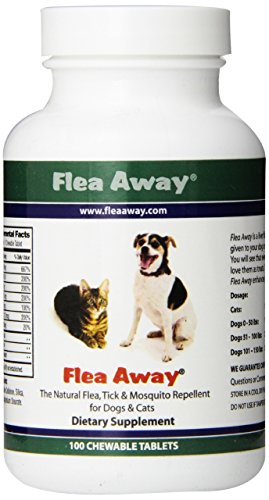 Unlike CapGuard, Flea Away, as its name suggests, repels fleas rather than killing them. It also repels ticks and mosquitoes.
Topical medications like drops act by poisoning the insect when it bites your pet's skin. However, this product keeps the buggers from ever biting your pooch in the first place.
If your canine is allergic to insect bites, waiting until the pest sinks its teeth in can still cause problems. These pills are a great alternative to that.
The tablets come in a chewable form and are liver flavored to make administering them a pleasant experience rather than trying to shove a pill down your dog's throat.
These are particularly handy when you plan on going into wooded areas like camping trips to keep the bloodsuckers off your dog. And at around $15 for 100 tablets, they're relatively inexpensive.
Of course, the downside to pills like these is that you have to give your dog a pill up to three times a day, depending on its size.
Repels fleas but does not kill them.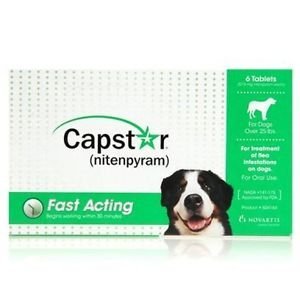 CapGuard from Sentry and CapStar from Novartis are very similar not only in name but also how they work. CapStar also only treats but does not prevent, flea infestations.
These are used when you have an outbreak that normal methods like shampoos, spray, and bombs can't fix. Usually prescribed by your vet, CapStar can be bought without a prescription, often at a lower price.
A few things to note:
You will want to keep an eye on your dog for a few hours after giving him the pill.
Fleas tend to bite hard while dying so your pup may act erratically for a while.
Make sure not to stay too close in case the fleas decide to jump ship and start biting you. It's not a pleasant experience.
Give your dog plenty of water as CapStar can cause dry mouth.
Kills fleas but does not prevent future infestations.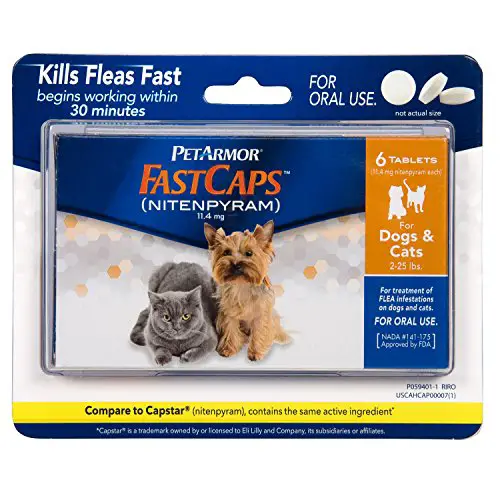 There is very little, if any, difference between PetArmor FastCaps and CapGuard or CapStar. All three use the same active ingredient (Nitenpyram), all three act within 30 minutes, and all three last up to 24 hours.
PetArmor also only works on fleas and is not effective in preventing re-infestation.
Unlike its topical treatment, FastCaps isn't any cheaper than its competitors and actually is a little bit more expensive.
The big difference between PetArmor and Novartis or Sentry is the amount of Nitenpyram they use. For dogs over 25 pounds, CapStar and CapGuard have 57 mg while FastCaps has 54 mg.
So if you're using PetArmor and it doesn't seem to be working well enough, you might want to switch to one of the other brands with a higher dosage. On the other hand, if your pet has too much of a reaction from the other meds, trying FastCaps may be a good option.
Very effective for killing and preventing fleas on small dogs but not as effective on dogs over 25 pounds.
Prescription Flea Medications
If Over-the-Counter medications aren't working, or if your pup has health concerns, your veterinarian may prescribe something for fleas. Here are the most popular medications available:
Comfortis – Best Flea Pill for Dogs Who Don't Like Taking Pills
Comfortis is a fast acting flea removal medication given to a dog once a month.  Once given to a dog, Comfortis will start working in 30 minutes killing fleas.  It is best to have your dog outside for the first few hours once the medication is given.
Read Also: Comfortis vs Nexgard
Advantages
It's a chewable beef flavored pill, so dogs should not give you much trouble about taking it.
It works fast to kill fleas before they can lay eggs on your dog.
Disadvantages
This medication is available through prescription only.
It does not kill or repel ticks.  Comfortis also only kills fleas that bite on the dog not, flea eggs or larvae.
If the dog cannot go outside during the first few hours, you may have fleas jumping and dying around your house.
Bravecto Chews – Best Chewable Flea Medication
Bravecto is a chewable pill that is only needed to be given to your dog once every twelve weeks.
This kind of pill kills fleas at all stages of life including new fleas the jump onto the dog before they can lay eggs.  This chewable medication also kills four common ticks that attach onto dogs:
American Dog Tick
Brown Dog Tick
Black-legged Tick (Deer Tick)
The Lone Star Tick.
Advantages
You do not have to give the dog monthly pills which decreases the chances of missing a pill due to the longer duration of the medication.
It kills all of the life stages of fleas.
This is a flea and tick combination to help use fewer chemicals on the dog.
Disadvantages
This medication is available through prescription only.
It does not kill every kind of tick out there.  The killing effect Bravecto has on ticks only lasts for up to eight weeks.  You may need to add tick repellent or drops in between doses.
Ticks and fleas need to bite the dogs, skin in order for the medication to work on killing them.
Nexgard – Best Monthly Prescription Oral Flea Medication
Nexgard is another chewable flea and tick preventative.  It's a monthly pill administered to dogs.
This flea pill also covers deer ticks, American dog tick, and lone star tick.
Nexgard works on killing all of the flea's cycles.
Advantages
It only takes a low dose to be effective in ridding the dogs of fleas.
Does kill fleas and most of the more common varieties ticks.
Disadvantages
Available with a prescription only.
It can take up to 48 hours to kill the ticks that may inhabit your dog.
Nexgard is not a tick repellent.  You may need to add tick repellent to your flea and tick arsenal to help protect your dog further.
Fleas and ticks do have to bite in order for the medication to work on killing them.
Flea and Heartworm Combo Meds
I would be remiss to do a post about flea meds without mentioning some of the popular medications pet owners have found useful which are the flea meds combined with heartworm prevention.  These are monthly chewable pills like Trifexis, Sentinel, and Sentinel Spectrum.
Each pill can prevent the infestation of heartworms along with killing different life cycles of fleas.  Along with heartworms the pills also protect the dogs from round, whip, and hook worms.  Sentinel Spectrum also has an included ingredient to help treat a dog for tapeworms.
Advantages
It's only one pill to give to your dog instead of a separate flea pill and heartworm pill.
Some of these combo pills start killing fleas within 30 minutes of use.
Disadvantages
These pills don't protect against ticks.
Trifexis pills only kill the adult cycle of fleas.  Sentinel and Sentinel Spectrum only kill flea eggs and larvae.
You must also have the dog checked for heartworms before administering this medication to your pup.  If your pet is heartworm positive, you can't give them these kinds of pills.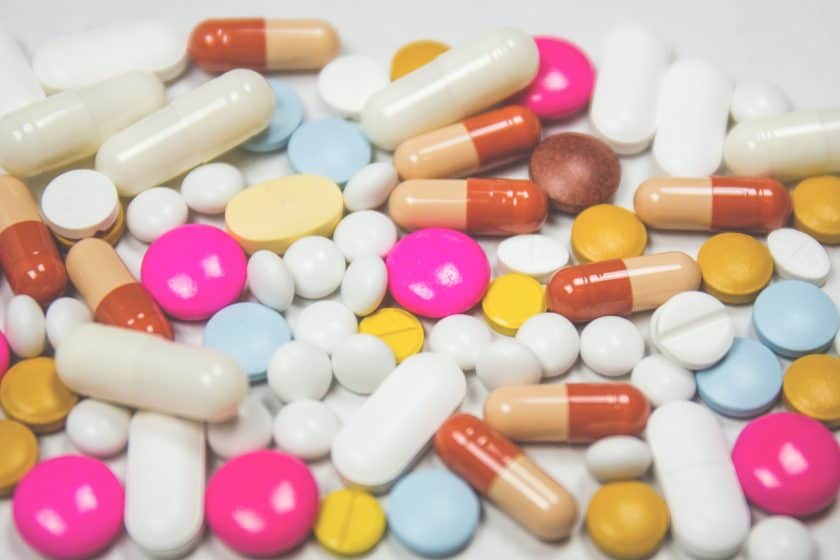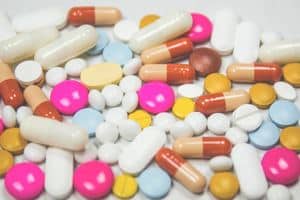 In Conclusion
As you can see, there are many choices of medications that can help you get rid of your dog's fleas.
The best choice for you depends on what your location is, what infestations you are looking to get rid of, and what will work best with your dog's needs.
When giving your dog new medication it is best to watch the dog in the first few hours to make sure an allergic reaction to the meds does not occur.  Most side effects of these medications can be throwing up, itching skin, sluggishness, and diarrhea.
If vomiting occurs within an hour of you giving your dog the medication you will want to give your dog another full dose.  It is best to communicate with your veterinarian about what medication is the best choice for you and your dog's fleas.