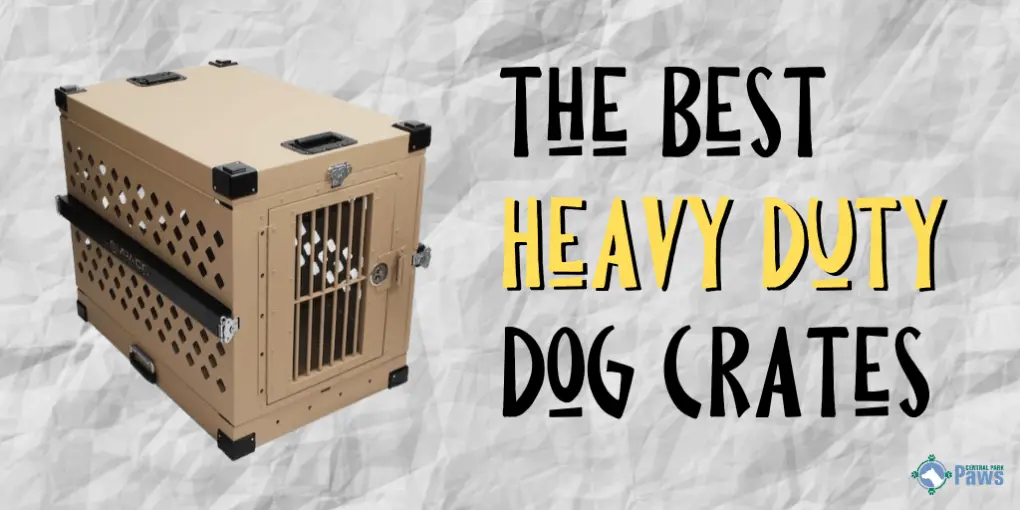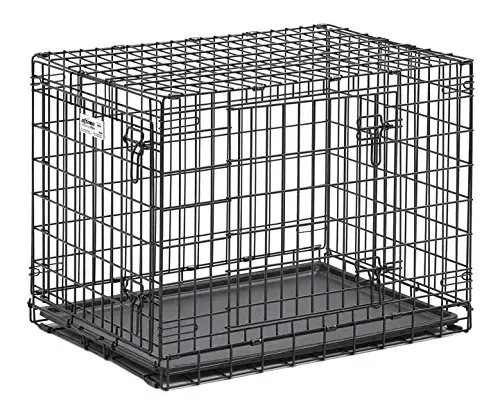 Looking for a tough-as-nails dog crate that won't break the bank?
The MidWest Ultima Pro is durable, waterproof, and withstands escape attempts!
Check Price
I've been around dogs all my life, so I've seen my fair share of dog supplies.
I grew up with dogs constantly in the house, but my first real introduction to being responsible for dogs came from my first job at a pet resort.
I took care of over a hundred dogs every day, for fourteen hours per day. It was exhausting and exhilarating at the same time.
I learned so much, especially when the owners who dropped off and picked up their dogs asked us for advice.
We gave plenty of recommendations on things like shampoos, bedding, and chew toys, but we were often asked about crates.
Many of the dogs that stayed with us were high energy and had destroyed crates in the past.
Here's a collection of the best heavy duty dog crates I've seen on the market over the years.
They'll withstand any high energy dog, since they're made to be sturdy and reliable.
The Best Heavy Duty Dog Crates
Overall Best Heavy Duty Crate
MidWest Ultima Pro Double Door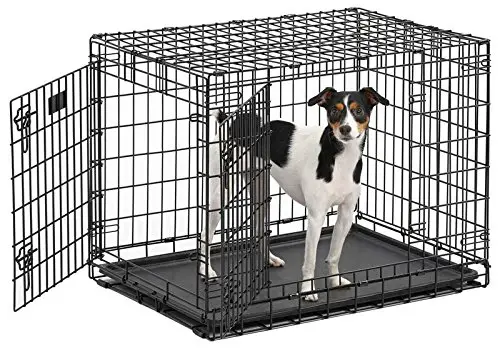 Different crates serve different purposes, but there's one crate that could fit all your needs.
The MidWest Ultima Pro Double Door folding dog crate has everything a dog owner could want for their pet.
Why It's the Best Choice
This crate is nearly indestructible and easy to clean, so accidents and anxious chewers won't ruin it in one use.
The material it's made out of will withstand any kind of force a curious dog uses to escape and it'll withstand a lifetime of use.
Collapse it for trips, set it up in your home or carry it in your car as much as you'd like to get plenty of use out of your purchase.
What I Liked
Some of the most notable features are:
Thick metal wiring
Tough crate pan
Secures flat with clip-on handles
What I Didn't Like
Certain dog owners may not enjoy:
You may need to oil the hinges before the first use
May slide on hardwood floors
No third door entry
Final Thoughts
I've heard of many dogs chewing through or knocking over their crate, but this one will withstand the test of time from the puppy years to adulthood.
Best Heavy Duty Budget Crate
Petmate Precision Great Crate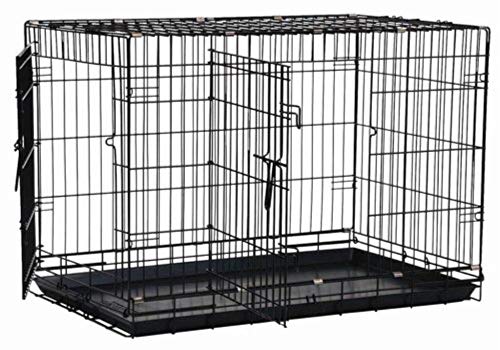 Sometimes life has to happen on a budget, but that won't keep you from buying the Precision Pet Great Crate by Petmate.
Why It's the Best Choice
This crate will give you everything your dog needs without breaking the bank.
Sometimes crates are overpriced for simple features that secure the doors shut or make it look nicer than other crates.
The Precision Pet Great Crate gives you a fair and accurate price for a quality crate.
You won't sacrifice on crate features to get something you can afford.
What I Liked
The best parts about this crate are:
The five-point locking system
The rounded crate corners to eliminate carpet snagging
E-coat crate tray finish
What I Didn't Like
Not every crate can be perfect, but my main concerns with this one were:
Doors don't open 180 degrees
Metal edging on the door may be sharp
Some escape-artist dogs have reported opened it from the inside
Final Thoughts
You may need to buff out a few pieces of the crate, but this crate will still last you as long as any of the more expensive options.
Best Upgrade Heavy Duty Crate
Petmate Petite Ultra Vari Kennel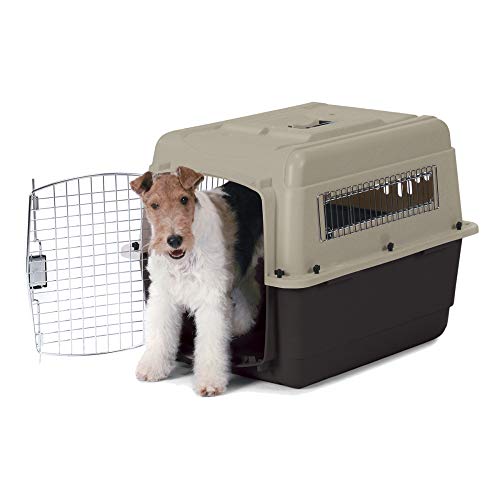 Your dog may be crate trained, but you're ready for something new.
The Petite Ultra Vari Kennel by Petmate is the kind of crate you're looking for.
Why It's the Best Choice
The Ultra Vari Kennel looks great in any home because of its signature cream siding.
It can hold dogs up to 90 pounds and has multiple ventilation windows.
It has a great style to it that traditional wire crates don't have, unless you enjoy sliding a crate cover over the wiring.
With the Ultra Vari Kennel, you'll get beauty and quality without purchasing extra features for the crate.
What I Liked
The reasons I love this crate are because it does all of the following:
Meets most airline cargo specifications[1]
Includes tie-down strap holds for the car
Made with a raised interior
What I Didn't Like
Pet owners should know that this crate:
Isn't collapsible
Weighs slightly more than a wire crate
Is easily scratched by dogs who dig at their crates
Final Thoughts
This is a great crate for dogs who are ready to move on from their wired crate.
It provides more privacy and quiet, whether you're on the road, in the sky or at home.
Strongest Dog Crate
ProSelect Empire Dog Cage
Some dogs need a crate that can withstand anything they try to do to it.
The ProSelect Empire Dog Cage is the strongest crate that can do just that, so you never have to worry about a crate getting destroyed again.
Why It's the Best Choice
The ProSelect Empire crate is used around the world for dogs that need something tough and indestructible.
There's almost no way to destroy this crate without a pair of thumbs and a toolbox.
It's easy to roll around wherever you need your dog to go and it won't collapse if it bumps into a corner while it's on the go.
Traditional crates are sometimes easy to fall apart, but you won't have to worry about that with the ProSelect Empire crate.
What I Liked
This crate is phenomenal because:
It comes in medium and large sizes
It's not easy to tip over
Made of reinforced steel
What I Didn't Like
Even though this crate has a lot going for it, I didn't like:
The high cost
The grated crate floor
The look of a crate on wheels
Final Thoughts
Plenty of parents who love their chewing pups have reported that they've never seen a dog chew through this crate.
It's the strongest crate that will keep your dog safe while you're away, but you may want to consider putting a dog bed inside to prevent the grated floor from hurting their legs and paws.
Most Escape Proof Dog Crate
ProSelect Modular Kennel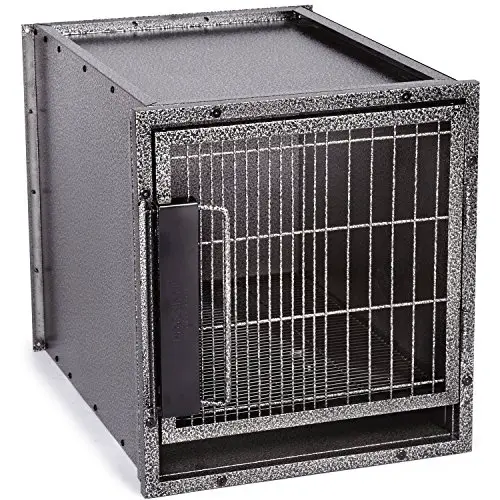 Certain dogs have an affinity for learning to escape whatever crate they're put in, but the ProSelect Modular Kennel is designed so that whatever pup is inside has to sit and stay.
Why It's the Best Choice
This kennel crate is designed like the ones you see at shelters.
It's for daily use and meant to prevent any dog from running around when they're not supposed to.
It's ideal for dogs who feel safer in crates with solid walls, or for homes where there are multiple dogs and not much room for crates
Stacking multiple ProSelect Modular Kennels on top of each other is a breeze, since they're designed to sit on their own or work as a multi-unit.
What I Liked
My favorite features about this crate are:
Inescapable
The privacy it provides
Removable doors for easy cleaning
Made of solid steel
What I Didn't Like
Potential buyers should note that:
Uses a grated crate floor
Made for small dogs
Very heavy
Final Thoughts
I'd trust my dog in this kennel crate because it's used by owners at home and by professionals in grooming offices and vet clinics.
The only thing I'd do outside of buy this crate is slide in a little dog bed for extra comfort.
Best Heavy Duty Crate for Small Dogs
MidWest iCrate Starter Kit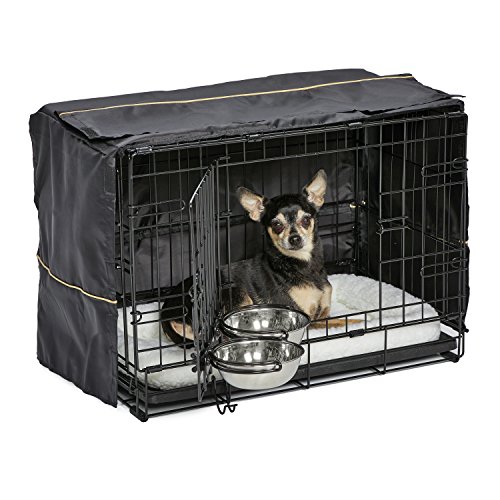 Small dogs enjoy the benefit of fitting into almost anything that's made for dogs, but they'll especially love the MidWest iCrate Starter Kit.
Why It's the Best Choice
This crate comes with everything a small dog could need, whether they like to eat in their crate or prefer a bit of privacy.
It's a nice little home while your small dog learns how to potty train, is crate trained, or hangs out while you're away from the house.
Sometimes small dogs are left in larger cages where there's too much space and they're left feeling exposed.
The MidWest iCrate has just enough room for two bowls, a comfy crate bed and all their toys while still providing enough space for any dog to stretch out and relax.
What I Liked
This crate stands out because it includes:
Crate cover
Two attachable dog bowls
1 year warranty
What I Didn't Like
The main downsides of this crate are:
The doors aren't removable
The crate cover isn't waterproof
Latches may need to be greased before first use
Final Thoughts
This crate makes the perfect little home for small dogs. It has room for everything a dog might need[2], including their favorite toys.

Take advantage of the crate cover and snap-on bowls for more dynamic use.
Best Heavy Duty Crate for Medium Dogs
Carlson Pet Products Metal Dog Crate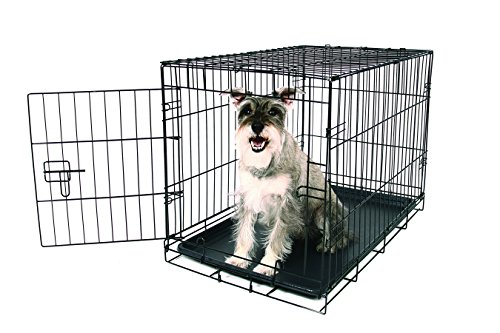 There are plenty of medium dog crates to choose from, but the Carlson Pet Products metal dog crate comes in first place any time.
If you've got a dog who sheds, you can pull out the crate pan and rinse it off or wipe it down in minutes.
The extra security on the crate door keeps any dog safe while they're inside and the reinforced wiring won't bend or break under any pressure the crate might face.
Why It's the Best Choice
Any medium sized dog will be safe in this durable crate, whether it's used at home or in the car.
When it's not in use, it's easily collapsible for travel purposes.
What I Liked
The standout features of this crate are:
The affordable price
The removable and washable crate pan
Multi-point locking system
What I Didn't Like
Some dog owners may not enjoy:
The single dog door
The plastic crate pan
Latch may be difficult to slide in the first use
Final Thoughts
People with medium sized dogs will love and trust this Carlson Pet Products crate, which will last a long time for a price that will fit any budget.
Best Heavy Duty Crate for Large Dogs
Petmate Precision Pet ProValu Crate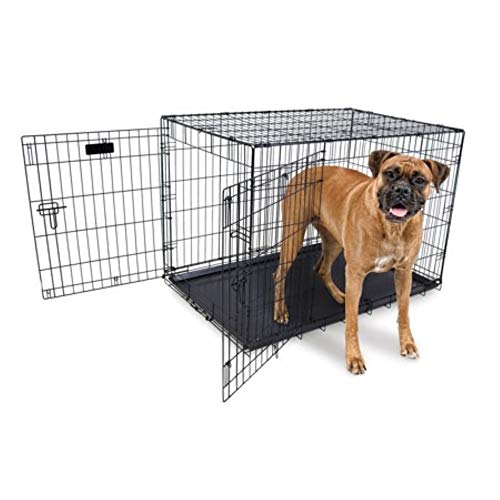 Large dogs need a comfortable, big crate that they enjoy while they sleep or chew on their favorite bone.
The Precision Pet ProValu crate by Petmate does just that, while providing extra security for a great price.

Larger crates sometimes compromise on materials, opting for thinner wiring for more space.

The Precision Pet ProValu crate doesn't compromise on anything. Your dog will get a spacious crate with multiple entryways that's designed so you never have to replace it.
Why It's the Best Choice
This crate was designed with security and longevity in mind.
It will resist any digging, chewing or scratching a dog may do when they're bored.
It's also easy to take apart and is only two inches tall when collapsed.
What I Liked
The best parts about this crate are:
It's more affordable than most large crates
Its five point locking system
Its double doors
What I Didn't Like
The following features may cause an issue for some buyers:
Doors don't open 180 degrees
One single carrying handle
The bottom lip of the door may trip some dogs at first
Final Thoughts
This crate is a great choice for people who have large dogs.
It'll last a long time and is nearly escape proof, since it feature a unique five-point locking system.
Most Durable Dog Crate for Travel
EliteField Folding Soft Crate
When you're traveling with your dog, you'll want a crate that is comfortable for long periods of time that's also safe.
The EliteField Folding Soft Crate takes care of both of those needs, while being durable enough to last through a well-traveled future.
Why It's the Best Choice
This crate comes in five different sizes and multiple colors.
It's a soft crate so it has a nice appearance, but don't worry about it not being tough.
It's made with reinforced steel tubing and high-quality, hex mesh fabric that's tear resistant.
It won't tear after years of having a seatbelt wrapped around it or stain if your dog has an accidental anxious bathroom mess during longer trips.
The soft siding also prevents dogs from seeing the outside world fly by the windows, reducing the amount of car sickness they feel[2].
What I Liked
The most enjoyable parts about this crate are:
The included fleece bed
The outer storage pockets
The three mesh doors
What I Didn't Like
The only downsides to this crate are:
It's slightly more expensive than the average crate
Sometimes arrives with a strong odor
Not a good solution for puppies who chew
Final Thoughts
Dogs who are used to travel or like to sleep on the road will adore this comfortable crate.
It's easy to fit on the backseat or in the trunk and helps you travel light with its double zippered pockets.
Why You Might Need a Heavy Duty Dog Crate
There are tons of different kinds of crates available on the market, but what makes someone buy a heavy duty crate over a regular one
Check out some of these key features that help owners make the big switch.
They're Durable
Depending on a dog's lifestyle, their crate may get used more than their favorite toys.
While other traditional crates might have pans that are easily scratched, chewed, or broken, heavy duty crates are made to withstand any kind of force that may be used against them.
They're Waterproof
Another great feature of heavy duty crates is that they're waterproof.
Part of their durability is being able to withstand the natural elements a dog might bring to their crate.
A slobbery mouth dropping from the water bowl won't phase the crate. A wet coat after going outside in the rain will never wear down the crate's pan or paint.
Most importantly, dogs who go in their crate when they're anxious won't damage it if they have an accident.
Anxious dogs may sometimes pee on themselves[3], but a heavy duty dog crate won't be bothered by a little mess here or there.
They're Escape Proof
You might own a curious dog who has a habit of escaping whatever crate they're put in.
Regular crates might not be secure enough against a dog that enjoys freeing themselves whenever they please.
Heavy duty crates typically have multiple latches, doors that lift, or other opening mechanisms that are difficult for a dog to do from the inside of their crate.
They also might feature solid metal doors or wiring that's too close together near the handle for the dog to put their nose or paw through.
They Last a Long Time
Most importantly, heavy duty crates last a long time.
Other crates may cost less at first, but they're easily broken.
You'll end up replacing a traditional crate at least a few times as your dog grows, but a heavy duty crate is meant to last a lifetime.
Conclusion
The best way to figure out which crate is best for your dog is to think about their personality.
Do they like to chew, dig, or escape from their current crate?
If so, a heavy duty crate could be exactly what they need.
Consider any of these sturdy and reliable crates for your pup, so they can get back to lounging in a safe crate and you don't have to worry about them anymore.
Resources