Best Flea Medicine for Dogs (without a Vet Prescription): Winners
My dad travels with his dog, Clyde, especially to get away from Minnesota winters.
Recently they headed south to warmer areas, but this time my dad forgot to grab Clyde's flea medicine.
Clyde was due to get his flea preventative later in the week, but they would still be on vacation, so my dad reached out to ask me if I knew of any non-prescription flea medicine he could buy while on vacation.
I sent him a few suggestions for the best flea medicine for dogs without a vet prescription.
Thankfully he had no problems finding what he needed, and Clyde didn't miss his flea treatment.
(don't miss our picks for the best flea treatments for dogs with or without a prescription)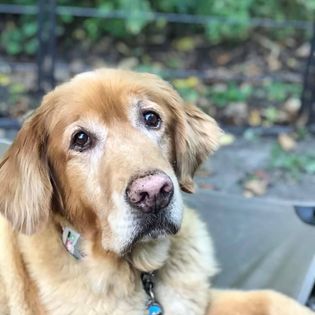 Quick Pick: Frontline Plus kills fleas and ticks on contact and does not need a prescription
Best Flea Medications for Dogs without Vet Prescription
This is box title
Seresto
Seresto is a Bayer flea and tick product that has been an effective flea medicine since 2011[1].
The Seresto collar kills and prevents fleas. Plus, it interrupts the flea life cycle, so you don't have to worry about re-infestation.
In addition to fleas and ticks, Seresto also works on sarcoptic mange and biting lice.
The Seresto collar works fast and will start killing fleas within 24 hours and will continue to work for up to 8 months.
Active Ingredients: Imidacloprid and Flumethrin
Duration: 8 Months
Seresto is generally considered a safe product; however, all flea medicine comes with risks.
Seresto's most common side-effect is skin irritation around the neck. Other side effects include:
Rashes
Itching
Excessive drooling
Shaking
Vomiting
Decreased appetite
Sleepiness or lethargy
Hairloss
Seresto is not ideal for dogs living in households with young children who might come in frequent contact with the flea collar.
What I like best about Seresto is that it kills on contact, and you don't have to worry that your dog will be bit by fleas for the medicine to work.
Read our Seresto Flea Collar Review
Pros
Kills on contact
Does not effect your dog's nervous system
Repels fleas
Effective against multiple parasites
Cons
Not fully waterproof, so it may only be active for 6 months if your dog likes to swim
May cause skin irritation to others in the household if they come in direct contact with the collar
Recommendation
Seresto is an excellent economical choice since it costs an average of just over $4 per month.
Is Your Dog Driving You Nuts During the Day?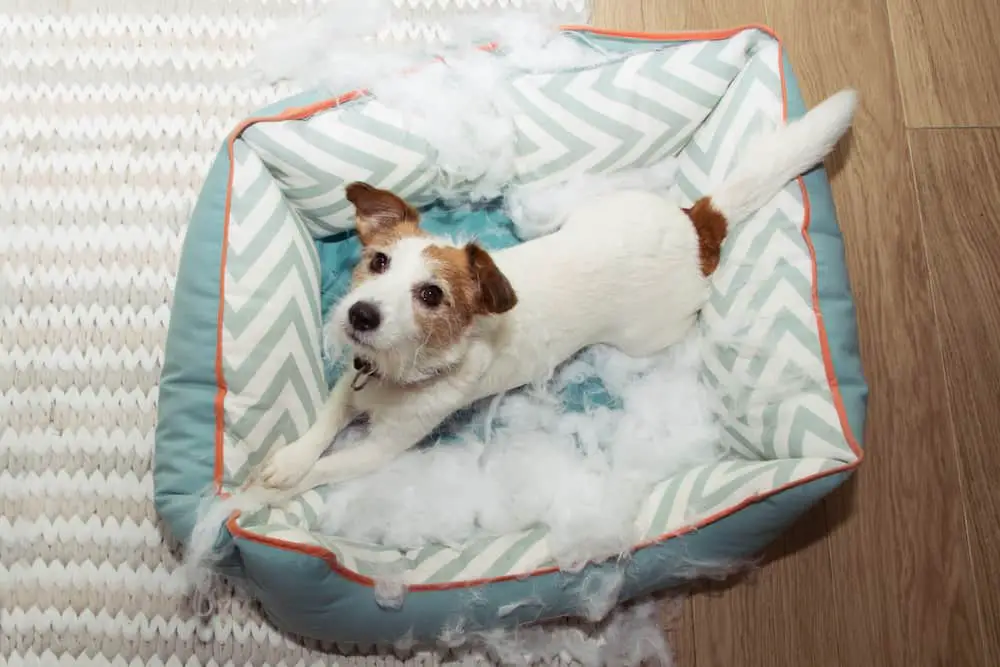 Get Our List of 11 Awesome Indoor Activities to Keep Your Dog Busy and Out of Trouble!
Also, since Seresto lasts up to 8-months, you don't have to deal with flea treatments every month, making it truly the best flea collar without the need for a prescription.
This is box title
Frontline Plus
Frontline Plus has been a long-time leader in the fight against fleas. Frontline Plus is produced by the Boehringer Ingelheim & Merial Limited.
Frontline is a topical flea treatment that is applied between a dog's shoulder blades every month.
Once applied, it starts killing fleas in just four hours, making it one of the faster over the counter flea medicines.
Plus, Frontline helps to kill and prevent biting lice and a couple of different types of mites.
Active Ingredients: Fipronil and (S)-methoprene.
Duration: 1 Month
The top two reasons Frontline Plus is a favorite flea medicine is that it kills on contact and has few side effects[2].
The side effects to watch for are:
Itchiness around the application site
Skin irritation, swelling, or redness
If your dog does experience side effects from Frontline, they will often resolve within 2 days.
Read our Frontline Plus Review
Pros
Economical
Few side effects
Works to kill other parasites
Cons
Does not work as a repellent
Recommendation
Frontline Plus is a product I would recommend to any dog parent looking for a fast and effective flea treatment.
And Frontline Plus is the ideal product for dogs with health issues because it is a safe product.
This is box title
Capstar
Capstar is perfect for quickly dealing with a flea infestation, killing fleas in just 30 minutes.
Although it starts working in just a half-hour for heavy flea infestations, a second dose the next day may be required.
Capstar is an oral treatment for dogs who have fleas but does not act as a preventative or repellent.
After using Capstar, you should start to use a monthly preventive such as Frontline Plus to avoid future infestations.
Active Ingredients: Nitenpyram
Duration: 24-48 hours
Capstar is a relatively safe option and can be used for puppies as young as 4-weeks old.
Of course, there are some side effects that you should know about before purchasing. The possible side effects include:
Increased or decreased energy
Itching
Vomiting
Diarrhea
Lack of appetite
Trouble breathing
Drooling
Stumbling
Weakness
Seizures
Hives
Excessive panting
Big pupils
Pros
Safe for young and small dogs
Easy to administer
An economical option at only around $5 per tablet
Cons
Does not work as a preventative or repellent
This is box title
K9 Advantix
K9 Advantix has been available since 2011 and has proven to be a reliable and effective flea treatment.
This topical treatment is the ideal product for outside dogs because it is effective against much more than just fleas.
K9 Advantix works at protecting dogs against ticks, biting lice, black flies, and mosquitos.
After applying K9 Advantix it will start killing fleas in 12-hours. Best of all, parasites do not need to bite your dog to safeguard against them.
Active Ingredients: Imidacloprid, Permethrin, and Pyriproxyfen
Duration: 1 month
Common side effects associated with K9 Advantix include[3]:
Skin irritation and redness
Itchiness
Diarrhea
Lethargy
Vomiting
Read our K9 Advantix II Review
Pros
Repels and kills fleas, ticks, flies, lice, and mosquitos
Kills on contact
Starts working within 12 hours
Cons
Higher priced than other flea treatments; the average cost per monthly dose is under $12
Recommendation
K9 Advantix is ideal for dogs who spend a significant amount of time outside.
Because K9 Advantix is also a repellent and not just a preventative, it provides greater protection against outdoor pests.
This is box title
Veterinary Formula Clinical Care Antiparasitic & Antiseborrheic Shampoo
Veterinary Formula Clinical Care Antiparasitic & Antiseborrheic Shampoo treats existing flea infestations while also helping to soothe and medicate irritated skin and infections associated with fleas.
Veterinary Formula can be used 2-3 times a week until the flea issue is under control.
Active Ingredients: Salicylic acid, coal tar, and micronized sulfur
Duration: 2-3 days
Veterinary Formula Clinical Care can cause skin irritation, though it is rare.
Pros
Gentle on your dog's skin
Aids in healing skin conditions caused by fleas
Affordable
A safe option for treating fleas
Cons
Requires multiple treatments to get the fleas under control
Recommendation
Flea shampoo, especially Veterinary Formula Clinical Care, is the ideal choice for dogs who are sensitive to topical or oral medications.
Additionally, it can help treat inflamed skin, as well as skin infections.
Natural Flea Treatments for Dogs
Natural flea treatments are also an excellent option for managing fleas.
Here are some of the top natural flea options available:
Coconut Oil
Coconut oil is my top choice for natural flea treatments; it works to kill and prevent flea infestations and can be used in a couple of ways.
Coconut oil can be added to shampoo or given to your dog orally.
Click here to earn more about using coconut oil to treat fleas.
Baby Powder
The fine dust of baby powder can suffocate fleas.
Unfortunately, the baby powder does not have a long term effect, but it is a safe way to deal with an existing flea infestation.
For more information about using baby powder, check out our article, Does Baby Powder Kill Fleas on Dogs?
Essential Oils
Essential oils are useful for treating several conditions, including fleas.
You can use essential oils topically in a homemade flea spray or their shampoo.
Don't miss our post on which essential oils kill or repel fleas.
The Difference Between Vet-Prescribed and Over-The-Counter Flea Pills?
Over the counter (OTC) flea pills kill fleas but do not act as an ongoing preventative.
Additionally, OTC flea treatment pills last only a day in your dog's system instead of 30+ days for prescription options.
Prescription oral flea medication often treats more than just fleas. It also uses more harmful types of chemicals, requiring stricter regulations.
Conclusion
I stand behind Frontline.
Though it needs to be reapplied every four weeks, it is effective and safe; plus, it kills on contact and doesn't require parasites to bite the dog.
K9 Advantix is a close second choice.
Also a topical one-month flea treatment, K9 Advantix treats other pests such as mosquitos and flies. Additionally, it works as a repellent helping to keep bugs at a safe distance.
Coming in third place for best flea medicine for dogs without a vet prescription is coconut oil.
Coconut oil is an effective and safe flea treatment. Plus, coconut oil can help soothe your dog's skin and treat any bacterial infections caused by the fleas.
Resources
https://apvma.gov.au/sites/default/files/publication/15191-fipronil-prf-vol2-animal-safety-literature_0.pdf