Being a dog owner/mom of four dogs makes me feel like an expert when it comes to certain dog products and dog beds definitely qualify.
I have a few dog bed diggers that could be professional dog bed testers.
And, Calvin and Sophie were once aggressive dog bed chewers, so I completely understand dealing with that too.
Though my dogs no longer chew on beds like they once did, they still love nesting, which can get a bit energetic, resulting in tears in the fabric.
We have beds for all of them scattered in different areas of our home and RV, resulting in quite an investment, so ensuring we have ones that can hold up over time is an absolute necessity.
Through both online and real-life research, here are my top picks for the most durable dog beds.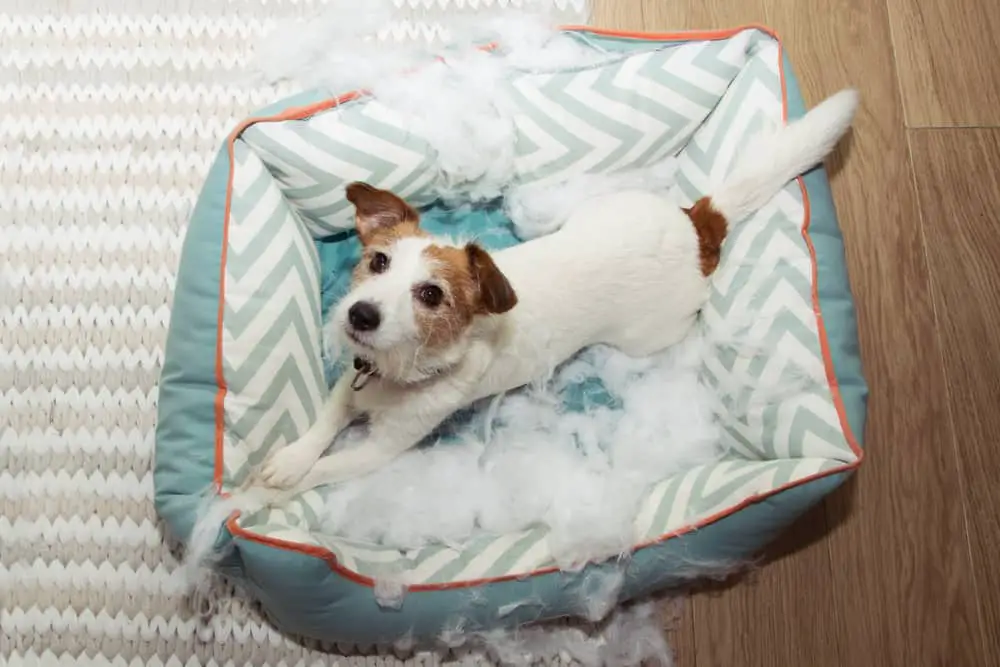 Indestructible Dog Beds
It is essential to point out that no dog bed is 100% chew proof or indestructible.
And pups that suffer from severe separation anxiety, as Cal did, will destroy any bed you put in front of them.
So it is essential to deal with the behavioral issue that is causing your dog to shred the bed.
However, if you have a dog that aggressively nests, then rips and tears are likely going to happen, which is why finding a well-made tear resistant bed is essential to preventing the need to replace your dog's bed every six months.
Also, many beds are chew resistant and can hold up against casual to moderate chewers.
Don't miss our roundup of the best chew proof harnesses!
Best Dog Beds for Heavy Chewers
What to Look for When Choosing a Durable Dog Bed
There are as many varieties of beds out there for dogs as there are for humans, maybe even more.
But as we all know, dog beds are an investment, and knowing what to look for before you shop is key.
Here are some key doggie bed features to consider when choosing the right bed for your dog.
Check out our roundup of the best indestructible squeaky dog chew toys!
Style
There are a variety of different styles available, and no one type is better than another; it all depends on your dog's preferences and space you plan to put it.
Some of the more common styles available include:
Pillow – These are the round or rectangle beds with fill or memory foam but lacks sides or a back
Orthopedic – These beds have memory foam mattresses and may even have a self-cooling component to add to your dog's comfort
Doughnut – Yep, you got it, they look like doughnuts. Sophie prefers this style since she tends to sleep in a ball
Bolster – These often look like tiny couches or armchairs. Most of my dogs prefer this style in the winter or colder months
Raised – Raised beds are great for helping with airflow and are often ideal for outside. We use raised dog beds for camping and outdoors. They drain rainwater off and are very durable. Though, elevated beds are not always the most comfortable; only Calvin will lay on this style
Looking for just orthopedic dog beds? We have you covered!
Cover Material
This is critical when looking for a bed to hold up against chewers and diggers.
Additionally, it also makes a difference depending on the season.
When choosing a bed that can take some severe wear and tear, pick one that has a cover made from ballistic nylon, Kevlar, or other durable material option.
Hidden Zipper
Zippers can be interesting to curious dogs; finding one that has Velcro or a hidden zipper is essential.
You want your dog to find the bed comfortable, not entertaining.
Stuffing/Fill
Much depends on the needs of your dog as far as comfort, but beds with fill versus foam sometimes pique a dog's intrigue if they rip the cover, causing more significant destruction.
Dog bed pillows or mattresses are usually made up of memory foam, fill, or shredded memory foam.
Washable
This is a must.
Imagine if you didn't ever change the sheets on your bed.
Choosing a bed with a removable cover is critical to ensure the house doesn't begin to stink.
Unwashed dog beds can even house mites, which can cause an allergic reaction in your dog[2]!
Check out our list of the the best washable dog beds!
Warranty
For those of us who have a dog that is a chewer picking a bed that has a warranty is a must.
Most bed warranties offer one replacement.
And, though you are responsible for shipping and handling on the return and new bed, it is still cheaper than buying a new one.
Price
One thing I have learned over the years is that buying the cheapest bed isn't the best idea, though you don't need to buy the most expensive one either.
However, dog beds fall into the category of you get what you pay. And investing a bit more for a dog bed that will last is well worth it.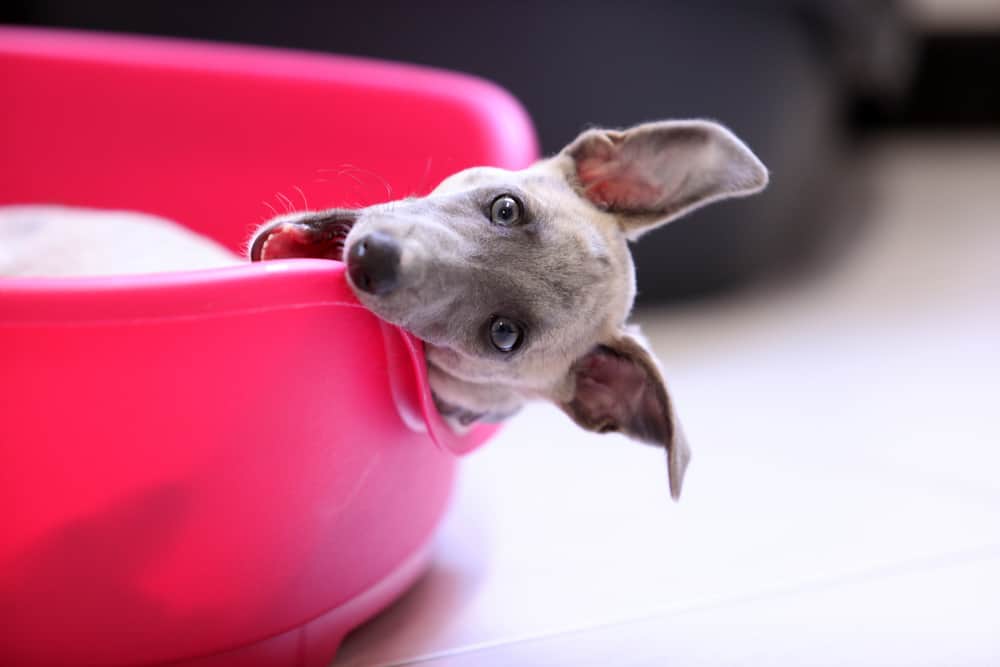 Why Dogs Chew Beds
Dogs do not chew on beds to irritate us, or because they are mad at us. They don't operate that way.
However, if you have a chronic dog bed destroyer, there is a root cause, and the only way to put an end to their dog bed reign of terror is to get to the bottom of it.
For example, I found that after a dog bed had been in our house for a while, Calvin would no longer attempt to destroy it.
So, when he was Captain Chewer, I would put the new dog bed in the closet when we would leave. Eventually, after the bed lost its new bed smell, say, after about a month, he wouldn't bother it anymore.
However, when I was fostering I found a lot of my fosters had separation anxiety that manifested in destructive behavior.
After their SA was addressed their bed chewing resolved too.
Separation anxiety isn't the only type of anxiety.
Sophie destroyed everything in her crate because she had barrier anxiety. As soon as I left her out she never chewed another bed.
Dogs showing signs of destruction is a sign they are in distress[3].
Sometimes it's just that they aren't getting enough exercise, and truthfully, I have found that's the case more than 75% of the time.
Every dog is different and it is our job as dog parents to ensure they are kept safe, healthy, and happy.
If you aren't sure why your pup is acting up, then it would be best to call your vet for help.
But I should state that digging and nesting in a bed is normal dog behavior, even when done with great enthusiasm.
So if that's the case, then finding the most durable bed, like the Bully Bed, is all you need.
Final Verdict
Though dogs who destroy their beds are often out of balance, some dogs are just very tenacious nesters and need a dog bed that can withstand that attention.
Which, thankfully, there are several dog bed varieties that should suit your needs.
Also, remember that no dog bed is 100% indestructible, but you can usually find several dog beds that can't be chewed up easily.
And though the most durable dog beds can be expensive, it is typically worth the investment in the long run.
FAQs
Resources