This post may contain affiliate links. It doesn't cost you anything extra and it keeps our lights on, our families fed, and our dogs spoiled. For all the juicy fine print, see our affiliate disclosure
Ever have one of those days where you wish you could hit 'rewind'? Or just crawl into a little hole and not come out for an hour – or a year?
Yeah, I had me one of those recently.
My husband walked in on me coming absolutely, positively unglued – something that in all of our years together he'd never experienced – over the actions of one of our dogs.
I have no doubt the view of me raving like an under-medicated lunatic who just broke out of her restraints, contrasted with our dogs calmly laying around enjoying the show with their tails and tongues wagging, is what lead to him dropping his stuff and (after a moment of initial shock) practically busting a gut laughing at the scene.
Not one of my finer moments, I must admit, but I suppose I can appreciate the entertainment from his point of view – and the dogs, too.
In my defense, I had good reason to crack like a dropped egg.
Shasta had chewed up another dog bed. I swear, that mutt is shooting to beat a personal best score.
They say every moment is a teaching or learning moment – and heaven knows on that day I did both! – as a result, and weeks of research, I became an unofficial expert on "indestructible" dog beds.
Here are the best indestructible dog beds I could find. No matter what your budget is, you'll find what you're looking for in these reviews
Best Indestructible Dog Beds
There are dozens of tough dog beds on the market, touting their indestructibility in some form or another.
The below were chosen from a stringent assortment of scientifically methods, including flipping coins and pointing to pictures and asking the dogs which the liked.
As with other items from our reviews, those products that passed well are donated to a local shelter.
This option intrigued me from a do-it-yourself aspect, but also because of their dual claims of "chew resistant" and "not chew proof rated" – so that seemed like acceptable grounds to check it out.
For our review, we focused on the 1680D nylon cover – but be advised if you choose the microsuede that you're just creating a giant stuffed animal – and we all know what happens when our chewers sink their jaws into a soft, plush toy.
Key Features
Color: Seal Brown

Also available in black, tan, brown, olive, blue, and grey depending on cover fabric chosen.

Outer Material: 1680D Nylon

Also available in canvas, denim, oxford, or microsuede depending on color chosen.

Inner Material: Consumer provided pillows or other filler material.
Chew Rating: 4/5 for materials chosen and reviewed.
Overview
The concept was a good one, when you think about it; a tough outer cover added to a waterproof inner cover that allows you to make your dog bed from the best materials for their personal needs.
The three pillow option of the large bed held the pillows nicely, although it led to an awkward size for my test-mutt.
Unfortunately, it's important to carefully pay attention to the material when choosing color, since you may wind up with a cover made of microsuede that entices chewing rather than one of the sturdier covers.
The inner "waterproof" cover was definitely not what was pictured, and unfortunately didn't hold up to the water balloon test for waterproofness.
Tails Up (Pros)
The 1680D ballistic is a durable fabric. A serious chewer will still try it, but lose interest before any damage occurs. The ability to change the inner materials was surprisingly easy and refreshing, as opposed to hours searching for the perfect combination of cover and comfort.
Tails Down (Cons)
The sizing of the duvet is awkward, since it's long and narrow. Also, the waterproof inner cover seems to barely register as water-resistant. The zipper really needs to be more durable. The pillows shifted around easily, leading to uncomfortable hard spots.
Verdict
Good idea, but falls short due to the inner cover, inability for the pillows to stay in place, and ordering confusion. To be clear, this is only the cover, not a complete dog bed.
This manufacturer makes some of our favorite stuffed toys, so it was a no-brainer to include a review when I saw they also make dog beds.
There are several options for the loft of the outer material, and for the sake of this review, the XX-large size in cocoa we chose is the high pile plush constructed material.
goDog beds are not self-classified as indestructible, but rather "guaranteed to last longer than standard plush dog beds".
Key Features
Size: Multiple available
Color: Cocoa

Also available in tan, beige, and grey

Outer Material: Unspecified, shaggy material
Inner Material: Unspecified
Chew Rating: 1/5 for bed chosen and reviewed
Overview
Like with the other beds, the first thing I did when setting the goDog Bubble Bolster bed on the floor was to crawl onto it and check it out myself for comfort – and boy was it!
The plush material was soft and the feel of the hardwood through the bed was definitely decreased. It could easily lend itself to a nap were it not for the other canines demanding their turn.
These beds boast a bolster, which is not much more than a raised edge around the bed, and the overall stitching. The Chew Guard Technology™ is a proprietary process that adds a tear-resistant mesh lining. It's important to note that "Chew Guard" does not mean chew proof and I wouldn't call these "indestructible dog beds" exactly.
The seams are reinforced and the bed as a whole is machine washable.
Tails Up (Pros)
The overall construction appears well done, the no-skid bottom is a nice touch, and their sizing is geared towards fitting standard crating, allowing the beds to easily pull double-duty – a bonus when your pup is traveling away from home.
Tails Down (Cons)
The bed is not waterproof or water resistant, and the fluffy material of the bed was no more than a giant chew toy.
Verdict
This bed had an impressively short lifespan because the plushy soft material is indistinguishable from a standard chew toy.
An orthopedic dog bed that's indestructible? Sign me up!
With numerous sizes of these durable beds available to choose from, a single piece, 100% gel-infused memory foam interior cushion, with an inner waterproof liner and a tough exterior made from 1680D.
I didn't read much more of the description before adding it to the cart.
Key Features
Size: Multiple available

Small/Medium (35″ x 20″)
Medium/Large (37″ x 27″)
Large (41″ x 27″)
Extra Large (47″ x 29″)
Extra Large (40″ x 35″)
XX-Large (55″ x 37″)
Jumbo (55″ x 47″)

Color: Navy Blue

Also available in seal brown

Outer Material: 1680D Nylon
Inner Material: 4″ 100% gel-infused memory foam (non-toxic)
Chew Rating: 5/5 for bed chosen and reviewed
Overview
This orthopedic bed is not fully chew proof rated from the manufacturer – but the dogs don't know that. After a few discrete test chews (yeah – she didn't think we saw her!) the interest in the bed as a source of entertainment subsided.
For owners of more determined chewers, you may want to continue your search.
The exterior is rougher than some of the more indulgent fabrics, but that's to be expected – we're shifting from softness to durability.
The waterproof interior certainly held up as waterproof, and the orthopedic core held up to sleep and play.
Tails Up (Pros)
This bed was surprisingly comfortable, and the cool gel was definitely welcome in the recent heat wave.
Tails Down (Cons)
Replacing the core after washing was a wee troublesome, and the zipper of the bed we tried was a bit stiff – but easily remedied by a bit of beeswax.
Verdict
A great bed that was generous enough in size for multiple large dogs to flop on for cool comfort and tough enough for modest chewers.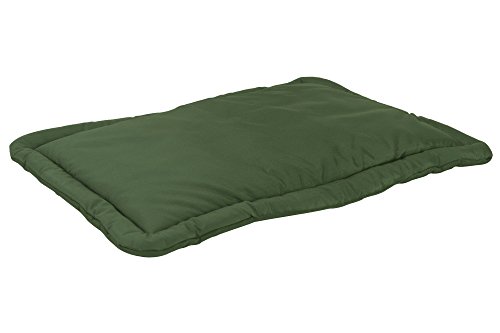 Specifically a crate pad, the manufacturer advertises this bed for light to moderate chewers only, and will resist about 90% of chewing. The overall construction of 1680D is not water resistant or waterproof.
Key Features
Size: Multiple Available
Color: Green Camo

Also available in black, blue, grey camo, green, red, tan.

Outer Material: 1680D Nylon
Inner Material: 1.5″ thick polyester fill
Chew Rating: 3/5 for bed chosen and reviewed
Overview
As a crate pad, the K9 Ballistics is an acceptable option. The 1680D nylon holds up well to scratching and the double-stitching lends itself to quality construction. The cover is not removable, but the whole unit is machine washable.
Like with any 1680D, there is ancillary noise when the dogs move around on it. When used as a stand-alone bed, it did not fall victim to chewing – but it wasn't used much, either. Probably due to the thinness of the overall bed.
As a crate liner, the loft was adequate, but dogs to tend to chew their crate bedding more, and its lifetime is definitely limited if you have a crate chewer.
Tails Up (Pros)
The 1680D is a good construction fabric, and the sizing fits the popular kennels.
Tails Down (Cons)
The thin pad is not protective enough, and the crate ties are an enticement for chewers
Verdict
the K9 Ballistics Crate Pad has an adequate design and good materials, but it's too thin for comfort.
Please note: This bed is also available in an orthopedic version, consisting of a 2″ core, consisting of a 1″ layer of memory foam on top of a 1″ layer of dense foam.
An elevated, PVC-framed dog bed that is basically a hammock design, which will avoid base pressure points. The PVC frame is walnut colored, and assembled at home with enclosed stainless steel hardware.
There is an optional fleece pad available for extra comfort. PVC glue is NOT recommended for use during assembly.
Key Features
Size: Multiple Available
Color: Khaki

Also available burgundy, forest green, smoke.

Outer Material: Cordura®
Inner Material: None
Chew Rating: 5/5 for bed chosen and reviewed
Overview
As it is, this bed really is chew-proof – but I wouldn't consider it indestructible due to the construction. There is no specific weight for the Cordura® but it feels like standard canvas weight, or about 1000D nylon.
The Kuranda elevated dog bed is basically a raised cot, commonly used for teaching "place". The dogs go to it easily enough as instructed, but it is not a chosen place for a nap – although it became more attractive when their regular bed was put on top.
Unless your dog has had experience with these raised cots, there will be a long curve for them to get used to it between the insecure footing and noisiness of the fabric. Assembly required.
Tails Up (Pros)
A simple design that easily lends itself to the indestructible label. The cot design gives avid chewers few options to gnaw on. The tough construction and strong joints make this dog bed basically bulletproof.
Tails Down (Cons)
Uncomfortable without additional padding (that may be chewed!), definitely not a good choice for arthritic dogs. Dogs not familiar with cots might shy away from it.
Verdict
Considering only the chew factor, this option receives a 5/5 – but there is no real comfort unless the fleece pad is ordered, or a folded blanket is placed over the top, and even then its unique design may likely be rebuffed due to insecure footing.
When I came across this bed touting to be the "future in chew-proof dog beds", with its advertised chew-proof ripstop fabric, tough double-stitched seams, and strong reinforced corners, I was excited.
I clicked the button to add it to my cart, and anxiously awaited its arrival.
Key Features
Color: Tan
Outer Material: Polyester
Inner Material: Polyfill
Chew Rating: 0/5 for bed chosen and reviewed
Overview
They say you never get a second chance to make a first impression – and boy did this bed make an impression. Just not a good one.
I'm not sure what they consider ripstop material – but this is definitely not what I've encountered.
The Slumber Pet Toughstructable bed felt like the fabric my aunt's curtains were made out of.
The double-stitched seams weren't, there weren't channels for the filling, and there was no indication of reinforcing at the corners.
I know this for a fact – the bed's remains were strewn across the living room in less than 2 hours. Oh, and don't bother looking for a warranty – there was none.
Tails Up (Pros)
The Velcro closure was nice, I suppose. And it's supposedly waterproof, though I never got a chance to test that while it was still intact.
Tails Down (Cons)
Hmmm … Just throw $65 in small bills on the floor and it would probably last longer than this dog bed did.
Verdict
Poorly made, falsely advertised, and overpriced.
I stumbled across this one completely by accident, so I added it to my cart – and quickly deleted it. Just shy of $300 seemed a bit pricey, even with my Prime shipping.
But it was Kong so I poked around and found it at PetSmart for less than $100. Pleased with my frugalness, I put in my order and waited for my treasure.
Key Features
Size: 30″ x 40″
Color: Brown
Outer Material: Polyester
Inner Material: Polyester
Chew Rating: 3/5 for dog bed chosen and reviewed
Overview
I won't say this was the worst bed reviewed – but in light of the company reputation, it was by far the most disappointing.
I fully expected the same Kong toughness that I had enjoyed with their soft toys (well, not that I chew them personally – you know what I mean!) but that was not the case.
The polyester was certainly not going to stand up to roughhousing for long, but for whatever reason none of the dogs tried to disassemble it – maybe because of the faint funny odor.
The piping around the edge is definitely a chew enticement, as is the carrying handle. More size options would have been nice.
Tails Up (Pros)
The dogs didn't chew it. It's a Kong. It seems comfortable enough to me.
Tails Down (Cons)
The Kong dog bed is definitely not up to the standards of other Kong products. The handle feels like it can be easily ripped off, and the fabric definitely doesn't feel like it will withstand much pawing.
The dogs didn't have much interest laying on it unless instructed to.
Verdict
Let's be honest – Kong knows how to build tough toys that could withstand Jaws on a bad day and come back for more. Beds… not so much. It's really no surprise that these dog beds are not listed on the Kong website anywhere.
I don't think this bed could stand up to a truly destructive chewer, despite the pedigree (pardon the pun).
The next step up from their crate pad, the K9 Ballistics TUFF Bed option is designed in true dog-bed style. A more colorful pallet of 1680D nylon exterior and a thick channeled poly fiber fill was more than I could resist – so I didn't.
Key Features
Size: Multiple Available

Small (18″ x 24″)
Medium (27″ x 33″)
Large (34″ x 40″)
X-large (38″ x 54″)
XX-Large (40″ x 68″)

Color: Sunny Sky Stripe

Also available in black, blue, gray camo, green, green camo, lattice, marine blue stripe, red, and tan.

Outer Material: 1680D Nylon
Inner Material: Polyester stuffing
Chew Rating: 5/5 for bed chosen and reviewed
Overview
The 1680D nylon is tough, and the ripstop pattern will definitely stop small rips from expanding through standard use. The K9 Ballistics TUFF bed is definitely not waterproof; according to the manufacturer, it's designed for any wetness to pass right through – and it actually does.
The velcro strip replacing a zipper will eliminate any chewing enticement.
Tails Up (Pros)
This bed is easy to clean, and comfortable for the dogs. The fluffy filling doesn't compact as much as I thought it would, and it withstood digging and rough-house play.
Tails Down (Cons)
There is definitely more outer material than inner material, leading to an under-stuffed look.
Verdict
This is a well made, durable dog bed that definitely lives up to the standards of toughness set by K9 Ballistics.
Please note: This bed also comes in a bolstered version; a couch-style with arms and a back for those pups that like to snuggle into their beds.
Another K9 Ballistics option (mostly because I like the name!) for the nesters and snugglers of the house. The rounded oval design, high sides, and generous stuffing make for a comfortable sleeping spot for young and old dogs that like to curl up.
Key Features
Color: Black

Also available in lattice and green camo

Outer Material: 1680D Nylon
Inner Material: Unspecified
Chew Rating: 4/5 for bed chosen and reviewed
Overview
As expected, the Deep Dog Den bed was another well made product from a manufacturer determined to get their super-durable dog beds right.
The full perimeter wall allows the pup to be fully snuggled in without the annoyance of an opening.
The fluffy filling is soft and non-clumping, and the overall design can be tempting for committed chewers.
Tails Up (Pros)
Rugged fabric material and quality construction. Smaller sizes are machine washable; the X-Large size needs to be cleaned with a hose.
Tails Down (Cons)
The comfy interior lining may not hold up to extended digging – typical for nesters and snugglers. The overall design could be a chew enticement, especially the removable bottom pad.
Verdict
Although not chewed by my dogs, the removable bottom pad and high sides could definitely be chewing enticements. I doubt it would give a determined chewer a tough time.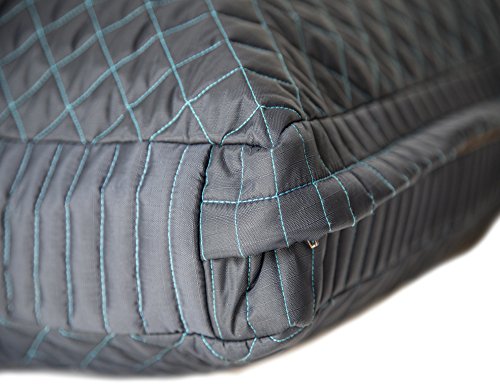 One more manufacturer of tough toys tossing their offering into the "unchewable" dog bed arena. The fashionable colors of their removable outer cover feature contrast quilted-stitching to give an extra classy look.
The manufacturer touts their beds as "Abrasion resistance more than 6x higher than most tough chew dog beds". With claims like that, it needs to spend some time with my chewer.
Key Features
Color: Atlantic Night

Also available in Belgian chocolate and champagne

Outer Material: Unspecified nylon
Inner Material: Polyfill
Chew Rating: 4/5 for bed chosen and reviewed
Overview
Without a doubt, the Hugglehounds TuffetLuxx is a nice looking dog bed. The comfy quilted stitching gives the nylon outer a little more of a softer feel, and the polyfill is fluffy and adequate.
The zipper flap is well stitched, although the zipper itself was stiff and snaggy.
Advertised as waterproof, only the inner cover held up to water balloons.
Tails Up (Pros)
Nice looking bed sure to go with any décor, comfortable and sturdy. Held up well enough to canine tug-of-war.
Tails Down (Cons)
Although only one of the dogs chewed through (can you guess which one?), the threads snag and rip easily when pawed; this can lead to weak areas that will tear.
Verdict
Not a bad bed at all, although it fails to meet the high expectations that come from their lofty claims.
So What Makes a Dog Bed "Indestructible"?
So many manufacturers tout that their beds are "indestructible" or "chew proof", but if you're like me, you want to know how they gauge what makes the cut.
Is it simply because it takes a lot more effort for a dog to tear it to pieces? That your chewers don't rip it into a million shreds the minute Mom walks out of the room?
Or is it made from materials that taste nasty so your pooch doesn't want to bite into it?
Is there a balance between durability and safety?
And for heaven's sake – does a dog bed even exist that won't be turned into stuffing at some point with a little effort and a whole lot of motivation from a bored pup?
To answer those questions, we need to decide what defines "indestructible" and "chew proof"– and if it's right for your dog.
To start with, "indestructible" and "chew proof" in relation to dog beds are used interchangeably by the manufacturers as the same thing; it might still be chewed, but without excessive damage – and your pooch may lose interest in it.
While we're at it – these so-called "chew-proof" beds aren't an automatic requirement. Unless your pup has left multiple bed carcasses in their wake, try to choose a dog bed based on comfort – especially for an older dog.
Most tougher dog beds are, obviously, made from tougher fabrics – and those canvas-type fabrics aren't the most comfortable.
Keep in mind most dogs chew out of boredom. If you have provided enough stimulation while you're not at home – especially larger soft chew toys – then there's less chance that your dog will resort to ripping the stuffing out of his bed.
Of course, some dogs chew because they're jerks – uh, I mean, because they enjoy it.
When choosing an indestructible bed, remember that it's all about the construction. The best outer materials can fail quickly with poor construction, and sub-par materials can actually hold up much longer than expected if stitched and assembled well.
Outer Material
The general construction material of the bed will determine the chew-worthiness of the bed.
While we want to balance durability and comfort, our focus is a bed for our four-legged friend that will not look like a stuffing factory exploded in the living room.
1680D Ballistic Nylon
If you think 1680D Ballistic Nylon sounds a lot like the material that your backpack is made from – you'd be right. Although not technically "indestructible", this is a classic chew proof fabric because of the dog's lack of interest in chewing it, as well as its resilient durability when chewed.
Canvas
Not as durable as 1680D, canvas is a good choice for dog beds due to its durability and also because it is a material that does not naturally entice chewing.
Denim
A less durable material, but a dog that has never had denim toys – like one made from an old pair of jeans – will generally not begin to gnaw on this. So not chew proof, just not chew-friendly.
Keep in mind that a denim dog bed may be more of a fashion statement in your living room than you expect.
Microfiber
The microfibers – including microsuede – are not the preferred choice for dog beds since they mimic the plush stuffed tows our chewers delight in disassembling.
Inner Material
I've always been a bit disappointed by the lacking of real regulation and labeling of materials on dog beds, but there's not much we can do about it.
Unless your dog has special needs (age, arthritis, allergies) the materials aren't as important as long as it's adequate for comfort.
Waterproof
This really isn't a "make or break" rating – unless a bed claims to be waterproof and fails. But let's be honest – waterproofness is only important if we specifically need it, and then it's gotta be on point.
Construction
Don't settle for anything less than double stitching at the seams.
Remember for dog beds constructed with multiple layers of fabric, one layer may fail and the next – for whatever reason – may not; unless your dog breaks all the way through to the inner cover or filling, the bed may not be considered "failed" by the manufacturer.
Warranty
This is a tricky one. Most manufacturers offer a 30 or 90 day warranty – but limit the replacement of the cover only or the bed to one-time. Be sure to familiarize yourself with the warranty before purchase.
The best indestructible dog beds will come with a long warranty. The longer the warranty, the more the company stands behind their product.
If the company doesn't offer any warranty, run. You don't want to be stuck with a dog bed that can't last less than a day with your chewing canine.
Anti-Chew Sprays
Lastly, try to resist the urge to treat your dog beds with anti-chew sprays. At best they can cause your pups to avoid their beds – and at worst they can cause chemical burns when chewing, or other irritations to eyes or nose when snuggling.
Bottom Line
We've looked at just a sliver of the "indestructible" dog beds on the market, and K9 Ballistics are a clear forerunner overall – although the DogBed4Less was our clear winner for their chew-proof orthopedic design, overall construction, and bang for your buck.
Unless constructed out of chainmail, no dog bed is truly indestructible for committed chewers.
Also bear in mind when choosing a bed that each dog is different, and their chewing needs are just as varied – and their toys will give you a good indication of construction fabric that are the better choices.
For example, if you use old jeans to make chew and tug toys for your pup – what do you think will happen to a denim bed?
You definitely get what you pay for – but before dropping several hundred dollars on a dog bed, do a little price shopping.
Also, check your local pet store; an afternoon spent trying out beds could go a long way to choosing the best one for your pooch.
Above all, remember that dogs will be dogs.
It's been a few months now, and Shasta hasn't chewed up her new bed.
Now if I can just get her to stop hoarding cheese under it…
Still Have Questions?
Ask a Vet!