It's easy to think that you can be prepared for owning a dog if you get enough supplies
Before you bring home a new puppy or rescue a new best friend from a shelter, you might stock up on dog food, treats, and toys.
Still, you can discover that your pup needs other things you wouldn't have thought about before, like a harness.
Many dogs need harnesses for different reasons (like these escape proof harnesses).
You could need it because they pull on their leash during walks and you don't want them to harm their esophagus with constant strain[1]. They could also use a car harness to stay safe during rides.
Most dogs can adjust to wearing a harness, but any pet accessory will wear down over time. Especially if your dog wants to chew on it while you're not looking!
To make your life a bit easier, we've collected the best chew proof dog harnesses that should last your pet a long time.
See which ones are best for what you need and try them out on your next excursion with your pup.
Best Chew Proof Dog Harnesses
Dogs like to chew on things because it's part of their nature, but they may also want to destroy their harness because they prefer not to wear it.
If your pet is a big chewer, you can check out these heavy duty dog harnesses and see if they last in your house.
They're made to withstand even the most aggressive chewer, so you're bound to get a great product no matter which one you try.
Best Dog Harnesses for Chewers: Winners
Best Chew Proof Dog Harness (for Most Dogs)
Kurgo Tru-Fit Smart Harness
Most others would agree that the best choice in a canine harness would be something that doesn't cost a lot of money but is still made with great quality.
Try out the Kurgo Tru-Fit Smart harness to see why it's my favorite pick.
It's made for all day wear, but it will withstand any dog park trip or aggressive chewer in addition to long days of use.
✓
What I Liked
Some of the best parts about this harness are:
Reflective stitching makes your pup easier to see at night
The cotton lining makes the harness more comfortable on their shoulders and back
The harness includes stainless steel rings, which will hold up even when your dog is pulling during walks
✘
What I Didn't Like
Before you invest in this harness, you should know that:
It isn't the cheapest option on the market
It's intended for dogs with four legs, so it won't fit disabled pups
The durable material may be heavy for smaller dogs
Conclusion
The Kurgo harness is meant to last, so it's best for pets who go on regular adventures, like to yank on a leash, or chew on the harness when it's not strapped on.
Related: The Best Chew Proof Dog Leashes on the Market
---
Best Chew Proof Harness for the Money
URPOWER Harness
Dog owners don't always have a ton to spend on their pup's accessories, which is where URPOWER harness comes into play.
It's an anti-twist, adjustable harness that's perfect for any sized dog, without overcharging owners who work with a budget.
It's still durable and visible, so you won't feel like you're putting money ahead of your dog's safety.
✔
What I Liked
Some of the most notable features of this harness are:
It's made with anti-twist cords, so each strap is durable
Every ring and hook on the harness is made with stainless steel to withstand the test of time
The harness minimizes material to keep costs low, but doesn't compromise on its durability
✘
What I Didn't Like
Some pet owners don't prefer this harness because:
The straps are small and easy for dogs to get in their mouth compared to the expanded pads on more expensive harnesses
Owners must measure their pet before ordering, because this harness is not limited to weight restrictions
In order to strap it on, the pet must step into the harness instead of their owners buckling them in, which can take more time
Conclusion
This budget friendly canine harness is meant to last a long time, even with pups who like to chew or need their harness every day.
As long as you measure your dog correctly according to their guidelines, you'll see why so many pet owners love this affordable harness.
---
Most Durable Dog Harness on the Market
RabbitGoo Harness
If you have the money for it, you may want to just get the top-of-the-line no pull dog harness and skip the potential trials and returns.
In that case, RabbitGoo makes a great outdoor vest with adjustable straps for even the biggest dogs.
It's made with breathable mesh so every part of the harness is comfortable and allows your dog to cool off on hot walks.
✔
What I Liked
People enjoy buying this harness because:
There's a handle built into the top so you can pull your dog back and grab the harness with your hand whenever you need to
Every strap is adjustable so your dog can enjoy the harness throughout their life
The harness uses a front chest mesh pad to enhance their no-pull design, which is perfect for dogs in training or behavioral classes
✘
What I Didn't Like
A few buyers have noted that this harness may:
Begin to fray on the straps over time
Require some time for dogs get used to, such as the straps causing blistering on the back of your dog's legs if overused at first
Not come with a warranty, which won't protect your purchase if your dog chews through the straps
Conclusion
The Rabbitgoo harness has been popular with many dog owners because it uses a front mesh pad and durable stitching to make sure your dog is comfortable in any situation while they're on their leash.
It's a quality product you'll notice as soon as you unbox it, so choose from one of the many color options and see if it works for your dog.
Is Your Dog Driving You Nuts During the Day?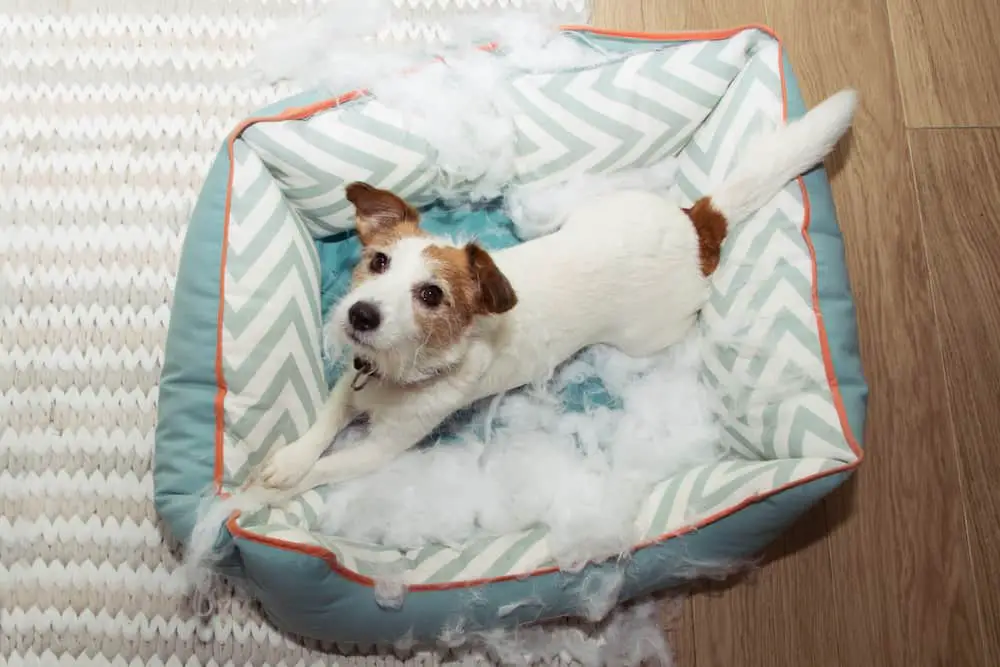 Get Our List of 11 Awesome Indoor Activities to Keep Your Dog Busy and Out of Trouble!
---
Strongest Non Chewable Harness
Dean and Tyler DT Harness
Some dogs are stronger than others and can pull apart a harness without trying.
If that's your dog, you'll want to look into Dean and Tyler's DT harness.
Although it comes in all sizes, it was created specifically for large dogs with the strength to tear apart traditional harnesses in a single walk.
It's perfect for walking, hiking, and even training puppies.
✔
What I Liked
The best parts about this harness are:
It's made with weatherproof material so using it in the rain, sleet, and snow won't harm its durability
It comes with light reflective strip on the trim for night time training or exploration
All the stitching is reinforced, so it can withstand pulling and yanking from any angle
✘
What I Didn't Like
Some people have experience the following issues with this harness:
The adjustable straps may loosen if the leash tugs the harness to the side too many times while walking
The saddle design of the harness doesn't help with airflow on long walks, so it isn't great for hot environments
It doesn't include extra Velcro patches for signs and accessories if you want to place them on your dog's harness
Conclusion
If you are not walking your dog in hot weather, this harness should last you all year round.
The saddle design keeps your dog comfortable and helps with training, all without putting excess pressure on their throat like a traditional collar.
---
Best Chew Proof Dog Harness for Small Dogs
Puppia Authentic RiteFit Harness
Small dogs sometimes need harnesses too and they're in luck.
Your dog can use Puppia's Authentic RiteFit harness for extra comfort and support.
It comes in a variety of colors for your pup's stylish needs and features neck adjustments for dogs who might find themselves in between sizes.
✔
What I Liked
Small dog owners love using this harness on their dogs because:
It has breathable, soft mesh
It uses a stainless steel ring for easy leash attachment
It supports both the shoulders and lower back so your dog never has aches and pains
✘
What I Didn't Like
You should also know that this harness:
Runs a bit small
Has multiple clips, which may confuse someone new to canine harnesses
May not fit dogs with long torsos
Conclusion
Pupia's harness for small dogs is popular with owners because it's made to last.
The quality material and structuring hold together well and guide your pup through any indoor or outdoor adventure.
---
Best Chew Proof Dog Harness for Medium Dogs
RUFFWEAR Front Range Harness
Medium-sized dogs often find their size in most products.
Although you'll find many harnesses that could fit your dog, the Ruffwear Front Range Harness will be your best chew-proof bet.
Its foam-padded chest and belly strips equalize any weight or tugging on your dog so they never feel uncomfortable or sore.
✔
What I Liked
People love this harness because:
It comes in six colors
It has two leash attachments for optimal control
There are four strap adjustment points to give your dog the best range of motion
✘
What I Didn't Like
You should know that some people have disliked this harness because:
The ID pocket might run smaller than the ID your dog has
The reflective trim can fray over time
It's not tested for safety use in car-crash scenarios, so it's not a good dog seat belt harness
Conclusion
The Ruffwear Front Range harness is great for dogs who need a little extra help when they're walking or training.
It's stylish, simple to use, and always easy to see, so your dog is safe whether they're walking around in the day or night.
---
Best Chew Proof Dog Harness for Large Dogs
POPETPOP Harness
Big dogs present the extra challenge of being able to chew on more things at one time and having more force to pull through weak straps.
The POPETPOP harness has thought of all this, which is why it's the best chew proof dog harness for a large dog like a German Shepherd, Golden Retriever, or Labrador.
It keeps size and strength in mind so any big dog can wear it comfortably.
✔
What I Liked
This harness is great because it features:
Durable buckle attachments to withstand heavy loads or tugging
Oxford fabric, which is extra strong and still breathable
Reflective straps so a car can see your dog from any angle at a distance
✘
What I Didn't Like
Before you buy this harness, you should know that:
Some customers have received products with malfunctioning clips
The harness stains easily, like if your dog enjoys running through muddy areas
The metal rings for the leash may wear down the fabric attaching them to the harness over time
Conclusion
This POPETPOP harness is perfect for large dogs.
It's tough, adjustable, and budget friendly, without compromising on the quality of the product.
What to Look for in an Indestructible Dog Harness
When you're going to buy your dog a cute winter sweater or a pair of rainboots, you can make a quick choice at the store based on what catches your eye.
Purchasing a harness requires more thought because it's what will keep your dog safe well into the future.
Check out some of these key features you'll want to look for in a chew proof dog harness.
If a product can check all these factors off your list, it's probably your best shot at a long-term harness for your pup.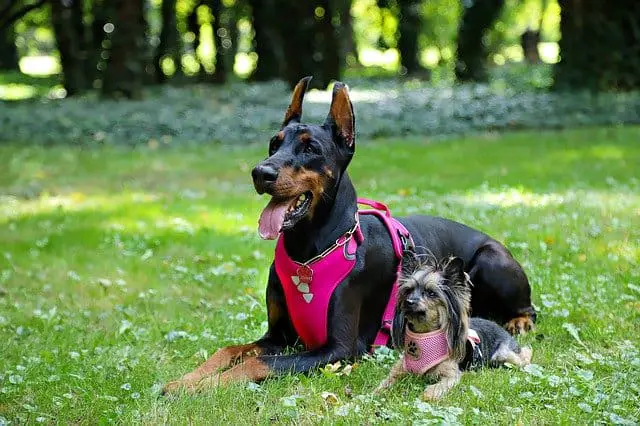 Find a Front Harness Clip
While you walk a dog that wears a collar, that collar adjusts where your leash is connected by sliding around your dog's neck.
A harness can't do that, which is why it's important to find a front harness clip.
It allows you to better direct your dog by tugging on their chest, which lets them hold their head high and see what you're asking them to do[2]. It's also useful if your dog tugs and you want to pull them back to face you and listen to you saying, "No."
The only danger to look out for is potentially tripping your dog.
If they like to run ahead and you always have to yank back, a quick pull could have them topple over on accident.
Use a Back Harness Clip
Back harness clips are another common feature you'll find.
They're great for older dogs who are already well behaved during walks.
They won't tangle up with anything and gently tug on your dog's torso if they need a little help.
Your Older dog will appreciate the back harness clips because they distribute the force of a tug.
It puts less pressure on a single area of their body which may ache more already because they're older.
Check for Strong Materials
Clips are important in a lasting harness, but you'll also want to check for strong materials in any harness your dog might use.
After enough time spent chewing, nothing will last forever, but materials such as canvas, nylon and denim will last the longest.
You can also test out materials at a fabric store to see which have the right durability before ordering the harness.
They'll likely have the same fabrics on stock for you to feel and stretch to test how tough it is.
Remember Strap Distances
Many dogs wear their harness all day long.
That can be a good thing, since they won't get the chance to put the whole thing in their mouths when they want to chew.
It can also make them more frustrated and prone to destroy it, if they can reach the straps.
Check for any photos posted with a potential harness to see where the straps land on different sized dogs.
You can also test this out in person after you order the strap and keep in mind that you can return it if your dog easily nips at the belts.
Loose harnesses present more of an opportunity for chewing, although you don't want the straps to be too tight either.
As long as your dog can't get their lower jaw under the chest, neck or shoulder straps, it'll be safe from their destructive habits.
Important Questions to Ask Yourself
After you've made your list of key factors to remember, you'll need to answer a few important questions to find the right chew-proof dog harness for your pup.
Should It Have a Purpose?
When your dog wears their future harness, will they need it for training (see our top picks for the best dog harnesses for training).
Some dog owners will use a harness to control their dogs on walks, but it's mostly a fashion statement when they wear it at home.
Your answer to this question will change what structure you want in a harness and if the appearance is important to you.
A padded chest protector built into the harness will be more useful for training, while a simple strap harness will work for dogs who just want to go on a walk.
When Will Your Dog Wear It?
Do you like taking your dog out for early morning or evening walks?
If it's dark outside, it's harder for oncoming vehicles to see if your dog's in the road or bike lane.
Someone walking their dog in the daylight can get any harness that fits their dog, but nighttime or early morning walkers should look for reflective stitching or straps to keep their dog as safe as possible[3].
Have You Measured Your Dog?
Some dog products are sold depending on your dog's weight or age.
Harnesses require specific measurements for optimal comfort.
If you haven't measured your dog's chest, shoulders, and neck in the last few weeks, it's time to get out the measuring tape.
This is sometimes confusing or intimidating for people who haven't done personal or canine measurements before.
If that's the case for you, you can find the sizing guidelines for a harness you're interested in and follow those instructions that will help you decide on the best size for your dog.
Conclusion
Now that you know how to navigate the world of unchewable dog harnesses, you should find it easier to narrow down your list of options.
When you want the best on the market, check out the Kurgo Tru-Fit harness, which comes in all sizes.
It's still my number one choice because of the durable material, stainless steel rings and reflective stitching. It has everything in one package, so check it out when you get the chance.
If you keep in mind these important features, get the questions to all your answers and research every harness that catches your eye, you'll find the perfect harness for your dog so they can enjoy life to the fullest while staying safe and comfortable.
FAQs
Is a Harness Better Than a Collar?
In some cases, yes, a harness can be better for a dog than a collar.
Harnesses prevent throat damage on dogs who constantly pull on their leash.
They also gently guide older dogs with aching joints and fully control dogs training for different services.
What is the Benefit of a Dog Harness?
Harnesses have many benefits, so it depends on your dog.
They comfortably teach dogs when not to yank on the leash or venture off the walking path. They also provide more reflective material so dogs are easily seen when they're walking at night.
Mostly, harnesses give full-body control over a dog, so they're perfect for any dog in training.
Puppies learning to go on walks and dogs completing courses for K9 units and service positions all benefit from harnesses.
Are Harnesses Bad for Dogs?
There are only a few rare cases when a harness could be bad for a dog.
If the harness is too tight, it could cut into a dog's skin when they wear it or pull on it.
A harness can also get tangled up in long dog hair and need to be cut out.
These are both easily preventable situations, so they don't happen often enough for a harness to be considered dangerous.
Do Harnesses Stop Dog Pulling?
Harnesses alone won't stop a dog from pulling.
The reason they help much more than collars is because they pull back on the dog's torso, which catches their attention more and prevents them from continuing to walk comfortably.
When used correctly, a harness can help teach a dog how to stop pulling, but only if the pet owner is giving them the correct guidance.
What Type of Harness is Best for a Dog?
It depends on what the dog will use the harness for.
If they'll use it all day, they could need something thinner and more casual, like a strap-based harness.
Dogs in training might need a breathable padded harness, so they aren't hurt by getting constantly pulled into place.
Resources