Best Deterrents for Dogs Eating Poop: Winners
Though a disgusting habit, dogs eating feces is not that unusual and in some cases is a natural behavior.
Studies have shown that 1 in 6 dogs consume feces regularly and 1 in 4 dogs have been found eating stool at least once[1].
So, if this is a challenge you are dealing with you are not alone.
I have dealt with this issue with three of my dogs, so it is a challenge I am quite familiar with, but I will say that it can be resolved.
This article covers the common reasons why dogs eat poop, the best coprophagia deterrent products on the market, and excellent natural coprophagia deterrent options.
Why Dogs Eat Poop
There are a variety of reasons veterinarians believe dogs take part in this behavior; some of the most common theories include:
Puppies who have learned the behavior from the mother dog (often in these cases puppies will outgrow this within the first year)
Dogs who spend excessive amounts of time in confined areas
Dogs seeking attention
Some breeds are more prone to coprophagia, like Border Collies and Shelties.
Behavior issues such as anxiety
Change in their home or lifestyle causing stress eating.
However, studies have also reflected that dogs in multi-dog houses tend to be more prone to coprophagia, which makes sense since 85% of dogs that eat feces eat other dogs' and not their own[2].
Two of the most instinctual and natural causes of coprophagia in multi-dog households are mothers cleaning up after their young and healthy dogs cleaning up after older or sick dogs to protect the pack.
But sometimes, when dogs eat poop, it could be a symptom of a health issue. So, if your dog suddenly decides to take part in this behavior, it is best to consult your veterinarian.
Related: How to Easily Clean Your Dog's Mouth After Eating Poop
Best Coprophagia Deterrents to Stop Stool Eating
Best Budget Coprophagia Deterrent
PetNC Stool Eating Deterrent
Product Type: Flavored Tablet
Average Price Per Serving: Under $0.15
PetNC Stool Eating Deterrent is a multipurpose tablet; it helps to deter dogs from eating poop and aids in promoting good digestion.
Made with ingredients sourced in the US.
Plus, since PetNC is flavored with liver, it is more palatable for your dog.
PetNC is ideal for those looking for an economical option.
Active Ingredients
Yucca Schidigera Extract
Cayenne Pepper
Alpha Amylase
Parsley Leaf
Glutamic Acid
Chamomile
Thiamine Mononitrate
✔
Pros
Economical
Natural ingredients
✘
Cons
Contains liver, but no animal type specified
Is Your Dog Driving You Nuts During the Day?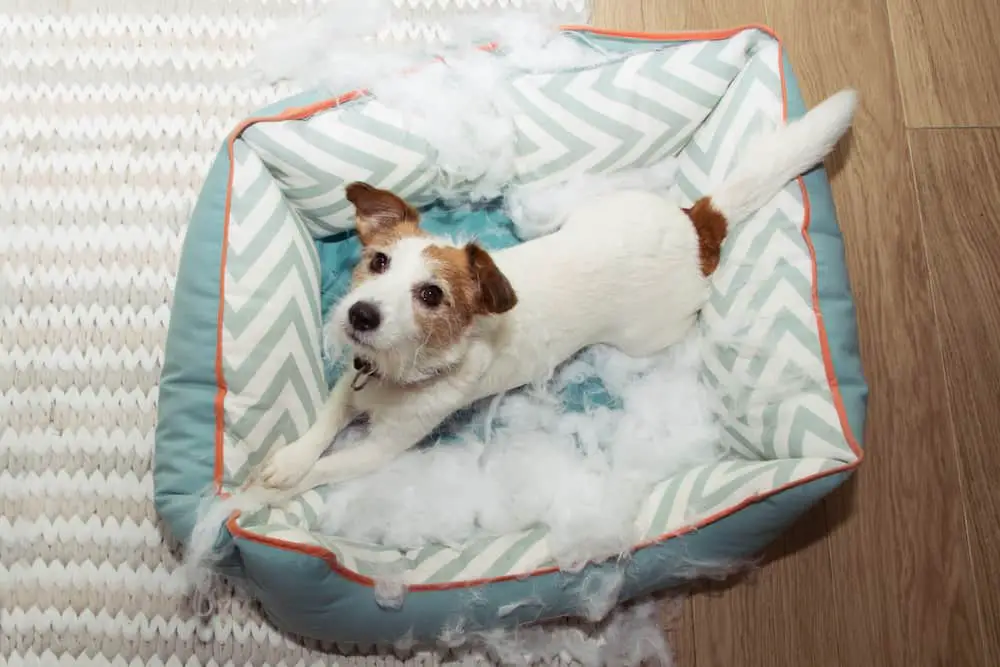 Get Our List of 11 Awesome Indoor Activities to Keep Your Dog Busy and Out of Trouble!
Best for Dogs with Allergies
NaturVet Stop Eating Deterrent
Product Type: Soft Chew
Average Price Per Serving: Under $0.20
NaturVet Coprophagia Stool Eating Deterrent is an effective soft chew for dogs, making them easy to give.
Plus, these chews are formulated with breath aids to prevent bad breath.
NaturVet is best for dogs who have food allergies, which is why I used this product when Sophie started eating feces in the yard.
It was fairly effective, but Sophie was very tenacious, so it only reduced her consumption and didn't wholly stop it.
Active Ingredients
Yucca Schidigera
Parsley Leaf
Proprietary Enzyme Blend
Chamomile
✔
Pros
Contains a breath aid
Hypoallergenic
✘
Cons
Can take 2-4 weeks to work
Best Coprophagia Deterrent & Digestive Aid
Solid Gold Stop Eating Poop
Product Type: Soft Chews or Powder
Average Price Per Serving: Just over $0.20
This all-natural coprophagia deterrent is grain-free and gives stool a bitter taste.
Solid Gold's Stop Eating Poop also helps to soothe your dog's digestive system and freshen your dog's breath.
Stop Eating Poop is best for dogs who would benefit from an enzyme that promotes good digestive health.
Active Ingredients
Peppermint
Yucca Schidigera
Proprietary Enzyme Blend
Parsley Oil
✔
Pros
Has added enzymes to promote good digestive health
Contains a breath aid
✘
Cons
Soft chews contain rice powder
Powder formula contains beef liver and rice powder
Fastest Acting Coprophagia Deterrent
FOR-BID Coprophagia Deterrent
Product Type: Powder
Average Price Per Serving: A little over $1.50
FOR-BID was one of the first coprophagia deterrents on the market.
FOR-BID causes excrement to be unappealing to your dog and works without interfering with your dog's natural digestion.
Most dogs only require half of the packet twice a day for five days. However, more determined dogs may require longer treatment for up to two to three weeks.
FOR-BID works quickly perfect to put an end to coprophagia fast.
✔
Pros
Fast acting
Does not require long term use
Does not interfere with a dog's digestive system
✘
Cons
Lacks a full list of ingredients
Contains wheat gluten
Best Coprophagia Deterrent for Picky Eaters
CoProvent Coprophagia Soft Chews
Product Type: Soft Flavored Chews
Average Price Per Serving: Just under $0.25
CoProvent Coprophagia is a flavored soft chew that is gluten-free.
It's a safe deterrent developed by veterinarians.
The soft flavored chews can be given like a treat.
CoProvent Coprophagia is ideal for picky eaters; yes, dogs that take part in coprophagia can still be picky!
Active Ingredients
Yucca Schidigera
Chamomile
Glutamic Acid
✔
Pros
Extremely palatable
Free from wheat
✘
Cons
Contains rice and cheese flavor
Natural Homemade Coprophagia Deterrent
I prefer trying home remedies and here are few things to try at home.
You may notice that I did not include Adolph's meat tenderizer, and that's because our dogs don't need the added salt and sugar in their diet, neither of which aid in deterring coprophagia.
The ingredient that makes dogs dislike eating their poop is an enzyme found in pineapple.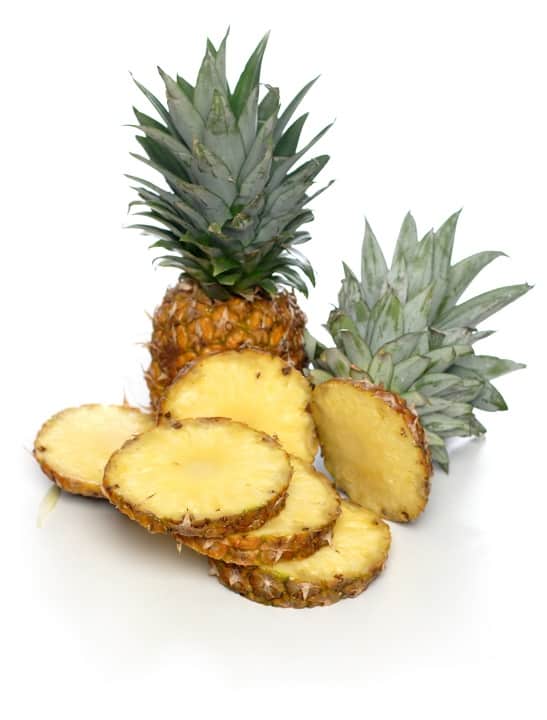 Pineapple
Pineapple causes a dog's poop to be even more unappealing due to an enzyme called bromelain.
Plus, an added benefit of pineapple is that it is an anti-inflammatory.
I have tried this and it worked for a while, but my dogs didn't love eating pineapple daily.
Though pineapple is one of the more effective remedies, it does contain a significant amount of natural sugar, making it a less favorable option for dogs with diabetes or weight issues[3].
Pineapple is best for dogs who have allergies and for dog parents looking for a natural and safe remedy for their dog's coprophagia.
✔
Pros:
Extremely effective
All natural
Goes to work quickly
All Leashed Up
An almost foolproof way to get your dog to stop eating poop is to keep your dog on a leash.
Though highly inconvenient, especially in the rain and snow, it works well for dogs who are serious poop eaters.
Keeping your dog on a leash allows you to monitor and work on behavior modification, which is the best coprophagia deterrent.
✔
Pros:
99.9% success rate – The 0.01% is for when you get distracted
Immediately effective
Keep the Yard Clean
Cleaning up immediately after your dog goes to the bathroom can be very time consuming for you but will keep your dog from eating excrement.
It is best if you work on behavior modification during this time to help eliminate this issue.
✔
Pros:
100% success rate
Immediately effective
✘
Cons:
Can be challenging to follow your dogs around to immediately clean up after them
Conclusion
There are some excellent coprophagia deterrent options available, so finding the right one for your dog should be easy.
But I will caution you that many dogs return to eating poop when their owners stop using the supplement.
For those with dogs who resume this horrid behavior, then behavior modification is the only way to completely eliminate this issue.
I think the best coprophagia deterrent is using both a supplement while also working on impulse control to get your dog out of the habit of eating poop.
To learn more about behavior modification, check out our Brain Training for Dogs review!
FAQs
What Can I Spray to Stop My Dog from Eating Poop?
You can try hot sauce, cayenne powder, apple cider vinegar, or lemon juice.
However, it is vital to note that all piles need to be treated until your dog stops showing interest.
Why Does Pineapple Stop Dogs from Eating Poop?
An enzyme in pineapple called bromelain makes your dog's poop unappetizing to them.
Does Canned Pineapple Stop Dogs from Eating Poop?
No. Fresh pineapple is best for deterring your dog from coprophagia.
When pineapple is canned, it is exposed to heat, which impacts the effectiveness of bromelain.
Resources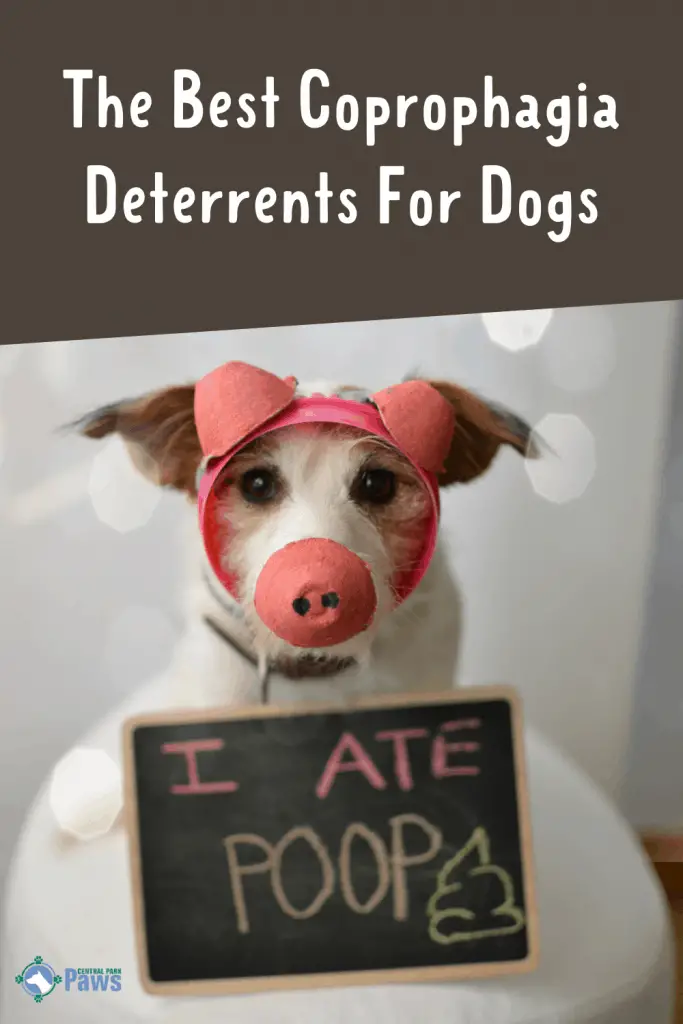 Still Have Questions?
Ask a Vet!