This post may contain affiliate links. It doesn't cost you anything extra and it keeps our lights on, our families fed, and our dogs spoiled. For all the juicy fine print, see our affiliate disclosure
I live in a very senior household, and nutrition is a significant factor in ensuring good health, which is why we tried Orijen Senior dog food.
Overall, it is a high-quality dog food for older dogs that is hard to match.
But, unfortunately, it was not the right food for us.
Having four dogs, we go through a lot of dog food and, because two are picky eaters, we are always happy to try different high-quality dog foods.
Orijen Senior has a very high protein level, which is excellent for dogs who need to put on some muscle or weight. Or, like in our case, need to retain the muscle mass they have.
Though Orijen Senior is not the right pick for our family, it might be the right one for yours.
What are the Main Ingredients in Orijen Senior Dog Food?
The number one thing I think of when I think of Orijen dog food is protein.
All of Orijen's food varieties focus on high-quality proteins.
The base for Orijen's recipes is the dietary needs of both wolves and the domestic canines of today.
Pros
Orijen Senior's main proteins come from chicken, eggs, turkey, herring, and flounder.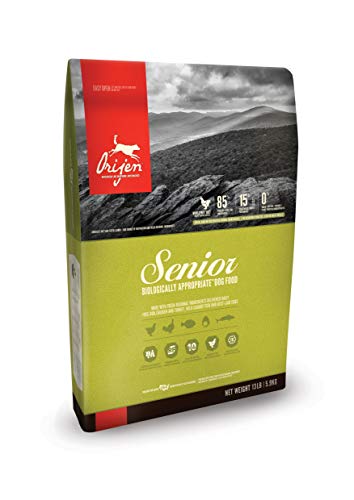 The first fifteen ingredients are animal-based protein, with the first ten ingredients being "fresh" or "raw."
None of the fresh or raw meat contains preservatives.
The raw and fresh meats have only used refrigerated or flash-freezing to preserve the meat, maximizing the retention of vitamins and nutrients in the ingredients.
Is Your Dog Driving You Nuts During the Day?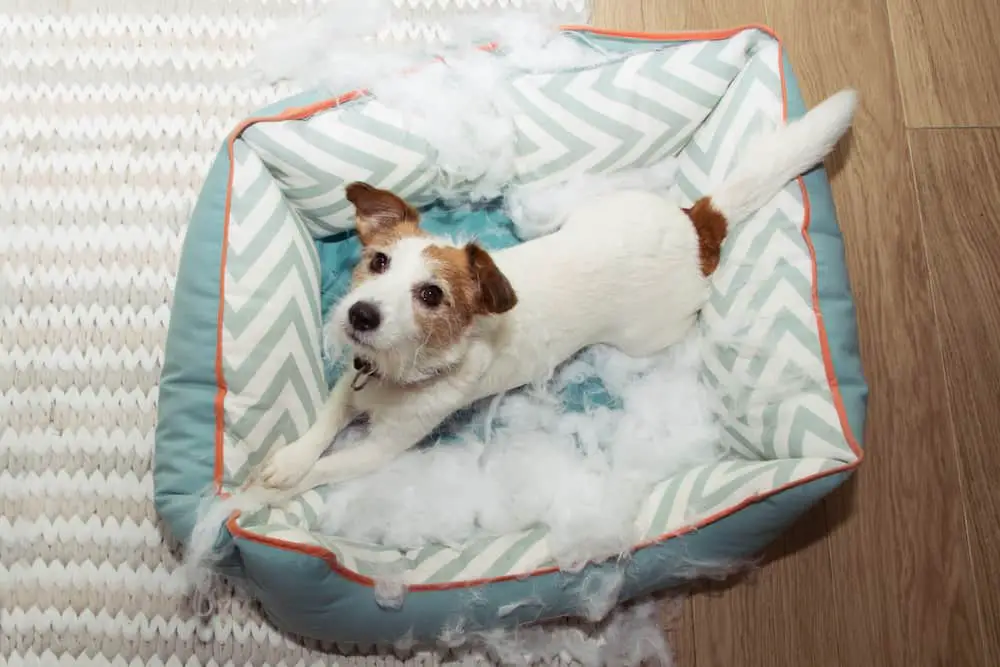 Get Our List of 11 Awesome Indoor Activities to Keep Your Dog Busy and Out of Trouble!
Protein provides the needed amino acids dogs need to stay healthy. A dog naturally produces some amino acids but only half of what they need; the other half of amino acids comes from their diet.
Amino acids not supplied by the body are called essential amino acids and are a significant part of growth, maintenance, reproduction, and repair.
In addition to the main proteins, Orijen contains kale, spinach, beet greens, kelp, and other plant-based superfoods.
Superfoods are foods that contain a high quantity of vitamins and nutrients and are packed full of antioxidants.
Dog foods with superfood ingredients are a great choice because they help boost the body's immune system.
Cons
The drawback of this food is the lack of grains and replacement ingredients like lentils and peas. Studies show that grain free foods that contain unique ingredients like lentils and peas have a direct correlation with the rise of dogs suffering from diet-associated dilated cardiomyopathy.
Because of the risk of DCM, most certified veterinarians and animal nutritionists are encouraging pet parents to put their dogs back on a diet containing grains.
Finally, the high protein level might be great for some dogs, but it isn't recommended for dogs with liver or kidney issues as it may tax those organs to an unsafe level.
Also, protein-dense foods are commonly dense in calories, so dogs who have a weight issue should not be on protein-rich dog foods.
Because I keep mentioning the high protein levels, I thought it would be a good idea to share the guaranteed analysis for the crude protein (min) is 38% while the average dog food is in usually around 25%.
What Sets Orijen Senior Dog Food Apart from the Others?
With over a hundred different dog food companies and thousands of dog food varieties to choose from, why would I pick Orijen?
Has some of the highest quality ingredients on the market
Has never had a dog food recall
Has stringent safety and product guidelines for manufacturing the food
The mixture of fish, chicken and turkey proteins
The higher protein levels
The added chondroitin and glucosamine
What I Liked About Orijen Senior Dog Food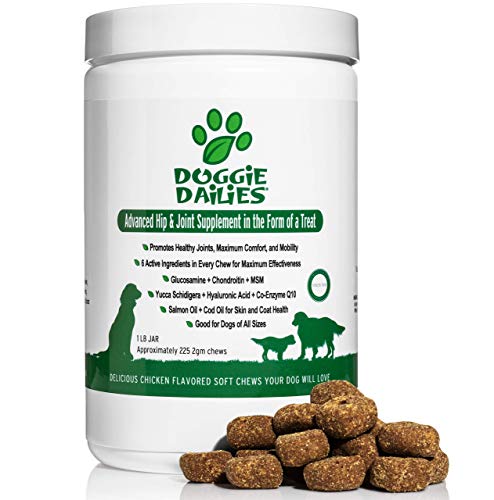 I liked that my dogs ate it.
Daisy will turn her nose up to 70% of the dog foods we offer her, so finding one she wanted is a significant benefit.
Also, I liked knowing the food I was feeding was of full of antioxidants and Omega-6 & 3 fatty acids, which are both key to a healthy senior's diet.
Daisy has arthritis throughout her whole body, so picking a food with added chondroitin and glucosamine allowed me to cut back on the supplements she takes.
Likely not a big deal for most dogs, but Daisy hates taking her pills, so having fewer medicines to dispense is a plus.
What I Didn't Like About Orijen Senior Dog Food
I apologize for repeating myself, but the high protein content and the lack of grains don't make this a favorite for me.
I wanted a higher protein food because Daisy needs to retain muscle and gain weight, but the protein levels were ultimately too much with her liver issues.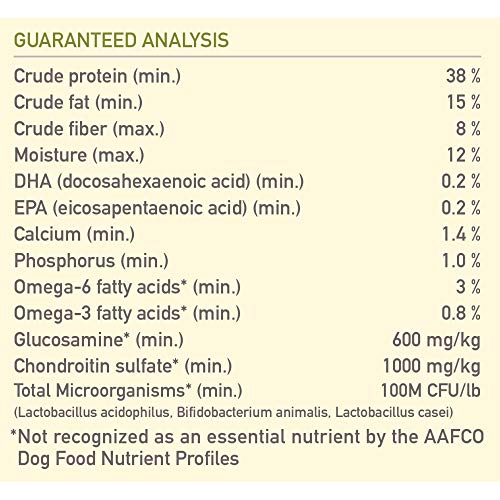 It is not that I don't like the protein levels; it's just that they were not a good fit for Daisy.
The grain-free aspect of the diet is also an issue for me.
After the studies came out against grain-free diets, I have been avoiding them. I tried Orijen, even though it was grain-free, to mix with another food that contains grains.
After finding out that Daisy has heart disease, we steer clear of all grain free diets.
Lastly, the price of this food is significantly higher, averaging around almost four dollars per pound.
The price is understandable when you take into account the quality of ingredients, manufacturing, and imported from Canada. Understanding the cost is one thing, but the price is still higher than most making it somewhat prohibitive to the majority of dog parents.
Recommendation
I wouldn't hesitate to recommend Orijen Senior dry dog food to most pet parents with senior dogs that are in good health, active, and not overweight, with the caveat that they should either mix it with a food that contained grains or add grains to it.
Alternatives to Orijen Senior Dog Food
It contains healthy proteins, superfoods, barley, and rice.
Also, Omegas 3&6 fatty acids, glucosamine, and chondroitin have been added to help improve your senior's joint health.
This dog food formula contains grains.
The ingredients focus on senior wellness with the added attention to their cognitive function.
This specially formulated senior dog food contains grains and crafted explicitly for seniors who have slowed down. Fromm Reduced Activity and Senior Gold would be an excellent food for our chunkier seniors.
Conclusion
Everyone knows puppies need special care and food, but so do older dogs.
As a dog ages, their dietary needs often change too.
For many senior dogs, muscle loss is a real issue and feeding a high protein diet can often help slow that process.
Also, find a specially enhanced food for senior dog's needs can help maintain good health in your dog.
However, what works for one dog may not work for another. Orijen Senior didn't work for Daisy but might be perfect for your senior dog!