This post may contain affiliate links. It doesn't cost you anything extra and it keeps our lights on, our families fed, and our dogs spoiled. For all the juicy fine print, see our affiliate disclosure
It has been many years since I last had to think about toys for aggressive chewers.
Calvin is older now and doesn't destroy toys like he once did. But now, with a new puppy in the house, it's like living with a tornado of destruction.
Though she is just shy of 5 months old, she is teething, and as a result, she is continually chewing, and the majority of the toys we now have were not purchased with an aggressive chewer in mind.
So I needed to jump online and see what I could find.
Though we have a lot of teething toys that can be filled with soft food and put in the freezer, I had been hoping to find other fun toys for her to play with, since after awhile the same few toys tend to get boring.
I started looking for toys with a squeaker that could withstand her attention and the playstyle of the other dogs.
It's funny how a new puppy will get older dogs playing with toys again.
Why Buy Indestructible Squeaky Toys?
There are a few reasons I want super durable toys and why you may want them, too.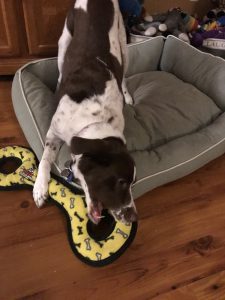 First, Mirabelle still hasn't learned everything she encounters should not be eaten, so my number one concern is safety[1].
Second, I don't want to have to keep replacing toys. The reality is, it gets pretty darn expensive buying new toys every week.
Finally, I feel like I am constantly cleaning with four dogs, so adding shredded toys to my cleaning list isn't something I am looking to do.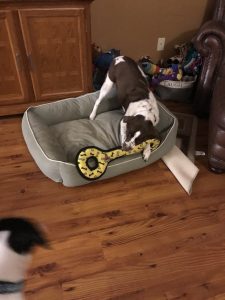 Though Mirabelle is still on the small side now, we expect that she will be at least forty pounds full grown, meaning her bite power and teeth will only increase.
Plus, puppies can teethe for quite some time, so I expect we will be dealing with this issue for another month.
And even after she grows out of the chewing on everything phase, I imagine she will still want to play with or chew on toys.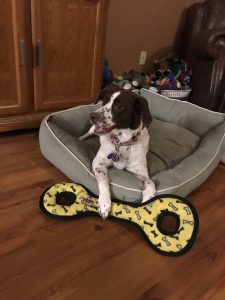 What I found during my research was pretty much what I expected, there are a lot of durable toys, but there's always a dog out there that manages to get a corner or piece off even the toughest of toys.
When Daisy was a puppy, she chewed a KONG apart, so I know it can happen. The good news is that there are several different choices and functions.
Is Your Dog Driving You Nuts During the Day?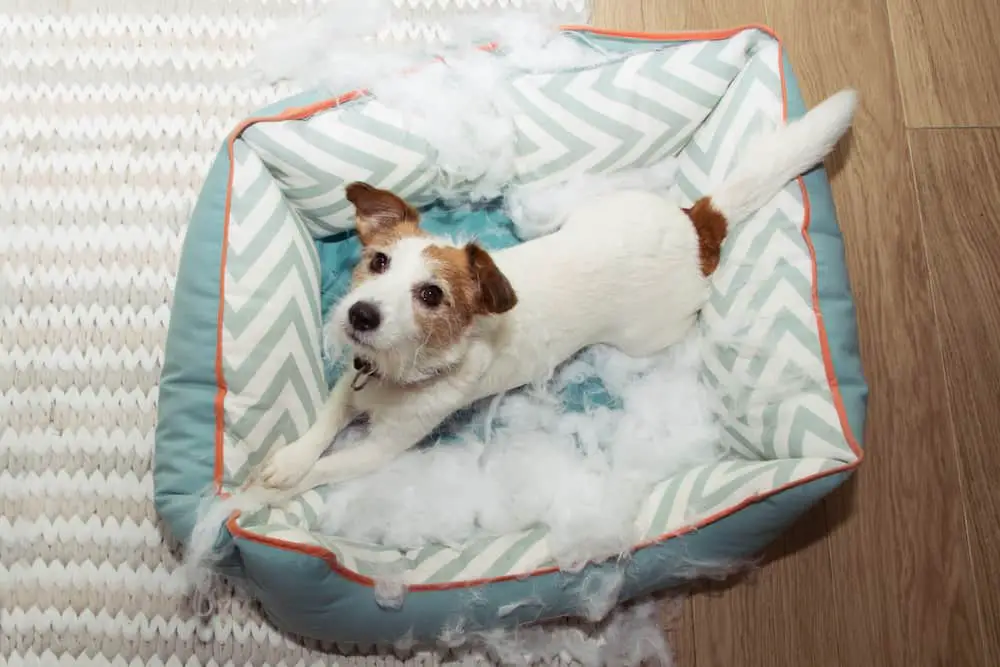 Get Our List of 11 Awesome Indoor Activities to Keep Your Dog Busy and Out of Trouble!
Also, giving your dog appropriate chew toys can cut off more destructive behavior[2]!
Best Chew Proof Squeaky Toys for Dogs
Here are the best indestructible squeaky toys we've tested:
Best Chew Toy for Aggressive Chewers
Tuffy Tug, Toss, and Fetch
Why It's the Best Choice
Tuffy toys are made with four layers of durable material.
The edges of the toy are reinforced protective webbing and then held in place with seven rows of stitching.
Plus, there isn't any stuffing. What gives these toys its mildly squishy feel are the multiple layers of fabric.
And the squeakers have extra protection since they are tucked into a safety pocket.
We have the Tug O War one, and Ginger loves it. Plus, it is tough enough to stand up to Calvin's chewing.
I didn't rate the tug toy as the best since it is pretty big, and would not be the right choice for smaller dogs.
✔
What I Liked
Available in multiple sizes and styles
No fill
Floats, making it a great water toy
✘
What I Didn't Like
The scalloped edges make it easier for dogs to chew on and possibly wear the material down.
Best Value for the Money
Gnawsome Medium Squeaker Ball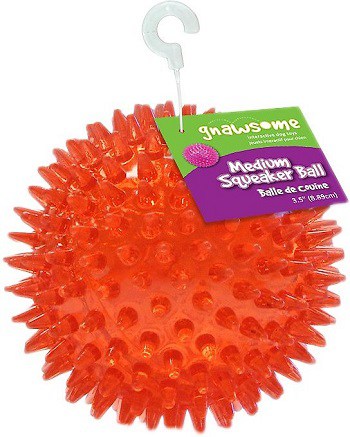 Why It's the Best Choice
The Gnawsome squeaker ball has soft spikes to massage your dog's gums and makes it easier for dogs to grab.
The ball is made from food-grade, BPA-free, thermo-plasticized rubber.
The squeaker is hidden inside, making it more challenging for your dog to work at getting it out.
And though the ball is very durable, it does float. Plus, since its lightweight and comes in bright colors, it's one of the few toys that won't easily get lost in the snow.
✔
What I Liked
Comes in thee sizes from 2.5-inches up to 4.5-inches
Economical
Bright colors allow them to be found easily in the house and yard
✘
What I Didn't Like
The squeaker may not be as durable as the rest of the toy
Best Tough Chew Toy on the Market
PetSafe Squeak and Treat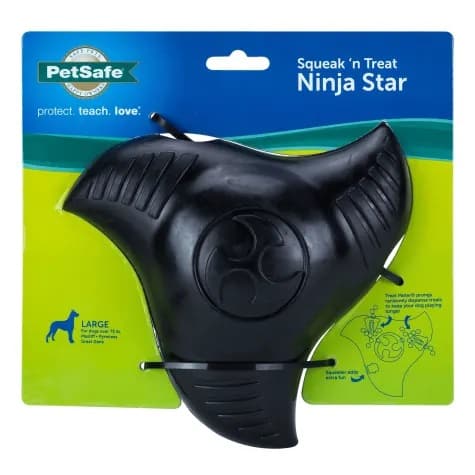 Why It's the Best Choice
The Petsafe Squeak and Treat Ninja Star is an extremely durable toy made from heavy-duty non-toxic rubber.
The ninja star is both a squeaky toy and a treat dispenser.
So, it will both physically tire your dog out during play and help stimulate your dog mentally, making it the ultimate fun toy.
Though the ninja star is strong, it isn't going to damage your dog's teeth if they chew on it since it is made from rubber and not hard plastic.
✔
What I Liked
Comes in three sizes
Easy for dogs to pick up
Dispenses kibble making it a good
✘
What I Didn't Like
The treat holes are not very big, so it minimizes the choices of treats that can be used
Best Indestructible Squeaky Toy for Small Dogs
goDog Dragon
Why It's the Best Choice
I love goDog toys. They are soft and lightweight yet pretty durable for small dogs.
The exterior is super soft, and it doesn't have any plastic eyes or nose, plus it has minimal stuffing making it a safer toy to be flung around the house.
Plus, the interior is made with Chew Guard Technology[3], which is a very durable liner, and the seams are double-stitched, reinforcing the overall strength of the toy.
Unfortunately, it didn't hold up against Calvin, who later ripped it open, but he's not a small dog, and he has chewed up firehose tots.
✔
What I Liked
The softness
It's lightweight so when Mira tosses it around it doesn't break anything
Comes in two sizes
✘
What I Didn't Like
Even the large size isn't suitable for large breeds; the large is more for medium-sized dogs.
Toughest Squeaky Toy for Large Dogs
Nerf Dog Checker Ball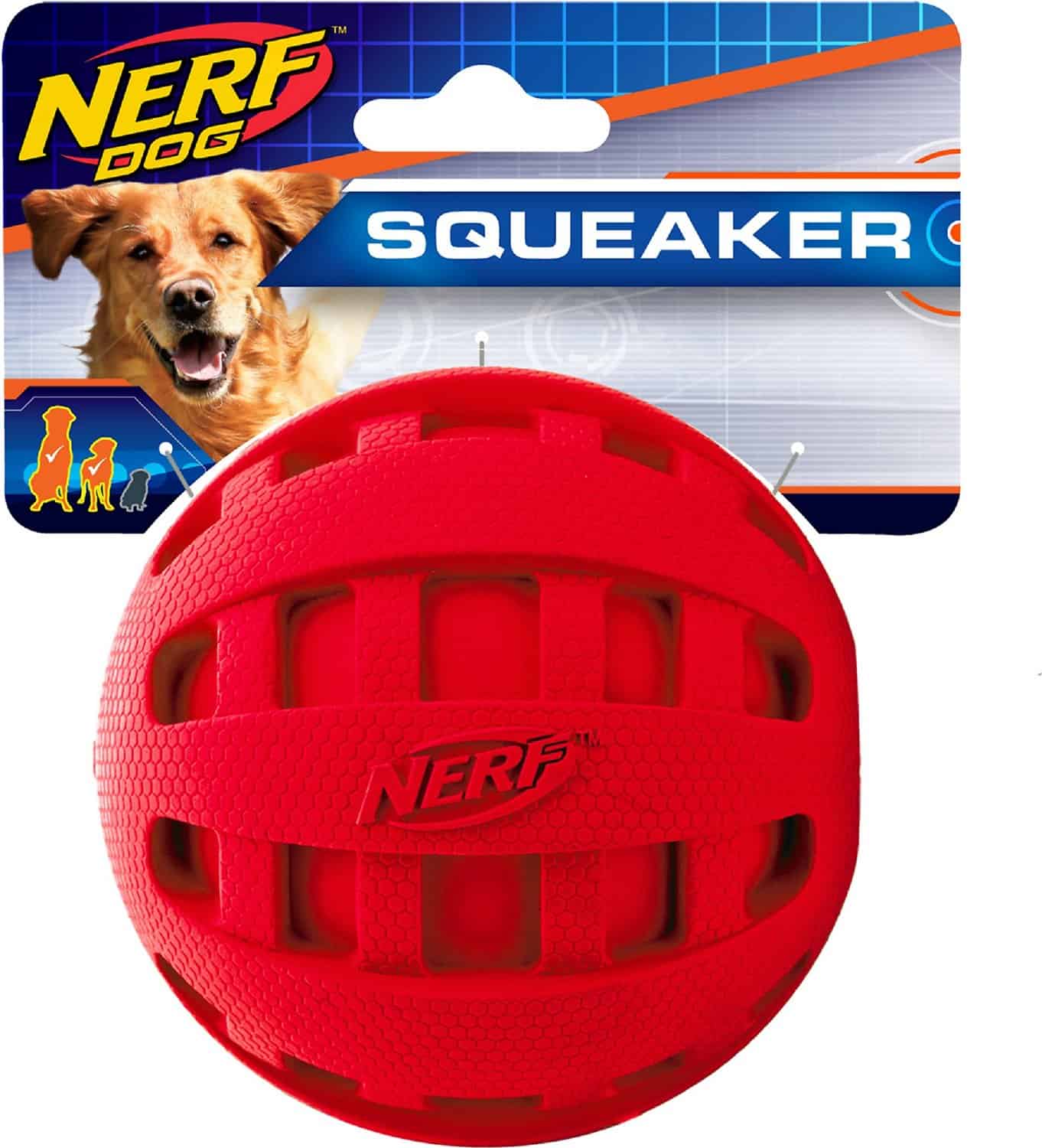 Why It's the Best Choice
Based on most of the reviews this ball is pretty indestructible, one review mentioned it holds up against her Boxer-Pittbull mix, which I imagine has some serious chew power.
The Nerf Dog Checker Ball is made to be strong enough to endure aggressive chewers.
This Nerf ball is made of BPA-free non-toxic rubber, which is both safe and bite resistant.
The outside of the ball is specially designed with a checkered texture to make picking the ball up easy for both humans and dogs.
✔
What I Liked
Comes in multiple sizes
Floats
Bright color
✘
What I Didn't Like
Because it's so heavy, it may not be safe for an indoor toy
It doesn't bounce
Best Heavy Duty Squeaky Dog Ball
Air KONG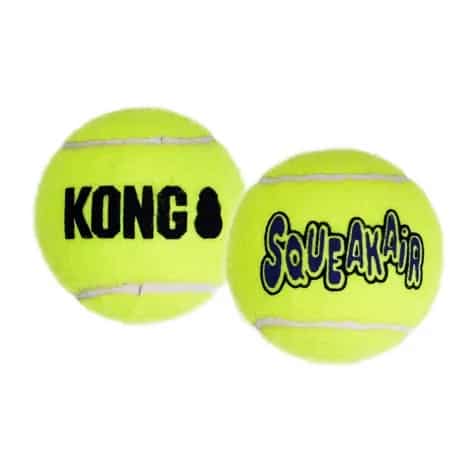 Why It's the Best Choice
The KONG brand has a reliable reputation for making durable toys.
KONG is often the first brand that comes to mind when someone mentions an aggressive chewer.
Thankfully, KONG has expanded its line from its classic treat-dispensing toy to now include other toys such as balls and squeaky toys.
The Air KONG squeaker ball is lightweight enough to play safest inside the house, yet durable enough; you won't be replacing it anytime soon.
Plus, it's the same size as a tennis ball, which is a manageable size for most dogs. Larger and smaller versions are available, too.
✔
What I Liked
Floats
Durable squeaker
Multiple sizes and shapes
✘
What I Didn't Like
The squeaker can get pushed inside the ball
Best Indestructible Dental Toy with Squeaker
Pamlulu Toothbrush Toy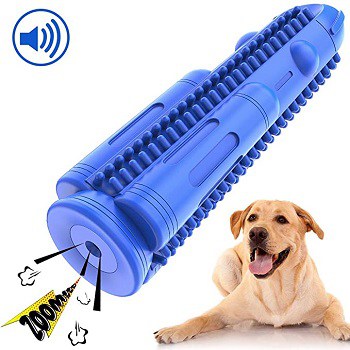 Why It's the Best Choice
This dual function toy will help you in keeping your dog's teeth clean.
The squeaker makes it an attractive toy without having to add food to make the dental toy more appealing. Some dogs may prefer it over solid dental treats like Greenies.
Plus, if your dog won't let you brush their teeth with toothpaste, you can always add it to the toy to maximize its dental benefits.
Based on several of the reviews, the Pamlulu has held up well even with large breed dogs, such as Great Danes and Boxers.
✔
What I Liked
Multi-functional
One-size fits all
Easy to wash
✘
What I Didn't Like
Would prefer bristles all the way around instead of strips
Best Indestructible Plush Dog Toy with Squeaker
Charming Pet Longidudes Plush Giraffe

Why It's the Best Choice
Longidudes is a soft, lightweight plush toy that is made from Denier non-rip canvas.
Longidudes also features double stitch nylon infused seams to reinforce the overall toughness of the toy.
Though these toys are long, 29-inches, they have a narrow circumference, plus are soft and pliable, making them ideal for any size dog.
✔
What I Liked
Comes in a variety of shapes
Super soft making it perfect for indoors
Contains three squeakers
Most Durable Rubber Squeaky Toy
VANFINE Beef Flavored Rubber Squeaky Toy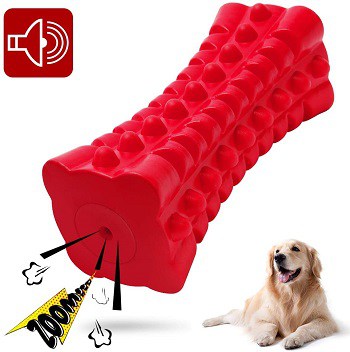 Why it's the Best Choice
This sturdy beef-flavored toy will keep your pup entertained for hours.
It is a fun toy for your dog to run around while squeaking it, or you can play fetch with this toy, too.
The textured exterior is made from BPA free rubber, ensuring that it is a safe choice for your pup.
Also, based on a lot of the reviews, this toy has held up against rough play from large breeds such as Pitbulls and German Shepherds.
✔
What I Liked
It tapers in the middle making it suitable for smaller mouths
Bright color makes it easy to find
Flavored to help entice play
✘
What I Didn't Like
It doesn't indicate whether or not this toy will float in water
Best Indestructible Squeaky Toy for Pit Bulls
M.C. Works Pineapple XLarge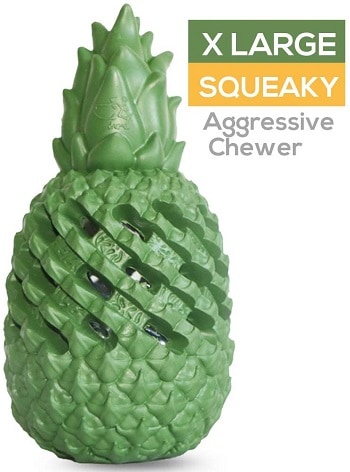 Why It's the Best Choice
Pitbulls often get the short end of the stick when it comes to toys since they can easily chew apart the average squeaky toy.
However, every once in a while, a company comes out with a toy that can often withstand the aggressive chewing of large breed dogs.
M.C. Works Pineapple is well designed to hold up against the jaw power of a Pitbull.
It is made from a strong bite resistant, non-toxic industrial-strength rubber. As a bonus, this toy can also be used as a treat-dispenser.
✔
What I Liked
Textured outside can aid in dental care
Multi-functional
Comes in different sizes
What to Consider When Choosing a Tough Toy
When choosing a durable toy with a squeaker, there are a few things to consider:
Your dog's interests
Single or multi-functional
Its ability to float
How the toy is made
When I am considering different toys and their overall durability, I think about the various features or areas that may easily be chewed off.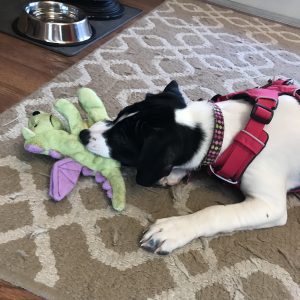 For example, does it have arms and legs that will likely be amputated in play, or does the shape of the toy discourage chewing?
For example, the goDog Dragon is fine now, but when Mirabelle gets older, I have no doubt the wings will be the first to go.
So instead, as she gets older, I will replace the goDog with sturdier toys such as Tuffy.
Another factor I take into account is the weight of the toy.
We allow our dogs to play indoors and will throw a ball for them from time to time.
However, I prefer to use lighter weight toys for indoor fetch that will likely do less damage, such as the Gnawsome Squeaker ball.
Sturdier toys like the pineapple are suitable for outdoor play since toys made of hard rubber can take the different weather conditions and often wash-up well in the dishwasher.
Finally, when I am choosing fabric or plush toys, I prefer to choose toys with multiple layers of material, little to no fill, and reinforced seams, such as Charming Pet, Tuffy, and goDog.
Conclusion
We all want to keep our fur babies safe, and one the ways we can ensure we do this is by making sure the toys we choose for them are both entertaining yet also up to the task of being resistant to your dog's chewing.
It's hard to make just one recommendation.
Dogs have various interests, such as tug, fetch, or maybe they just like to play by themselves.
Mira loves playing ball, so I would recommend Gnawsome squeaker ball for other dogs who enjoy playing fetch. But Mira also loves her goDog dragon when she's tired and just wants to chew on a toy before falling asleep.
My older dogs, especially Ginger, enjoy playing tug, so I recommend the Tuffy Tug O War as an indestructible toy.
And for dogs like Calvin, who loves the challenge of finding and destroying the squeaker, I would choose the M.C. Works Pineapple.
Overall, there are several great durable dog toys on the market.
Still, the reality is if you have a hard-core chewer, you must monitor them with new toys until you are confident they won't chew the toy apart and possibly eat the small pieces.
Finally, keep in mind that squeaky toys and chew toys are two completely different categories.
If your dog loves to chew, then choose a chew toy made to be chewed on for long periods.
Except for the dental and treat dispensing toys, most squeaker toys are supposed to be more interactive than a chew toy.
Resources