This post may contain affiliate links. It doesn't cost you anything extra and it keeps our lights on, our families fed, and our dogs spoiled. For all the juicy fine print, see our affiliate disclosure
As a pet owner, it is your responsibility to ensure that your furry companion gets the best diet possible.
To do this, you need to be well versed with the different ingredients used in dog foods.
Some items will have health risks, while others will have nutritional benefits. Knowing how to tell them apart allows you to give your pet the best diet.
One ingredient that is commonly used in a lot of dog formulas is lamb meal.
Read on to find out whether this is good for your four-legged friend.
Related: Lamb vs Chicken in Dog Food – Which is the Better Protein for Dogs?
What is Lamb Meal in Dog Food?
Lamb meal is made out of various lamb parts and organs.
However, the more important thing to know is the stages of processing that the meat goes through.
First, the lamb meat goes to a rendering facility where it is condensed and repackaged1.
This process essentially serves as a means to remove a lot of the water within the meat. This has the effect of concentrating the nutrients contained within the lamb meat.
It also makes it easier to store the meat for longer periods.
After condensation and processing, you get lamb meal that is a rich protein source.
Plus, manufacturers can use it in dog food because it has a longer shelf life.
Curious about beef meal, too? We have you covered!
Is Lamb Meal Good for Dogs?
Lamb meal is definitely good for dogs. After the processing stages, the excess water is removed, and the remaining lamb meal is nutrient-rich.
Is Your Dog Driving You Nuts During the Day?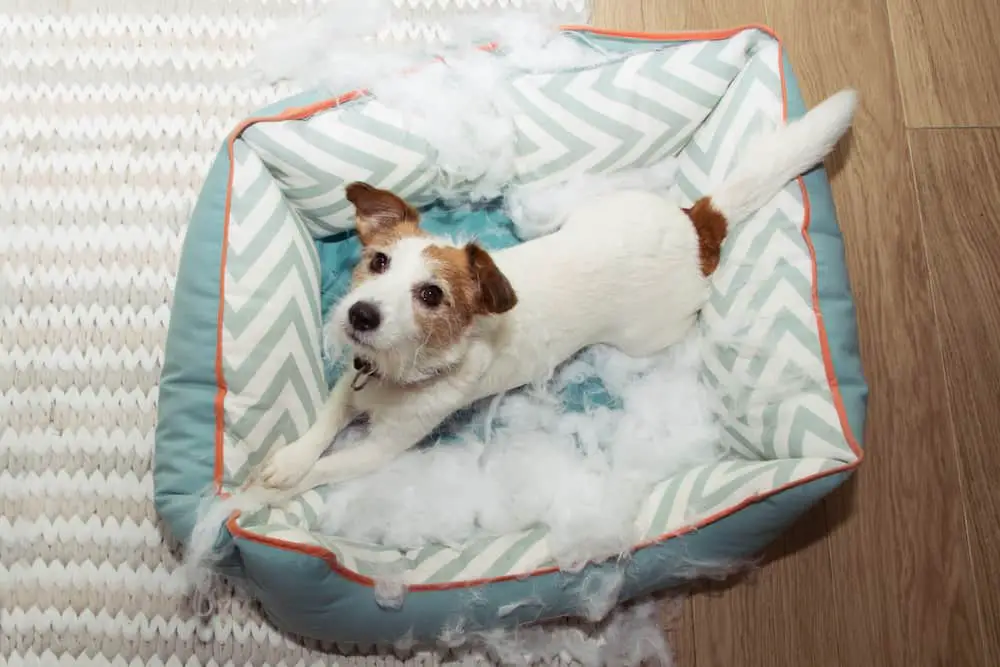 Get Our List of 11 Awesome Indoor Activities to Keep Your Dog Busy and Out of Trouble!
Pound for pound, lamb meal is a lot more nutritious than unprocessed lamb meat.
This is down to the fact that there is a higher protein content in the lamb meal.
Moreover, the condensation process also increases its relative concentrations of vitamins and minerals.
One particular benefit is the increased amount of calcium in it.
All of this adds up and gives your loyal companion a balanced diet.
Is Lamb Meal Bad for Dogs?
Lamb meal is not bad for dogs because they are carnivorous animals.
Due to this, their diet demands a high concentration of protein compared to humans or even other animals.
It is normally a very healthy choice for dogs and can serve as a good source of protein.
Sources of Lamb Meal in Dog Food
As the name suggests, the source of lamb meal is various lamb portions.
Although to be specific, this is the flesh or muscle tissue from the lamb that gets turned into lamb meal.
Other parts of the animal such as fur, hoofs, bone, and skin are not converted in lamb meal as these do not contain the right physical and nutritional properties.
How Much Lamb Meal Do Dogs Need?
Dogs need a healthy source of nutrition that is rich in protein to serve as the staple of the diet.
According to the AAFCO, crude protein should form a minimum of 18 percent of your dog's dry intake2. The ideal portion is between 20 to 22 percent.
Lamb meal is suitable for this role, provided that you keep a few things in mind.
Firstly, there still needs to be variety in the main protein source. Occasionally switching it up will benefit your dog.
This is because there are a variety of amino acids that animals require for proper functioning.
The same source of protein may not contain all the necessary amino acids.
Secondly, the dog will also need other forms of nutrition in its diet, such as grains or cereals.
That's why we recommend using foods that supplement lamb meal with other such ingredients for vitamins and minerals.
This will promote a healthy and balanced diet for your animal.
Dog Foods With Lamb Meal
If you are looking for a brand of dog food that contains a healthy portion of lamb meal, then look no further.
The following is a list of lamb meal dog foods that will provide your dog with high-quality meat protein.
1) Zignature Lamb Limited Ingredient Formula
Zignature's premium offering contains not just lamb meal but also unprocessed lamb.
As one of the main ingredients, your dog will get a suitable amount of protein from it to meet its daily needs.
That makes it a healthy and tasty option for your pet.
2) Blue Buffalo Life Protection Formula
Not only does Blue Buffalo's Lamb Life Protection Formula contain lamb meal, but the inclusion of other healthy ingredients such as brown rice makes it a suitable kibble to feed your pet.
3) Rachael Ray Nutrish PEAK PROTEIN Open Prairie Recipe
Rachael Ray Nutrish's Open Prairie formulation contains both lamb as well as venison.
Moreover, the fact that it is grain-free makes it a nutritious, high-protein option to offer your four-legged companion.
Dog Foods without Lamb Meal
In the rare instance that your pet is allergic to lamb meal or simply doesn't like it, here are a few other options to try.
Switching up your dog's diet with alternative protein sources can benefit its health.
1) Wellness Simple Turkey & Potato
Wellness Simple's Turkey & Potato Formula utilizes turkey as the main source of protein.
It also has a series of healthy vegetables to further bolster the nutrient content for your pet.
2) NomNomNow
The human-grade recipes by NomNomNow use fresh meats such as ground pork as the protein base.
They also include a series of other healthy ingredients, such as kale and green beans.
For more information, check out our NomNomNow review!
3) Canidae Real Salmon and Sweet Potato
This offering by Canidae skips the lamb and other land-based meats.
Instead, it contains fish (salmon) as the primary source of protein.
In addition, sweet potatoes act as an additional source of healthy energy for your beloved pet.
Conclusion
All in all, lamb meal is a healthy option for your dog, given its high protein content and all-natural nature.
However, even if your pet is allergic to lamb, the market has a plethora of options available to keep you covered!
Resources