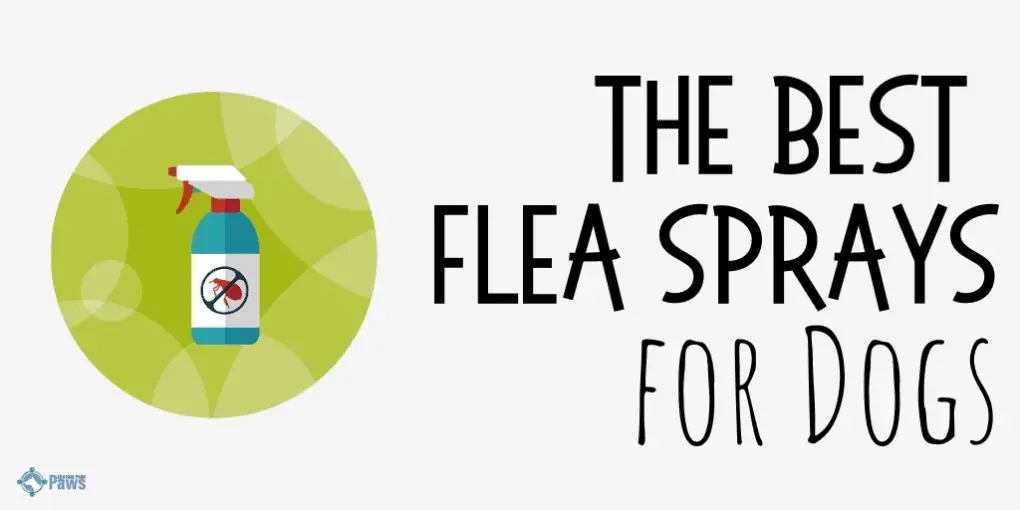 When my friend's dog got fleas recently, it broke my heart.
He's a laid-back and quiet dog, but the constant itching made him pace and whine.
She hadn't experienced having a dog with fleas before, even though he was a few years old.
My friend wanted to give him some immediate relief, so we began to research. Besides the traditional flea pill, what were her dog's options?
She couldn't afford to take him to the vet and didn't trust a collar to take care of the fleas very quickly.
Turns out, tons of people use flea sprays for treatment and preventative flea care.
Check out everything I've learned and which flea sprays may be the best option for your dog.
Best Flea Sprays
There are a ton of sprays to choose from, which is intimidating if you haven't used one before.
They all do something a little different and have different pros and cons that you'll have to think about before you buy.
Don't go through the experience of having to buy multiple different bottles before you find the right one for your dog.
Here are the sprays I recommend and what makes them stand out from their competitors.
Product
Usable On:
Minimum Age
Rating
Price
Hartz Ultraguard Plus Flea & Tick Spray
Pets, Bedding
12 Weeks
4.1
$

Check Price
Frontline Flea Spray
Pets
8 Weeks
4.1
$$$

Check Price
Vet's Best Flea + Tick Home Spray
Pets, Bedding, Carpet, Flooring, Upholstery
12 Weeks
3.7
$$

Check Price
Virbac Knockout E.S.
Bedding, Carpet, Flooring, Upholstery
Not Stated
4.4
$$$

Check Price
Wondercide Pets + Home Cedarwood
Pets, Bedding, Carpet, Flooring, Upholstery
Not Stated
3.9
$$$

Check Price
Zodiac Carpet & Upholstery Flea Spray
Carpet, Upholstery
12 Weeks
4.0
$

Check Price
Control Solutions Pivot 10 IGR Concentrate
Yard
Not Stated
5.0
$$$$$

Check Price
Natural Care Flea & Tick Spray
Pets, Bedding, Carpet, Upholstery
12 Weeks
3.8
$

Check Price
Best Overall
Hartz UltraGuard Plus Aloe Flea & Tick Spray
A great flea spray that does almost everything is the Hartz UltraGuard Plus Flea and Tick spray with aloe.
It covers all the necessary bases that you'd expect from a flea spay, while being gentle and fighting ticks at the same time.
Why It's the Best Choice
Hartz has been protecting and caring for dogs for over 90 years[1].
They know what they're doing when it comes to flea sprays, which is why over five million dogs use their products each year.
Pros
Uses aloe as a gentle, healing ingredient
One treatment lasts 30 days
Kills and repels fleas and ticks
Cons
Not for puppies under 12 weeks old
Has reportedly caused rashes on some dogs, due to containing almond oil
Small bottles will run out quickly for bigger dogs
Final Thoughts
If your dog has fleas, this spray will take care of them quickly and protect your dog for weeks afterwards.
Hartz UltraGuard Plus with aloe is something I'd trust on my own dog if she got fleas.
Upgrade Pick
Frontline Spray
Maybe you've used a flea spray before or currently do, but you want something more.
Frontline's Flea and Tick spray will be the next thing to add to your pet supply list.
Why It's the Best Choice
This spray uses fiprinol to be extra powerful in the fight against fleas and their reproductive cycle[2].
It's why this spray will cost a little more, but the high quality ingredients make it worth the upgrade.
Pros
Made by one of the biggest canine flea and tick medication companies
Safe for puppies over eight weeks old
Kills fleas at all life stages
Cons
More expensive than other sprays
May have an unpleasant initial odor
Distributed in a smaller bottle than other sprays
Final Thoughts
Paying more for a stronger product like Frontline's Spray is a good idea if your dog is living with a major flea infestation.
Best Budget Pick
Vet's Best Flea + Tick Home Spray
Sometimes the budget is too tight for a big purchase, but that's why Vet's Best Flea + Tick Home Spray is a great option for dogs.
Why It's the Best Choice
For a fraction of the cost of other sprays, Vet's Best protects your dog and your home at the same time.
Pros
Kills fleas on dogs and household surfaces
Super budget friendly
All-natural ingredients
Cons
Strong pleasant scent, which may take time to get used to
Not for dogs under 12 weeks old
May require multiple applications for a major flea infestation
Final Thoughts
I love that Vet's Best is an affordable flea spray that covers your dog and home while also using natural ingredients, which usually makes products cost more money.
Best for Your House
Virbac Knockout E.S.
Taking care of the fleas on your dog is never enough to banish them.
Kill the ones reproducing around your home with Virbac Knockout E.S. Flea and Tick spray.
Why It's the Best Choice
This canned spray is meant to treat 2,100 square feet of a home. It kills fleas on contact, no matter where they are in the flea life cycle. It then prevents fleas from entering the home and reproducing for an additional seven months.
Pros
Super powerful anti-flea formula
Won't stain carpets or hardwood
No odor to the spray
Final Thoughts
Dog owners who don't also have cats will get the flea relief they're looking for when they spray their home with a can of Virbac Knockout.
Best for Your Furniture
Wondercide Pets + Home
You'll want something safe to use on your furniture to kill fleas, so try using Wondercide's Pets + Home spray.
Why It's the Best Choice
You, your family, and even your pets all spend time on your furniture.
You'll need a spray that's gentle on skin and tough on fleas, which is exactly what Wondercide's spray does.
Pros
All-natural ingredients
Variety of essential oil scents
Cedar oil is the main ingredient
Cons:
Can't spray directly on cats
Some animals may be unknowingly allergic to essential oils
Pregnant dogs can't be around peppermint oil[4], which is in one of the options
Final Thoughts
It would give me a lot of peace of mind to know that my furniture would be save for everyone to use after spraying it with Wondercide's spray.
Plus, it'd be safe to use routinely as you monitor furniture for fleas during the couple weeks after you first notice the fleas on your dog.
Best for Your Carpets
Zodiac Carpet & Upholstery
When fleas have taken up residence in your carpet fibers, it's time to bring home a can of Zodiac Carpet & Upholstery Flea Spray.
Since fleas are hard to spot, you want a flea spray that will fight through the fibers to reach the source of the problem.
Why It's the Best Choice
Zodiac makes an affordable and effective flea spray that works in any household.
After it kills the fleas in your home, you only need to spray it three times per year for continual protection.
Pros
Budget-friendly price
Water-based formula won't leave sticky residue on the floors
Kills fleas at any stage of their life cycle
Cons
Carpet must be dry before it can be used after a spray
Not meant to be sprayed around dogs younger than 12 weeks old
Must wait an hour after spraying before vacuuming
Final Thoughts
As long as you're able to keep family members and pets off the carpet after you spray, this Zodiac formula will get rid of fleas in minutes.
After it dries, vacuum to catch all the leftover fleas and apply a second time the following day to ensure that all fleas have been killed.
Best for Your Yard
Control Solutions Pivot 10 IGR Concentrate
After you've treated your home for fleas, you'll need to treat your yard with Control Solutions Pivot 10 IGR Concentrate.
That way, your dog doesn't get them all over again when they go outside.
Why It's the Best Choice
There are many great reasons to use this spray, from the powerful formula that fights multiple kinds of pests to the long term protection of your yard.
They all add up to lasting coverage against fleas and other insects.
Pros
Photo-stable formula won't lose strength due to sunlight exposure
Seven months of guaranteed flea protection
Kills and repels fleas, ticks, beetles, roaches, ants, mosquitoes, and crickets
Cons
May not work as well in areas that experience heavy rains
A little pricey per bottle
May harm local mammals such as squirrels and birds before it dries
Final Thoughts
Outdoor sprays such as Control Solutions Pivot 10 IGR Concentrate are meant to pack a punch, so be careful around the areas you spray before they dry and you'll have a great experience.
Best Natural Flea Spray
Natural Care Flea & Tick Spray
It's completely understandable if you don't want to spray chemicals on your dog or in your home.
If that's you, try using Natural Care Flea and Tick spray, which is made with only all-natural ingredients.
Why It's the Best Choice
Natural Care's flea spray is affordable and made with only botanical oils.
It kills fleas, flea eggs, and ticks naturally, repelling them (along with mosquitoes) from your pets and indoor surfaces.
Pros
Easy on carpets and fabrics
Won't leave stains
Safe around kids
Cons
Not for use on puppies younger than 12 weeks old
Not safe for inhalation
Not safe on vintage or antique furniture
Final Thoughts
Natural Care's spray is an effortless way to end a flea infestation without introducing chemicals to your home.
Just be sure not to use it around any young puppies or furniture that's made with older fabrics.
How Do Flea Sprays Work?
All flea sprays have one main active ingredient that affects fleas the most.
Typically, this ingredient is a neurotoxin that first disrupts the flea's nervous system[5], which is what ultimately kills them.
The main ingredient may also be the part of the formula that attaches to eggs and larvae to prevent development.
How to Use Flea Sprays
It's always a smart idea to read the instructions on a flea spray bottle before using it.
Some may require you to spray outdoor surfaces from a certain distance away to prevent inhalation.
Other sprays might need to be sprayed onto your hands and rubbed onto your pet, or be given time to dry before you use the furniture.
Since there are so many ways to use flea sprays, operate each bottle according to its specific instructions.
What to Look for in a Flea Spray
What you want to look for in a flea spray will be different depending on your circumstance.
Consider the following to help narrow down what to look for:
Will you spray indoors, outdoors, or directly on your dog?
Will you spray around kids, puppies, or cats?
Do you prefer all-natural ingredients?
Does your dog need tick protection as well?
Will you be spraying carpets or upholstery?
Once you know how you want to use the spray, you'll know what to look for.
Conclusion
My friend ended up buying a flea spray that helped her dog and worked on all the surfaces of her apartment.
Her place was flea-free in just an hour after spraying, so sprays are definitely worth trying out if you haven't used one before.
Think about what you want most out of the flea spray to narrow down your options and you'll find the right one for your dog and your home.
FAQs
What Kills Fleas Better: Sprays or Dawn Dish Soap?
Dawn dish soap does kill fleas, but it's a powerful soap formula that's meant to strip dishes of grease and oil.
It will dry out your dog's coat and may cause skin irritation, which is why it's recommended for dog owners to only use pet products, like flea sprays, on their dog.
How Long Does it Take for Flea Sprays to Work?
Flea sprays start working as soon as you use them, but most need to be sprayed twice to completely take care of fleas.
The first spray treatment kills the majority of the fleas and the second round will kill and fleas, eggs, and larvae it missed the first time.
How Often Do I Need to Spray for Fleas?
After a flea infestation, you should do a minimum of two applications on your home's carpets and upholstery to kill anything left inside.
You should also treat your yard and check the bottle you use to find out how long the spray will last for and when you should spray your home again.
Can Fleas Live in Bedding?
Fleas want to live on or close to the host dog.
They won't stick around in bedding unless your dog is on your bed all the time.
A quick wash of bedding and sheets will take care of the fleas if you're concerned that they're living in your bed.
How Long Can Fleas Live in Your House?
When fleas have a host, they can live two to three months in a house.
If they're stranded in your home without access to an un-sprayed dog, they can lie dormant for up to 155 days[6].
Resources