This post may contain affiliate links. It doesn't cost you anything extra and it keeps our lights on, our families fed, and our dogs spoiled. For all the juicy fine print, see our affiliate disclosure
Finding the best pet food for your dog requires a lot of research.
On the one hand, you need to know bad ingredients to avoid, while on the other hand, you have to learn what good ingredients you need to look for.
You'll often find dog food brands boasting about the salmon meal as one of their primary ingredients.
But what is a salmon meal in dog food? Is it good for your pet, and how much is too much? Read on to find out.
What is Salmon Meal in Dog Food?
One of the most nutritious ingredients in dog food, salmon meal is made by grinding and rendering the whole salmon.
Since it is meant to serve as the primary ingredient in pet food, this mixture includes protein-rich bones and offal.
The result is a pungent-smelling powder that is intoxicating for dogs but distinctly unappealing to the human nose.
As a result, you'll often see salmon food as a primary ingredient in high-quality, specialty pet foods, like Nutro.
Related: Chicken vs Lamb in Dog Food: The Best Protein for Your Pup
Is Salmon Meal Good for Dogs?
Salmon meal is extremely good for dogs and has multiple health benefits.
In fact, the grinding and rendering process itself cooks the fish in a way that draws out all the moisture and results in a highly concentrated protein powder.
So in comparison to a regular salmon that is 70 percent water, the salmon meal is around 5 percent water.
This protein richness is great for your dog's nutritional needs and will help build muscle, strengthen bones, and boost immunity.
Salmon meal has a lot of nutritional value, including:
Is Your Dog Driving You Nuts During the Day?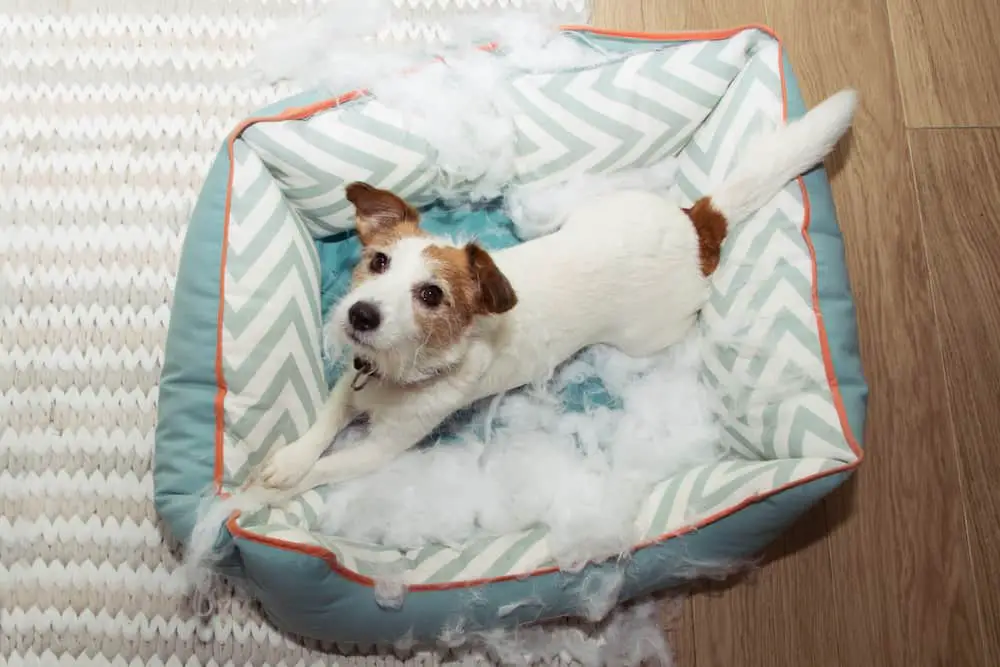 Get Our List of 11 Awesome Indoor Activities to Keep Your Dog Busy and Out of Trouble!
Ample quantities of protein
Easily digestible animal-sourced amino acids
Crucial minerals and vitamins
The omega-3 and omega-6 fatty acids will give your dog a smooth and thick coat and deal with itchy skin.
Is Salmon Meal Bad for Dogs?
Salmon meal is not bad for dogs. Chicken and lamb meals are also good for dogs.
However, if a dog food packet just says meat meal without specifying the source, that is a red flag.
Often unspecified meal comes from scraps and discarded innards.
Additionally, fish meals are prone to going bad if they don't have natural stabilizers[1] like antioxidants.
So look for vitamins E and C or ingredients like rosemary oil paired with your salmon meal.
If there are artificial antioxidants, then that's a bad sign. You should not pick that dog food brand even if they claim to use salmon meal.
Sources of Salmon Meal in Dog Food
Salmon meal comes from processing fresh salmon. It is paired with natural antioxidants.
Knowing how the various ingredients in your pet's kibble are sourced helps you ensure that they are getting a healthy and nutritious diet.
How Much Salmon Meal Do Dogs Need?
A minimum of 15 percent dry matter protein is essential to meet your dog's daily nutritional needs. However, the ideal quantity is between 22 to 25 percent[2].
Most of this should be obtained from animal-based protein sources, and salmon meal is a great option. Generally, it is best if a single meat source is used.
So if you can find a dog food that has 22 percent or more salmon meal in it, then you've found a winner.
Dog Foods With Salmon Meal
There are several great dog food brands that come with salmon meal, including the following.
1. Blackwood Salmon Meal is an excellent recipe that comes with all-natural salmon, as well as pre and post-biotics to aid in digestion.
The meal is designed to cater to your dog's daily nutritional needs. There are no harmful ingredients like preservatives, corn, gluten, wheat, or soy.
2. Zignature Salmon Meal uses a custom recipe with salmon meal that meets your dog's daily needs for protein and fatty acids.
It will boost your pet's immunity and improve its coat.
Additionally, the formula is hypoallergenic. So if your pet is sensitive to other types of food, this is a perfect choice.
3. Nutro Limited Ingredient Salmon lists salmon and salmon meal as the first two ingredients.
In addition, there are no grains, wheat, soy, or dairy items crowding up the ingredient list.
So you know exactly what you're getting – a nutritious, protein-rich kibble.
The formula also uses legumes and pumpkin as amazing grain alternatives.
Dog Foods Without Salmon Meal
While salmon meal is a great source of animal protein[3], it certainly isn't the only option you have.
There are plenty of other options for dog parents to explore when searching for the perfect feed for their pets.
1. Wellness Core is a great dog food brand that uses turkey or chicken meals as its primary ingredient.
They use non-GMO ingredients, and all their products are free from artificial flavorings, fillers, flavors, or unhealthy by-products.
In fact, the ingredient list is so good that it boosts your pet's immunity and makes their skin and coat healthy.
Fish and flax help provide vital omega fatty acids to your dog's diet.
2. The Rachel Ray Nutrish is also a healthy turkey meal-based kibble that caters to dogs with sensitive digestive systems.
Essential nutrients and a large amount of protein work to strengthen your dog's muscles and joints.
No unhealthy fillers, preservatives, or additives are used.
3. Nature's Logic Dog Food uses duck meal as the primary ingredient and is incredibly nutritious.
They also use a small amount of chicken and salmon meal. These boost the nutritious value of their kibble by including vital omega-3 fatty acids.
All in all, this dog food will improve your dog's coat, repair tissues, and muscles, boost metabolism, and aid in digestion.
Conclusion
No matter what else a brand promises, the number one criteria that you have to judge a dog food on is the amount and quality of the animal-sourced protein.
Make sure the type of protein is clearly stated. Salmon meal is an incredibly nutritious option, but chicken, turkey, and duck meal are all healthy choices.
As long as you're making sure high-quality meat is the primary ingredient, chances are that all the other ingredients in the kibble will pass the check as well.
It is only when good meat is not used that subpar alternatives show up in the ingredient list. So shop smart!
Resources
https://www.aafco.org/Portals/0/SiteContent/Regulatory/Committees/Pet-Food/Reports/Pet_Food_Report_2013_Midyear-Proposed_Revisions_to_AAFCO_Nutrient_Profiles.pdf