German Shepherds (GSD) are the 2nd most popular dogs, according to the AKC[1].
Unfortunately, one of the downfalls of being a popular dog breed is the health issues that accompany their fame.
GSDs are not new to the top 10 most popular breeds list; they have been towards the top for years, which unfortunately has resulted in some irresponsible over-breeding over the years.
However, poor breeding decisions are not the primary cause of their health issues in GSDs.
Instead, many of the health problems associated with the breed come from their large size and are common genetic disorders seen in large breeds, such as orthopedic and cardiac issues.
Not all GSDs have or will have health issues.
Being a breed predisposed to specific health concerns simply means that the breed has a higher chance of suffering from particular health problems.
If you happen to have or are thinking of getting a German Shepherd, you should also be seriously considering whether pet insurance is worth it for you.
Related: Best Pet Insurance for Senior Dogs (with or without Pre-existing Conditions)
Why You Should Get Health Insurance for Your GSD?
In an earlier study, 63.43% of GSDs had at least one health disorder[2].
So when you bring a GSD into your life, you know there is a significant chance of having to deal with one or more of the many genetic disorders common to this breed.
Of the many conditions associated with the GSD, hip dysplasia is one of the most common problems.
So, using that as our example, and say the situation requires surgery, which costs between $4,000-$6,000 per hip, and more often than not, both hips will require surgery, ultimately totaling between $8,000-$12,000.
These estimates do not include physical therapy, holistic treatments, supplements, or medicine for arthritis, which will likely be required down the road as well.
And though physical therapy, holistic therapies, and supplements are optional, many dogs benefit from adding supportive care after surgery.
Assuming this is covered by the pet insurance company you chose, they could aid in reimbursing up to 80%, minus your deductible, which, when you do the math is significant, and will well exceed the annual cost of insurance.
When bringing a dog with a high risk of health issues into your life, it is always best to plan for the unexpected.
Unfortunately, beloved pets are euthanized every year because families are unable to afford the cost of vet bills for illnesses and injuries.
Pet insurance can aid in reducing the chances that you will be faced with such a choice.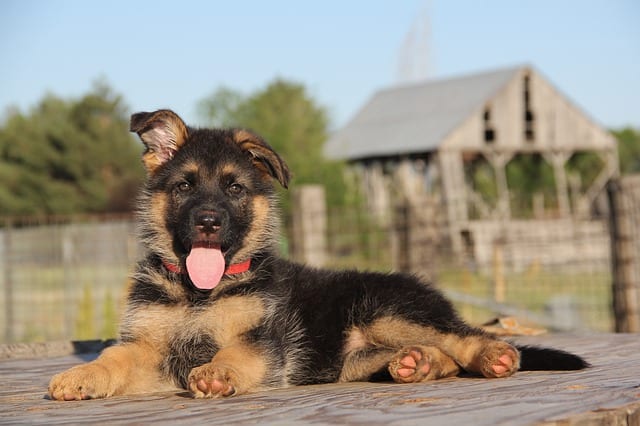 Benefits of Pet Insurance
The obvious benefit of pet insurance is that it helps with coverage of unexpected medical bills resulting from accidents and illnesses.
And yes, the primary benefit is financial, but equally as important is that pet insurance acts as a stress reliever too.
Yesterday, I brought Sophie in to get a sealant applied to her teeth.
When the oral surgeon called to tell me that she required a tooth extraction, plus needed two roots dug out from a previous extraction, and a lump removal from the inside of her lip, I didn't even ask the cost because I knew insurance would cover 80% of my bill.
Is Your Dog Driving You Nuts During the Day?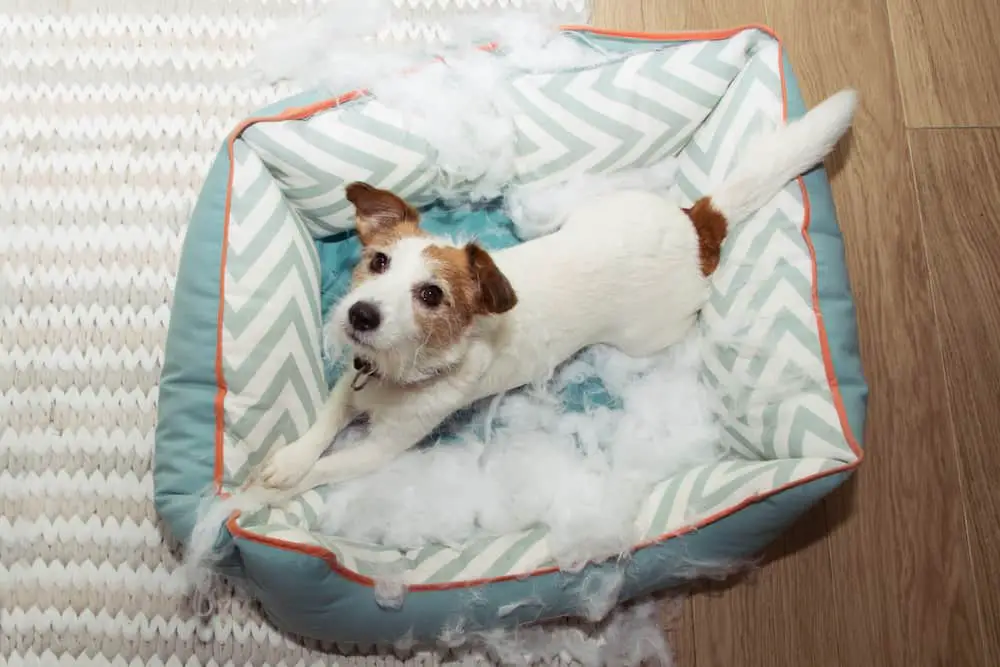 Get Our List of 11 Awesome Indoor Activities to Keep Your Dog Busy and Out of Trouble!
Insurance companies talk about peace of mind, but I will tell you from personal and recent experience I am grateful that I didn't have to base my decision on my bank account and could solely focus on what was best for Sophie.
So, for me, the most significant benefit is that I don't have to stress over an unexpected vet bill.
These two benefits alone make pet insurance well worth it!
German Shepherd Insurance Sample Costs
Here are some samples of what insurance costs would look like for a 0-11 month old GSD.
There are several options and variables with most of the companies listed below, but I attempted to keep everything as close as possible for a fair comparison.
On the majority of the plans below, you can adjust the reimbursement limits, deductibles, payout percentage.
| | | | | | |
| --- | --- | --- | --- | --- | --- |
| | Annual Reimbursement Limit | Annual Deductible | % | Monthly Rate | Annual Cost |
| Embrace | $15,000 | $300 | 80% | $62.43 | $749.16 |
| PetPlan | $15,000 | $250 | 80% | $57.83 | $693.96 |
| PetFirst | $10,000 | $250 | 80% | $43.35 | $520.20 |
| Eusoh | $8,500 | $250 | 80% | $17-$65 | $204-$1105 |
| Spot | $15,000 | $250 | 80% | $81.01 | $972.12 |
| ASPCA | $10,000 | $250 | 80% | $72.75 | $873.00 |
| Prudent Pet | $10,000 | $250 | 80% | $72.76 | $873.12 |
| trupanion | Unlimited | $250 | 90% | $95.75 | $1,149.00 |
| Pets Best | Unlimited | $250 | 80% | $30.37 | $364.44 |
*0-11 Mos Female German Shepherd Pet Insurance Costs
Common Health Issues for German Shepherd Dogs
Though I love GSDs, they are unfortunately in the top ten most likely breeds with the greatest health issues, which makes them a prime candidate for pet insurance.
Some of the most common health issues[3] that impact GSDs are, including the average cost[4,5]:
Hip Dysplasia – $4,000 to $6,000/Hip
Elbow Dysplasia – $3,000 to $5,000/Elbow
Cataracts – $2,000 to $3,000
Cardiac Issues – $1,000 to $20,000 – Specifically cardiomyopothy
Pyotraumatic Dermatitis (aka Hot Spots) – $100-$200 per occurrence
Allergy Testing – $1,000 or $2,000 (Hot spots may be a result of allergies, so if your GSD has chronic Pyotraumatic Dermatitis allergy testing is recommended)
Allergy Treatments – $10-$250/ month
Von Willebrand's Disease – $500 to $1,000 per treatment
Cushing's Disease – $500-$2000 Diagnosis/testing and $50-$200/month for treatment
Degenerative Myelopathy – $2,000-$4,000
Canine Cancer – $5,000 to $20,000
Corneal Dystrophy – $2,000 to $3,000
Hyperparathyroidism– $2,000-$4,000
Perianal Fistulas – $200 to $500/Month for medications or $2,000 to $5,000 for surgery and care from a specialized board-certified veterinary surgeon
Stomach Bloat – $1,500 to $7,500
Hemivertebrae – $2,500 to $7,000
Luxating Patella – $1,500 to $3,000
Spinal Stenosis – $2,500 to $5,000
Osteochondrosis of the Knee, Shoulder, or Spine– $2,000-$4,000
Epilepsy – $200 to $15,000
Aortic Stenosis – $3,000 to $6,000
MMM – $50 to $100 per month
Achondroplasia – $1,000 to $5,000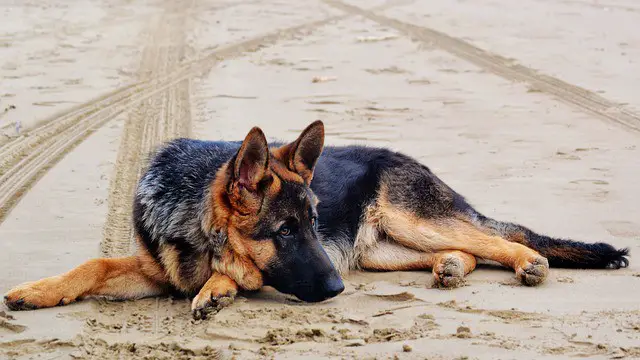 How Much Does German Shepherd Pet Insurance Cost?
Pet insurance for your GSD can be as little as $9 per month or as much as $175.29+ per month.
A multitude of variables impacts the cost of pet insurance for your GSD, including:
The age of your dog
If the company takes dog breed into account
Where you live
Coverage options
Coverage for GSDs ranges from just accidents or routine care to everything under the sun, even prescription dog food and grooming.
The wonderful thing about pet insurance is there are more than ten different companies to choose from, and most companies have multiple plans.
Some pet insurance groups even allow you to customize your coverage, including payout limit, deductible, and percent of coverage.
Best Pet Insurance Plans for German Shepherds
The plans I have chosen in the list of my top picks for the best pet insurance for German Shepherds all cover hereditary and congenital medical conditions.
However, none of the companies include pre-existing conditions.
This is box title
Pets Best
Pets Best offers inexpensive coverage for your German Shepherd without any coverage limits.
You can add wellness coverage for only a little more per month, too!
In 1981, Dr. Jack Stephens, DVM, started one of the first pet insurance programs in the US.
And with the help of the now CEO, Greg McDonald, rebranded and expanded the business to become Pets Best.
The newly revamped company was then launched in 2005.
The initial inspiration for coming up with pet insurance was during Dr. Stephens's career as a veterinarian.
He had to euthanize a dog, Buffy, due to the family's inability to pay for the unexpected costs due to Buffy becoming sick.
After that incident, Dr. Stephens made it his mission to find a solution so families like Buffy's would be better able to handle unexpected vet bills.
Why I Chose Pets Best
I chose Pets Best because they have economical and flexible coverage.
Additionally, their policy options include unlimited lifetime coverage, and for a family with a GSD that is very appealing.
Many medical costs, especially when it comes to orthopedic surgeries and medications, vary based on a dog's size. Combine that with the health risks associated with GSDs, and those bills can add up quickly.
But with Pets Best, you never need to worry about hitting a payout limit, which could happen with many other plans.
Don't miss our full review of Pets Best Pet Health Insurance!
Policy Options
Essential
Accidents
Illnesses
Cancer
Hereditary conditions
Emergency care
Surgeries & Rx meds
Plus
Covers everything in the Essential plan plus:
Exam Fees related to accidents and illnesses
Elite
Covers the same as both the Essential and Plus, in addition to:
Rehabilitative, Acupuncture, and Chiropractic Coverage
Wellness
Also, Pets Best offers two different wellness care plans:
Essential Wellness for $16/month
Best Wellness for $26/month
Policy Pick
Though there are several customizable plans, for a GSD under the age of 1 y/o, I would choose the Elite plan with $250 deductible, 80% reimbursement, and the unlimited annual limit for $31.78 per month.
This is box title
Companion Protect
Covering your older dog can get expensive.
Companion Protect, however, offers accident and illness coverage for less than what you'll pay to cover your German Shepherd with other companies.
Get a Quote
If you are looking for insurance for an older GSD, and know that pre-existing conditions are not covered, then Companion Protect is an excellent option.
Companion Protect only offers one plan, which varies in price based on the age of your dog when you sign up.
No other factors come into play when figuring the monthly rate.
Companion Protect covers accidents and illnesses and does not have a wellness plan option.
There are two main factors that set them apart from other companies:
Their deductibles are based on the incident and not cumulative over the year
They offer better rates if you choose a vet clinic that is in-network
Why I Chose Companion Protect for Older GSDs
If you had a 7-year old GSD, the monthly cost is $67.99, whereas similar plans cost more than $100 per month.
Companion Protect covers 80% of the bill with a maximum lifetime payout of $100,000.
Additionally, once you sign up with Companion Protect, your rate will not increase as your GSD ages.
Though Companion Protect covers accidents and illnesses only, it does offer coverage on one annual wellness exam per year.
You can choose to bring your dog anywhere, but if you happen to select a Vetwork Partner, you will save 50% on your deductible and will receive 90% coverage.
Policy Pick
There is only one policy available; however, if you haven't chosen a vet clinic yet, I would recommend checking out their Vetwork Partners, since you have a lower deductible and a higher reimbursement amount.
Additionally, clinics that are part of the Vetwork group will bill Companion Protect directly, so you only have to pay your portion at the time of service.
This is box title
Embrace Pet Insurance
Embrace offers the widest coverage without getting too expensive, making and excellent choice for protecting your German Shepherd from whatever life may throw their way.
Embrace, founded in 2003, has won several awards over the years, including the best place to work in Ohio, multiple times.
Embrace is a traditional insurance company with several flexible policies covering accidents and illnesses.
Though they do not cover pre-existing conditions, Embrace does offer coverage, based on their discretion, on curable pre-existing conditions.
Embrace isn't the least expensive company, and they do base their pricing on multiple factors including breed, but their coverage is quite extensive.
Why I Chose Embrace
Embrace (see our full Embrace review and our comparison of Embrace vs PetPlan and Eusoh) covers a multitude of services not covered by standard plans with other pet insurance companies.
Examples of what they cover include:
Prosthetics and mobility devices
Specialist care
Alternative therapy such as

Laser treatment
Hydrotherapy
Acupuncture
Chiropractic Treatment
Physiotherapy

Behavioral therapy
Exam and consultation fees
And if you choose a wellness add-on plan, there are some services covered that GSD parents would likely benefit from like:
Hip dysplasia exams, other OFA testing, and radiographs
Preventative teeth cleaning (GSDs have a history of having bad dental health)
Grooming – GSDs are often lovingly referred to as German Shedders since they shed year-round
Prescription diet food – Ideal for GSDs who suffer from food allergies
In addition to the above wellness coverage, other unique reimbursable items are:
Wearable pet activity monitors
Medicated shampoos
Toe nail trimming
Nutritional supplements
Reiki and massage therapy
Policy Options
Embrace does not name their plans, they just offer a variety of options:
Annual Reimbursement Limit – $5,000, $8,000, $10,000, $15,000, or $30,000
Annual Deductible – $200, $300, $500, $750, or $1,000
Reimbursement Percentage – 70%, 80%, or 90%
Plus, Embrace's add-on wellness coverage comes in three choices.
The options all include the same coverage, but you have three annual reimbursement choices $250, $450, and $650.
Policy Pick
Of Embrace's many customizable plans, for a GSD under the age of 1 y/o, I would choose:
$15,000 annual reimbursement
80% reimbursement percentage
$750 annual deductible
…for $39.34/month.
Side by Side Comparisons
Although some of the data below are found in the above article, sometimes its easier to compare companies when they are side by side.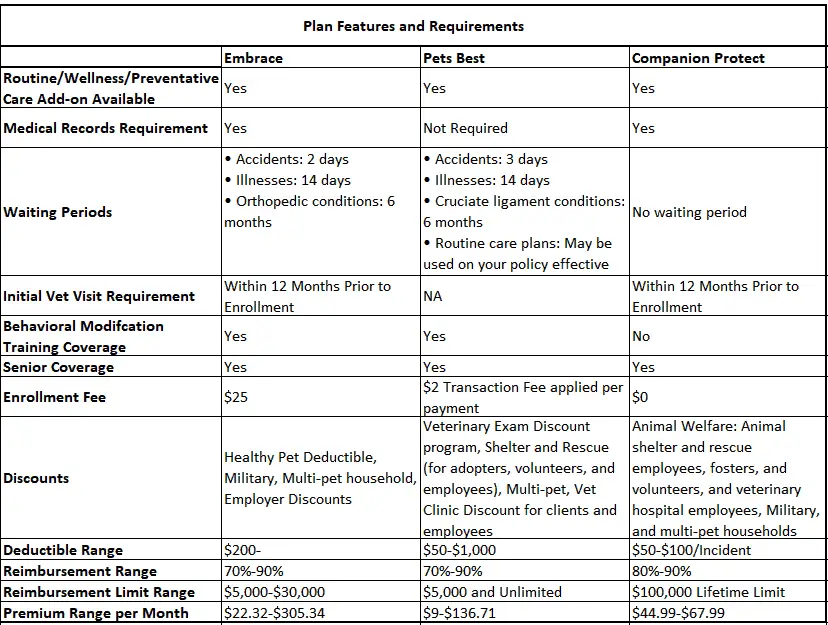 Conclusion
The hard reality is that when our pups are hurt or sick, we have to pause and find out if providing care is within our financial means.
During times of such stress, the last thing we need to be worrying about is whether or not we can pay their vet bills.
Pet insurance will allow parents of GSDs to focus on what is truly important, and that's their pups.
Resources