This post may contain affiliate links. It doesn't cost you anything extra and it keeps our lights on, our families fed, and our dogs spoiled. For all the juicy fine print, see our affiliate disclosure
Before you can figure out what dog food to feed your pet, you need to read up on the ingredients and understand what they mean.
When you scan the nutritional label on the can, one of the first items you'll come across is crude protein.
Keep in mind that the levels of protein listed in the nutritional information section may differ from the promotional taglines on the front of the bag.
If you don't know what the various sections of the nutrition label mean, don't worry.
This guide is going to explain what crude protein is, whether it's good or bad for your dog, what the ideal quantities are for dog food, and a lot more. So keep reading!
What is Crude Protein in Dog Food?
Crude protein is an estimated value of the protein content in dog food.
Simply put, it assumes the quantity of animal protein in dog food by calculating the nitrogen content present. AAFCO regulates this value1, and it is stated on your kibble packet.
However, it's important for you to understand that the crude protein percentage includes protein sourced from grains or other food sources as well as animal-based protein.
When it comes to dog food, meat-based protein is what you want2.
Vegetable-based protein may not meet your pet's nutritional requirements. In that way, the crude protein value can be misleading for pet owners.
It also isn't an indication of the quality of meat used by the dog food company.
All in all, crude protein is a value that can help you start off your research regarding the quality of a dog food brand.
Is Your Dog Driving You Nuts During the Day?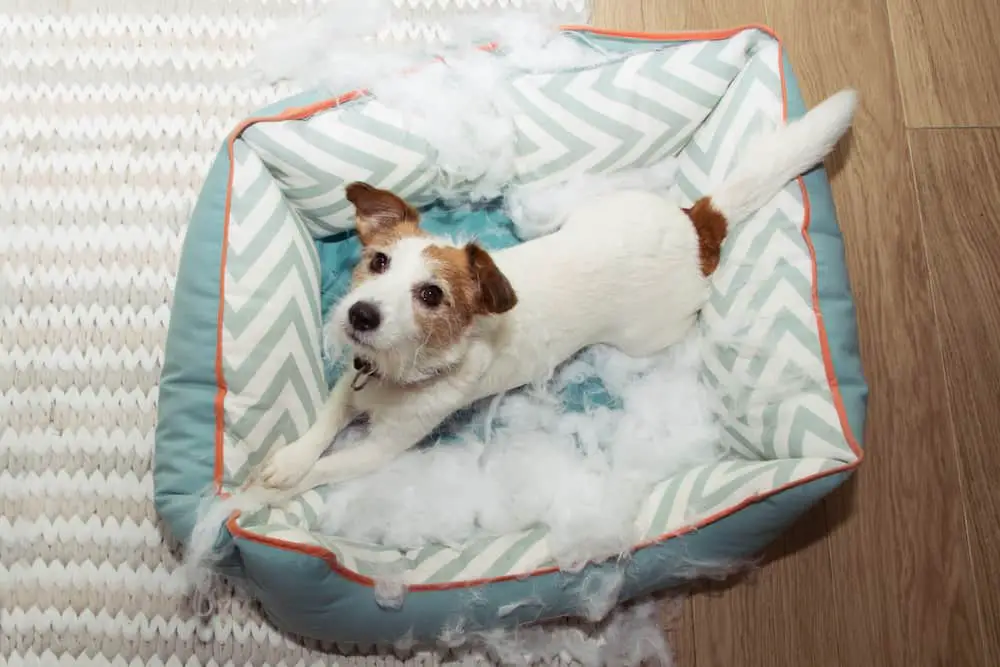 Get Our List of 11 Awesome Indoor Activities to Keep Your Dog Busy and Out of Trouble!
But it does not provide a comprehensive understanding by any means.
Is Crude Protein Good for Dogs?
Crude protein is not just good but essential for dogs. Ideally, it should form 20 to 22 percent of your dog's dry intake if they're receiving a balanced diet.
Read on to understand exactly what this value means and how you can calculate it.
Since crude protein is easy to digest, your dog can quickly convert it into essential amino acids. But, of course, this is just one factor to consider.
Crude protein can refer to both animal and non-animal-based proteins. It also doesn't differentiate between high-quality proteins and low-quality discarded cuts.
These are all factors you'll have to research once a food brand has made it past the initial overview.
Is Crude Protein Bad for Dogs?
Objectively, crude protein, in general, is not bad for dogs.
But if it is coming from a large quantity of non-animal proteins or bad quality animal parts like carcasses, your pet may not be receiving the quality of nutrition you think they are.
That's why you should check the crude protein value and follow that up by ensuring that the dog food lists real whole meat as the primary ingredient.
For example, chicken, lamb, and salmon are all good first ingredients.
Additionally, look for foods that use whole vegetables, whole grains, and organic fruits.
Once this is done, go through the rest of the list and make sure you understand all the ingredients present.
Also, if your dog has health issues like kidney failure, or if you have an elderly pet, then crude protein may negatively impact their health.
In that case, you'll want to consult your vet and look for foods with low crude protein. We've listed a few at the end of this guide.
Sources of Crude Protein in Dog Food
Dog foods normally use a blend of animal and plant-based proteins since dogs are omnivores with diverse nutritional needs.
For animal-based proteins, the sources generally include:
However, you can also find specialty foods that source meat from:
Raw ground meat is rich and full of ingredients
The rest of the mix may use vegetable proteins. Soybean is one of the most common sources of vegetable protein in animal feed.
Recently, hemp seed based varieties have gained a lot of popularity among dog lovers.
How Much Crude Protein Do Dogs Need?
As stated by AAFCO, crude protein should form a minimum of 18 percent of your dog's dry intake. The ideal portion, however, is between 20 to 22 percent.
But what does this mean?
In order to determine whether your dog is receiving enough crude protein or to be able to compare your wet and dry dog food options, you need to remove the moisture quantity from the value given.
If the label says the food has a 70 percent moisture content, that means there is 30 percent dry content.
Now, if it lists a 10 percent crude protein value, that actually only refers to the dry content.
So 10 percent of 30 percent means the product in question has a 3 percent protein level, which is far lower than the recommended value.
Dog Foods With Crude Protein
Here are some of the best dog food options on the market with high crude protein values:
Blue Wilderness Adult Salmon is packed with protein, has a high crude protein value of 34 percent, and lists deboned salmon as the primary ingredient, followed by chicken meal, peas, and fish meal.
Crave High-Protein White Fish and Salmon has a crude protein value of 34.9 percent and lists natural whitefish and salmon as their primary sources of meat protein.
Wellness Core Grain Free comes with deboned turkey, turkey meal, and chicken meal as the primary ingredients, with a crude protein value of 34 percent.
Dog Foods Without Crude Protein
For elderly dogs or ones with underlying health conditions like kidney failure, it is essential to purchase dog foods with minimal crude protein values.
Some options include:
Hills Prescription Kidney Care Food that includes 14.5 percent crude protein. You will need a vet's prescription to order this food.
Blue Buffalo Life Protection Formula is designed to aid in weight loss and contains 20 percent crude protein.
Purina Pro Plan Veterinary Diet has less than 4 percent crude protein and caters to the needs of dogs with poor kidney function.
Conclusion
All in all, crude protein is an important indicator of the nutritional value of dog kibble.
Therefore, it is one of the first items you should check on the bag.
However, don't take the values at face value and make sure you know exactly what they mean.
Resources
https://www.aafco.org/Portals/0/SiteContent/Regulatory/Committees/Pet-Food/Reports/Pet_Food_Report_2013_Midyear-Proposed_Revisions_to_AAFCO_Nutrient_Profiles.pdf