Recently, I've had the joy to watch one of my best friends adopt her own puppy and bring him home.
She'd never owned her own dog before, so it was great to watch her experience all of his first milestones.
Some were more enjoyable than others, but there are always a few firsts that dog owners have to experience.
The night she discovered tiny black bugs in his soft puppy fur, she panicked and didn't know what to do.
She didn't have the budget to take him to the vet and buy a prescription just yet, so she needed a cheaper but still effective solution.
I told her to turn to flea collars and she was not disappointed.
Here are the best flea collars for dogs that I'd recommend to any dog owner looking for an easy flea solution.
Related: How to Check Your Dog for Ticks
How Flea Collars Work
Depending on the type of flea collar you buy, the ingredients will be different but still work the same way.
Within the first 24 hours of the flea collar being worn by your dog, the ingredients in the collar will slowly disperse through your dog's fur.

As these ingredients are soaked into your dog's skin, the more protected they are from fleas and ticks.
The ingredients can both kill flea infestations and prevent future ones, depending on the purpose of the flea collar.
Related: Are Flea Collars Safe for Small Dogs?
Types of Flea Collars
Those who have only ever trusted a flea medication for their dog may be wondering how they work.
There are two types of flea collars on the market that are effective, so you can choose from either one.
Unless you already know that your dog has skin allergies or sensitivities, you may not find out that they're better with one kind of flea collar over another until you try them both out.
Chemical Flea Collars
The first is a chemical flea collar.
It's made with an insecticide[1] that slowly releases into your dog's fur, which ends the life cycle of the fleas. They can kills eggs, larvae and even adult fleas.
Some chemical flea collars may contain multiple insecticides for the most powerful infestations, but they'll all be tested before being sold to the public.
All-Natural Flea Collars
The other kind of collar is the all-natural flea collar.
It uses only natural ingredients[2] to kill and deter fleas, like citronella and other oils.
Fleas get turned away by the smell of the ingredients if they aren't killed off immediately, but dogs and humans won't be bothered by it.
Best Flea Collars
There are a few varying factors that will affect which dog collar you buy for your dog.
Age and weight are some of them, but size is one of the most important.
Check out these flea collar superlatives by size that should help you figure out what to get.
My Top Pick
Bayer Seresto Flea and Tick Collar
While there are tons of flea collars out there to choose from, the one I've seen work on a consistent basis is the Seresto collar by Bayer.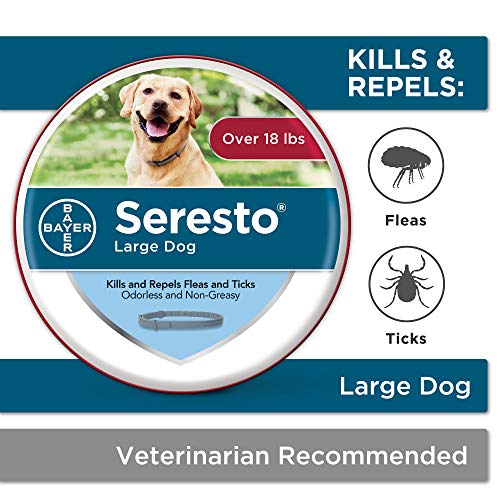 Overview
It's made for dogs of all sizes and ages, so you don't need to worry about the specifics.
Vets also commonly recommend this collar because it's powerful in the fight against fleas without being a major irritant to your dog's skin.
You can get it at almost any pet supply store or online.
What I Liked
Dog owners looking for the most effective flea and tick collar should turn to Seresto.
When you buy a Seresto product, you're getting a collar that stops fleas in their tracks. It kills them before they lay eggs and repels any other fleas or ticks from joining the party.
It's not greasy and has no odor, so it's pleasant for humans to be around when your dog wants to cuddle.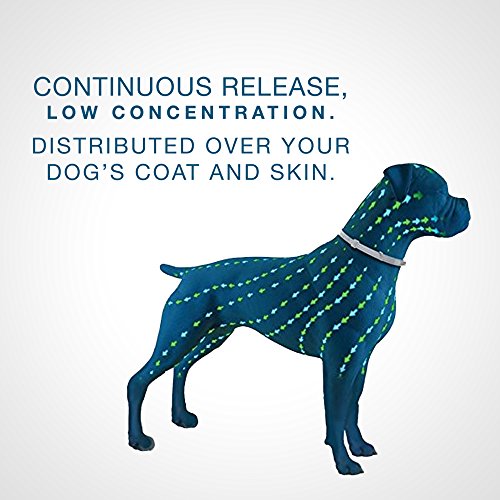 Additionally, Seresto collars can help symptoms of sarcastic mange, which sometimes goes hand in hand with flea outbreaks[3].
Mites are friends of fleas, and they can cause mange when they burrow under your dog's skin.
What I Didn't Like
There's not much to not like about the Seresto collar.
If your dog doesn't have any immediate allergic reactions to wearing it, it does its job well and helps with additional issues like mange.
Final Thoughts
The Seresto collar is an easy way to cover all your dog's bases, which is why it's trusted by so many dog owners around the world.
You won't be taking much of a gamble by trying this collar out on your dog.
You can find more information in our in-depth review of the Bayer Seresto collar.
Best Flea Collar for Small Dogs
Hartz Ultraguard Flea and Tick Collar
Small dog owners probably spend their time looking for a collar that's both the right size and the right price.
Paying a huge price for such a small collar can feel like a rip off, but you don't have to sacrifice your budget to find something that works when there's the Hartz Ultraguard Flea and Tick collar.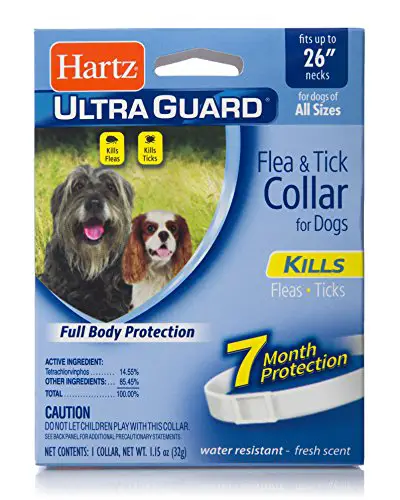 What I Liked
This flea collar usually sold in a pack of two for around or less than ten dollars, depending on where you shop.
Anything that helps out my budget is a winner for me.
Even though your dog only needs one collar at a time, they aren't meant to last forever.
A pack of two will save you time and money in the future when the collar needs to be replaced.
This chemical collar is water resistant too[4], so your dog can run through a sprinkler and not ruin the collar.
Just make sure to remove it before they take a bath or go swimming.
Being dunked continuously in water will make the chemicals release faster, wasting the active ingredients that should extend for months at a time.
Is Your Dog Driving You Nuts During the Day?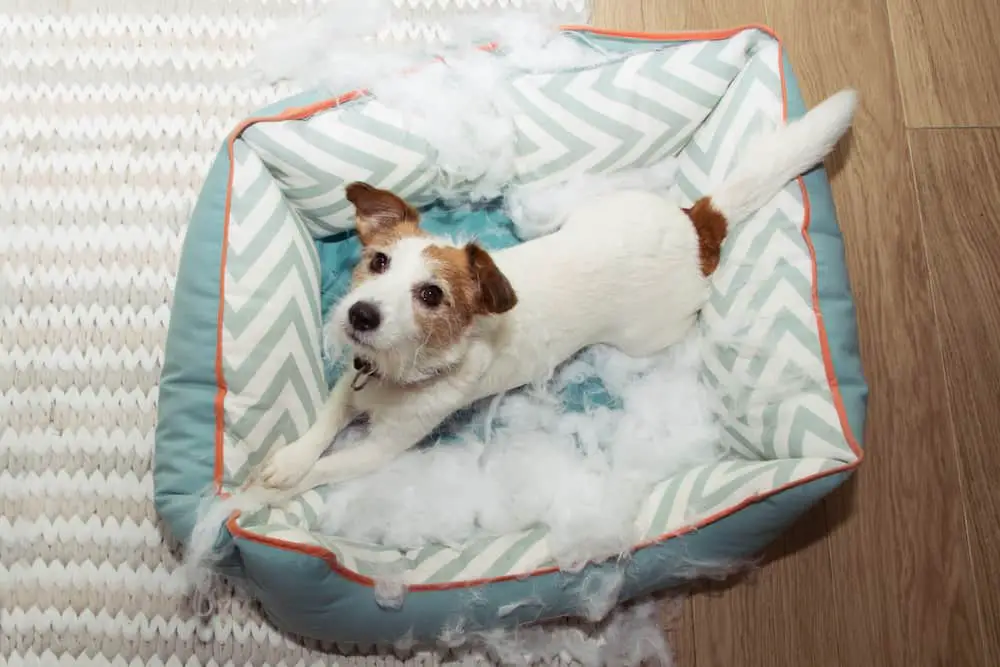 Get Our List of 11 Awesome Indoor Activities to Keep Your Dog Busy and Out of Trouble!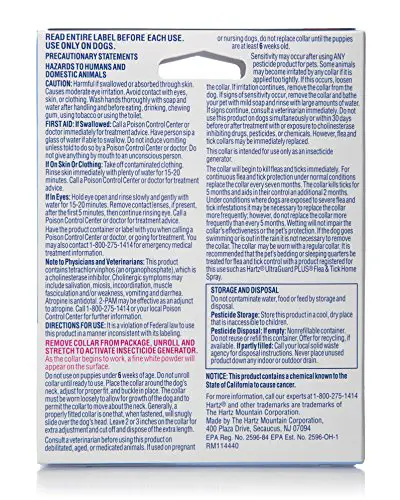 What I Didn't Like
I'm not a huge fan of the fact that puppies younger than 12 weeks old can't wear this collar.
They won't be socializing much anyway, since they'll be catching up on their vaccinations, but they can still get fleas and ticks when they go outside during potty training.
Dog parents shouldn't feel like their only option is to buy the more expensive oral medication.
Final Thoughts
I love that this collar can be bought in a pack of two.
Most flea collars are only sold individually, but I like that you can stock up with Hartz Ultraguard.
Even though young puppies can't wear the collar, it's still a great option for smaller dogs looking for flea and tick protection.
Best Flea Collar for Medium Dogs
Rolf Club 3D Flea Collar
Medium dogs may have the easiest time finding a collar that fits, especially since Rolf Club makes their 3D Flea Collar.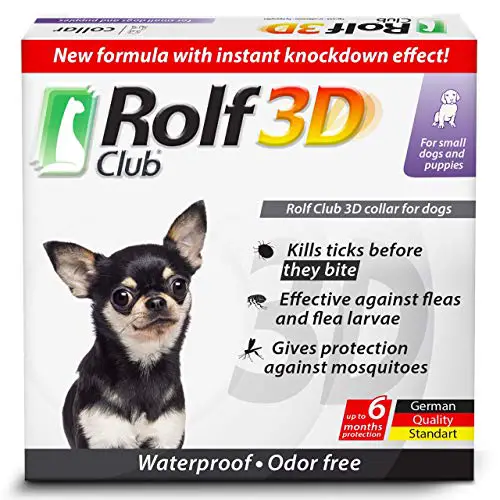 What I Liked
The 3D collar is specifically designed to by hypoallergenic, so your dog can still wear it if their skin normally reacts to things like different shampoos or sprays.
It's also an odorless way to protect your dog from mosquitoes and lice, in addition to fleas.
Some spot-on flea treatments leave an unpleasant odor after application, which can stick around for a day or two.
This collar is an easy way to avoid that without compromising on your dog's flea protection.
What I Didn't Like
Some owners have reported that the collar may slip off of your dog, but I believe that's due to either getting the wrong size or not securing it correctly.
Make sure to read the packaging so you put it on your dog the right way, since not all flea collars are designed to be identical.
Final Thoughts
Averaging around $30, it's a reasonable price to pay for such great canine protection.
You'll only have to replace the Rolf Club 3D flea collar twice a year, which is still much more affordable than oral or spot-on medication.
Best Flea Collar for Large Dogs
Bayer Flea and Tick Collar Again
Large dogs require a flea collar that has a bit of extra strength, since there's so much surface area to cover. Bayer Animal Health will keep your dog safe with the Seresto Flea and Tick Collar.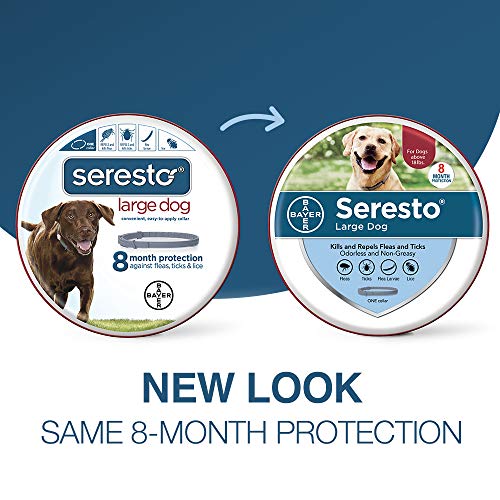 What I Liked
Any large breed dog seven weeks or older can wear this collar, so your dog can grow up with the same product.
The Seresto collar also has a lower concentration of active chemical ingredients, so they won't irritate the skin while they release slowly over time.
Your dog will be protected for up to eight months while wearing this non-greasy, odorless collar.
What I Didn't Like
There's not much to be said regarding complaints with the Seresto collar.
There are only a few rare cases where the collar didn't help end a flea infestation, which may be related to the lower concentration of active ingredients.
Final Thoughts
The Seresto collar is one of the biggest sellers in the dog flea collar market, especially for big dogs.
If you haven't tried a flea collar on your dog before, this may be the collar that gets recommended to you the most by friends and your dog's vet.
Safest Flea Collar
Arava Flea and Tick Prevention collar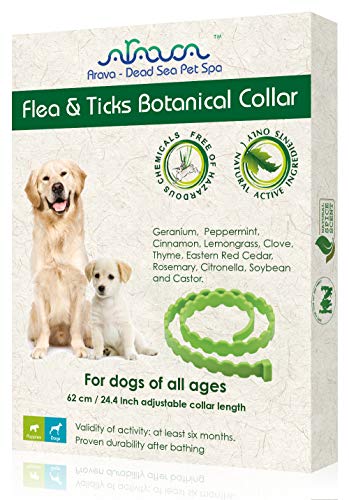 Chemical flea collars are out on the market because they've been tested and proven to be safe for dogs to wear.
Still, dog owners can feel uncomfortable when the word "chemicals" is mentioned.
That's completely understandable, which is why natural flea collars like the Arava Flea and Tick Prevention collar have a huge presence in the flea collar market.
What I Liked
The all-natural ingredients are definitely a bonus.
I would never have to worry about them bothering Maggie's skin, which is even more difficult when you have a dog with thick fur.
You can trust the natural herbs and essential oils that make this a powerful collar in the fight against fleas and ticks.
What I Didn't Like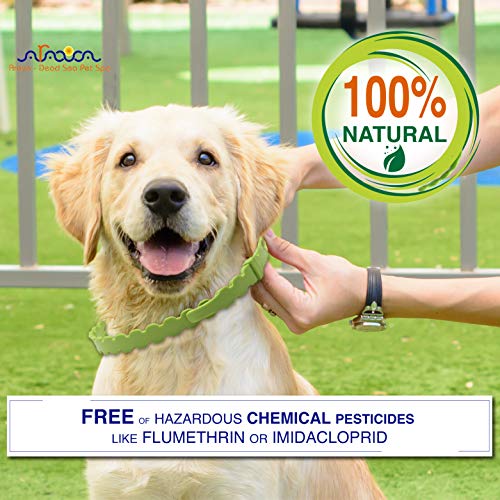 Some consumers have made it clear that this collar didn't do much to end flea infestations that had become pretty bad.
If your dog is suffering from a long-term flea problem, you'll want to go with a collar that has more powerful ingredients.
Or a short term oral solution may be what's right, and then you can get the Arava collar for your dog to wear once their coat is back to normal.
Final Thoughts
I still stand by the fact that all-natural collars can be just as effective as chemical collars.
The Arava collar proves this, since it's trusted by so many dog owners to protect their dogs for months at a time.
Best Flea Collar for Puppies
Bayer Seresto Flea and Tick Collar Once More
Buying a flea collar for a puppy is tricky.
Most collars won't be safe for a puppy to wear, because of the chemicals they contain.
That's why so many new puppy parents turn to the Seresto flea collar for help.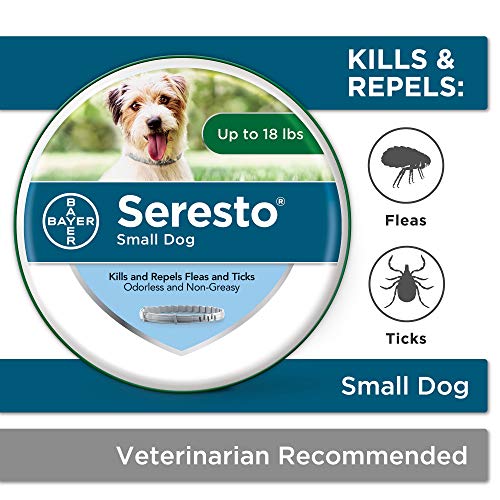 What I Liked
Depending on the puppy's age, their liver may not be fully developed to process out chemicals.
Vets may recommended oral flea medication at a lower dose, but there's also the Seresto flea collar if that's what you'd prefer to use for your dog's flea protection.
Many vets recommend that puppies as young as seven weeks old wear the Seresto flea collar[5].
It's safe for young puppies because it's designed to be tough on ticks and fleas without introducing anything a young puppy may not be able to process through their digestive tract.
What I Didn't Like
It's disappointing that something as well known as the Seresto collar isn't also made with all-natural ingredients.
Still, dogs wear the Seresto collar all the time and don't experience any bad side effects, so it's unlikely that your puppy will be any different.
Final Thoughts
It's hard to find a flea collar for puppies, but the Seresto flea and tick collar makes it easy to protect your pup.
Starting your puppy with a Seresto collar could mean that they wear the Seresto brand as they grow up, which is easier for everyone involved.
Best Flea Collar for Older Dogs
Lucky Pluto Flea Collar
As dogs age, they have different health issues to keep in mind when purchasing something for them like the Lucky Pluto flea collar.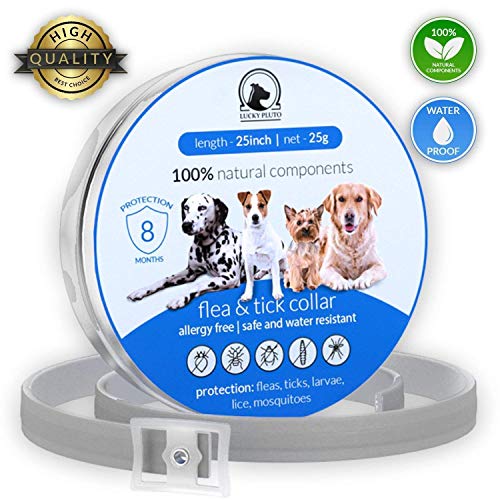 What I Liked
In general, it's a good idea to not give a dog a flea collar when they have skin lesions[6], which can occur more easily with older dogs.
It's safer to stick with a flea collar that uses all natural ingredients so it's irritant free.
Lucky Pluto's flea collar does just that, while also being allergen-free.
For up to eight months, your senior canine will be protected from fleas and ticks, even if they go for a swim or take a bath.
What I Didn't Like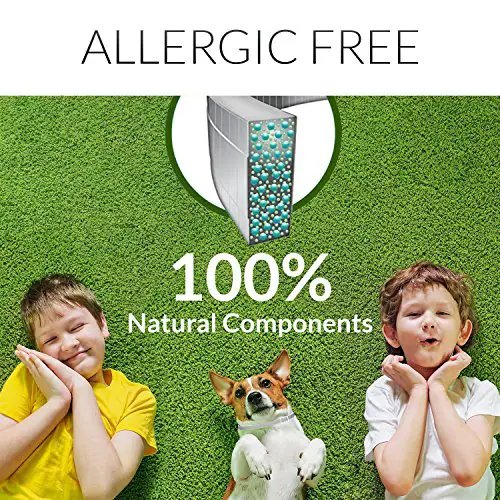 It's a little disappointing whenever a flea collar is water resistant and not waterproof, which is the case for Lucky Pluto.
It'll take some time to get used to removing the collar every time your dog bathes or goes for a swim, but it's a small price to pay for effective flea treatment.
Final Thoughts
Older dogs require different precautions than younger dogs, which is why you want to get them the safest collar.
The Lucky Pluto collar won't let your dog down, so its a safe option to try out on older dogs.
Best All-Natural Collar
Dr. Bob Goldstein Nature's Protection Flea and Tick Collar
When you're trusting an herbal collar with your dog's health, you're going to want to get the best in the business.
That's why you should trust Dr. Bob Goldstein Nature's Protection flea and tick collar.
What I Liked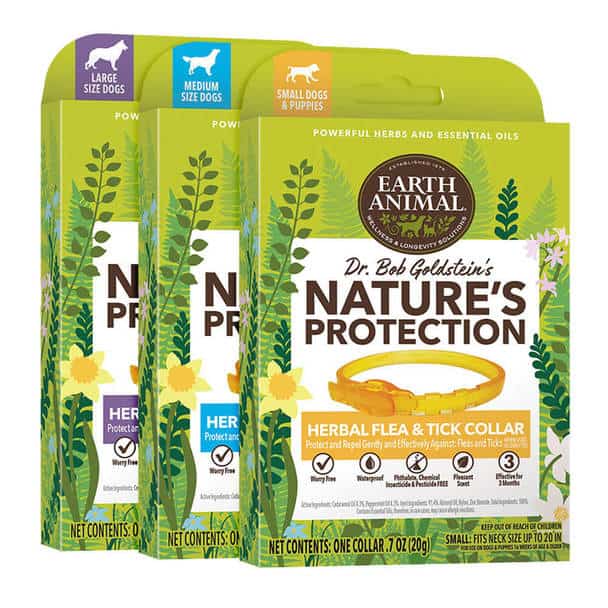 This collar uses three natural ingredients to send ticks and fleas running.
Almond oil, peppermint oil, and Virginia cedar oil are all non-toxic ingredients that help in more ways than one.
They have antiseptic, antibacterial, and anti-fungal properties, while also containing an odor that repels fleas.
All you'll smell is a minty refreshing scent in your dog's fur, which they may enjoy as well.
What I Didn't Like
The only annoying feature of this collar is that it has to be replaced every three months.
While it's relatively inexpensive, it's another thing to add to your busy schedule.
Keep that in mind before purchasing, if you don't want to frequently replace your dog's collar.
Final Thoughts
As far as all-natural collars go, Dr. Bob Goldstein's Nature's Protection ranks above them all.
The three main ingredients take care of fleas and ticks fast, which may be worth replacing it every three months for some dog owners.
Best Vet Recommended Collar
Mozart Flea and Tick Prevention Collar
Your dog's vet will know the best way for them to be treated if they have a flea infestation, but vets also recommend that Mozart's flea and tick prevention collar be used as a precaution when your dog doesn't have fleas.
What I Liked
Mozart's flea and tick prevention collar is the number one preventative collar that vets recommend.
It uses all natural ingredients like cinnamon oil, clove oil, and lemongrass oil along with citronella and peppermint to keep bugs away.
It will also protect your dog for up to six months.
While that's slightly shorter than other flea collars, this collar option is much more budget friendly, which is another reason why vets recommend it to so many dog owners.
What I Didn't Like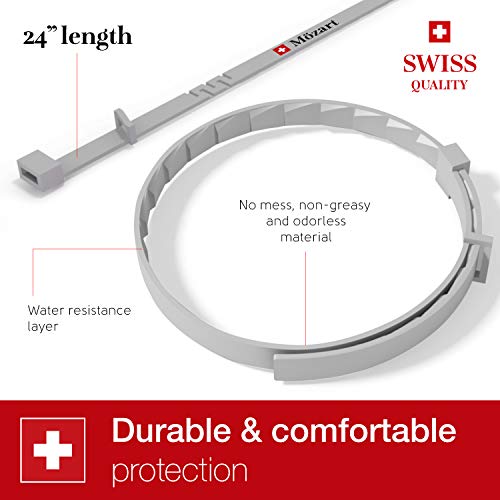 A few owners have reported online that the scent from the collar can be quite strong when it's fresh out of its packaging.
Prepare to let it air out for a few hours before putting it on your dog to help with the smell.
Another important factor for dog owners to consider is that large dogs with thick coats haven't had as much success with this collar as short haired dogs.
Final Thoughts
There's no doubting the effectiveness of this all-natural collar, but it may not be for every dog.
If your dog doesn't see any flea or tick relief within the first 24 hours of wearing the Mozart collar, they may need one that uses strong chemicals instead.
Best Six Month Collar
PetArmor Flea and Tick Collar
Six month collars are easy to find, which is why many owners trust the PetArmor flea and tick collar for their dogs.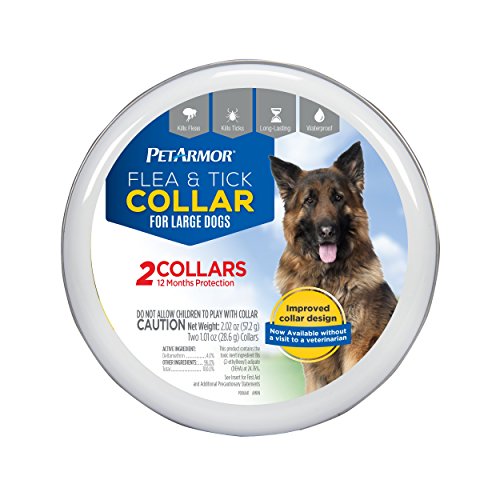 What I Liked
The PetArmor Premium collar come in all sizes and only take a few hours to start killing even the most severe flea infestations.
At the end of six months, replace it with a new collar and your dog will be good to go.
It's a straightforward collar, so it's easy for people who are new to flea collars to use correctly on their dog.
What I Didn't Like
For some reason, chihuahuas and other tiny dogs tend to react poorly to this collar.
So, avoid the PetArmor collar if you have a very small dog!
Final Thoughts
If you don't have a chihuahua or other tiny dog, the PetArmor collar will take care of your dog's flea problem quickly and easily.
Best Eight Month Collar
Joeor Prolonged Flea and Tick Collar
There are many reasons why an eight month flea collar is more appealing to dog owners than a six month collar.
You may have a tight budget to work with or you may not want to remember to replace the collar more than once a year.
If you're looking for the best eight month collar, look no further than the Joeor Prolonged flea and tick collar.
What I Liked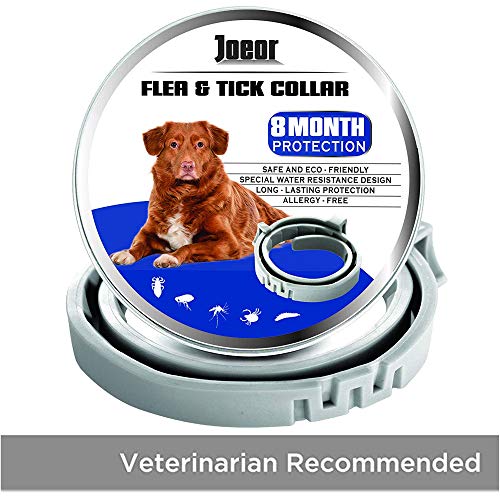 This collar repels ticks, fleas, and even mosquitoes during all life stages.
That's extra pest protection without any extra steps for you to remember to do every month.
Compared to other rigid flea collars, the Joeor collar is also soft and easy to buckle into place.
This may be related to what it's made out of. It also uses mostly all-natural ingredients, so it's safer for dogs with sensitive skin to wear.
What I Didn't Like
The citronella scent of this collar can be overpowering when it's first used, so prepare yourself for the scent if you decide to buy it for your dog.
Final Thoughts
It's nice when you can put a flea collar on your dog and not have to worry about replacing it more than once a year.
The Joeor collar is a safe and effective way to keep pests away from your dog, if you don't mind the citronella smell that will follow your dog around for a bit after they first start wearing it.
Best Long Term Collar
TevraPet Proact Flea and Tick Collar
Don't want to keep track of how many months your dog has been using their flea collar? Try out a year long, long term collar like the TevraPet Proact flea and tick collar.
What I Liked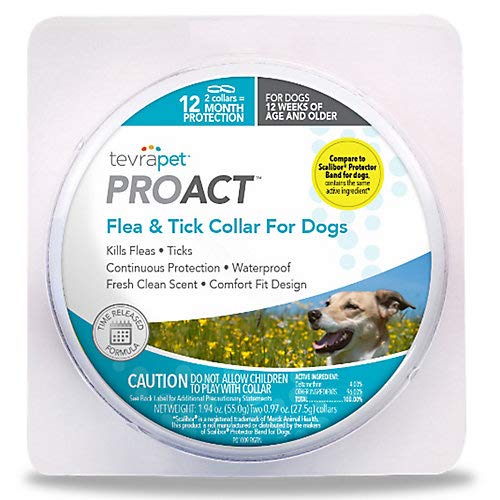 The TervaPet collar is meant to be used for up to twelve months at a time, so it's waterproof and slowly releases continuous protection over time.
Dogs twelve weeks and older can use it, so younger puppies can grow up with this collar.
If your dog is smaller, the collar can easily be cut to fit your dog's neck perfectly.
Another great feature?
It's commonly sold in packs of two, both online and in stores. For an average of $30, you could get two years of pest protection for your dog.
What I Didn't Like
A general issue that comes with long term collars is that pet parents stop checking their dog for fleas and ticks regularly when their dog is wearing the collar.
At first, that may be fine, but the collar may become less effective over time.
Dunking the collar in water is one of the easiest ways to make it less effective, so just remember to check your dog regularly even if they have a long term flea and tick collar on.
Final Thoughts
It's great that pet parents have the option to buy long term flea collars for their dogs, but it doesn't mean you should stop being proactive
If your dog wears a collar like the TevraPet collar and you're also brushing them to check for bugs, they're bound to be safe all year round.
How to Use a Flea Collar Effectively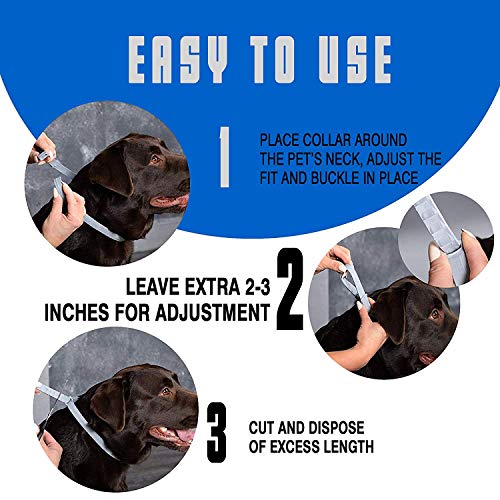 It's important for dog owners to know that different flea collars may come with slightly different instructions.
If you want to be sure that you're using the flea collar effectively, read the back of the packaging that you bought.
Still, there are a few general steps that flea collars require in order to be used.
Make sure you do these following things so your dog is protected from pests.
Unroll and Stretch It
Most flea collars will be rolled up and then packaged.
Once you unroll the collar and stretch it out, the main ingredients will be activated.
You may even see a white powder around the collar after stretching it. That just means the ingredients are working.
Fit the Collar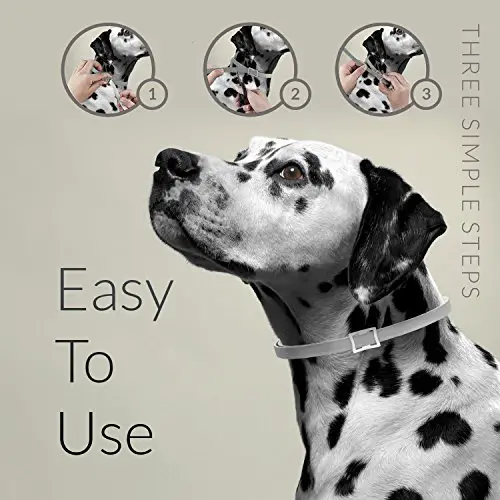 Next, you can fit the collar around your dogs neck.
There should be two finger spaces between your dog's neck and the collar for a comfortable fit.
There may be an excess length of collar left after the fitting, which can easily be cut off.
Leave at least an inch or two of extra collar in case it needs to be loosened.
Watch for Skin Irritation
If your dog start scratching at their neck after they've worn the collar for a few hours, inspect their skin.
They may have slight skin irritation if the collar is too tight.
Use the extra collar length to loosen it to the appropriate size if needed.
Conclusion
The flea collar you eventually purchase for your dog will depend on many varying factors.
You have to consider if your dog already has fleas or if the collar will be mainly for preventing infestations.
You'll also have to think about things like your dog's age, size, and if they have any allergies or skin sensitivities.

Think also about what each flea collar is made out of, so you're comfortable with what your dog will be wearing.
It sounds like a lot to keep in mind, but your preferences will be second nature once you start reading through your options.
Test out different flea collars to see which ones are the most effective for your dog, so you don't have to worry about fleas and ticks again.
FAQs
Do Flea Collars Work?
Yes, flea collars work by using one of two methods.
The first is by repelling fleas and ticks by emitting a gas they can't stand.
If they bite your dog, the gas will also kill them.
The second method is for a flea collar to release active ingredients slowly over time.
These collars may or may not leave a greasy residue in your dog's fur, depending on the brand.
How Long Does It Take for a Flea Collar to Work?
Most flea collars will begin to work immediately, but the time it takes for them to reach their full effectiveness differs.
Some collars will begin to work within minutes, while others require a few hours.
At most, you can expect a flea collar to begin taking effect within 24 hours of placement.
If there are still fleas and ticks on your dog after that, it may be time to switch to a new brand.
Are Flea Collars Safe?
Some dog owners worry that flea collars aren't safe because they contain chemicals that kill fleas and ticks.
While the initial thought of chemicals in your dog's fur may be concerning, all flea collars are tested for safety before being sold.
The only way a flea collar may not be the safest option for your dog is if they have an allergic reaction to the chemicals used.
If that happens, you may want to switch your dog over to an all-natural flea collar.
Do Flea Collars Have Side Effects?
Flea collars are one of the most common ways dog owners protect their dogs against fleas and ticks.
Because they're so widely used, they're recommended as a safe flea and tick alternative to dog owners who don't want to use oral or spot-on treatments.
However, some side effects may still occur in some dogs.
Dogs with sensitive skin may start scratching at their collar and continue the scratching for hours on end after it's clipped on.
Dogs may also deal with redness of the skin and possible hair loss around the collar if they're irritated by the collar's ingredients or allergic to it[7].
All-natural flea collar alternatives are an allergen-free alternative for dogs who can't use a traditional flea collar.
Resources