This post may contain affiliate links. It doesn't cost you anything extra and it keeps our lights on, our families fed, and our dogs spoiled. For all the juicy fine print, see our affiliate disclosure
Best

Top Pick: Hill's U/D Urinary Care Formula
Hill's Prescription Diet Urinary Care dog food is the best choice for dogs susceptible to UTIs or other urinary issues. It'll balance your pup's pee pH and help prevent kidney stones!
This excellence comes at a cost, though:
You need your vet's approval to order a bag! Check out some of the other choices if you don't want to jump through this hoop for your dog.
Before I became a dog owner, I thought I had dog food pretty much figured out.
You looked for the brand you liked, bought the right food for how old your dog was, and walked out of the store.
No big deal.
Now I know it's way more complicated than that.
Not every major brand will make food that's right for your dog and you can buy food tailored to your dog's medical needs.
People are often surprised when they find out there's even food to help dogs with their urinary health.
Here's everything you should know if you want to buy that kind of food for your dog and how it may help them prevent infections.
Related: How to Get Your Dog to Chew Their Food
The Best Dog Foods for Urinary Health
Any dog food that's supposed to help your dog with their urinary health should prevent Urinary Tract Infections (UTIs).
These are some of the best non-prescription dog food for urinary health you can get to make sure your dog stays healthy and comfortable.
Overall Best Choice

Hill's U/D Urinary Care Formula
The Hill's pet food brand made a name for themselves by using science as their marketing tool.
Each formula is created by a team of veterinary scientists who piece together the best ingredients[1] for a dog's specific health needs.
Their U/D Urinary Care Formula is one of the best you can buy if your dog needs dog food for UTI problems.
What I Liked
Hill's stands out to me because they:
Pay attention to health needs first
Balance the mineral content to prevent kidney stones
Include urine pH-balancing nutrients
What I Didn't Like
Some things I noticed that weren't so great were:
Large kibble pieces that are harder for small breeds to chew
A more expensive price than traditional dog foods
A recent recall in March 2019[2]
Budget Choice
Firstmate's Australian Lamb Formula
You might feel panicked if your dog has a grain allergy and needs to switch foods to help their urinary health.
Firstmate's Australian Lamb formula is something you should consider, since it's urinary care dog food that won't compromise on your dog's allergies.
Related: What is Lamb Meal and is it Good for Dogs?
What I Liked
Firstmate is great because it's food that includes:
Cranberry ingredients, which is a urinary tract superfood
Fiber that's easy to digest
Protein that doesn't come from gluten or grains
What I Didn't Like
Some things to think about are:
It's slightly pricey
It includes Burbank and Norkotah potatoes, which could upset some dogs' stomachs
May require vegetable broth soaking to make it easier to chew at first
Upgrade Choice
Blue Buffalo W+U Weight Management and Urinary Care Formula
Blue Buffalo is already one of the leading dog food brands in the world, so it's easy to trust that they also make great dog food for bladder stones and urinary tract infections.
Blue Buffalo W+U is widely available, but definitely an upgrade, since it will cost a bit more than other urinary care foods.
What I Liked
This formula could be a great option for your dog because it:
Limits the formation of calcium oxalate uroliths and struvite[3]
Comes in canned form for dogs who don't drink enough water
Doesn't include grains, fillers, or preservatives
What I Didn't Like
You should consider the following before making your purchase:
It's only for adult dogs
It will cause weight loss even if your dog doesn't need it
It has higher levels of fiber, which could cause bathroom accidents
Best for Older Dogs
Royal Canin's SO Aging 7+ Formula
Royal Canin is another dog food brand you may have bought from over the years if you've been a long time dog owner.
Their SO Aging 7+ formula was made specifically with older dogs in mind so they can get urinary health support without eating food with too many carbs.
Is Your Dog Driving You Nuts During the Day?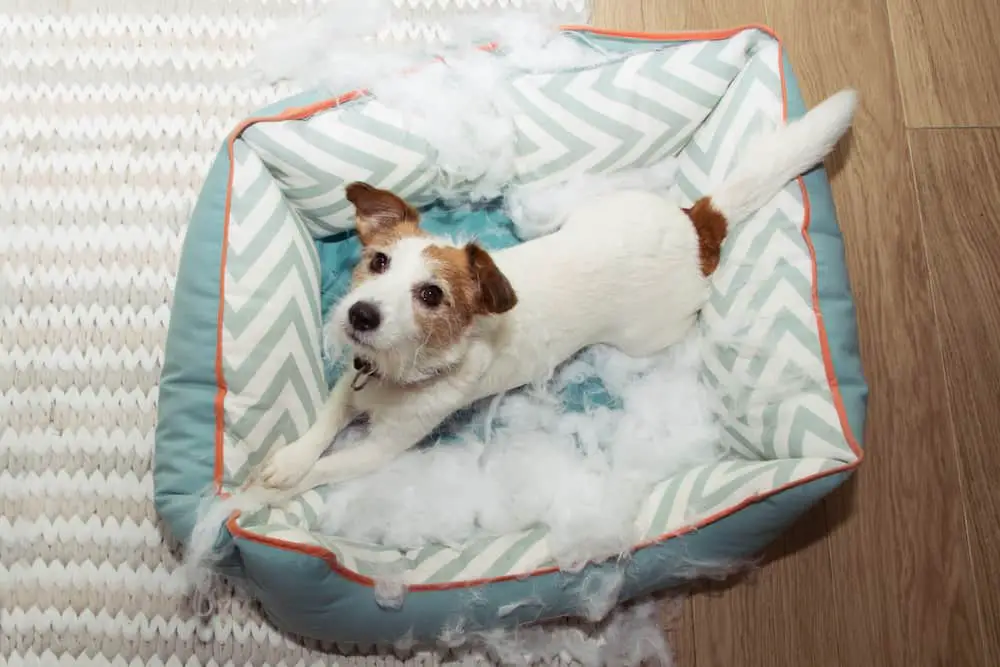 Get Our List of 11 Awesome Indoor Activities to Keep Your Dog Busy and Out of Trouble!
It's important that senior dogs get a specialized food for their age, since they will have slower metabolisms and shouldn't have the high-protein and carb-focused diets that younger dogs will still need with urinary care food.
They have a version for all ages, as well. You can find a review here!
What I Liked
Some of the best things about this formula are:
The RSS methodology that prevents kidney stone formation[4]
The extra flavor for the common issue of decreased appetite in senior dogs
The nutrients and antioxidants that create a fully rounded meal
What I Didn't Like
Remember that there are these other features that aren't so great:
The cost is a bit higher than other brands
Small kibble bits may be a choking hazard for dogs who inhale their food
Larger portion sizes than what's normally recommended for dogs over 50 pounds (4-5 cups per day compared to 2-3)
Best Organic Option
Pristine's Grain-Free Wild-Caught Salmon and Sweet Potato Formula
Plenty of people have become more aware of what's in their food, so it makes sense you'd care about your dog's food too.
If you'd prefer an organic bag of food for your dog, try Pristine's Grain-Free Wild-Caught Salmon and Sweet Potato formula.
It's easy to digest, great for dogs with allergies and made with only organic produce and fish.
What I Liked
Here are some of the best benefits of this organic option:
Salmon is rich in omega-3 fatty acids, which cleanse the urinary tract and keep it healthy after a UTI
Omega-3 fatty acids improve your dog's skin and coat[5] as well
Contains real dehydrated sweet potato chunks instead of being entirely kibble
Grain free makes it a good choice for dogs with allergies
What I Didn't Like
There are a few downsides to this brand for some dogs:
Comes in much smaller bags for the same prices as larger UTI food bags
The flaxseed and coconut oil may cause bathroom accidents for dogs new to the formula
Isn't focused specifically on eliminating and preventing kidney stones
Best Homemade Recipe
I've wondered before if it'd be better to make Maggie's food right at home.
Other dog owners have thought the same thing, which is why you can find tons of homemade dog food recipes online.
Use this foundational meal as the base of your dog's food and add in ingredients specifically for your dog's UTI issues[6].
Basic Instructions
Get the following ingredients together:
3 pounds ground turkey
½ cup of peas, frozen or canned
1 ½ cups brown rice, cooked
1 tablespoon of olive oil
1 zucchini, shredded
2 carrots, shredded
3 cups of baby spinach, chopped
Cook the rice as you normally would, with three cups of water in a pot or in a rice cooker.
Brown the turkey on the stove and drain. Rinse in hot water for thirty seconds to clean the fat off and pat dry.
Add all the ingredients to a large skilled and fry until it's heated through.
Cool completely before storing it in bags in your fridge or freezer.
It's a low fat, high protein way to fuel your dog without ordering a bag of kibble.
UTI-Specific Ingredients
Once you put your dog's portion in their bowl, add one of these ingredients to help fight their UTI symptoms or tendencies[7]:
Can also go in their water bowl if they drink a lot of water. Reduce to 1 teaspoon per day for dogs under 50 pounds.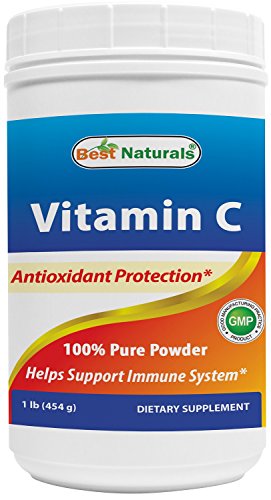 Buy an unflavored powder or crush an unflavored tablet, as the flavored ones may contain sweeteners indigestible to dogs.
½ cup of chopped cranberries or blueberries
They will help prevent UTIs, but the cranberries may mask the symptoms of an active UTI, so don't start with this ingredient if your dog currently has an infection.
If you're ever unsure of what to feed your dog and what would help their UTIs, talk with their vet.
They can recommend food or ingredients specific to your dog's health needs, along with possible medication if their infection is severe.
Signs of Urinary Tract Infection in Dogs
Even when your dog starts eating food designed to treat and prevent UTIs, you need to be aware of the most common signs of a canine UTI[8].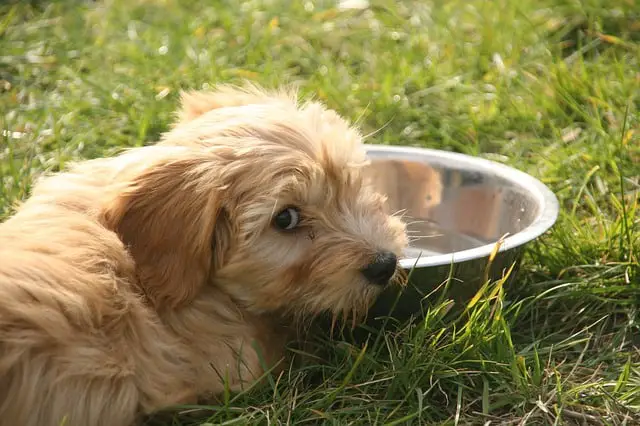 You might see your dog:
Have sudden or frequent accidents even when housetrained
Shake while peeing
Drink more water or stop drinking water
Pee cloudy or bloody urine
If your dog shows any of these symptoms or other behavior you consider unusual, take them to the vet right away for testing.
An untreated UTI[9] could cause a kidney infection or even worse, kidney failure.
Causes of Urinary Tract Health Problems
Dogs can get UTIs in very different ways than humans, but the root cause is the same.
A urinary tract infection begins when bacteria enters the urethral opening.
A female dog might sit against a bacteria-covered surface like dirt or a male dog could clean himself after chewing on something covered in grime.
Once the bacteria enters the urinary tract, it settles and becomes infected when the dog's immune system is weak due to a lack of nutrients.
E. coli is the most common bacteria that causes canine UTIs[10].
Breeds Prone to Urinary Tract Issues
Any dog has the ability to get a UTI.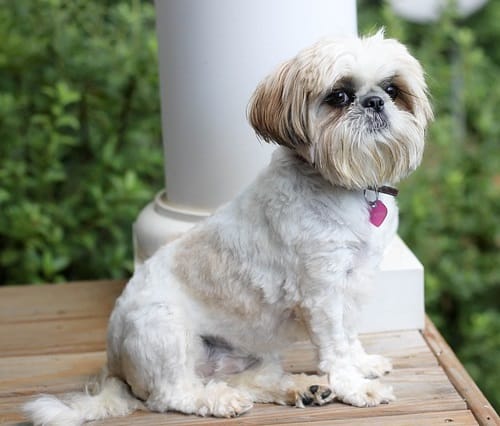 No dog can protect themselves from all bacteria, but certain breeds are more prone to urinary tract issues than others.
Yorkshire Terriers, Shih Tzus, and Bichon Frises get UTIs most commonly because they're closer to the ground and may have developed their urethra in a way that makes it more susceptible to bacteria.
It's also important to note that female dogs are more likely to get UTIs than male dogs, no matter what their breed is.
They have a shorter urethra, so bacteria can access the urinary tract faster than in male dogs.
What to Look for in Food for a Dog with a UTI
Some owners may find it easy to pick a food for their dog once they know to look for a label that promises it will fight UTI symptoms, which is great.
It's good to be aware that there's food out there that will help your dog with their specific medical needs.
Other owners may want to know what in the food specifically prevents or treats UTIs.
Here's what you should look for in food that's meant to promote urinary health.
#1 – Ingredients That Balance Your Dog's pH Levels
Bacteria throw off your dog's system in more ways than one.
Once they enter the urinary tract, they attach themselves to the tract wall and begin to multiply.
Their presence raises the acidity of your dog's urine, which is partly why it becomes painful to pee.
Urine is supposed to be mostly neutral (about a pH level of 6.3 to 6.6).
UTI food like Hill's U/D Urinary Care Formula shows dog owners right on the front of the bag that their food is tested to balance a dog's pH levels.
That should help make peeing more comfortable while your dog fights off the infection.
#2 – Ingredients That Prevent the Formation of Kidney Stones
The acidity of normal urine is strong enough to break down minerals and get rid of them when your dog pees.
A dog with a UTI has more acidic pee, which is when those minerals become extremely concentrated[11].
Concentrated minerals form stones that block the urinary tract or travel through the kidney. This causes immense amounts of pain, but not if they're prevented.
Blue Buffalo's WU Weight Management and Urinary Care formula specifically stops the formation of calcium oxalate and struvite uroliths, which are the main causes of kidney stones in dogs.
This is an important feature to include in your dog's food if they experience UTIs for long periods at a time or frequently.
The buildup of minerals in their urine should be easily taken care of, if they have food that helps.
#3 – As Many All-Natural Ingredients as Possible
Formulated foods are great and can help in a variety of ways when it comes to canine UTIs.
Still, there are all-natural ingredients that can help manage UTI symptoms as your dog takes medication or otherwise fights the infection.
Humans are often advised to drink cranberry juice to relieve urination discomfort.
Because cranberries are an all-natural resource, dogs can enjoy them too.
Firstmate's Australian Lamb Formula includes cranberries for this very reason.
It's a healthy way for your dog to enjoy cranberries, rather than giving them a human supplement that might not be safe for canine consumption.
Conclusion
When it comes to your dog's urinary health, you can trust any of these dog food brands to help with the specific needs.
I'd choose Hill's U/D Urinary Care formula for Maggie, since it focused specifically on balancing the pH of a dog's urine while preventing kidney stones.
Their history with the recent recall does make me wary, but as long as you keep an eye on the news, recalls should be avoidable.
Always consult your dog's vet when you change your pup's diet to accommodate their UTI issues.
They may have suggestions for food that's stronger if your dog needs more active help or recognize that the food will help alongside any medication they prescribe.
FAQs
Can Dog Food Cause Urinary Problems?
Yes, some dog food can cause urinary problems.
If a food is high in minerals, those minerals could build up in the urinary tract faster than your dog can flush them out, causing kidney stones.
What Do You Feed a Dog with Bladder Stones?
Always make sure a dog with bladder stones has access to plenty of water.
When it comes to food, feed them commercial therapeutic diets that balance the urine's pH and reduce the likelihood of calcium oxalate stones with protein, phosphorus, or calcium[12].
You can switch them to home cooked food if you prefer, but it's better to switch after the bladder stones are gone.
Can I Give My Dog Cranberry Juice for a Urinary Tract Infection?
It's safer to keep your dog away from any cranberry juice meant for human consumption.
Those most likely have sweeteners or additives that dogs can't digest.
Whole cranberries can be used as a supplement for pain management[13], but only alongside medication that will cure the infection.
What Can Cause Crystals in Dog's Urine?
Low urinary pH or excess oxalic acid and calcium can cause crystals.
If your dog has urinary crystals, it indicates that there's an infection.
Resources
Still Have Questions?
Ask a Vet!