This crate is waterproof, comes with handles, has as many windows as you want (or don't want!), and comes in five sizes.
The Noz2Noz Soft-Krater is good for most dogs and won't break the bank, either! You've gotta like green and black, though.
Check Price
People are always looking for new ways to improve the quality of their lives, especially when it comes to their dogs.
I know I'm always reading and researching about new dog products on the market that may help Maggie, even when I know she'd be completely fine with the same toys and food.
One of the traditional parts of dog parenting is using a crate for house training.
Dog crates have been around for ages, so almost everyone knows what they look like.
They have hard metal walls that easily collapse, but they don't always look very nice when they're set up in the home.
They may not always be the most comfortable for dogs too, which is why soft-sided dog crates were created.
Read on to learn all the benefits of buying a soft-sided dog crate for your pup.
You'll learn which one may be the right choice for your home and never look at a crate the same way again.
Best Soft-Sided Dog Crates
After you feel like you know what to look for in a soft-sided crate, there's only a world of options out there for you to choose from.
Don't feel overwhelmed!
Here is a list of some of the best soft dog crates you can choose from.
Best Overall Soft-Sided Crate
Noz2Noz Soft-Krater Indoor and Outdoor Crate
To find an example of what every soft-sided crate should aspire to be, look to the Noz2Noz Soft-Krater Crate.
It has almost everything you could want in a crate, whether you plan for it to be indoors or outdoors.
Specs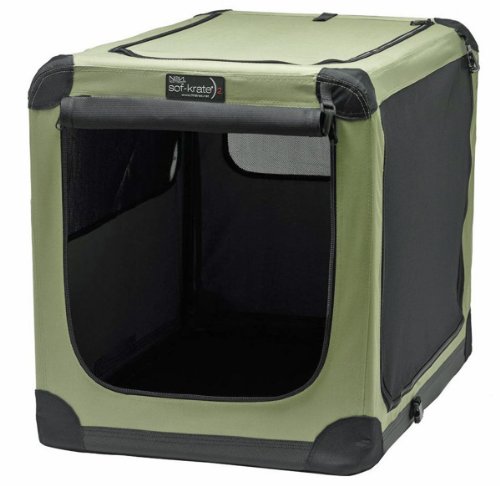 This crate has mesh windows on all sides, which is perfect for ventilation. Two are smaller and meant to be just windows, while the other two pull double duty as doors.
It's made out of heavy duty, woven mesh fabric.
The walls are also waterproof, so any rain will run right down the sides.
There are five sizes for small to large dogs, and they all come in a playful green color that's welcoming but won't be an eyesore in a house or yard.
Pros
I love that this crate comes in so many sizes and has large doors.
The flaps are made of the same mesh material, so they roll up and snap into place at the top.
It's also great that it sets up in seconds and you can pop all of the fabric cover in the washing machine when it needs a clean.
Puppy owners will note that the material is also made to withstand chewing or scratching adventurers who want to break out of their crate.
It's also very lightweight and easy to handle, whether it's broken down or set up.
Cons
I'm not a huge fan of the fact that this crate only comes in one color, but if that's my only issue with the crate, then it's still stellar.
Final Take
If you're not looking for your dog's crate to match a specific color scheme in your home, then the Noz2Noz Soft-Krater will serve every purpose you need.
It's made to last and will be your dog's new favorite spot to hang out.
EliteField 3-Door Crate
You may be looking at soft-sided crates because you want to upgrade what your dog currently uses.
A great upgrade crate is the EliteField 3-Door soft crate, which can be used outside and inside.
Specs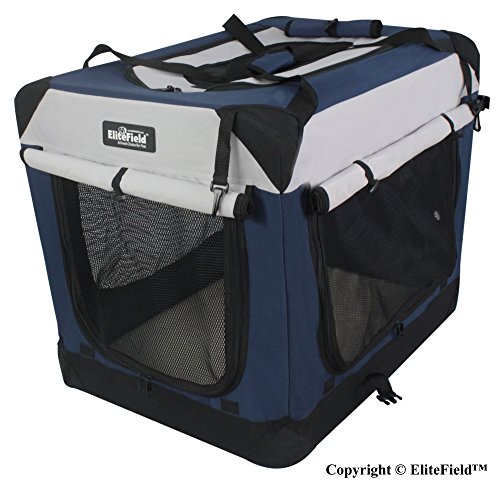 The EliteField crate comes in five different sizes, which makes it great for dogs who still need time to grow.
What makes it perfect for an upgraded crate is that it comes with a free fleece bed, so dogs who are used to crate pads and won't chew it up will be able to relax in luxury.
This crate also comes in many different colors, all with carrying straps on the crate and a bag for easy carrying.
When it's folded, it's only three inches tall, so it can slide into tight spaces in packed cars.
The frame is made out of quality steel, while the crate cover is a mix of 600D fabric and hex mesh. This makes it effortlessly ventilated, lightweight, and durable while still being stylish.
Bonus points—this crate opens from both sides and the top, so you can access your dog from any angle.
Pros
The quality material that's used to make these crates help it stand out from the crowd.
It also has two pockets, which is fantastic.
The few times I've had to travel with Maggie in her crate, like in the airport, I needed quick access to her leash and treats. It was a pain to carry them around in a separate bag.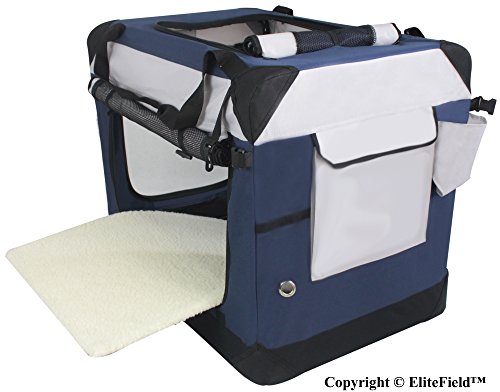 I also like that this crate is waterproof, but can still be machine washed.
Another bonus is that the mesh is easily see through.
Some mesh crates are made of dark material that makes it hard to check in on your dog without zipping it open, but that's not the case with this crate.
Con
Something potential consumers should know is that this crate isn't meant for young puppies just starting out with crate training.
The crate material is made to last, but it's easily chewed through by puppy teeth.
Final Take
Upgrading to the EliteField 3-Door crate won't be a disappointment for dog's who are already crate trained.
You'll be especially interested in this crate if you plan to carry your dog in it while you travel, since it has durable handles.
The Petnation Port-a-Crate
Love has no limits, but budgets do. The Petnation Port-a-Crate is one of your best options if you need to get your dog a soft crate on a budget.
Specs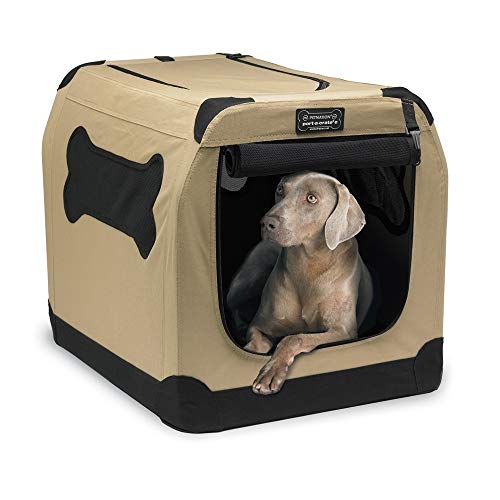 This crate is made out of tightly woven mesh fabric that stretches along the steel frame.
It has two door flaps, with one along the front and the other along the roof of the crate. Both can be rolled up and held in place easily.
Two mesh windows in the shape of a dog bone run along the sides to provide proper ventilation. Industrial strength zippers and door latches keep the whole thing intact while in use.
While the fabric isn't waterproof, it is water resistant, so you can still use cleaning sprays on it for an easy clean up after accidents or messes.
There are five size options available, depending on the length you need.
The crate is from 20 inches to 36 inches long. That size should include the extra four to six inches your dog would need for comfort.
There's one light brown color available, which works seamlessly with the dog bone window design.
Pros
This crate is meant to last so there are plenty of pros to buying it.
It has mesh windows on all sides, so there will never be an issue with ventilation.
When the crate is fully constructed, it's meant to be portable too.
Dogs on the go will enjoy the small pockets on the back. One is meant for smaller things, like treats, and the other can hold a bottle of water for those moments when your pup needs a refreshing drink.
There is also an interesting benefit to this crate along the bottom of the longer sides. There are loops built into the crate so it can be easily secured in place with a seatbelt.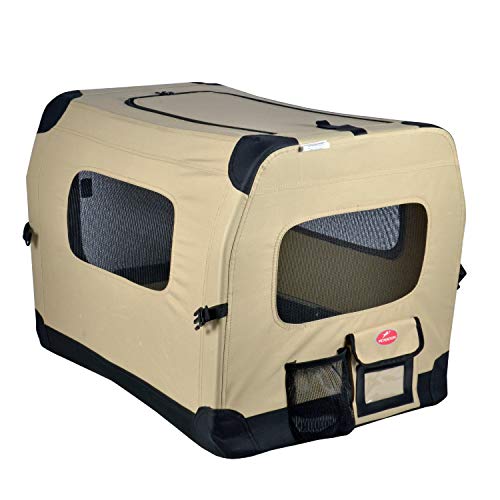 It's a genius idea that I think more crates for dogs should have.
When the crate isn't constructed, there are built-in clips to hold it tight while it's folded up.
As someone who's always struggled with metal crates opening like an accordion on accident, I love that this can be latched together.
Folding it back down is just as easy.
This crate doesn't play around with the strength of the steel lining, either.
Some owners have reported that their smaller dogs like to sleep on top of the crate like a hammock, and it's never bent or broken because of it.
Cons
I'm personally not a fan of the one color that this crate comes in, but it's by no means obnoxious to look at. I'd just prefer more color options.
I also think it's odd that this crate was meant for dogs to travel in but it has no built in carrying handles for owners to use.
Final Take
Even without the handles and extra color options, the Petnation Port-a-Crate has been a hit with almost everyone who's bought it for their dog.
I'd definitely trust my own dog with this soft-sided crating option.
Best for Small Dogs
2PET Foldable Dog Crate
Any small dog looking for a new crate to call home will love the 2PET foldable dog crate. It's a water resistant mobile home for dogs with places to go.
Specs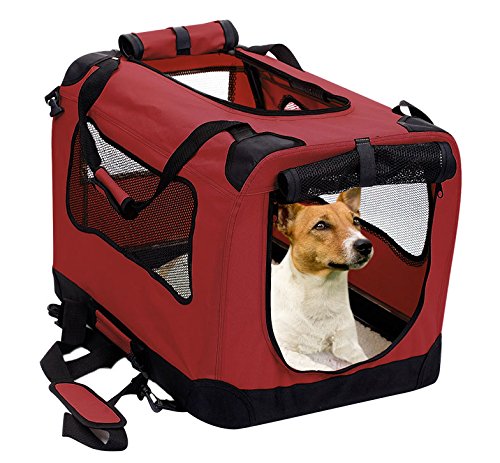 The specs for this crate are pretty standard, which is great. It has all the things an owner looks for in a portable crate for their dog.
There are mesh windows on all sides and two doors, one being a moonroof on the top of the crate.
Your dog will be able to breathe fresh air no matter where or how they sit in this crate.
It comes in four sizes and three color options, which is always nice to choose from, and has an interesting zipper design.
The full frontal zippers on both doors have zipper protection, which is an extra measure that keeps dogs from tugging or chewing on the zipper while they're in the crate.
The steel tube design will always be ready to go, but doesn't jut out awkwardly from under the nylon fabric cover.
Pros
I think it's fantastic that the zippers have extra protection.
That's one the first things dogs will try to destroy in a soft crate, besides the mesh windows. One less thing they can chew on is always a win.
It's also machine washable, for those messes that need a deep cleaning.
The fleece crate pad it comes with can be washed in the machine too, as well as turned inside out for a basic waterproof mat.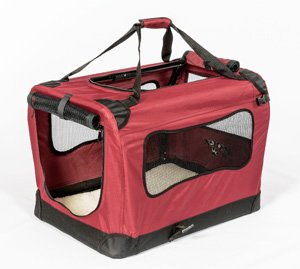 An added bonus is the two bottle pockets on the back of the crate.
Bring along a bottle of water and a container of treats and they'll easily fit in the built-in pockets.
Owners will also be interested to know that this crate has handles on the top and one on the side, so it can be carried whether it's collapsed or constructed, which is a nice extra feature.
Set up is easy and straightforward. Folding the 2PET up takes less than a minute.
Cons
A few customers have reported that when they bought this crate for their puppy, the puppy was immediately able to slice through the mesh windows with their nails.
This may be a crate better suited for older dogs who are already crate trained or don't have the sharp puppy nails anymore.
Final Take
The 2PET foldable dog crate is an adorable crate for small dogs to enjoy.
I love that they will get their own fleece bed on the inside and have plenty of space to lounge around.
Best for Medium Dogs
Arf Pets Soft Kennel
Medium dogs get the best of both worlds with carriers. They never have to worry about not having something in their size, but the Arf Pets soft crate kennel stands out among the rest for medium sized dogs.
Specs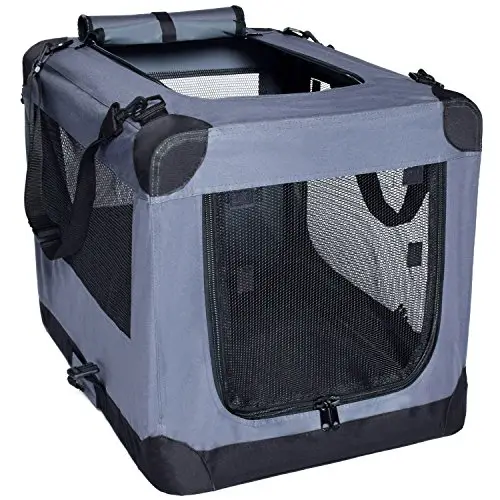 The Arf Pets crate comes in two different sizes and one blue color, both of which can hold dogs up to 40 pounds.
Three entrances make it easy to access from both sides and through the top of the crate.
Two additional windows on the remaining walls provide the perfect amount of ventilation for the hottest times of the year, also acting as a good conduit for air conditioning in the car that can sometimes be tricky to direct into crates.
The cover is machine wash friendly and water resistant. Spills and accidents will never seep through and ruin the crate.
It's also very lightweight and can fold flat for maximum portability.
Pros
This crate is made with retractable springs, so it's always easy to set up. Folding it back down is also quick and simple.
I appreciate that there's no snapping anything into place. I've had more than a few experiences with accidentally snapping the sides or tips of my fingers along with a crate.
The carrying handles are reinforced, so medium dogs at the end of the weight range can still be picked up easily.
Plus, the mesh is completely see-through, so your dog will never feel totally isolated when all the doors are zipped up.
Cons
Personally, I don't mind that it comes in just a blue color.
That happens to be my favorite color, but I can see how it'd be an issue for people looking for other common shades like red or brown.
There's also no exterior pockets for traveling, or loops for seatbelts in the car.
It may be a good crate to enjoy at home, but it's lacking if it's to be used as a travel dog crate.
Final Take
The Arf Pets soft kennel is a perfectly fine crate for medium sized dogs to enjoy.
It's built well and meant to last, but it won't be your best option if you're looking for a traveling dog crate.
Best for Large Dogs
DogGoods Foldable Travel Crate
Large dogs can sometimes struggle to find pet supplies in their sizes, but that's not the case with soft-sided crates.
The DogGoods foldable travel crate is a great home for large and extra large dogs.
Specs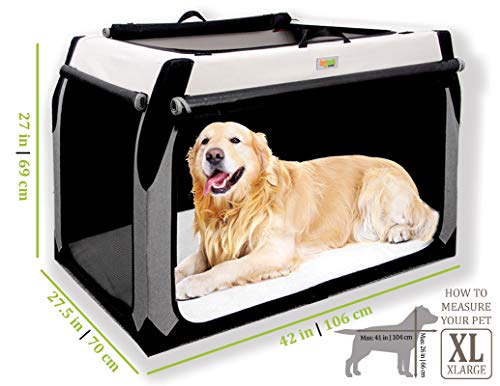 The cover for this crate is made of sturdy canvas material.
It's water resistant and leak proof, so no interior mess will ever find its way to your carpet or car seat.
The frame is reinforced steel, so large dogs who want to lounge against the side of the crate will never accidentally collapse it.
What makes it stand out from the crowed is that each entrance can be zipped up with a mesh door and then covered by a sun shade. That includes the door on the roof of the crate.
There are three sizes owners can choose from—medium, XL, and XXL.
It also comes in grey and beige.
Pros
I like that the entrances for this crate extend all the way to the outer edges.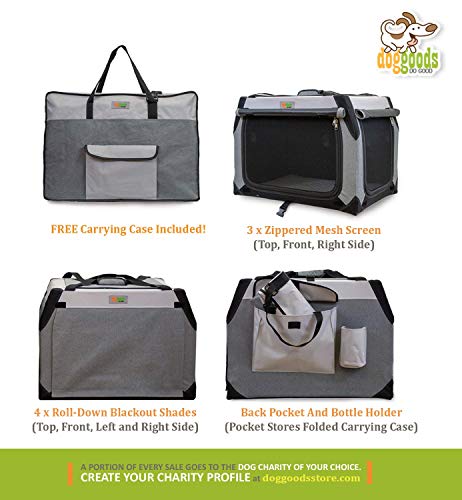 Sometimes, crates have fabric that spans the distance between the side of the crate and the door, which make it a tight squeeze for larger pups.
I also love the option to use sun shades.
Dogs who get nervous around guests, other dogs, or by looking out the window of a car will appreciate that they can hide away in their crate if they need to.
Another things that's great about this crate is that it comes with a free carrying case.
The crate itself doesn't have handles, but when it's folded, it slides into the carrying case.
The case also features a large velcro pocket.
Cons
Sometimes large dog crates have the same problems. They're too rickety for your dog to lean against and they don't allow enough space for your dog to stand.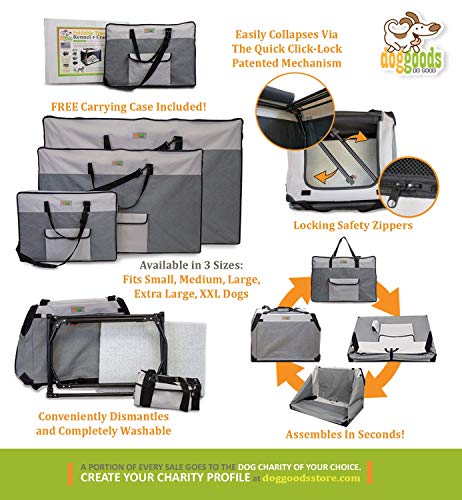 This crate doesn't have these issues, and hardly has any complaints among consumers who bought it.
The only con that is reoccurring in reviews is that the fleece pad that the crate comes with is a little thin.
It may have been made with smaller dogs in mind, so you may need to get a crate pad somewhere else if your dog needs the extra cushioning.
Another thing owners should take note of is that this crate is a bit pricey.
Still, you'll be putting your money towards a crate that will last and may be one of the best on the market for large dogs.
Final Take
I have so much respect for crates that are made for large dogs to both lie down and stand up in.
The DogGood folding travel kennel has plenty of room, is easy to handle, and has privacy sun screens that can be rolled up if you don't prefer to use them.
It's well worth investing in.
Most Portable for Hiking and Travel
Natuvalle 6-in-1 Pet Carrier Backpack
Finding the right soft crate for hiking and travel can make or break a trip. That's why active owners should check out the Natuvalle 6-in-1 pet carrier crate.
Specs
This crate basically has all of the options you could want in a hiking and traveling crate for your dog.
It's made with super tough Denier Oxford fabric, plus reinforced stitching and zippers.
Thick mesh and a sturdy frame are an additional guarantee that it can survive a rugged trip.
When you're inside the car, you can use the seat belt loops that are attached to the crate to secure it.
Anyone who's gone offroading knows that's a huge benefit for pets. Just pop them in, buckle them up, and don't worry about your pup bouncing out the window.
There's an inside leash that comes in handy during some of the different ways the crate can be used on the go, plus zipper locks.
There's no way your dog can accidentally slip out of the crate once the locks are in place.
It comes in four sizes and one color, which is a sharp navy blue.
Pros
The first obvious pro of buying this crate is that there are six ways to use it.
It can be worn as a backpack, held by a shoulder strap, carried by hand, worn as a backpack on the front of the body, or function upright or on its side.
I love that it's extra secure as a backpack, thanks to the reinforced stitching and locked zippers.
It's also airline approved for dogs who have a lot of travel in their future. There's even a photo ID tag so people always know what dog is in the crate and who they belong to, which is an awesome option that.
There's also reflective security straps, which are great for hikers who will be out at night and want to be easily seen by passing cars.
Another bonus of the backpack feature?
The interior leash will hold your dog in place as you hike, so they'll never accidentally flip over or hurt themselves.
Cons
The biggest dog that this crate will hold is 20 pounds or 18-20 inches long.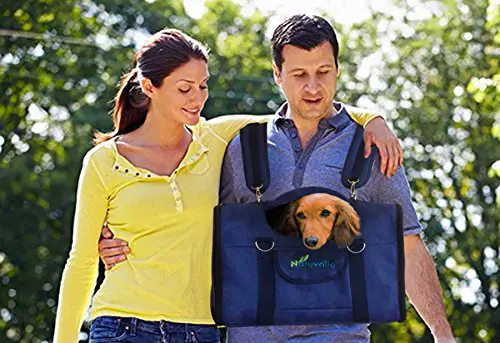 That just doesn't seem very big to me, but I'm sure it has to do with the strength and durability of the crate.
I also think it's odd that the smallest dog it will hold is 10 pounds or 8-13 inches long.
Puppies that are brought home at eight weeks should be able to use the backpack feature. They won't be able to walk around on a hike or out at pet stores yet, but that's even more reason for them to enjoy being in the backpack.
Final Take
Even with the odd sizing, the Natuvalle 6-in-1 Pet Carrier Backpack is still the best an owner could buy for hiking and traveling.
It's multifunctional and made to fly in an airplane too, so there's nothing stopping it from helping your pet go on trips with you.
Best for Car Travel
K&H Pet Products Travel Carrier
Many dogs need to be in crates in the car for their own safety, but also to help them travel better.
That's when owners should invest in a crate that was made specifically for traveling, like the K&H Pet Products Travel Carrier.
Specs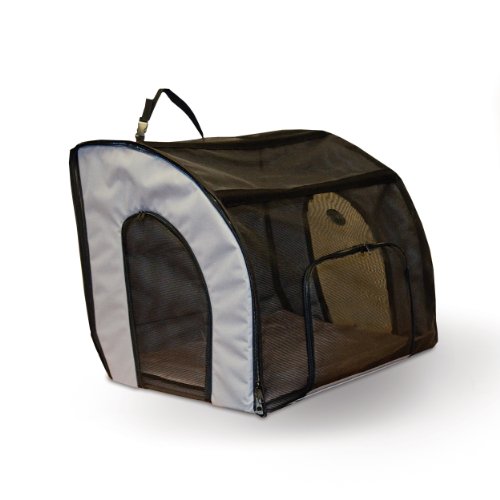 This carrier was designed specifically for the car, measuring the width of most car seats. It comes in three sizes and one color.
It's made entirely of a strong mesh material, so your dog can always see what's going on from any angle.
There are also multiple exits. Dogs that travel in the trunk can get out through the front door, while dogs in the back or front seat can get out through the side door.
This carrier includes seatbelt hooks and headrest clips for maximum security[3].
Pros
Something I love about this crate is that it fits in the front or back car seats.
I know dogs who refuse to go anywhere without being in the backseat, while I know Maggie would throw a fit if she didn't get to cruise in the passenger seat.
This crate makes it possible for dogs to do both while still being safely contained.
The rounded corners and unique shape make it easy for the crate to stay in place on car seats.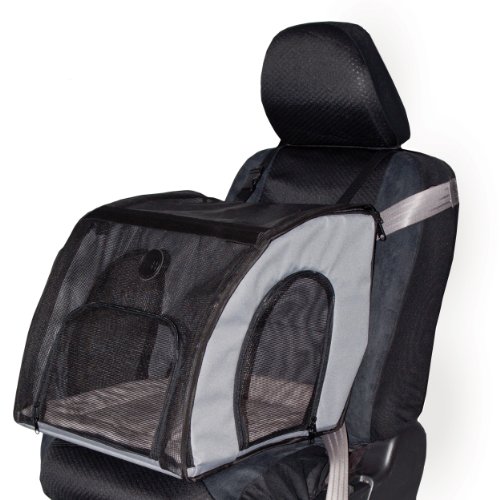 Plus, inside the crate is a small leash. If you need to slam on the brakes or swerve for any reason, they won't be jolted around. This is a pretty handy extra feature that many competitors lack.
It's also great that it can hold small, medium, and large dogs. Customers have reviewed that dogs up to 60 pounds can fit comfortably in the largest size.
Cons
It's definitely a bummer that this crate only comes in one color, but that's the only major complaint from most customers.
Others have mentioned that the crate may arrive smelling strongly of chemicals but that the odor disappeared after airing it out.
Final Take
The K&H Pet Products Travel Carrier takes every precaution necessary to keep dogs safe in the car.
It's the best soft dog crate for owners to use to make sure their dog is safe on the road.
Best Heavy Duty Soft-Sided Crate
Petsfit Travel Pet Crate
Sometimes with dog crates, all you need is something that will stand the test of time.
The Petsfit Travel Pet Crate will do exactly that, while providing some other great benefits too.
Specs
This crate comes in three different sizes and two colors, black and grey.
Designed for medium and large dogs, it has enough room to accommodate most breeds.
There are two doors on the sides and one on the roof, so your dog can enter and exit the crate no matter where it's kept.
The heavy duty frame sets up easily without tools and folds into a compact and secure package.
The entire cover is removable, as well as the pad that's included with your purchase. It's all machine washable and made of durable nylon fabric.
In addition to rubber grips on the bottom and reinforced zippers, there are also clips to secure the zippers in place.
Two handles on the top make it easy to move as well.
Pros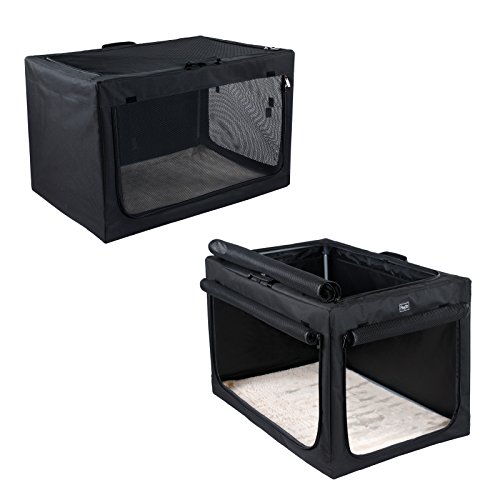 I like that the two colors that are offered aren't too bright. I think the fabric and the colors make this a very refined and classy crate.
The rubber grips on the bottom make a huge difference too. Soft-sided crates can sometimes slide around, especially if it's being used by a bigger dog.
This one will stay right where you want it.
Cons
Although the crate description says it's meant for traveling, it doesn't have any seatbelt loops to secure it in place in the car.
The handles are also very small, which tells me that you're meant to only lift the crate when it's empty.
Final Take
The steel frame and strong fabric make the Petsfit Travel Pet Crate an extremely durable crate for large dogs.
It can be easily setup and folded flat, but it's probably not the most ideal option on this list for car travel specifically.
If you're looking for an escape-proof crate, the Petsfit isn't ideal but it's probably the most secure choice on this list.
Benefits of Soft Dog Crates
The first thing any dog owner will want to know before getting a soft crate is what's so great about them.
It may seem nerve wracking to say goodbye to your dog's old metal crate, but here are all the benefits they'll enjoy if you purchase a soft pet crate.
Soft Dog Crates Are Portable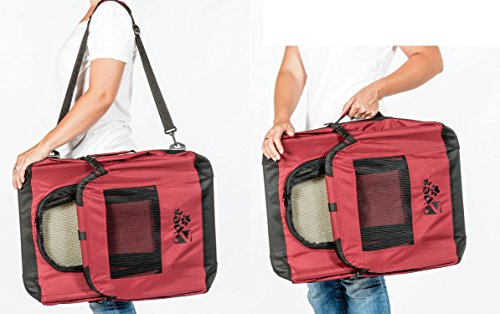 Metal crates always advertise that they're portable.
They technically are, but they're awkward to fold up and uncomfortable to carry around.
I wouldn't recommend packing a standard wire crate in your carry on luggage!
They're heavy and clunky, plus the tray easily slides out if it isn't carried completely flat.
Soft crates are much more portable and easier to carry. They're great for camping or traveling in general.
There's no need to lug around a collapsed metal crate when you should really just be having fun away from home with your pup.
Soft Dog Crates are Foldable
I truly cannot stress enough how frustrating it is to fold up metal dog crates.
I had to do it many times when I drove back and forth to visit my parent's house when Maggie was a puppy.
Because I want to live the rest of my life without dealing with that nonsense again, I'd advise everyone to go with a soft-sided dog crate.
They fold up super easily and become more compact than a metal crate.
Hello, trunk space. Goodbye, rickety crate.
Soft Dog Crates are Easy to Set Up and Collapse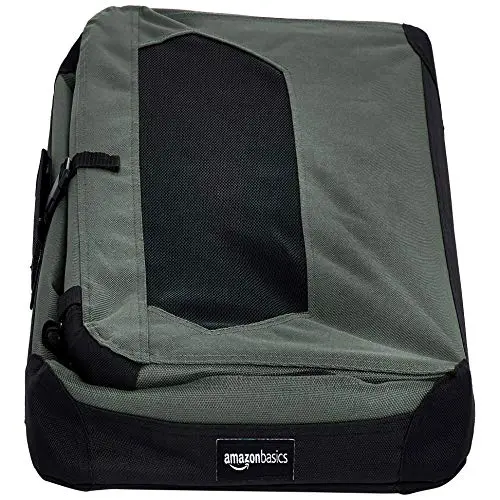 There's no need to ever worry about struggling to set up and collapse your dog's soft crate.
They're all super easy to pitch, like a tent.
One of the main purposes of this kind of crate was to make things easier on the human setting it up, which means it'll be easy every time.
You won't have to push metal clips into place or pull them apart to move your dog's soft crate wherever you want to go.
Soft Crates are Lightweight
I am notorious for having zero upper arm strength.
Maggie is barely 50 pounds and she can still yank me across the parking lot if she sees another dog she wants to meet.
In the past, that meant that her metal crate was what I would dread the most on our ten-hour road trips home.
They're not easy to carry and they're not light either, so I was always worried about dropping it or dinging the side of my car as I stored it away.
Plastic crates aren't a whole lot better in this regard. They're still heavy and cumbersome and rarely are able to fold flat.
Soft crates are super lightweight, so you can carry them around with one hand if you need to.
Soft Dog Crates are Easy to Clean
Dogs make messes.
It happens sometimes.
When those messes happen in a metal crate, it's hard to find a place to scrub out the tray or wipe around every metal piece of the walls.
Soft crates make it simple.
You just take it apart and throw the lining in the washing machine. Dry it out and the crate is good to go.
I'd pick that over scrubbing a tray any day of the week.
Features to Look For
Now you know what makes soft crates so different from metal ones, but what should you look for before actually buying one?
Here are the most important features to keep in mind.
Size
Size is always the most important feature to think about before you buy a crate.
Your dog should be able to comfortably sit, lie down, and adjust themselves without squeezing into place[1].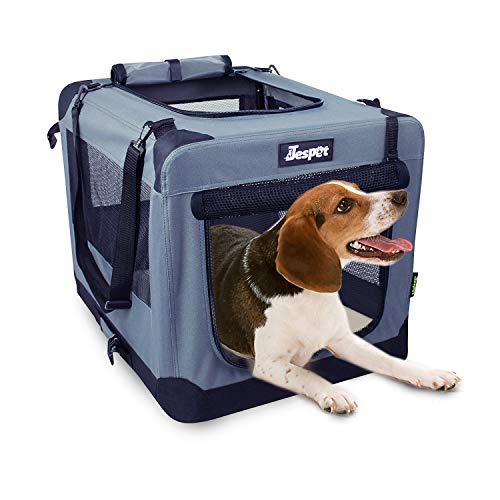 You also have to think about how much room they'll have if they're a puppy.
If a puppy is left in a large crate, they'll learn to go to the bathroom on one side and sleep on the other, which is never good for crate training.
Read the size guide on any crate you're interested in and measure your dog to know which size is right for them.
I'd recommend going for the larger crate if your pup is in between sizes. It's easier to take away space with a crate divider than it is to add space.
You can also read about any return policies just in case your dog doesn't quite fit once the crate arrives in person.
Weight
Think about why you're about to buy a soft crate.
You probably plan to use it in different locations when you travel, so you'll be carrying it around a lot.
That means it need to be the right weight. One of the whole points of switching from a metal crate is to literally lighten the load.
The weight of each crate should be listed on the product dimensions chart, no matter where you get the crate.
Material
There are many different kinds of materials used to create soft crates.
The purpose of not using just one material is to provide different benefits for dogs in different crating situations.
Many crates will use waterproof fabrics like nylon or canvas, especially if they're meant to be set up outside or during potty training.
A suitable material should be lightweight, although it would be difficult to find one that's not.
Think about where the crate will be set up and what stage of life your dog is in to decide which material the crate should have.
Visibility
Metal crates allow dogs to see through the walls at all angles, but that's not always good for them.
Some dogs retreat into their crate to feel safe. That means they don't want to be seen while they're in there, which is why soft crates may be preferred[2].
Many soft sided dog crates come with built in window flaps that can be rolled up, rolled down, or completely removed.
This may be important for your dog to have as an option, if they prefer to be alone and hidden away sometimes.
Comfort
There are many ways for a dog to be uncomfortable in a crate, so look what will make them comfortable.
See if the crate comes with any cushion for the bottom of the carrier. Older dogs will especially appreciate a little padding to lay on.
Keep in mind that you have to get the right sized crate.
The door should never force your dog to squeeze through and they should be able to move around comfortably once they're inside the crate.
If the crate will be outside where your "fur kid" spends most of their time, does it have room for a water bowl or any kind of bowl attachment?
Is it weatherproofed so no rain, sleet, or snow get through the door?
These are all important things to keep in mind in order for the crate you buy to be a success for your dog.
Ventilation
One of the advantages of metal crates that often gets taken for granted is that there's never a worry about ventilation.
With soft dog crates, you have to consider how well the air will circulate in and out while your dog spends time in there.
Are there windows your pooch can use? Does it have built in vents?
Look for things like this, as well as sides that may roll up to let more air in.
Number of Doors
Traditional crates often have two doors on either side for easy access. Does your pup prefer to use one over the other?
Look for how many doors there are in each crate that you look at.
Think about where the crate will be placed.
Certain crate walls may be blocked by being pressed up against a fence or wedged in between furniture in the living room.
The correct crate will have the right sized door where your dog will need it.
Ease of Use
A crate should be easy to use for both the dog and the owner.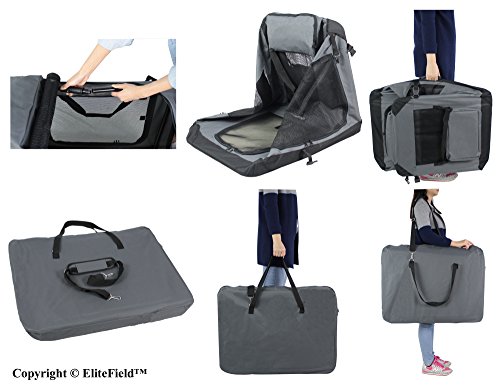 Read the product description on different models to see how each one is set up. They'll be a little different each time.
Some may require zippers, while others may only need to snap into place.
Then it's time to read the reviews. See what people who have bought the crate are saying about their experience setting it up and collapsing it.
Does it get easily stuck or does it break quickly?
One of the biggest purposes of getting a soft-sided crate is to deal with something that's easier to handle, so don't get accidentally stuck with something cheap or difficult.
Ease of Cleaning
At some point, you're going to have to clean out your dog's crate. The best soft dog crates make this task easy-peasy.
If your dog is anything like Maggie, it'll be when you're least expecting it, so make sure that the soft dog crate you buy is easy to clean.
Everything should be removable and anything that's fabric should be able to go in the washing machine.
See if you can also throw the liner or crate cushion in the dryer too for convenience.
Part of what makes a crate easy to clean will also be the ability to take it apart and really get at every inch of the crate.
If a crate seems like it's complicated to take apart, it'll be much more difficult to clean too.
What Breeds are Best for Soft Dog Crates?
The good news is that most breeds should fit in and enjoy soft dog crates.
The only breeds that many not be able to use them are the extra-large ones, like Saint Bernards.
You may have to spend more time tracking down a super large crate, which could possibly only be the metal kind.
Dogs who are part of a typically energetic breed may not do so well either.
Constant chewing, scratching, and digging will do more damage to a soft crate than a metal one. If your dog is a chewer, they may not be suitable for a soft crate.
Is a Soft Crate Right for Your Dog?
To find out if a soft crate is right for your dog, see if they have any or all of the following attributes:
They're calm when left in their crate.
They don't have a habit of chewing on things.
They won't dig or scratch at a new crate.
They're trained not to go to the bathroom in their crate.
They fit into one of the traditional size categories—small, medium, or large.
While soft crates can be washed and repaired, they'll last longer with dogs that have these traits.
Some attributes that are clear signs that your pooch needs a metal crate instead could be:
They get anxious being alone and would do anything to get out of their crate.
They enjoy chewing, especially on new objects.
They have household accidents frequently.
You're flying with your dog (The IATA has strict rules regarding kennels on planes[4]).
Younger dogs and energetic dogs are mostly the ones who may not be a good fit for a soft sided dog crate until they're a little older.
As they grow, you'll find the right time for them to enjoy hanging out in the crate instead of trying to destroy it out of curiosity, boredom, or anxiety.
Conclusion
There are many different kinds of soft crates out there to choose from. Start your journey into the world of soft-sided crates by first figuring out what your pooch needs from a crate.
Will they be traveling in it? Is it just for the home?
Then consider their age and habits.
All these considerations will lead you to the right kind of crate.
Once you've found it, measuring your dog will decide the ideal size for them and help them enjoy their future soft crate even more.
References