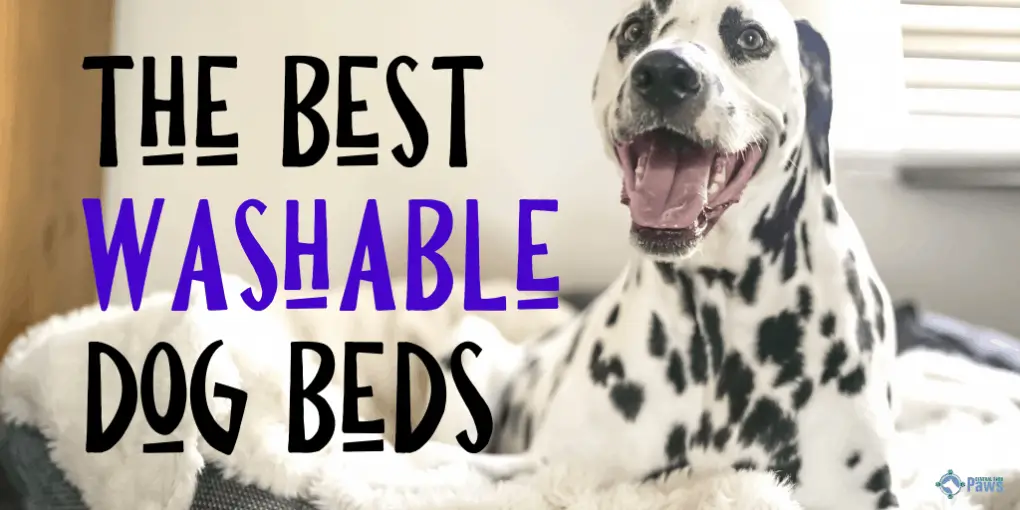 My dog's happiness is my top priority.
She eats before I eat, she gets exercise before I exercise, and she even gets treats more than I indulge in ice cream.
I wouldn't have it any other way, which means I often think about her comfort.
Maggie spends most of the day laying in my office, watching me work. Every once in a while, she'll chew on her rawhide bone, but she prefers to nap.
It makes me wonder how comfortable the carpet really is.
I'd be aching all over after just a half hour on the floor.
That's why I started looking into dog beds.
Maggie deserved something super comfortable, but I also need to be able to wash it, like I do with her toys and collar.
Here are some of the top contenders I found.
About Washable Dog Beds
There are tons of dog beds out there to choose from, so starting your search may feel intimidating.
You'll find everything from crate liners to canopy beds, but how can you be sure what's right for your dog?
No one wants to spend money on something they have to return immediately. You'd rather make your purchase knowing it's the dog bed you'll keep around for a long time.
Start with the first basic feature every dog bed should have.
If your dog is going to use something every day, it needs to be washable.
You wouldn't give them a toy that couldn't go through the wash if you had to spend more than a few dollars on it. The same goes for dog beds.
I've looked into washable dog beds to find the best of the best, categorized by purpose, shape, or size.
Depending on what your dog needs from their bed, these are my best recommendations.
The Best Washable Dog Beds
Best Choice
Brindle Soft Memory Foam Dog Bed
Why it's the Best Choice
If you want to skip straight to the best bed possible, look no further than the Brindle Soft Memory Foam dog bed.
It comes in seven different sizes and has a removable cover you can easily toss in with your laundry.
Give it to your dog when they're just a puppy and they can use it into their older years because of its orthopedic memory foam filling.
What I Liked
Here are some of the best features about this dog bed:
The orthopedic memory foam is three-inches thick
It's super lightweight, even in its largest size
It comes with a three-year warranty
What I Didn't Like
Even though it's the best dog bed I've found, nothing exists without a few flaws. Here are a few things you should know:
The filling isn't washable
Zippered cover may not withstand heavy chewers
The bed is made out of memory foam chunks, not one large slab
Recommendation
The three-year warranty is hard to pass up on, especially since the orthopedic filling is meant to ease your dog to sweet dreams for years on end.
You'll be hard pressed to find a dog product with a warranty, especially one that lasts as long as three years.
The Brindle memory foam dog bed is worth every penny, especially since it won't break your budget to buy this high quality product.
Budget Choice
ANWA Machine Washable Dog Bed
Why it's the Best Choice
It may feel frustrating to find a dog bed that isn't expensive, but don't give up your search just yet.
I've been there myself, but there are always more options just around the corner.
Take a look at ANWA's machine washable dog bed, which comes in three standard sizes.
What I Liked
This bed is a great choice for those on a budget because it includes:
A raised rim on three sides for comfort and stability
It's stuffed with eco-friendly cotton
A nonslip bottom and reinforced seams make it incredibly endurable
What I Didn't Like
Before you jump to make your purchase, remember things like:
Large breeds may not find the largest size big enough
Some buyers report the cotton stuffing flattening easily
The zipper has been known to catch on the cover occasionally
Recommendation
Budget-friendly beds may not last as long as high-quality options, but the ANWA machine washable bed will suit your dog's needs for a price you won't find anywhere else.
It's also easily replaceable if it comes down to it, although there are plenty of five star reviews that suggest that you won't need to.
Upgrade Choice
BarksBar Orthopedic Snuggly Sleeper
Why it's the Best Choice
Looking to replace your dog's old bed?
Maybe you went with something cheaper last time and intend to splurge on your dog's next bed.
If that's the case, go for BarksBar's Orthopedic Snuggly Sleeper.
It's made for medium to large sized dogs, especially those who live with hardwood floors.
What I Liked
The most notable features about this dog bed are:
The four-inch orthopedic foam base in addition to the bed lining
The 360 padded rim for neck support
The double-stitched seams to last under large dogs
What I Didn't Like
Even with all the care that was put into making this bed, you should still be aware that:
It only comes in one color and two sizes
The thin material may not hold up under dogs who like to dig at their beds
The rim makes it not ideal for dogs who sleep flat on their sides or back
Recommendation
When you pay for this upgrade choice, you're buying the quality filling meant to support adult and senior dogs.
As long as your furry friend isn't the kind to destroy things for fun, the BarksBar bed will last a long time, both in shape and quality. If they do like to destroy things, then try out an indestructible dog bed!
Best for Older Dogs
Milliard Quilted Orthopedic Bed
Why it's the Best Choice
Older dogs struggle to sleep on the floor because their joints and hips hurt when they lay down or stand up.
The Milliard Quilted Orthopedic Bed is made for senior dogs who need something comforting and sustainable.
It's also good for younger dogs with arthritis or other joint problems.
What I Liked
I love this bed for older dogs because:
It includes an extra large size, which not many dog bed makers do
It's made to fit inside a standard 48-inch dog crate
The egg-crate foam is four-inches thick, so there's less pain on aching hips and joints
What I Didn't Like
Think about these features and consider if they're a deal breaker before you order this bed:
It only comes in one color
It has two zippers, so it's twice as tempting for dogs who chew
May arrive with a bad smell and require airing out
Recommendation
It's easy to take the cover off the Milliard Quilted Orthopedic Bed and wash it if accidents happen. Plus, you'll rest easy knowing your dog is cushioned by foam made for their age.
Best for Small Dogs
Sheri Best Friends Donut Cuddler
Why it's the Best Choice
You spoil your small dog with tiny clothes, shoes and toys, so why not get them a dog bed too?
They'll love feeling sheltered in the Best Friends donut cuddler bed by Sheri, which is meant to help calm dogs down and lull them to sleep in its donut-shaped haven.
What I Liked
This bed rocks for small dogs because it has features like:
A washable interior mattress
Deep crevices meant for burrowing
Faux shag fur for extra warmth
What I Didn't Like
If you want to buy this bed, keep in mind that:
The fur will mat after washing if you don't dry it immediately
It retains odors easily if used by an outdoor dog
The fine fabric may rip under dogs with long nails
Recommendation
Small dogs who love to hide under blankets and pillows will love Sheri's Best Friends donut cuddler dog bed.
As long as you regularly trim their nails, this bed should hold up over time because of its quality fur and filling.
Best for Big Dogs
Majestic Bagel Dog Bed
Why it's the Best Choice
Most of the time, if you look around for a dog bed intended for large breeds, you'll find something flat and rectangular.
Those beds work wonderfully, but you'll love the Majestic bagel dog bed if your big four-legged friend loves to curl up when they sleep.
Big dogs love to be cuddled when they sleep, too!
What I Liked
This unicorn of a dog bed is great because:
It comes in seven colors
It has a waterproof base
The polyester filling is machine washable
What I Didn't Like
Buyers have reported a few common complaints like:
The filling may clump
The fabric catches dog hair easily
Some seams have been known to rip
Conclusion
These complaints are super common with other dog beds, so they don't raise any concerns with me.
I think the Majestic bagel dog bed fantastic that larger dogs can get a choice in the shape of their dog bed and those that love to sleep in a tight ball will adore being surrounded by edging on all sides.
What to Look for in a Washable Dog Bed
When you start searching for the perfect washable dog bed, there are a few things you should look for.
If you don't keep these important features in mind, you risk buying a low-quality product at a high price.
A Washable Insert
Washable dog bed covers are great and I think every dog bed should have one.
At the same time, puppies and older dogs sometimes experience bathroom accidents in their beds, which is quickly absorbed by the mattress or filling.
That's why you should look for a bed that has a washable insert.
If a bathroom accident happens, you don't need to deal with the residual smell from stains hidden in the dog bed.
The Best Friends bed by Sheri, my choice for small dogs, is a great example of this. You could toss the entire thing in the washing machine if you needed to and never worry about the filling coming apart.
If you fall in love with a bed that has a non-washable mattress, your best option is to buy a washable cover.
It may not be soft or fluffy, but it'll come in handy if you suspect bathroom accidents in the future.
Durable Material
It's easy to think that a dog bed doesn't need to be indestructible because your dog will just use it to sleep.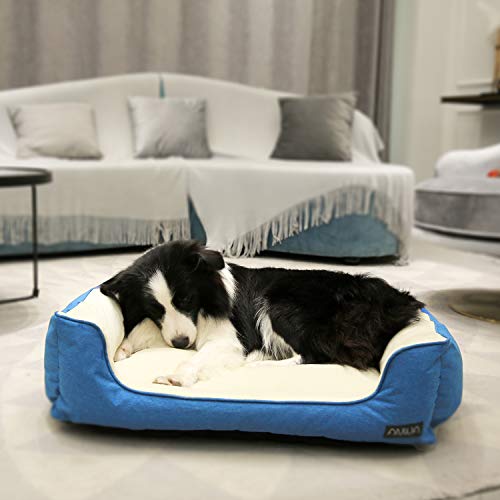 When they're not sleeping, they'll find curious scents to scratch, lick at interesting spots, or stretch and push the fabric to its limits.
The ANWA dog bed is way ahead of this.
My recommended budget bed has a durable non-slip bottom, which makes it less likely for your dog to chew or scratch through.
It also has reinforced seams, so the fabric holds up under active pups.
Sometimes durable material isn't super soft or cute. You may need a nylon bed for your dog that feels rough to you.
If that's the case, rest easy.
As long as the bed is the right size and includes these important features, your dog won't even notice that it isn't made of cotton or fleece.
Fabric That Hides or Resists Stains
Even if you have the most house-trained pet in the world, your dog will eventually find some way to stain their bed.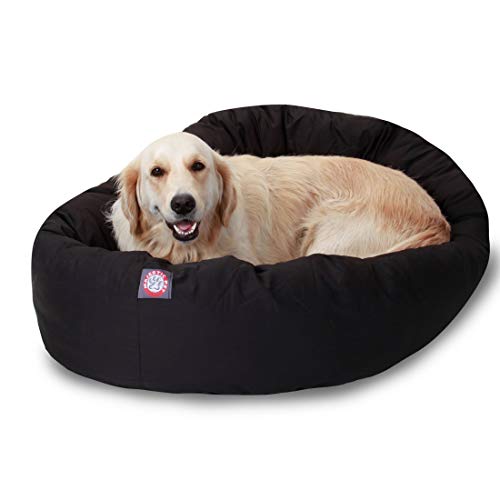 They might lay down for a nap after scratching themselves too hard or carry over an uncapped marker to chew on.
Most people have stain removers in the house, but you might not have enough time in the day to get to stains right away.
A bed like the Majestic bagel bed for large dogs that comes in multiple colors will be your best friend.
Choose a dark color like navy or maroon before you make your purchase. The dark shades will hide stains until you can get around to washing the bed and keep it looking nicer over time.
Another option is to limit yourself to only certain types of fabric that are stain resistant.
These may not be the softest or cutest options, but you could first consider beds made with:
For those dog parents who are worried about how their messy or destructive dog will fair with a dog bed, look for beds made out of crypton fabric[1].
It sounds like it's straight out of a comic book, but just wait until you see it in action.
The fabric fibers are tightly woven, so water beads up and runs off when it comes in contact.
The fibers are also stain resistant because of this same feature.
Even if you think you see a stain on a crypton dog bed, you'll most likely be able to wipe it away or remove it in the washing machine.
Conclusion
These are all great dog beds that serve different purposes, so you really can't go wrong when you pick one.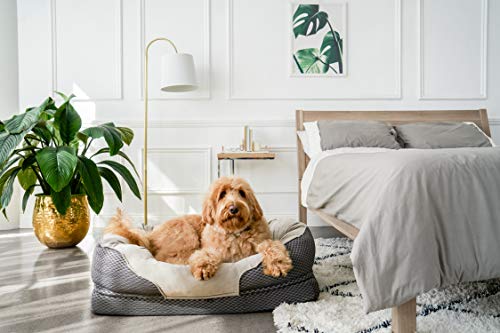 Still, the Brindle Soft Memory Foam dog bed comes in as my number one choice.
It has a super thick mattress to support older dogs and a washable cover no dog parent should live without.
It also comes with a three-year warranty which may save it from destruction time and time again.
I rarely see dog beds or products in general that come with warranties, so this shows that Brindle cares about what they make.
Think about what your dog needs from their bed to narrow down your options.
Once you know what they need, go by their size to get even closer to your final choice.
Keep these important features in mind while you look through available dog beds, but know that your dog will adore their own place to sleep no matter what color or style you choose.
FAQs
Are Dog Beds Washable?
In one way or another, most are!
You may find a dog bed that has a washable cover that zips into place, which is common because it's easy to remove and put back on.
Some beds also have a washable mattress, which can make the dog bed last longer but are a struggle for people with smaller washing machines.
Both are good options, depending on your dog and your washing machine unit.
How Often Should Dog Beds Be Washed?
It's recommended that owners wash their dog's bed at least once a week, but that's not always feasible with everyone's schedules.
Just make sure to sniff it when you get the chance and throw it in the washing machine if it smells bad.
What Laundry Detergent is Safe for Dog Beds?
Most standard laundry detergents include ingredients, such as chlorine, that can harm your dog through chewing laundered items with detergent residue, or even through skin contact[2].
It's safer to stick with detergents that are labeled as being pet-safe.
These are made without harsh chemicals and may rely on plant-derived enzymes to break down the fats and starches that create the odor lingering in your dog's bed.
Will Dog Hair Clog My Washing Machine?
Yes, dog hair can and will clog your washing machine like any other kind of hair.
You can prevent clogs from occurring by lint-rolling or vacuuming the bed to remove hair prior to the wash.
A dryer sheet also comes in handy, since you can run it along the fabric before washing to catch hair with static electricity[3].
What Fabric is Best for Dog Beds?
You want your dog's bed made out of fabric that won't tear easily or hold onto hair.
Your best bet is to find a bed made out of fabric like:
Microfiber is a softer material that also holds up well over time, if you want something as soft and adorable.
References