This post may contain affiliate links. It doesn't cost you anything extra and it keeps our lights on, our families fed, and our dogs spoiled. For all the juicy fine print, see our affiliate disclosure
Right after I decided I would get my first dog, but long before I brought Maggie home, I knew that I had to decide which dog food was best for her.
The first thing I did was start reading about brands on the internet.
I had no idea what I was in for!
There are hundreds of major brands out there, all saying that their dog food is the best I could buy.
I immediately drove to a pet store that had a manager I trusted with a previous pet.
She told me without hesitation that Blue Buffalo was the best food I could get my future dog.
I didn't buy any dog food that day, but I went home and started looking into the brand.
Here's everything I've learned about Blue Buffalo and why so many people buy it for their dogs.
Blue Buffalo Dog Food Brand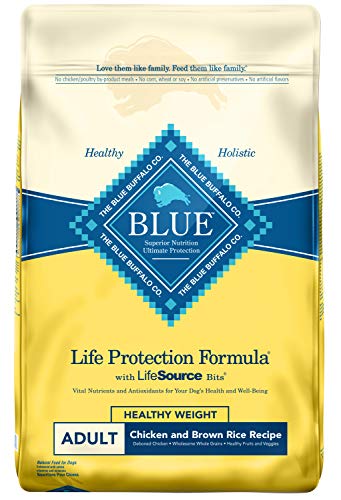 Ingredients
Blue Buffalo made a name for itself by establishing a brand that only used premium ingredients.
It all started back when their dog, Blue, got sick and they adjusted his diet to ease his symptoms[1].
Their ingredients also led to the creation of their LID diet, which uses limited ingredients to minimize allergic reactions while still providing key nutrients every dog needs[2].
Overview
I love that their brand began with a heartfelt need to give their dog better food.
That speaks to the intent behind the company more than any about page that explains their premium ingredients.
From the beginning, this brand has been backed up by animal nutritionists and vets, so fillers aren't an issue[3].
Is Your Dog Driving You Nuts During the Day?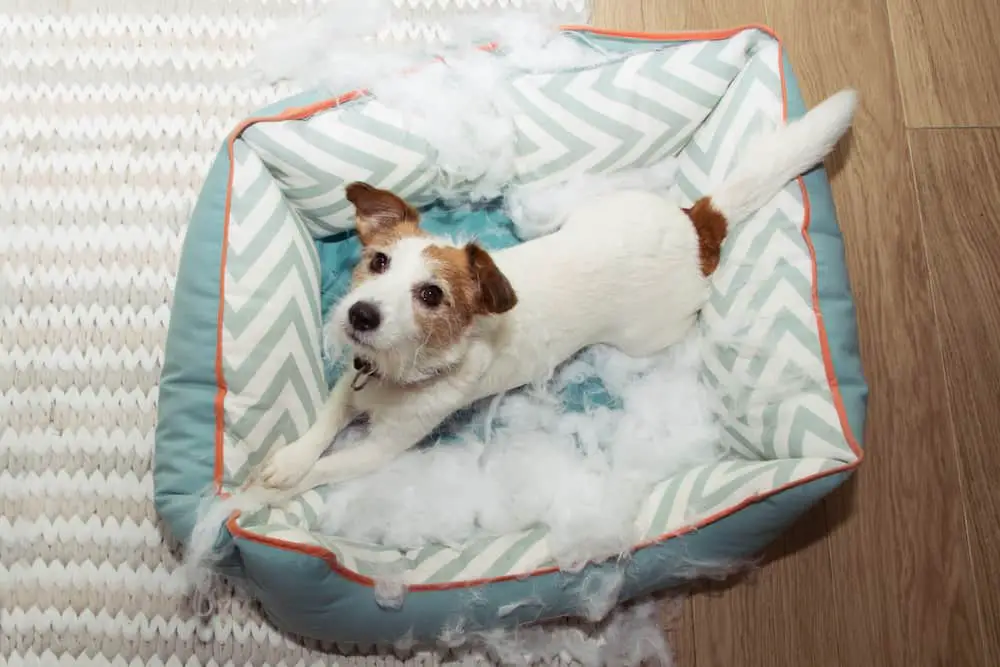 Get Our List of 11 Awesome Indoor Activities to Keep Your Dog Busy and Out of Trouble!
I believe that's why it stands out from its competitors. Consumers know exactly what they're buying.
Varieties
Blue Buffalo has many different lines so you can choose the right one for your dog's needs:
What I Liked
I have to admit, I really liked that everyone I knew seemed to love and support Blue Buffalo.
It gave me more confidence that it was the right choice for Maggie to grow up on.
I also liked the appeal of having a sensitive stomach formula for Maggie to eat.
The last thing I wanted was for her to have a bad transition to a new brand of kibble when she came home, which would be more likely with possible irritants like grains and fillers.
What I Didn't Like
It was a good deal of sticker shock to realize that a 25 pound bag of Blue Buffalo would cost me $2 a pound on average[4]!
At the local pet store that I trusted, it was even more than that.
If I bought it online, I'd still pay for shipping, which would be like buying it in the store anyway.
I also wasn't a huge fan of some of the ingredients that I saw.
The company says that they never start with chicken meal to make a food[5]. It's a common filler that doesn't have much nutritional value.
At first I thought that meant they didn't use it at all, but it ended up being the second ingredient for some of their "holistic" blends.
Since the ingredient list begins with what's used the most, it was disheartening to see a filler as the second ingredient.
Especially for the price I'd be paying for a bag.
Brand Reliability
I also wanted to know that the food I'd be buying in the future would come from a company I could trust.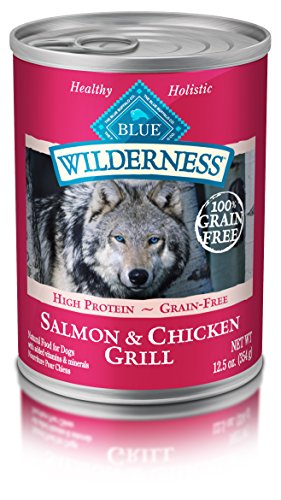 We've all seen the news alerts where you have to throw out dog food because contaminants were found in it.
I didn't want that to be me.
After researching Blue Buffalo, I started to lose the love I had for their brand.
It turns out that over the last six years, there have been many recalls on their dog food:
They've sold kibble that had aluminum metal in it from the processing plant[6].
Some bags were full of mold or too much beef thyroid hormone[7] and others had evidence of salmonella[8].
There was even a recall for their dog food having toxic levels of vitamin D[9], which I didn't even realize was a problem for dogs.
I get it if a brand has been in business for decades and had a few recalls. Accidents happen, especially in mega factories.
But that many recalls in just six years?
That sent up red flags for me.
Recommendation
When I read about the recalls and the filler on the ingredients list, I let my Blue Buffalo loving friends know.
They were a little surprised, but trusted in the brand to not make the same mistakes twice.
Everyone has to make their own decision about what they feed their dog, but I decided Blue Buffalo wasn't right for Maggie. I needed to trust the company making my dog's food.
Plus, there are other brands out there that don't use the fillers they preach against.
Alternatives
Here are a few other brands I like, along with the one I ended up buying for Maggie.
Instinct
Instinct has a grain-free duck recipe with limited ingredients, that derives its protein from whole duck meat instead of just animal meal[10].
It also has plenty of natural Omega fatty acids and antioxidants so the dogs who eat it get an improved immune system and a healthier coat.
Merrick
Merrick's salmon and sweet potato recipe also gets its protein from whole salmon, finishing off the main ingredients list with whole foods like sweet potatoes, peas, apples and blueberries[11].
Maggie had this brand as a puppy and absolutely loved it!
You can learn more about Merrick in this article comparing Merrick and Blue Buffalo.
American Journey
Maggie currently eats American Journey's lamb and sweet potato, grain-free recipe.
She loves this food too, but I had to switch to it from Merrick because Merrick's bags are about $2 a pound.
American Journey's are a bit less, but I can find it even cheaper online if there are sales.
One thing that sets this food apart for me is that it contains chickpeas.
Chickpeas are an excellent source of protein for dogs[12]. They also help lower blood pressure and keep their heart healthy by lowering cholesterol.
Conclusion
I think it's important to trust the brand you buy from and know the ingredients in your dog's food, but you also have to see what your dog ends up enjoying.
It's okay to switch brands sometimes if they end up being a picky eater, as long as you've done your research on what brand you buy from next.
References
https://www.bloomberg.com/news/articles/2018-02-23/blue-buffalo-family-reap-860-million-thanks-to-airedale-terrier
http://theconnectiontcc.com/2019/07/09/dog-traction-rope-emerging-markets-analysis-regional-demand-growth-and-forecast-to-2024/
https://bluebuffalo.com/natural-dog-food/healthy-holistic-blue-life-protection-formula/dry-food/lpf-adult-chicken-and-brown-rice-recipe/
https://bluebuffalo.com/about/news/bb-homestyle-recipe-letter/
https://www.upi.com/Top_News/US/2018/02/24/FDA-issues-2-more-pet-food-recalls-listeria-salmonella-found/5171519499067/
 https://www.instinctpetfood.com/dogs/limited-ingredient-diet/instinct-limited-ingredient-diet-grain-free-recipe-real-duck