This post may contain affiliate links. It doesn't cost you anything extra and it keeps our lights on, our families fed, and our dogs spoiled. For all the juicy fine print, see our affiliate disclosure
I just made an appointment for Calvin to be checked for some recent minor changes in his behavior as well as significant changes in his coat (excessive shedding, hair loss, and his hair been dry and brittle).
Though we have discussed these changes with both his internal medicine specialist and his general veterinarian, things are progressing even though we have made changes to his medication.
So, I am now concerned that he may be suffering from hypothyroidism.
Calvin has long suffered from food allergies, chronic pancreatitis, and this last year he was diagnosed with irritable bowel disease (IBD).
His IBD is managed with several medications, one of which is a steroid, and unfortunately, there is a link between hypothyroidism and prolonged steroid use[1].
So we are off to the vet to see if we can figure out a solution is to his continued health changes.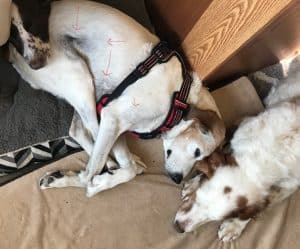 I am hoping that these symptoms are still side effects of the medicine.
But if it is hypothyroidism, I've done my research and am ready for the appointment.
I have a list of questions specific to Calvin's needs and an outline for an action plan.
Cal is in the middle with the red arrows pointing at his hair loss. He used to have thick hair like Daisy, who is on the right side of the photo.
Below I start with the list of the best dog foods for hypothyroidism.
Then, the next section is more about what hypothyroidism is and how to best choose the right food for your dog.
Best Dog Foods for Hypothyroidism
Product
Protein Source
Carb Source
Rating
Price
Solid Gold Hund-N-Flocken
Lamb, Fish Meal, Eggs
Rice, Barley, Oatmeal, Peas, Chickpeas
4.2
$$

Check Price
Diamond Naturals Adult
Lamb, Eggs
Rice, Barley, Peas, Millet
4.5
$

Check Price
Farmina N&D Ancestral Grains
Lamb, Eggs, Herring
Spelt, Oats
4.7
$$$$

Check Price
Purina Pro Plan SAVOR 7+
Chicken, Fish Meal
Rice, Corn, Soybean, Wheat, Barley
4.6
$$

Check Price
Castor & Pollux Organix
Chicken
Oatmeal, Barley, Chickpeas, Peas
4.3
$$$$$

Check Price
e Honest Kitchen Beef Recipe
Beef, Eggs
Oats, Barley, Potatoes Carrots
4.3
$$

Check Price
Natural Balance L.I.D.
Duck
Potatoes
4.4
$$$

Check Price
Homemade Recipe
Chicken
Rice
N/A
$$
Overall Best Choice
Solid Gold Hund-N-Flocken Lamb, Brown Rice, and Pearled Barley Recipe
Why it's the Best Choice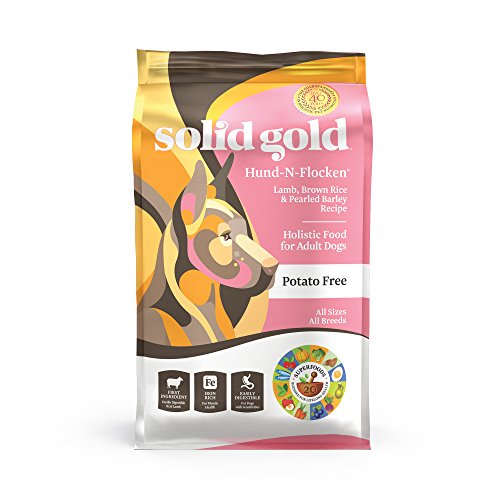 Solid Gold Pet Foods sources the majority of their ingredients from the US; however, the elements not sourced here are from Japan, New Zealand, and France.
Also, they provide information regarding their sourcing, testing, and manufacturing on their website.
But the primary reason why I chose this brand and recipe as the "Best" is that it is a nicely balanced food for hypothyroidism with a great ingredient list and more than adequate amounts of protein, fat, and fiber for the average energy level adult dog.
Also, I used to feed Solid Gold to Daisy when she was a puppy and adolescent and she loved it!
For years it was the only kibble she would eat.
✔
What I Liked
Has a significant amount of probiotics to support good GI health
It contains healthy grains, providing a good source of energy
Uses natural preservatives
✘
What I Didn't Like
It is not suitable for dogs with food allergies
Budget Choice
Diamond Naturals Adult Dog Lamb Meal and Rice
Hey! Don't stop reading because you saw "Meal." It's not near as bad as you think.
In fact, it's likely to be quite a bit better.
Meat meal products are more nutrient-dense than the whole meat.
The difference between lamb in its original state and lamb meal is that lamb meal lacks the water and fat it originally contained, making it weigh less[2].
So, when looking at the ingredient list, items are listed based on their weight from highest to lowest.
What this ultimately means is that there is more protein, vitamins, and nutrients in the food if they are using meal since the water and fat have been removed before they weigh the product.
Why it's the Best Choice
Diamond Naturals is a global family-owned and operated business.
Diamond uses a rigorous testing procedure, which they listed on their website and certified veterinary nutritionists to formulate their pet food for Hypothyroidism
Plus, their food contains probiotics, glucosamine, and chondroitin, and it only averages $0.92 per pound for the 40 lb bag.
✔
What I Liked
The chicken, lamb, and beef they use are all cage-free or pasture-raised
No artificial preservatives, colors, or flavors
Contains dried beet pulp which promotes good digestive health
✘
What I Didn't Like
White rice is the second ingredient; I would have preferred to see brown rice
It is not hypoallergenic
Upgrade Choice 
Farmina N&D Ancestral Grains Lamb and Blueberry
Why it's the Best Choice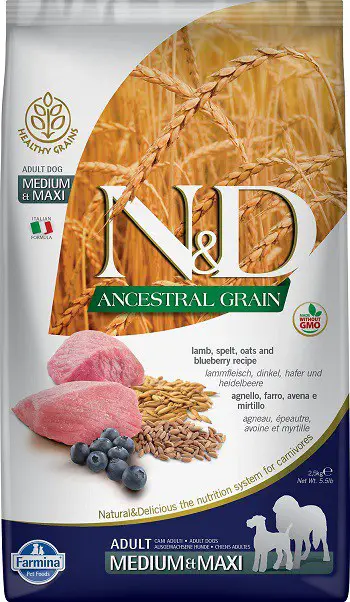 Farmina uses state of the art technology to ensure the quality of their pet foods.
Additionally, they work with a skilled team of veterinary nutritionists to create complete and balanced formulas.
Also, Farmina has a wide variety of foods to suit the needs of different breed sizes, life stages, and health issues.
Is Your Dog Driving You Nuts During the Day?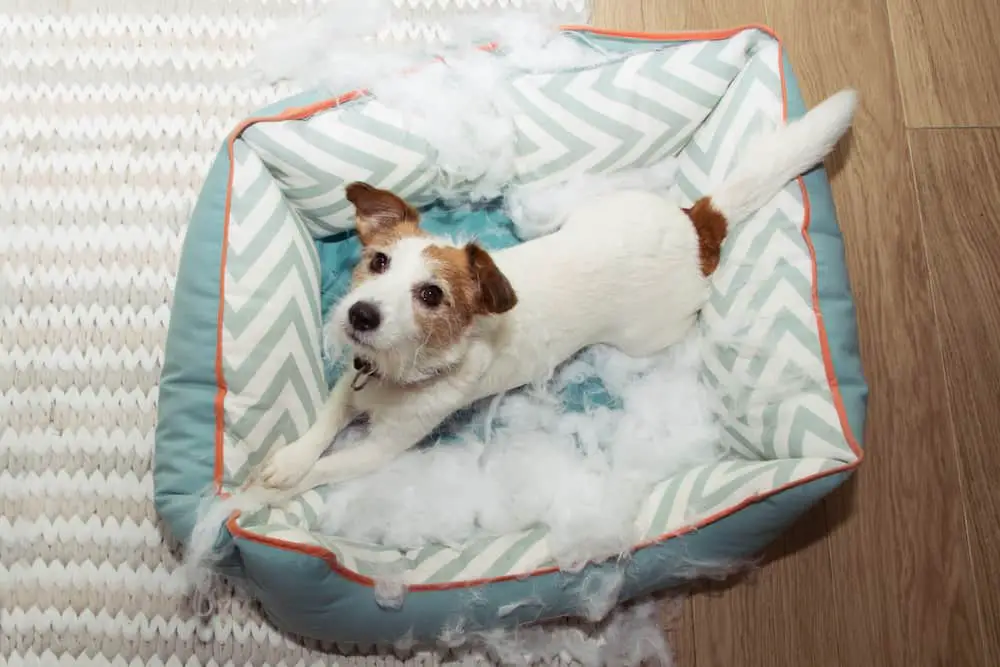 Get Our List of 11 Awesome Indoor Activities to Keep Your Dog Busy and Out of Trouble!
I have tried several Farmina diets with my dogs, and they have all been relatively well-received, and our dogs have never experienced any GI issues when using this brand.
✔
What I Liked
The superfoods listed are at the top half of the ingredient list
No artificial preservatives
Cruelty-free research
Contains chondroitin and glucosamine
Best for Older Dogs
Purina Pro Plan SAVOR Shredded Blend Adult 7+ Chicken & Rice
Why it's the Best Choice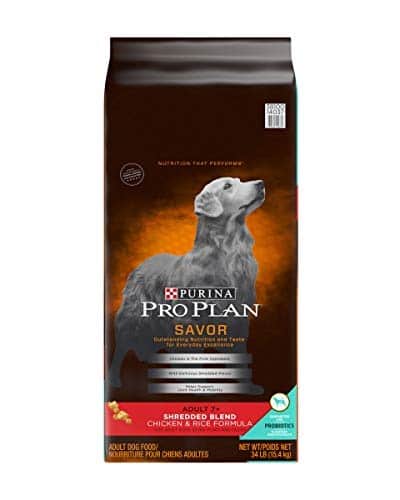 Purina Pro Plan SAVOR 7+ is tested using AAFCO procedures to ensure the food is both complete and balanced.
Also, it has a higher protein level to maintain proper muscle mass.
I like the Purina brand since they spell out their manufacturing and quality processes, and 99% of the ingredients are from the US.
Plus, most dogs find Purina Pro Plan Senior quite palatable, likely because it is a combination of hard and soft kibble bits.
Though I don't feed this food to my dogs due to food allergies, my mom feeds it to her dog Gussie who absolutely loves it!
✔
What I Liked
Contain Glucosamine to promote good joint health
Chicken is the first ingredient
Fortified with pre- and probiotics
✘
What I Didn't Like
It isn't a good fit for dogs with food allergies
Best Organic Option
Castor & Pollux Organix Organic Chicken & Oatmeal Recipe Dry Dog Food
Why it's the Best Choice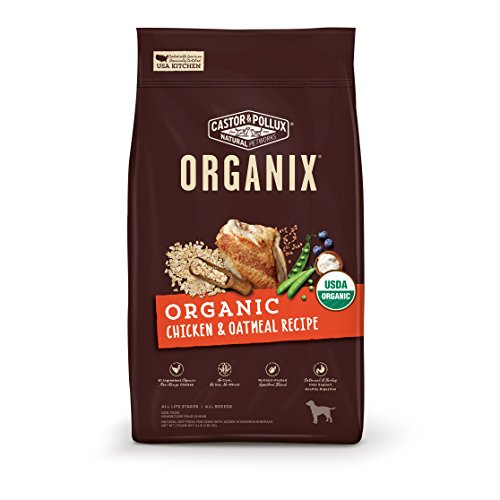 Organix was one of the first organic pet foods to hit the market in 2003.
And, in 2017 they took their food to the next level and guaranteed that all of their formulas were compliant with the USDA standards.
Organix now complies with all USDA Organic Program regulations and is reviewed by independent USDA-Accredited experts to ensure compliance.
Though I don't have a lot of personal experience with this food, it has received favorable reviews, though the most significant complaint is the price.
✔
What I Liked
The food is manufactured in the US
The two main grains oatmeal and barley are good energy sources and are easy to digest
Made with free-range organic chicken, which are the first and second ingredients (Chicken, Chicken Meal, Chicken Fat)
✘
What I Didn't Like
Price – The 18-pound bag averages $4.09/pound
Non-Dry Dog Food Choice 
The Honest Kitchen Beef Recipe
Why it's the Best Choice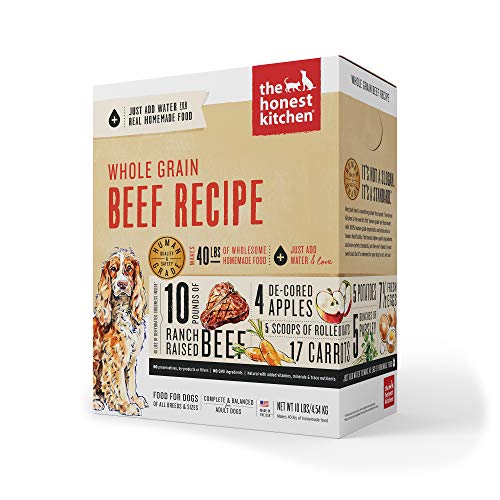 The Honest Kitchen is unique dog food because it is a dehydrated food instead of the traditional kibble.
To prepare this food, you just add water, and presto! You have a balanced meal for your pup.
This is a brand I have often turned to when my dogs aren't eating well.
It is microwavable, which helps to enhance the appeal of the food since it smells super good.
Though this food may appear expensive, it is a condensed food, so a 10-pound box is equal to a 40-pound bag of food.
Plus, you don't have to worry about hurting your back when carrying it.
✔
What I Liked
They list the ingredients as "human grade" and, though this term is not regulated for pet food (see below for more information on this), they do define what human-grade means
It's great for picky eaters
They offer both foods with and without grains
✘
What I Didn't Like
It takes a bit more prep time than dumping a scoop of kibble
Not all dogs like the consistency; if not mixed with enough water it can be overly dense
Best Grain-Free Choice
Natural Balance L.I.D. Potato & Duck
Why it's the Best Choice
Some of us have been long-time dog parents and have certain dog food brands that we feel are solid foods that have proven themselves of the years.
Natural Balance is one of those brands for me.
I've been feeding this brand off and on for over 20 years.
This food has been around for a very long time and was one of the few grain-free dog foods 20+ years ago.
This formula uses a single protein source and carries a nicely balanced amount of protein, fat, and fiber, which would be a perfect match for the majority of dogs.
✔
What I Liked
Perfect for dogs with allergies
Price
It is suitable for most dogs
✘
What I Didn't Like
For dogs with DCM or risks of DCM, this may not be the best choice
Homemade Dog Food Recipe for Hypothyroidism
A few things that need to be mentioned before we dive into the recipe:
It is best to get a recipe from a board-certified veterinary nutritionist. I know it is expensive but so is home cooking, and you owe it to your dog to feed them the very best. Remember, there are different nutritional needs between humans and dogs.
Feeding a homemade diet not created by a board-certified veterinary nutritionist can be okay for short periods, especially if you are just trying to get your dog to eat. According to Tufts University, the long-term use of homemade diets not correctly formulated by a professional can cause more harm than good.
Speaking from personal experience, I've made homemade food and started before I was able to get into the nutritionist.
I was feeling pretty confident that I was providing a well-balanced diet.
However, the truth was quite different.
Though I was adding a variety of vegetables, proteins, and carbs, there weren't enough to meet all of Daisy's dietary needs.
Plus, I was low on fat and carbohydrates and spending too much on useless supplements.
Homemade Dog Food Recipe
The following recipe was formulated by the MSPCA-Angell Animal Medical Center, which states that this recipe is intended for dogs with no medical issues[3].
Despite this, it's hypothyroidism-friendly since food quality is more important than specific ingredients. 
| Purpose | Ingredient | Grams | Measurement | Cooked? |
| --- | --- | --- | --- | --- |
| Protein Source | Dark Chicken Meat | 130 | 4.5 oz | Yes |
| Carbohydrate Source | White or Brown Rice | 320 | 2 cups | Yes |
| Fiber Source | Mixed Vegetables | 25 | 1 1/2 Tbsp | No |
| Fat Source | Vegetable Oil | 10 to 15 | 2 to 3 tsp | No |
| Supplement | Balance IT Canine | 10 | 2.5 Scoops | No |
How to Serve the Homemade Food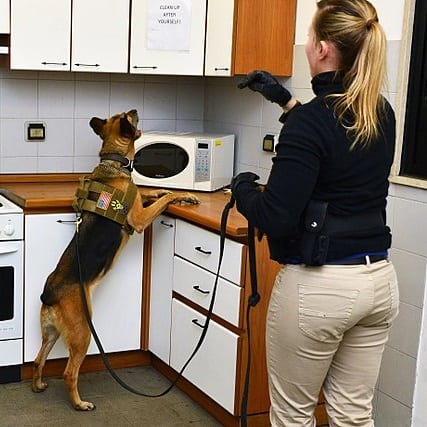 This recipe is a single day's amount for your average 30 lb dog.
Split the 500 grams/1.1 pounds over the day as you feed your dog and adjust the daily amount up or down to fit your dog's weight and activity level.
You can cook multiple batches at once and keep the food in your fridge for several days.
Gently warm up the food before feeding it to your dog if they don't like cold food but make sure there are no hot spots before you feed your pup!
You can also bake the food at 350 F for 20-30 minutes to dry it out if your dog prefers dry kibble.
What is Hypothyroidism in Dogs?
Hypothyroidism is a disease that impacts the thyroid gland and causes either inflammation or shrinkage[4].
The thyroid gland releases thyroid hormones that control your dog's metabolism and internal thermostat.
Hypothyroidism is most commonly found in:
Medium to large dogs
Middle-aged dogs such as dogs 4-10 years old
Altered dogs (spayed or neutered)
Any dog can have hypothyroidism, but some dog breeds tend to be more prone to it, breeds like:
Golden Retrievers
Irish Setters
Doberman Pinschers
Dachshunds
Boxers
Cocker Spaniels
Symptoms of Hypothyroidism
The most common symptoms of hypothyroidism are:
Changes in their coat such as thinning, lack of luster, excessive shedding (Hair loss is most often seen in the torso and rarely impacts the head or legs)


Alopecia (hair loss) due to hypothyroidism
Photo by Caroldermoid (CC BY-SA 3.0)

Reduced activity level or sluggishness
Inability to tolerate the cold
Thickening of skin
Increase color in skin pigmentation
Toenail or ear infections[5]
Skin infections
Muscle loss
Changes in facial muscles causing the face to droop
Mental dullness
Lymphocytic Thyroiditis atrophy
What to Look for in Food for a Dog with Hypothyroidism
Though there is no special hypothyroidism diet other than a healthy balanced diet, there are still multiple factors to consider to be sure you're feeding a food that will best support your dog's health.
Important factors to consider when finding the best dog food for hypothyroidism are:
Nutritional Adequacy Statement
The Association of American Feed Control Officials (AAFCO) states that the most critical factor to look for in quality dog food is the Nutritional Adequacy Statement[6].
The label should declare "Complete and Balanced," meaning that the food possesses the required nutrients and correct nutrient ratios, as outlined by the FDA.
Your Dog's Lifestage
Be sure to choose food with the proper life stage.
Foods are deemed "Complete and Balanced" based on the needs of specific life stages.
And, as we all know, the nutritional needs of a puppy, adult, or senior dog do vary.
Good Ingredients
I like, most people, go directly to the ingredient list to see what it contains and usually stop reading when I hit all the unpronounceable ingredients.

Additionally, I love to see superfoods like blueberries, spinach, and kale.
Unfortunately, through diving deeper into dog food ingredients, these superfoods don't always hold as much importance as I once believed.
Based on the findings from Cummings Veterinary Medical Center at Tufts University[7], the clinical nutritionist team warns that ingredients lower on the list after salt or other mineral and vitamin supplements may only contain a few grams of each per pound.
Meaning these ingredients have been added more for us than our fur babies!
I'm not suggesting we should disregard the ingredient list, but instead make a note of where the ingredients fall on that list.
Additionally, most, if not all, of the unpronounceable words are the much needed added vitamins and nutrients.
Name of the Food (not the Brand)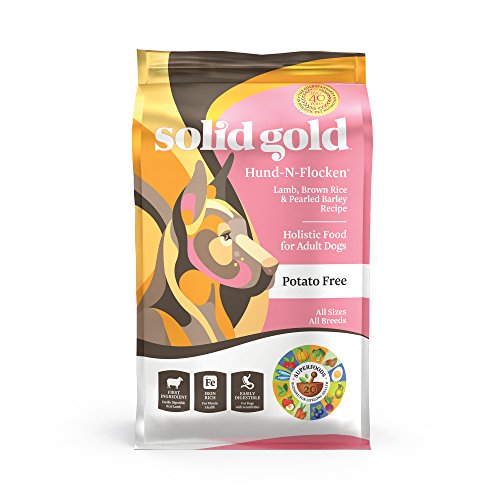 There are regulations as to how a product can be named since the name dictates the percentage content required in the food[8].
So, if the name of the food is:
Chicken Dog Food – It is required to contain at least 95% chicken and must be at least 70% when considering the water added
Beef Dinner – The word "Dinner" means that the food contains at least 25% of that ingredient and must be at least 10% when water is added
Dog Food with Salmon – The "With" indicates the food contains at least 3% salmon
Where the Food is Manufactured and the Ingredients are Sourced
Not all foods need to be manufactured here or even have ingredients sourced here.
But be sure that if they are not in the US, the country the food is made or where the ingredients are sourced are countries with equal to or higher than our pet food safety regulations.
Formulated by a Certified Veterinarian Nutritionist
Certified Vet Nutritionists are the experts in dog nutrition, so some dog food brands hire them to design their foods.
Sometimes, but not always, will this be stated on a bag.
If not, a quick visit to the dog food website or a quick call should answer that question.
No law states dog food manufacturers require a CVM to formulate their dog food.
Dietary Supplements
If your dog has arthritis or has a sensitive stomach, I encourage you to find foods that contain supplements that aid in that condition.
For example, ingredients like probiotics, chondroitin, glucosamine, folic acid, and Omega-3 fatty acids are all ingredients that can help specific health concerns.
Speaking of "health concerns," does your dog suffer from urinary tract issues? Then check out our list of the
best urinary care dog foods
!
Avoid Foods with Artificial Preservatives, Colors, and Flavors
Though they may not all be harmful, there are enough that are linked to some illnesses, and I think we can all agree none of these ingredients add any nutritional value to our dog's diets.
✘
Some common artificial preservatives to avoid are:
Ethoxyquin[9]
Butylated hydroxytoluene (BHT)
✔
Instead, look for high-quality ingredients like:
Vitamin E (mixed tocopherols)
Vitamin C (ascorbic acid)
Plant extracts (e.g., rosemary)
I know this is not the traditional list of things to look for in a dog food, but there is no specific diet for hypothyroidism other than a high-quality, balanced diet.
Conclusion
We, as dog parents, myself at the front of the line, can easily be swept away by the packaging and claims we find on the bag.
Of course, we want food with high-quality protein, but there is no way of telling the actual quality level.
The bag can claim those things, but there is no standard defined for using that claim.
For example, using "Human Grade" has no legal or official definition in regards to pet food regulation. I'm not going to lie; I am a huge fan of seeing that statement.
That being said, reading between the lines, I'd like to think that the declaration implies the ingredients are of a higher standard.
But I know nothing is stopping the shady company from using it, too.
If the dog food meets all of the requirements on the list above then you know you are starting with a well-balanced diet and from there can consider the other information provided by the company.
What is most important is to find food that is well made, balanced, and nutritious. All of the dog foods recommended above have met the above criteria.
FAQs
Can Hypothyroidism Cause Anxiety in Dogs?
Yes. Behavioral issues such as anxiety, fearfulness, and depression are common symptoms of hypothyroidism[10].
Can Dog Food Cause Thyroid Problems?
Yes. Foods containing animal gullets have the possibility of containing hormones and thyroid tissues, which can lead to the rare disease hyperthyroidism, a disease often associated with cancer[11].
Note: Hyperthyroidism is different than Hypothyroidism.
How Is Hypothyroidism Diagnosed?
Diagnosis of hypothyroidism is a combination of bloodwork and a physical exam.
Bloodwork is not always conclusive, but a physical exam and list of symptoms aid in accurately diagnosing the disease.
Does Diet Cause Hypothyroidism in Dogs
There is no one-size-fits-all answer to this question, as the cause of hypothyroidism in dogs will vary depending on the individual dog's genetics and health history. However, there are some things that you can do to help your dog maintain a healthy thyroid gland, including feeding them a balanced diet and exercising regularly.
What Foods Make Hypothyroidism Worse
There are many foods that can make Hypothyroidism worse. These foods can interfere with the body's ability to produce enough thyroid hormone. Some of the most common foods that can worsen Hypothyroidism include: gluten, dairy, soy, sugar, processed foods, and caffeine.
Is Chicken Good for Thyroid
There is a lot of debate on whether or not chicken is good for thyroid health. Some people believe that because chicken is a poultry meat and contains high levels of choline, it can help support thyroid function. Others believe that because chicken is a high-fat meat, it can actually contribute to problems like obesity and heart disease, which could lead to problems with thyroid function. The truth is likely somewhere in the middle – eating chicken occasionally won't hurt your dog's thyroid, but make sure to talk to your vet if you have any concerns about your dog's thyroid health.
What Foods Should a Dog with Hypothyroidism Avoid
It is important for a dog with hypothyroidism to avoid foods that may increase their risk of developing the condition. Some foods to avoid include processed meats, caffeine, and sugar.
Resources