My Miss Mira is one heck of an escape artist; she can even slip out of a harness.
I had always thought that harnesses were more secure than flat collars, but she has proved me wrong.
And I can't stress enough how scary it is to have a puppy running free off-leash at the park.
Did you know that more than a million dogs are hit by cars every year[1] because they have gotten loose one way or another?
It is a scary but true statistic and one that no dog parent wants to add to, which is why it is critical to find the best escape proof dog harness.
Dog harnesses come in multiple styles, many with different purposes.
Because of the variety of options available, it can be challenging to know how to choose the best harness for your dog.
Below we have listed several harness choices, ranging in style and purpose, to help you find the right harness for your dog.
Best Escape Proof Dog Harnesses
It needs to be noted that no dog harness is 100% escape-proof. If your dog is a master escape artist, you may want to explore alternative options such as the gentle leader training collar.
However, there are several harnesses designed to help prevent escaping that are worth exploring.
And if your dog is new to harnesses and you want to err on the side of caution, the below harnesses are a great place to start.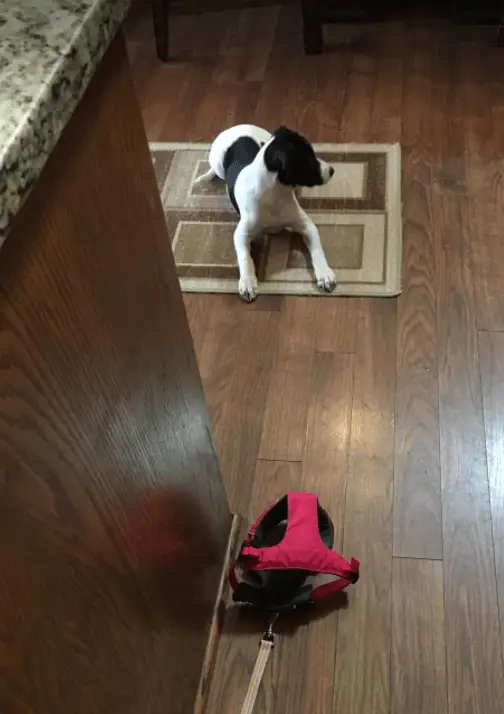 Best Escape Proof Harness for Most Dogs
Beirui No Pull Escape Proof Harness
Summary:
The Beirui No Pull Escape Proof Dog Harness has several safety features such as multiple straps to keep your dog from escaping, locking buckles, and padded straps to avoid chafing.
The double body straps make escaping this harness near impossible. Plus, the Beirui Harness works as a training harness when you use the ring's front clip. There are two leash points, one on the top and one in the front.
And all of the buckles have a slide lock preventing the buckle from coming undone by accident.
Pros:
Padded to avoid chaffing
Available in four sizes
Reflective stitching
Cons:
Long top loop handle may make it less ideal for full-time wear since it could easily catch on things
Recommendation:
The Beirui harness is ideal for dogs learning to walk on a leash and who also are escape artists.
Best Step In Harness for Escape Artists
Gooby Dog Harness
Summary:
The Gooby Dog Harness is specially designed with escapees in mind.
The harness is a step-in harness made with soft, lightweight mesh material.
At the top of the harness, multiple straps work together to tighten the fit, reducing the gap that allows dogs to back out of their harness.
The attachment pieces connecting the nylon straps are made from heavy-duty POM plastic, which is the same material used for seatbelts.
The Gooby Dog Harness also uses a neoprene material with padded shoulders for additional comfort.
Pros:
Lightweight
Padded
Available in a variety of colors
Cons:
Not made for hard wear and tear
Recommendation:
The Gooby Dog Harness is a great harness if your dog tends to pull out of standard harnesses. It is best for dogs that are going for daily walks but not ideal for hiking or rough housing, like at a dog park.
Is Your Dog Driving You Nuts During the Day?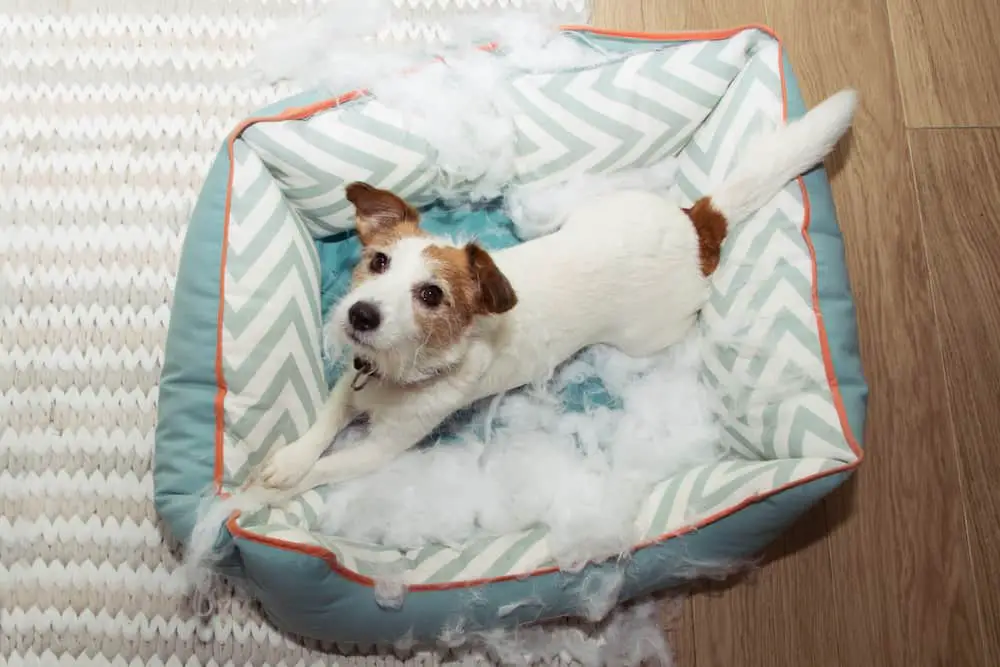 Get Our List of 11 Awesome Indoor Activities to Keep Your Dog Busy and Out of Trouble!
Best Escape Proof Tactical Harness
ICEFANG Tactical Harness
Summary:
The ICEFANG Tactical Harness provides six adjustment points allowing for a tight yet comfortable fit.
Because the harness fits snuggly, it is extremely challenging for dogs to escape from; plus, it reduces the chances the harness will catch on anything such as branches.
The ICEFANG Tactical Harness features hook and loop side panels for ID patches. The harness also has two attachment points and a back handle for greater control and support.
Plus, two metal latches are positioned on the shoulder to provide greater security since these points endure the most amount of pressure when a dog pulls.
Pros:
Metal front clips
6 Adjustment points
Durable
Available in sizes S-XL
Cons:
Recommendation:
This harness is best for dogs who need a durable harness to withstand heavy wear and tear. It is also ideal for powerful breeds who pull.
Best Half Body Escape Proof Harness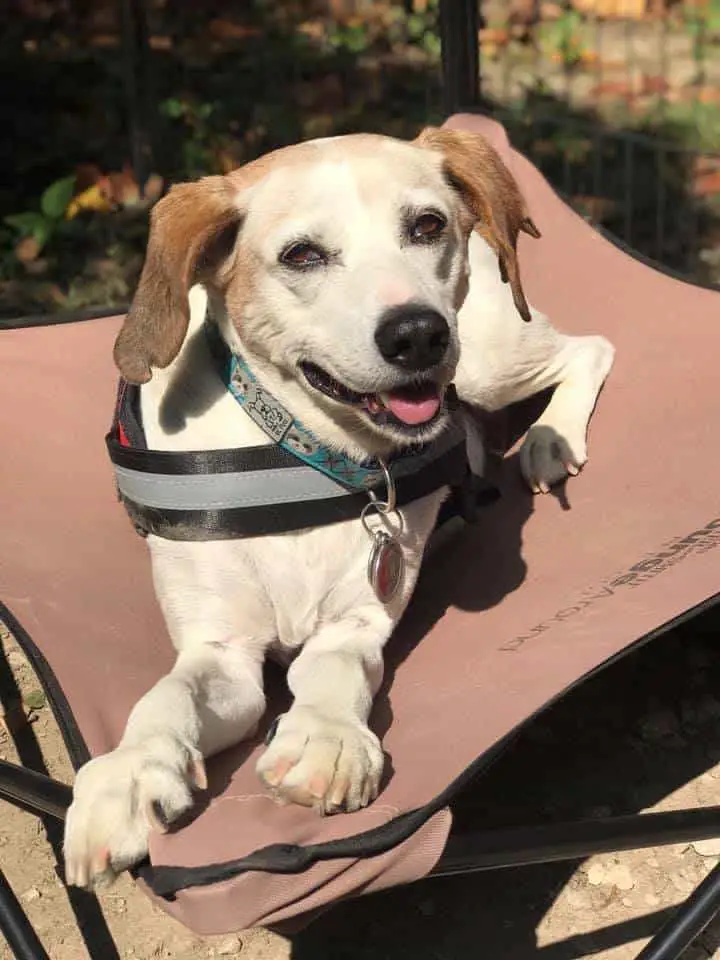 Bolux Dog Harness
Summary:
The Bolux Dog Harness is a minimal no-fuss harness. It has two adjustment points, one for the chest and one for the body. Both straps can be tightened for a secure fit reducing the chances of escape.
The Bolux harness features reflective stitching along the border and a wide reflective strap in front. This harness is well padded in the body area, and the wide strap provides greater comfort.
Plus, the Bolux has a top handle for maximum control and two side panels for ID patches.
Pros:
Wide reflective stripe on the chest strap
It comes in a wide array of colors and patterns
Available in 6 sizes
Easy to adjust and put on
Cons:
Does not have a connection point for ID tags
Recommendation:
The Bolux Dog Harness is the best choice for dogs who cannot have a strap that rests too close to their neck base, such as dogs with trachea issues.
I bought this harness for Calvin (you can see his handsome face above), who has a sensitive trachea that causes him to cough, and it works great.
This harness is also ideal for dogs with wide chests.
Best No Pull Harness for Escape Artist Dogs
PetSafe Easy Walk Dog Harness
Summary:
The PetSafe Easy Walk Dog Harness, designed to train your dog to walk without pulling, is made up of adjustable nylon straps.
The straps fit securely behind the front legs and around the front of the chest. The PetSafe harness is a front clip harness that constricts when your dog pulls, tightening at the harness's front.
If the PetSafe harness is fitted correctly so that no more than two fingers fit under each strap, your dog will not be able to pull loose from the harness. If it is too loose, your dog will be able to slip out.
Pros:
Secure fit
Aids in training
Comes in multiple sizes and colors
Cons:
Possible chance of chaffing
Recommendation:
The PetSafe Easy Walk Dog Harness is ideal for dogs learning not to pull when walking on a leash.
Even for dogs who walk well, this is one of the best escape proof dog harnesses.
Best No Escape Harness for Large Dogs
Rabbitgoo Large Escape Proof Harness
Summary:
The Rabbitgoo Harness for large dogs has two body straps, one for the chest and one around the belly.
The double strap style reduces the chances of escape. This harness has multiple adjustment points ensuring the best fit and comfort for your dog.
The Rabbitgoo escape-resistant harness also features two handles, a lifting handle, and the mesh loop. The two handles make it easy to help support and guide your dog.
The harness is made with breathable mesh padding that allows the harness to be worn all day comfortably.
Pros:
Reflective piping
5 Adjustment points
Weatherproof materials
Two body straps and a neck strap
Cons:
Only available in Large and X-Large
It only comes in black
Recommendation:
Ideal for large dogs that need a harness for extended wear and would be an excellent choice for dogs who enjoy hiking and being outdoors.
Best Escape Proof Harness for Small Dogs
Dociote Mesh Harness
Summary:
The Dociote Mesh Harness is a step-in harness made from a breathable, lightweight material. The harness uses both velcro and a buckle to provide a secure fit, minimizing the gap that allows dogs to escape.
The step-in harness is easy to dress your dog in, especially since the fastening points are on the top of the harness instead of along the sides.
Pros:
Reflective accents
Breathable material
Multiple sizes
Cons:
Not as durable as other harnesses
Recommendation:
The perfect easy to fit harness for small dogs. The lightweight material keeps it from being bulky and makes it more comfortable for our tinier friends.
Best Escape Proof Harness for Senior Dogs
COODEO Full Body Support Harness
Summary:
Even senior dogs can be escapees. The COODEO lift harness for our older dogs has a full-body design making it both supportive and harder to escape.
This harness is not only escape-resistant but also features one long handle so we can help our dogs over obstacles or just when they need a steadying hand.
The harness is well padded with multiple adjustment and connection points.
The COODEO uses both buckles and velcro to secure this harness in place. It also comes with an extended handle, so you can provide support without hunching over.
Pros:
Top loop to connect the leash
Soft, breathable, lightweight design
Padded for added comfort
Cons:
Doesn't come in smaller sizes
Recommendation:
This is the ideal harness for older dogs or those who have joint issues.
Best Escape Proof Car Harness
Lukovee Dual Purpose Harness
Summary:
The Lukovee Dual Purpose Harness is a low profile harness that can easily be tightened to snuggly fit your dog and reduce the space near the neck.
The harness is made from lightweight padded material allowing for better comfort and long-term wear. Plus, the Lukovee harness is designed to work as a safety harness in your car.
Pros:
Multifunctional
Available in several sizes and colors
Two top metal D-Rings for added security
Cons:
No top handle
Not as escape-proof as other harnesses
Recommendation:
Ideal for the dog that travels in the car frequently, eliminating the need for two harnesses.
How Dogs Escape Their Harness
There are two main ways dogs escape their harness, slipping out or chewing it off.
Most dogs who Houdini themselves out of their harness do so by slipping out backward. If your dog backs up and lifts its front legs in a superman pose, the harness can slip off.
And, some dogs chew through the straps to free themselves from the harness.
Most dogs can reach the body strap with their mouths, and once they have chewed through that, it is just a matter of tilting their head down to remove the rest of it.
Types of Escape Proof Dog Harnesses
There are multiple styles escape proof dog harnesses come in. Two of the types are based on where you attach the leash, either on your dog's back or front.
Choosing the best one depends a lot on your dog's walking style. For example, a dog who pulls a lot will do better with a front clip.
The good news is if you don't know which style to choose, many harnesses come with both attachment points.
There are also tightening harnesses; when pressure is applied to the harness, it tightens around your dog to reduce the chances of escape.
The step-in harness is just like it sounds; it has two openings for your dog's front legs and wraps around your dog's shoulders. These harnesses are best for smaller dogs, and it's best if you choose a style that also tightens.
How to Choose the Best Escape Proof Dog Harness
There are several factors to consider when choosing the Best Escape Proof Dog Harness, such as:
Durable materials – A flimsy harness will allow for an easier escape. Look for a harness that is durably made with heavy-duty nylon straps. Also, more robust material will reduce the chances of the harness ripping or stretching out.
Secure connectors – If your dog is a wiggle worm and enjoys rolling in the grass, finding a harness that has slide locks over the buckles will add to the harness's security. And make sure that the buckles are made from hard plastic, so they don't crack or break.
D-Ring – The D-Ring material and placement also factor in when considering which harness to choose. Dogs who tend to pull do better with front clip-in harnesses. And selecting a harness with a metal D-Ring is best since it won't break if your dog pulls or lunges.
Walking in Low Light – If you enjoy walking at dusk or night, getting a harness with reflective material is an absolute must.
Amount of Time Your Dog Wears it – Three of my dogs wear harnesses 24×7, so they must be durable and comfortable. If you only plan to walk your dog in their harness, using a less padded training harness will work fine.
Multiple Attachment and Adjustment points – Harnesses with multiple attachments and adjustment points will ensure a proper and snug fit, reducing the chances of an escape.
Handles – I prefer harnesses with handles; it is easier to control your dog in crowded spaces or if you need to assist or steady them.
Padding – If your dog wears their harness daily or pulls when they walk, having a padded harness will provide greater comfort. However, excessive padding may make escaping easier as it allows more wiggle room.
Tips to Keep Your Dog From Escaping Their Harness
Ensuring the Proper Fit
One of the top reasons dogs can slip out of their harnesses is because the harness is put on too loosely.
The dog's harness should not be too tight, but you should not be able to fit more than two fingers underneath each of the straps. If you're able to put more than two fingers underneath, it's still too loose.
Conversely, if you can't fit two fingers under it, the harness is too tight.
You should check the harness regularly since the harness can loosen over time.
Connecting Collar to Harness
Another safety feature you can add to prevent your dog from slipping their harness is connecting the D-Ring on the harness to the ring on their collar together.
However, you want to make sure that you use an easy release method such as a carabiner. Using things such as zip ties can become a danger to your dog.
Additionally, using a martingale collar is recommended to prevent your dog from slipping out of the collar too.
The T-Shirt Option
Place a t-shirt over your dog's harness, then mark where you clip in. Remove the shirt, and cut a small slit so you can connect your leash.
Next, put the t-shirt back on your dog and go out for a walk.
If your dog attempts to escape, they need to escape both the shirt and the harness; though not impossible, it is challenging enough to give you time to get your dog under control again.
Conclusion
There is nothing scarier than when your dog slips its harness; it makes me anxious just remembering when it happened with Mira.
Though harnesses are not a wrong choice, some dogs are more likely to slip their harness than others. Dogs that are nervous, fearful, anxious, or powerful tend to be the most likely to escape their harness.
Often it happens so fast it's hard to prevent. If you know your dog falls into one of these categories choosing an escape-proof harness is a proactive way to keep your pup safe.
FAQs
How do I stop my dog from escaping his harness?
The best way to prevent your dog from escaping its harness is through training. However, we all know that training a dog a new behavior doesn't happen overnight, so using an escape-proof collar in the meantime is best.
What's the difference between an escape-proof dog harness and a normal dog harness?
Escape-proof harnesses are often made from durable material, have multiple connection and adjustment points, multiple body straps, tightening features, and slide locks.
What's the best material for an escape-proof harness?
It is best to find a harness made from durable materials such as heavy-duty nylon.
Will harnesses that tighten hurt my dog?
No, they are not like choke chains. When a harness constricts to prevent your dog from escaping, it closes the gap at the top of the harness to prevent escape.
Can I attach my dog's leash to his harness as well as his collar just in case he slips the harness?
Yes, that is a great safety measure, but be sure to use an easy release method such as a carabiner.
Resources