This post may contain affiliate links. It doesn't cost you anything extra and it keeps our lights on, our families fed, and our dogs spoiled. For all the juicy fine print, see our affiliate disclosure
Having had dogs as long as I have, there are few situations I am unfamiliar with.
However, chewing on collars is a new one.
Mirabelle (Mira for short), our new puppy, has brought this new challenge into our lives.
Mira does not chew on her collar but instead is interested in chewing on her sibling's collars. Though she is small, her tiny milk teeth can do some severe damage to the collars.
We do not leave our dogs' collars on at home since they tend to wrestle, and it poses a danger. Also, when we are gone, we always remove collars as an additional safety precaution[1].
However, we still have their collars on when we go for walks, travel, or if they are tagging along running errands.
Since I don't want to replace collars for my dogs every month until Mira grows out of this phase, I thought I would invest in three heavy-duty collars.
I am hoping this will be a one-time investment and that the collars will stand up to Mira's torment for at least the next four to six months.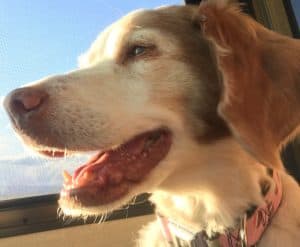 I love having a multi-dog household, but at times the financial responsibilities play a notable role in my decision making. Indestructible pet gear, like chew proof squeaky dog toys and tough, heavy duty harnesses, is worth the higher cost.
Because I needed to buy three collars (no one chews on Mira's so she's okay with the one she has) I had to find moderately priced highly durable options.
After finishing my research, I realized there were a lot of dog parents going through similar issues regarding dogs who chewed on their own or their sibling's collars.
So, I thought it would be good to share my findings in the hope it would help other dog parents like myself.
Best Chew Proof Dog Collars
Here's a list of the toughest, most heavy duty dog collars:
Toughest Dog Collar for Aggressive Chewers
Yunlep Tactical Dog Collar with Handle
Why It's the Best Choice
The Yunlep Tactical collar, made from military-grade 1000D nylon, has a metal side release buckle to add to the collar's overall durability.
This collar also features an easy-grip handle for better control in populated areas.
The lightweight nature of this collar works great for hiking, running, walking, or any activity you and your dog enjoy. Also, the inside of the collar is padded to add to the collar's overall comfort.
This super tough collar has four color options and three sizes to choose from, all of which have a 1.5-inch width.
Plus, the collar has a Velcro strip for easy application of ID patches.
✔
What I Liked
Made from heavy-duty military-grade 1000D nylon
Metal side release buckle for fast and easy removal
Ability to add ID patches without sewing
Handle for better control
Padded interior
✘
What I Didn't Like
Is not available in size small
Most Comfortable Unbreakable Collar
Black Rhino Comfort Collar
Why It's the Best Choice
The Black Rhino Comfort Collar, made from soft yet strong neoprene material, is specifically designed to hold up against the hard wear and tear of active dogs, as well as to the roughhousing between energetic dogs.
And, as the name of the collar indicates, it has a soft padded liner to enhance the comfort of the dog.
Though most-heavy duty collars have a padded interior, the Black Rhino's liner is thicker than most. Surprisingly, this heavy-duty collar is exceptionally lightweight, considering all of its features.
So, between the padding and weight of the collar, the Black Rhino offers the ultimate in comfort.
The Black Rhino is also accented with reflective stitching giving you added safety during evening walks.
Is Your Dog Driving You Nuts During the Day?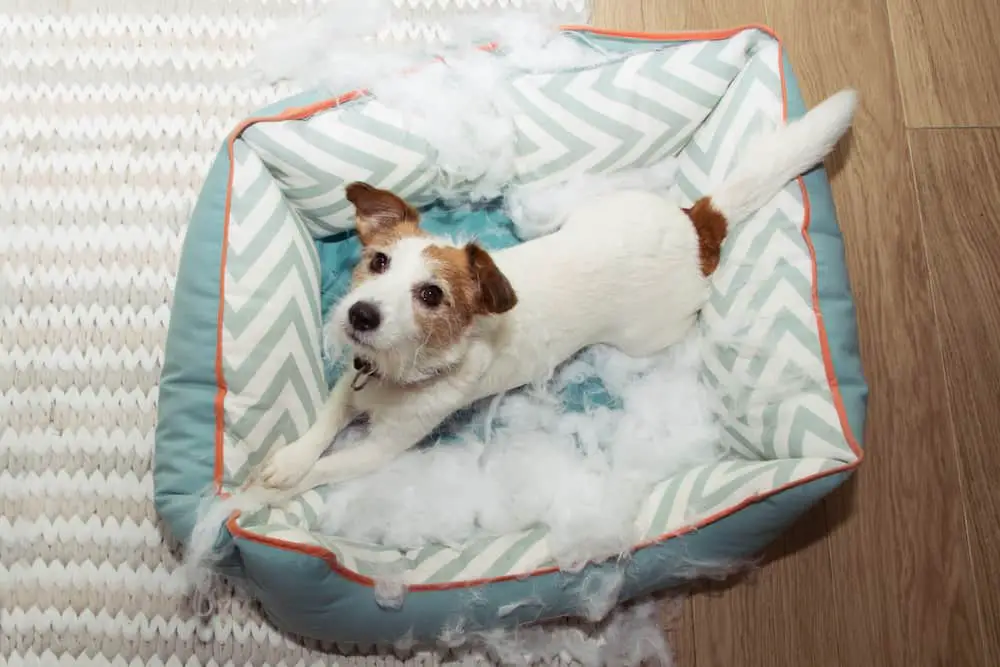 Get Our List of 11 Awesome Indoor Activities to Keep Your Dog Busy and Out of Trouble!
Plus, the Comfort Collar comes in five color options and four sizes.
Related: Best Chew Proof Dog Leashes
✔
What I Liked
The overall durability
The thick padded lining
The overall appearance
Grommet enforced adjustable buckle
✘
What I Didn't Like
It lacks a quick-release buckle
Best Value Heavy Duty Dog Collar for the Money
Tuff Pupper Heavy Duty Ballistic Nylon Dog Collar
Why It's the Best Choice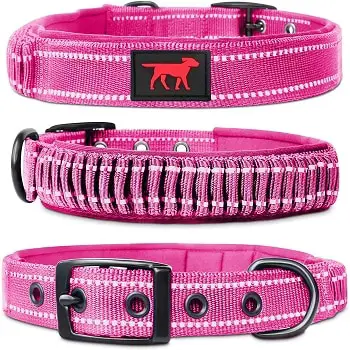 Tuff Pupper specializes in creating high-quality gear for dogs at affordable prices.
They offer everything from dog bowls to toys and everything in between, all of which are focused on dogs who need things to be durable.
Their collar features a soft bungee handle to aid in handling your dog in tight situations or training.
The Tuff Pupper Ballistic Nylon Collar, made from thick ballistic, fray-proof nylon, has a neoprene padded interior to provide ultimate comfort to your dog.
The neoprene padding is not only soft but is also a breathable mesh material perfect for warm summer weather. The buckle is adjustable and made from metal, adding to the sturdiness of the collar.
The Ballistic Nylon Collar comes in four colors, all of which have 3M reflective stitching for added safety, and comes in three sizes.
✔
What I Liked
Aesthetically pleasing
Reflective stitching
Made with heavy-duty 3mm fray and rip-proof material
Stainless steel buckle
Weather and stink resistant
Bungee handle
✘
What I Didn't Like
It doesn't have a quick-release buckle
Top of the Line Unchewable Dog Collar
Excellent Elite Spanker Tactical Adjustable Training Collar
Why It's the Best Choice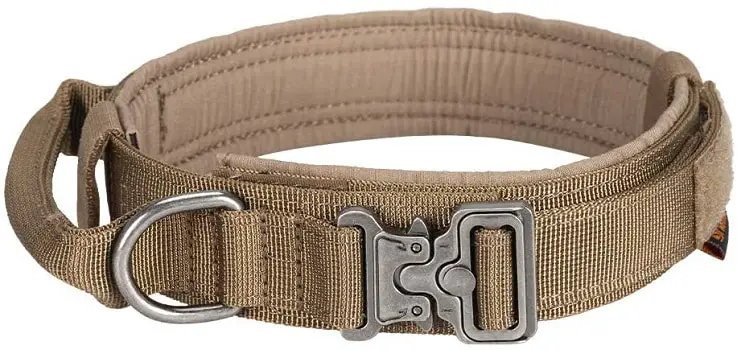 Excellent Elite Spanker specializes in heavy-duty tactical gear for both humans and dogs.
The tactical dog collar is made from 1000D nylon ribbon, giving it the toughness required for tactical gear. Also, the collar has a soft padded lining to reduce chafing or skin irritation.
The collar has a durable handle to aid in training and provide better control.
The metal buckle is a quick release double closure to make taking the collar off and on a breeze, yet offering greater security when fastened.
Additionally, the collar is easily adjustable to fit a variety of sizes.
The tactical collar comes in 4 colors: black, tan, ranger green, and gray; and three sizes: medium, large, and extra-large.
Plus, the collar features a Velcro ID patch area, to aid in providing easy identification for your dog.
Related: Best Dog Collars for Training
✔
What I Liked
The material, 1000D tactical nylon
The padded lining for added comfort
Handle for better restraint
The double quick release buckle
Quality warranty
✘
What I Didn't Like
Not available for small breed dogs
Strongest Dog Collar
TSPRO Tactical Dog Collar
Why It's the Best Choice
TSPRO's Tactical Dog Collar is a thick heavy-duty collar that is made with a double layer of durable nylon webbing.
The TSPRO collar has a padded interior to reduce discomfort and skin irritation from the robust nylon. Additionally, because the collar is made from nylon, it is easy to clean.
The collar has a 4-point adjustable metal buckle, allowing to change the size easily.
Also, it has a slide protector to keep the tail of the collar from hanging down. The large metal D-Ring ensures your dog's security when leashed.
The collar comes in two colors black and green and three sizes: Small, medium, and large.
If there are any issues with the collar's quality, TSPRO has a 100% quality warranty.
✔
What I Liked
Strong double-layer nylon webbing
Metal buckle
Solid metal D-ring
Metal grommets to reduce fraying
Low profile
Interior soft padding
✘
What I Didn't Like
It does not have an easy release buckle
It is limited in sizes
Toughest Dog Collar for Small Dogs
RUFFWEAR Hoopie Collar
Why It's the Best Choice
RUFFWEAR has a large variety of products like leashes, harnesses, and packs. But they also have a durable dog collars such as the Hoopie Collar, which is available in small sizes.
The Hoopie Collar is made from a durable woven webbing to ensure it will hold up against harder wear and tear of an active dog. The webbing is both durable and comfortable, negating the need for additional padding.
The collar features a hard plastic side release buckle to allow for easy on and off. Because there is minimal metal on the collar, it is an excellent lightweight option for smaller dogs.
The Hoopie Collar is easily adjustable, ensuring a perfect fit for any dog. Plus, it comes in 9 different color patterns and three different sizes.
The collar can be hand washed and air dried to keep it looking and smelling great.
Also, for those who like the Ruffwear brand, they have a few other durable collars available, like Top Rope and Front Range. These two are similar to the Hoopie but do have different features.
✔
What I Liked
Heavy-duty woven material
Easy release buckle
Strong aluminum ring
Separate small D-Ring for tags
Best Indestructible Dog Collar for Medium Dogs
Buckle-Down Seatbelt Buckle Collar
Why It's the Best Choice
I will admit this was already my favorite brand, and during my research, I was pleased to realize I already had some pretty durable collars.
I hadn't originally purchased them for their durability, but instead because I liked the way they look.
The Buckle-Down dog collars are made with a 100% durable polyester material and a seatbelt buckle for easy release.
The Buckle-Down collars are a bit on the rigid side, but not so much that they cause skin irritation, so additional padding is not needed.
From personal experience, these are some of the strongest dog collars I have ever owned. The collars have faded over the years but never frayed or ripped.
Also, I will admit I am not a fan of hand washing dog collars, so I have put the collars through the washing machine in a laundry bag, which is why the colors on some of the collars have faded.
(Be sure to check out our article on how to wash stinky dog collars for more information on this)
That being said, it does speak loudly to how well they have held up. The collars above are ones I have had for over five years.
Since switching my dogs' collars over to the Buckle-Down brand, there hasn't been any damage from Mira.
✔
What I Liked
Made with heavy-duty polyester
Easy on and off with the long-lasting metal seat belt buckle
Durable metal D-ring ensures your dog can't break loose
Looks fantastic – We always get compliments on these collars
Comes in a variety of sizes and collar widths
✘
What I Didn't Like
They tend to be a bit spendy
The 1.5-inch width options are a bit heavy
Best Heavy Duty Dog Collar for Large Dogs
REDLINEK-9
Why It's the Best Choice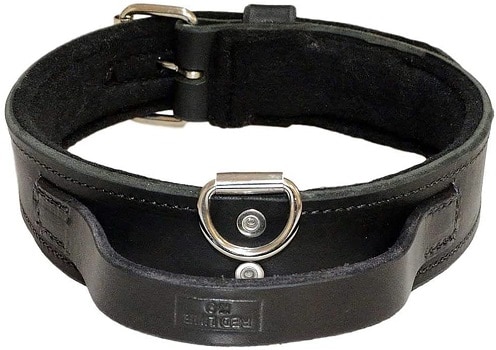 REDLINEK-9 is made from Latigo leather, which is both a rigid and robust leather.
The interior of the collar is lined with felt to ensure the leather doesn't cause chafing or skin irritation. The collar has a leather easy-grip handle to aid in giving the handler control when a leash isn't available.
The wide collar design aids in its overall durability.
The welded metal D-Ring will give confidence that it will not break if your large canine pulls or lunges.
The collar has a four adjustable point buckle providing a secure fit.
Though the collar is low profile and only comes in black, the detailed stitching gives it a nice finished appearance.
✔
What I Liked
The heavy-duty Latigoleather
Sturdy metal buckle and D-ring
Soft felt liner
Ideal for strong breeds
✘
What I Didn't Like
Lack of breathability
Price
Things to Consider When Looking for an Indestructible Dog Collar
There are several things to keep in mind when choosing the right indestructible dog collar.
Some of the features to consider are:
Durability
Though you want an indestructible collar, a dog's chewing ability varies depending on dog size, age, and strength.
For example, Mira is only 17 weeks old and still has her very sharp milk-teeth but not a lot of jaw strength.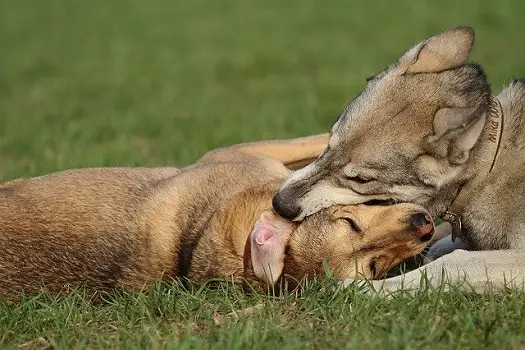 So, the damage to collars is usually in the form of ripping or fraying.
Though I need a durable collar for the other dogs in my house, I don't need one as hearty as the Black Rhino or the REDLINEK-9.
And avoid flea & tick collars when you have a collar chewer!
Collar Width
Many of the durable collars are 1.5-inches wide; however, not all dogs can comfortably wear a collar of that width.
For example, Sophie coughs when she wears ones wider than one inch.
In addition to comfort, some dogs look better in collars not so wide.
Padding
Many of the durable collars are made with less flexible material so, padding will aid in ensuring ultimate comfort, especially for dogs with short hair.
D-Ring
It is best to find a collar with a metal D ring, especially if you have a powerful dog.
This will ensure they don't break loose when pulling or lunging
Handle
Some of the tactical collars offer a handle on the collar. This is ideal for when you don't have a leash or you require greater control up close and is safer for your fingers[2].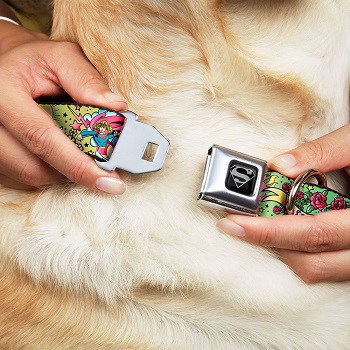 Buckle
A sturdy buckle is essential to an heavy duty collar.
Metal buckles are best since they won't crack under pressure.
Additionally, for safety, a quick release buckle is ideal.
Coat Length
Your dog's coat plays a role in finding the ideal collar[3]. For dogs with longer hair, you may decide to choose a lightweight collar.
And for those with dogs with short hair and thin coats, making sure you get one with great padding is vital so the collar doesn't chafe.
Conclusion
I have a hard time making just one recommendation since there are so many variables.
For people in my situation, who have a puppy with needle-sharp teeth but not a super strong bite, the Buckle-Down or Ruffwear would work perfectly. Also, for those who are looking for a collar with a bit more pizzazz than the solid earth tones colors, these brands offer a variety of patterns and bright colors.
For those pet parents like my friend Lisa, who has a German Shepard, a heartier collar like the Black Rhino or one of the tactical options would work best. He has long hair, so the leather collar wouldn't be the best fit as it may become too warm.
So, unfortunately, I do not have just one recommendation for the best chew proof dog collar; it all depends on the type of chewing your dog is capable of as well as what would be the most comfortable.
Resources