This post may contain affiliate links. It doesn't cost you anything extra and it keeps our lights on, our families fed, and our dogs spoiled. For all the juicy fine print, see our affiliate disclosure
Before I owned my own dog, I didn't realize they could get tired of their old food.
My family's dogs always jumped at the chance to eat their next meal. Maggie isn't quite the same.
Sometimes she gets tired of eating the same thing everyday and I can't blame her.
Still, it's always a surprise when she stops chomping away at her food.
It always makes me curious about what's the next best brand for her to try.
Recently, I discovered the WholeHearted dog food brand. My personal goal in finding the best dog food for Maggie is to get a blend that doesn't contain fillers but still fits my budget.
Here's everything I've learned about WholeHearted while I researched them, so you can see if it's right for your dog too in this Petco WholeHearted dog food review.
Brand Overview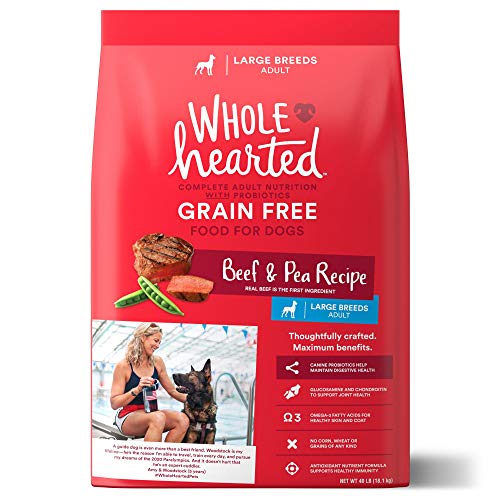 The history of a brand says a lot about them, but there's not much to read about WholeHearted.
It's a dog and cat food brand that PetCo produces.
PetCo is one of the leading pet stores in America[1], known for its quality products at affordable prices.
I've only ever had great experiences with PetCo products, so I trust that they know what they're doing with dry dog food too.
A closer look at the brand's formulas and ingredients gives owners a further look into the quality of the food.
Ingredients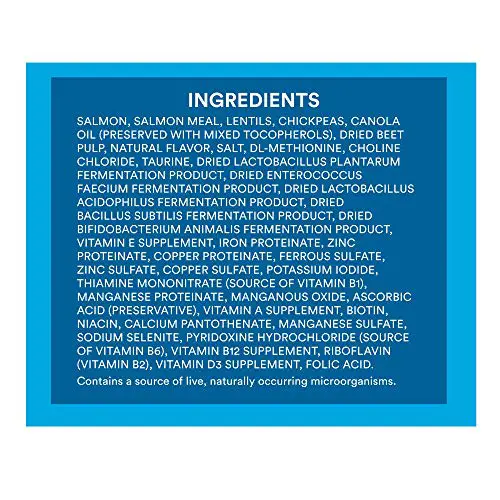 Depending on which formula you think your dog would prefer, the ingredients will differ.
There are regular, grain-free, and limited ingredient flavors for your dog to try, based on their nutritional needs.
Within those 3 product lines, they have a chicken and pea recipe, lamb and brown rice recipe, and a lamb and lentil recipe. They also offer wet food options like their boiled chicken dinner dog food recipe (yum…?).
Is Your Dog Driving You Nuts During the Day?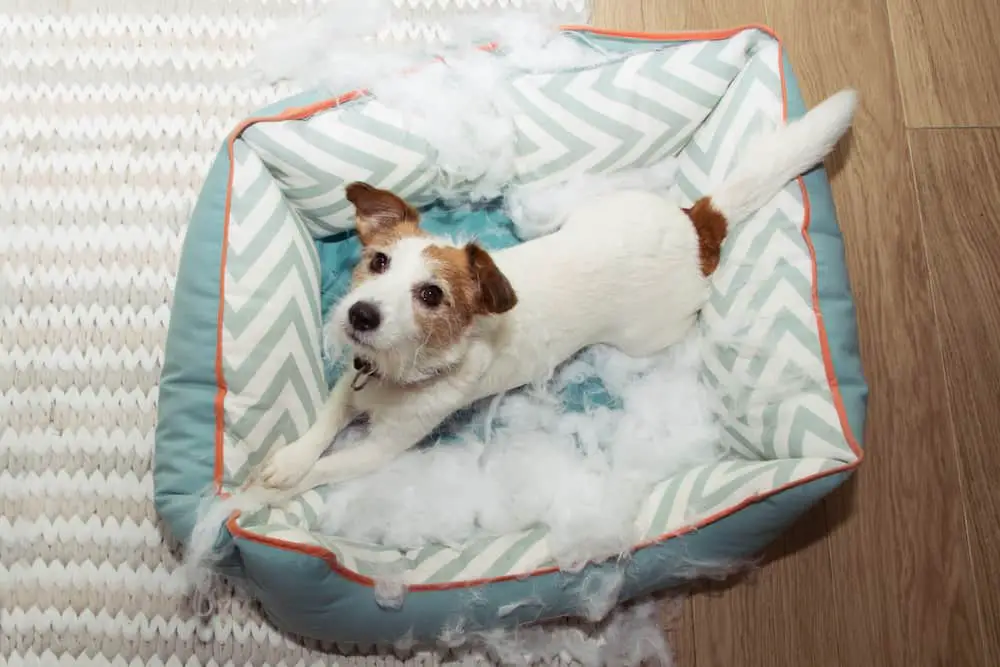 Get Our List of 11 Awesome Indoor Activities to Keep Your Dog Busy and Out of Trouble!
And, of course, they offer dry puppy food, small or large breed wet and dry foods and skin & coat care foods.
Every blend is based in animal protein, which is crucial for a dog's development[2]. It's easier for them to digest and provides a healthy source of energy for their metabolism.
The protein comes from a mix of whole meat and meat meals, which are both great for a dog's nutrition.
If you're worried about meat meal, put your worries aside.
It's a ground form of whole meats that has its moisture removed[3] so the company can pack more protein into each batch.
If it's in the first few ingredients on a package, that's a good sign that you're buying high quality food.
Features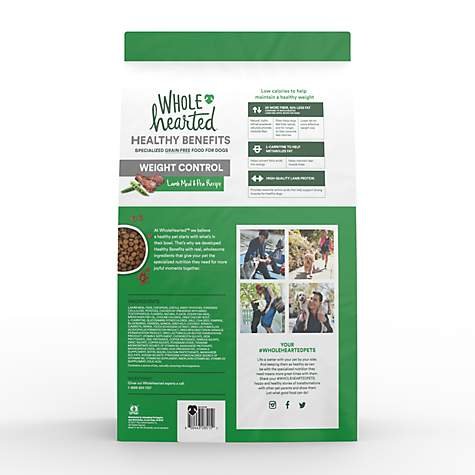 Given that the average price is around $25 per fourteen-pound bag, the features of this dry dog food are endless.
Whole meats are always the first ingredient, no matter which formula you buy.
They also all contain probiotics specifically catered for dogs, even the ones with sensitive stomachs.
The probiotics will help your dog's gut digest the Omega-3 fatty acids and vitamins that keep them happy and healthy.
As an owner of a Goldendoodle with skin issues, Omega 3 fatty acids mean my dog doesn't have to itch herself all day long.
Plus, the Wholehearted grain free dog food formulas are priced the same as every other blend.
You'll save money without compromising on the nutritional needs of your dog or the ingredients, whether your dog prefers canned food or dry food.
I know a few people who happily pay over $60 per bag of dog food because they want grain-free food for their pup.
WholeHearted provides a welcome option for dog parents who can't afford to pay that much for premium food.
What I Liked
I like that this is a PetCo brand.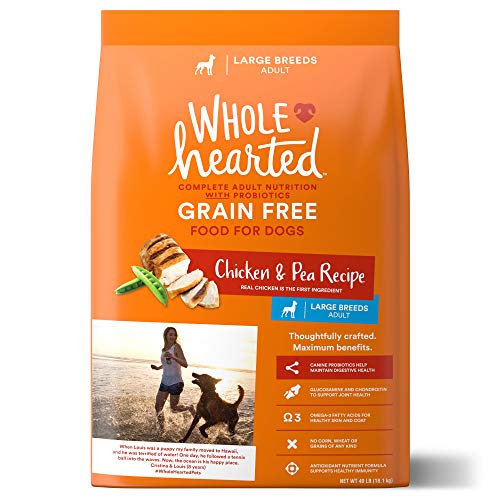 Maggie goes to the vet and gets groomed there, so it's easy to pick up a bag if she's running low on food.
Because the brand is sold by a major company, it's also available online so you don't need to run to the store if you're busy.
Beyond the ease of purchase and the fantastic price, I love that the ingredients are based out of whole meats (not meat meal or pea flour) and essential nutrients.
I've done my time researching brands only to find that they use fillers or additives to make their food cheaper.
It's nice to know that Maggie can eat food that fits my budget, without giving up any nutrition she needs.
Another big win—WholeHearted has never had a recall[4], which most brands can't say. It means they care about their ingredients and production process, all the way from start to finish.
Another brand to check out is
Blue Buffalo
! Blue Buffalo has had more recalls, but does that make them an untrustworthy brand?
What I Didn't Like
As much as I like this brand, it is a little high in carbs.
Most dog foods aim to be higher in protein, since it fuels the metabolism and helps dogs grow.
This brand contains more carbs than protein, so older or less active dogs may need to adjust to a smaller portion size.
Some dogs may also find that they go to the bathroom more frequently after they switch to this brand because it does include legumes and lentils.
They're carb sources that dogs can digest, but they might take some time for the dogs' digestive system to get used to.
Recommendation
This is a great dog food alternative for most dogs to try. Each formula uses high quality ingredients to make a great meal. The price can't be beat and it's easy to order.
I "Wholehearted"-ly recommend this brand! (I had to do it!)
As long as you introduce it to your dog slowly to allow them time to adjust to the new food, they'll soon become a fan too.
Alternatives
If you're looking for other brands to compare with WholeHearted, check out these contenders to see what you think.
Depending on where you live and what your budget is, they could be something worth looking into while you're searching for your dog's next bag of food.
Diamond
When you want to check out a brand that also prides itself on using whole ingredients, take a look at Diamond[5].
They're a family-owned business that makes all their dog food in the USA.
They provide their nutritional philosophy and ingredient glossary right on their website so it's easy to research.
Victor Premium Pet Food
Around the same price as WholeHearted, Victor is a Texas-based dog food brand that prides itself on heartland ingredients[6].
Their four main ingredients boost the immune system, help with digestion and support the metabolism of any dog who eats their kibble.
They also locally source many of their ingredients so they help the local economy.
Related: Victor vs Diamond Dog Food: Which is the Best Brand for Your Dog?
Eagle Natural Pet Food
Eagle takes a different approach to their production process, working with trainers and nutritionists to make the right blend for every dog.
For just over thirty years, they've made dog food that helps a dog's coat, digestive tract and energy levels.
Their formula specializes in grains and fatty acids to fuel any adventure your dog might have[7].
Resources