Best Dry Dog Foods for Tear Stains: Winners
As a dog owner, you always want the best for your dog.
Whether in terms of their health, diet, or housing, you want to find the best to improve their quality of life.
But sometimes, particular aspects of your dog's life are challenging to handle, especially if you are not well informed.
One aspect of your dog's life that could be challenging is tearing certain stains on its body or around the face.
Although this is natural and may not be visible to the naked eye, it can still be a severe cause of concern for you as a dog owner.
Thankfully, the right food can help your dog overcome tear stains.
We have done some deep research over the last few months finding the best food for dogs with tear stains.
Find them all below, and make the right choice for your dog.
The Best Dog Foods to Help with Tear Stains
Overall Best Dog Food for Tear Stains – Blue Buffalo Basics Limited Ingredient Diet
This tasty and adequate dog food for tear stains comes in turkey, lamb, duck, and salmon flavors.
It is a product with limited ingredients, but Blue Buffalo Basics Limited Ingredient Diet more than makes up for that in providing an all-around nutritional meal.
Instead, the primary source of carbohydrate in this dog food is potatoes which is a healthier alternative. Also, this product is grain-free, a factor that is important in preventing or treating tear stains.
You can expect your dog to be full of energy and active all day after having this dog food.
The guarantee with the limited ingredients in this food is the absence of allergic reactions that your dog might have with other foods.
Allergies to certain types of foods are among the causes of tear stains in dogs1.
Budget Pick – Hill's Science Diet Sensitive Stomach & Skin
Hill's Science Diet Sensitive Stomach & Skin makes it near the top of our list for the best food for dog tear stains because veterinarians highly recommend it yet it's budget friendly.
This dog food is designed to improve your dog's digestion with its sensitive stomach formula. It also has the right amount of fat content and fiber required by a dog's body.
This formula is designed to reduce the risk of developing tear stains in your dog.
Related: Hill's Prescription Diet U/D Dog Food Alternatives
This food also contains prebiotic fiber that helps improve your dog's intestinal health. The high levels of antioxidants in this food also help keep your dog's skin and coat healthy.
Is Your Dog Driving You Nuts During the Day?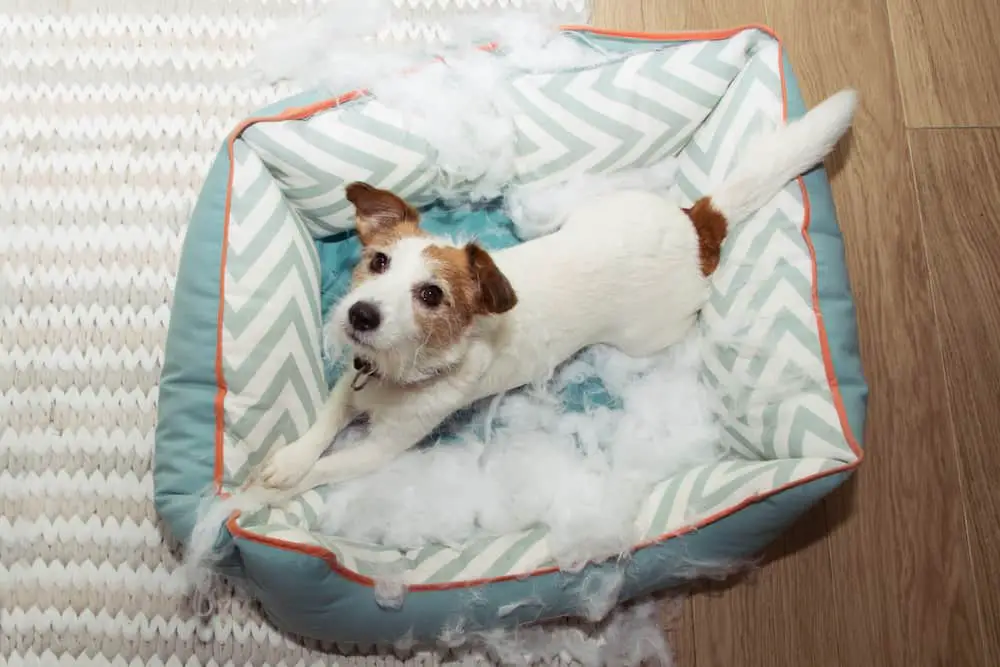 Get Our List of 11 Awesome Indoor Activities to Keep Your Dog Busy and Out of Trouble!
Hill's Science Diet Sensitive Stomach & Skin contains minimal ingredient sources, so you can be sure that your dog is getting the best nutrition possible.
Upgrade Pick – Nature's Logic Sardine Meal Feast
If you are looking for a dog kibble worth the cost and will be an excellent choice for your dog regardless of whether it is a large or small breed, Nature's Logic Sardine Meal Feast is a perfect choice.
We have selected this particular dog food because it is one of the highest quality foods available in the market.
This food is nutrient-dense and has a high level of protein that can help build a healthy and robust dog.
The protein will also provide your dog with energy that will support peak performance as well as peak health.
The manufacturers understand that poor dieting and allergies are part of the cause of tear stains in dogs, ensuring that this food is free from additives and fillers.
The meat and fish used in this food are of the highest quality, so you can be sure that your dog will eat it without hesitation and with great joy.
It comes in different recipes, which include salmon, duck, rabbits, and beef.
Antioxidants, probiotics, and omega fatty acids are added to the food to help nourish your dog and to keep it healthy from all angles.
Luckily, there is no grain in this food, so it is a good choice for dogs with grain allergies.
Best Dog Food for Any Breed Dog with Tear Stains – Lucy Pet Limited Ingredient Duck & Potato Dog Food
When it comes to your dog's diet, it is best if the food you feed them is natural.
This product doesn't have any chemical preservatives and other yucky ingredients, as this dog food is very carefully processed to ensure that it does not harm your pet.
Some of the ingredients present in Lucy Pet Limited Ingredient Duck & Potato Dog Food include duck, dried potatoes, vitamin B12 supplements, zinc, citric acid, and vitamin A supplements to help maintain healthy skin and coat.
The ingredients present in the food make it safe for all dogs, and it does not cause any allergic reactions to them.
In addition, the product is a good source of vitamins that help fight off infections and boost blood circulation.
Specifically formulated to boost your dog's heart health, it is fortified with several vitamins, and since it is rich in protein, it helps build your dog's muscles and tissues.
Best High-Protein Food for Dogs with Tear Stains – Nature's Recipe Grain-Free Easy to Digest Dry Dog Food
Another excellent dog food we are recommending is Nature's Recipe Grain-Free DryDog Food.
This food is grain-free and has natural fruits and vegetables. It is easily digestible. The glowing consumer reviews demonstrate the product's overall quality.
Wheat, soy, and corn that can elicit a reaction in your dog's body and bring tear stains are not present in this dog food.
It does not contain artificial flavors, colors, or preservatives. Pumpkin and potatoes are the primary sources of carbohydrates in this food which can be quite filling.
The primary source of protein in this kibble is salmon, enabling your dog's muscles and bones to have the proper nutrition. Salmon is a complete protein, which contains all the essential amino acids in adequate proportions.
What we like about this food are the clean, pure ingredients they use. We also love its versatility.
You can feed it to dogs with sensitive tummies and those who need a slightly higher protein content in their diet.
Best Single Protein Source Dog Food for Tear Stains – FirstMate Limited Ingredient Diet Grain-Free Dry Dog Food
Like all the items on this list, this dog food is a premium product.
FirstMate Limited Ingredient Diet Grain-Free Dog Food has been produced with all-natural ingredients, which makes it easier for your dog's digestion. It is also free from any artificial preservatives or additives.
As the name suggests, it is a grain-free dry food made with potatoes as its primary source of carbohydrates and energy.
The primary source of protein for this food is a single protein source, such as lamb, fish, or cage-free chicken, to ensure your dog's digestive system is in optimal health.
Cranberries, blueberries, and raspberries are included, which are excellent sources of minerals and vitamins for your dog's health. Every ingredient in this food is high-quality, and it is all-natural.
Because of its premium quality, it is also an expensive dog food.
Most Allergy-Friendly Dog Food for Tear Stains – Canidae Pure Limited Ingredient Dry Dog Food
For the final dog food on our list, we chose Canidae Pure Limited Ingredient Dry Dog Food.
We've included this food in our list because it does not contain any ingredients that may cause severe allergic reactions in dogs.
Allergies are a significant cause of dog tear stains. Even dogs with no allergies can develop them to specific dog food ingredients like wheat, corn, or chicken by-products.
This product is free of nearly all ingredients any dog might be allergic to.
It is also competent in providing the appropriate nutritional value, excellent in its bioavailability, and contains natural antioxidants known to help eliminate tear stains naturally.
It is suitable for all dog breeds. It is made in the US, and it contains no artificial preservatives, colors, flavorings, or other additives.
You can choose from different flavors like duck, chicken, wild boar, salmon, and goat.
You will find proteins ranging from 25% to 32% depending on the flavor, and fats ranging from 14% to 19%, so no matter what your pup's activity level is, there will be a food that suits its needs.
What are Tear Stains?
Tear stains are the discoloration of the fur around your dog's eyes.
This can be accompanied by a strong odor caused by bacterial growth between your dog's face and the fur.
Tear stains are usually more visible in dogs with lighter colored coats than in those with darker coats. It is also common to notice some of your dog's hair missing where it has torn due to tear staining.
If you have noticed these on your dog, you don't need to be too alarmed.
Many dog owners face this problem. The good news is that many foods are now available that can help fight against tear stains.
We know that making decisions on the right food can be challenging. That's why we are here to help you out.
How Does Your Dog's Diet Influence Tear Stains?
Dogs whose diet contains poorly digestible or unsuitable ingredients are stressed, which can cause problems such as excessive shedding or tear stains.
Cheap foods and low-quality can often cause problems. An example of this is food that has too many preservatives, causing health issues.
Foods containing wheat, corn, and soy can be unhealthy as they can cause digestive issues and allergies. Make sure you feed your dog high-quality food that is healthy.
Dogs who have limited access to fresh water can quickly develop skin and ear problems.
That's why it is crucial to provide your dog with a great diet and clean water.
Water pollution is a common problem that dogs are exposed to, and it can cause gastrointestinal issues, as well. Even high iron can contribute to tear stains2.
Conclusion
Tear stains can be rough to deal with, but there is a solution.
Feeding your dog the food with appropriate nutritional value will help prevent and treat tear stains. The dog foods we have selected will provide your pet with the necessary nutrients for healthy skin.
However, you should always consult with a veterinarian first whenever you notice tear stains on your dog's skin.
This is because tear stains can be the symptoms of other underlying health problems as well.
Resources