This post may contain affiliate links. It doesn't cost you anything extra and it keeps our lights on, our families fed, and our dogs spoiled. For all the juicy fine print, see our affiliate disclosure
If you keep yourselves up-to-date on all the latest dog food news, you'll have heard fellow pet parents raise concerns about copper sulfate in dog food.
But is this paranoia valid or simply a piece of misinformation on the internet?
Read on to find out everything you need to know about copper sulfate in dog food.
What is Copper Sulfate in Dog Food?
Copper sulfate is one of the most common forms of copper supplement used in pet food.
A dog's body is unable to synthesize it naturally and must ingest it through food.
That's why it's quite common to see copper mentioned on a kibble label. It's part of AAFCO's nutritional guidelines[1].
Without it, a dog food brand cannot claim its kibble is complete and balanced.
In and of itself copper sulfate is not a bad ingredient. In fact, copper is a vital mineral when it comes to the nutritional needs of pets or humans.
So why is it the subject of so much online controversy?
Related: What is Alfalfa Meal in Dog Food?
Is Copper Sulfate Good for Dogs?
Copper sulfate has been used in pet foods for over 8 decades. It is approved by the AAFCO as well as the FEDIAF[2], regulatory bodies in the US and Europe.
The supplement provides kibble with the appropriate amounts of copper needed by dogs.
There is no medical research that associates copper sulfate with any diseases or lists it as a problematic ingredient.
As such, in moderate quantities, it is good for your dog's health.
Keep in mind that the meat used as the primary ingredient in dog foods already has a certain amount of copper in it.
To decide whether copper sulfate is good for your dog, you need to consider the other ingredients, primarily the type of meat used in the food.
Is Your Dog Driving You Nuts During the Day?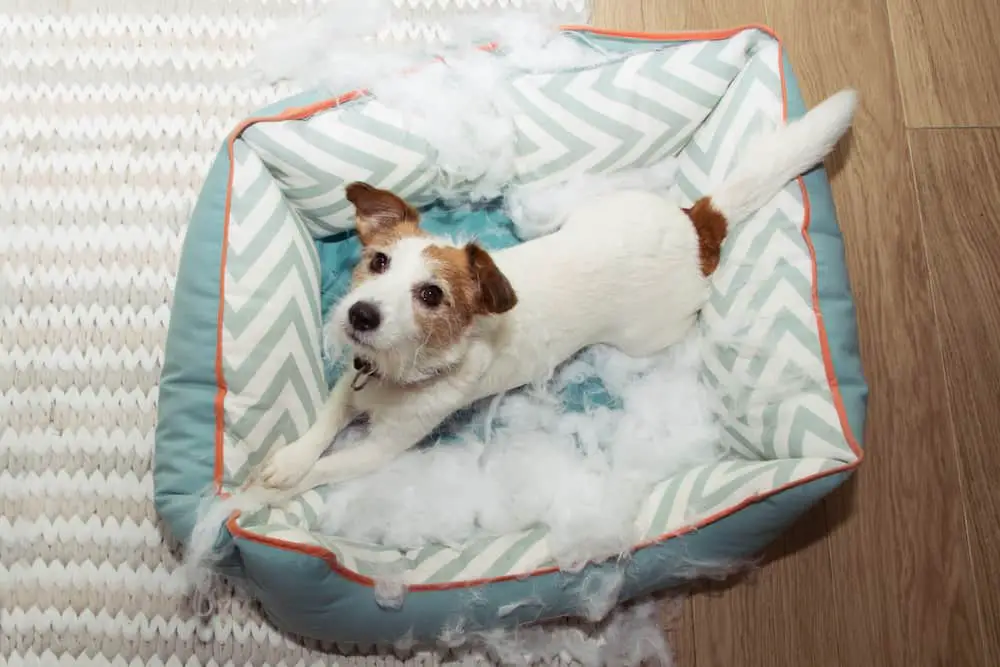 Get Our List of 11 Awesome Indoor Activities to Keep Your Dog Busy and Out of Trouble!
For example, a kibble that uses beef liver will have more copper[3] than a formula that uses fish or chicken as the first ingredient.
As a general rule, try to purchase dog food from companies that routinely test their kibble for its nutritional content and prioritize pet health.
Related: What is Montmorillonite Clay in Dog Food?
Is Copper Sulfate Bad for Dogs?
Minute amounts of copper sulfate used in dog food are harmless. Yet, there is still a lot of negative discourse around this ingredient. Why?
Simply put, copper sulfate is an irritant in its purest form[4].
European authorities have labeled it both harmful and a danger to the environment. These harms do not extend to dog food.
But the negative association pushes many dog food manufacturers to use alternative compounds.
These include copper gluconate, copper carbonate, copper proteinate, and chelated copper.
All in all, copper sulfate is not bad for dogs, given the tiny amounts present in their food.
So if you see this ingredient mentioned on a dog food label, there is no need to be alarmed[5].
However, if you see copper added to some other type of compound, that is fine as well.
Related: What is Guar Gum in Dog Food?
Sources of Copper Sulfate in Dog Food
Copper sulfate is a chemical supplement. This lab-processed ingredient is used because dog food manufacturers are banned from using copper oxide.
If it isn't sourced directly, you may find a chelated version of the nutrient like copper proteinate.
This is a complex compound that combines an amino acid with a polysaccharide.
Other nutritional options you may see on dog food labels are copper gluconate and copper carbonate.
These are all copper supplements that are perfectly healthy and even necessary for your dog's health.
How Much Copper Sulfate Do Dogs Need?
According to what's established by the AAFCO[1], the minimum requirements for copper sulfate in dog food are 7.3 mg per kg.
The maximum tolerable limit is around 250 mg and if it starts approaching this value, then copper sulfate can become toxic.
That said there is no standard value that can be used across the board.
The appropriate quantity of copper sulfate will vary in relation to the other ingredients used.
It is a supplement used when the naturally present values for copper are not enough to meet your dog's nutritional needs.
For example, the liver has a lot of copper in it.
So if the kibble uses beef or chicken liver as a primary ingredient, then you won't need a lot of copper sulfate. In fact, the minimum value will do.
But, if the kibble is salmon-based, then higher values for copper sulfate may be used.
Dog Foods With Copper Sulfate
If you're not worried about copper sulfate in your dog's food, here are some great options.
This formula lists deboned turkey, turkey meal, and chicken meal as the first three ingredients. So it is starting off strong with a meat protein base!
The fat-to-protein ratio is also 44 percent making it a healthy option.
It also lists copper sulfate further down on the list, which makes sense, given the choice of meat protein.
The crave dog food mix has a crude protein value of 34.9 percent. It lists natural whitefish and salmon as the primary sources of meat protein.
It also has a minute quantity of copper sulfate that acts as a much-needed supplement with its seafood meat base.
This is an amazing budget-friendly formula with lamb meal, brown rice, ground rice, dried plain beet pulp, and chicken fat.
It comes without corn, wheat, soy, gluten, or peas and uses copper sulfate as a supplement.
Dog Foods Without Copper Sulfate
If you're worried about copper sulfate irritating your dog's GI system, check out these dog food options.
The formula lists deboned beef, chicken meal, and turkey meal as the first three meat ingredients.
It does not include any copper supplements in its ingredient list.
With salmon, salmon meal, and ocean fish meal as the first three ingredients, this formula has a solid animal protein base.
Lower on the list, it includes copper proteinate as its copper supplement. Again, this is another safe copper supplement that you can count on.
Packed with protein, it has a high crude protein value of 34 percent.
Blue Wilderness lists deboned salmon as its primary ingredient, followed by chicken meal and menhaden fish.
It also uses copper amino acid chelate as a supplement, avoiding the controversial copper sulfate.
Conclusion
There's a lot of false information on the internet.
And if you've read concerning articles about copper sulfate online, it's perfectly natural for you to worry about your pet's health and wellbeing.
But, as far as the scientific evidence is concerned, there is nothing to suggest that copper sulfate is harmful to your dog.
Its quantities are closely monitored by regulating agencies. And the minute quantities used in dog food make it an ideal copper supplement for your pet.
However, if you're still not convinced there are alternatives you can look for, just make sure you're reading the nutritional labels on your kibble closely and know what you're feeding your pet!
Resources