This post may contain affiliate links. It doesn't cost you anything extra and it keeps our lights on, our families fed, and our dogs spoiled. For all the juicy fine print, see our affiliate disclosure
Not all fats are bad, and some of them are even essential.
Omega fatty acids are a polyunsaturated fat type that a dog's body can't produce. They are mainly divided into two categories – omega-3 and omega-6. 
Keep reading to learn more about the importance of omega 3 in dog food.
What are Omega Fatty Acids?
Omega-3 fatty acids include
DHA (Docosahexaenoic Acid)
EPA (Eicosapentaenoic Acid)
ALA (Alpha-Linolenic Acid)
Omega-6 fatty acids include
AA (Arachidonic Acid)
DGLA (Dihomo-Gamma-Linolenic Acid)
GLA, and LA (Linoleic acid).
Dogs can produce some types of fatty acids naturally in their bodies. However, there are some, known as EFAs (Essential Fatty Acids), that dogs can't produce1.
EFAs are necessary not only for dogs but also for almost all animals to stay healthy. DHA, EPA, and ALA are also vital omega-3 fatty acids for dogs.
Is Omega 3 Good for Dogs?
Omega-3 isn't only good but essential for dogs.
They come with a lot of health benefits, and according to the American Kennel Club2, omega-3 fatty acids can fight canine cancer and enhance your dog's immune system.
It can also improve wound healing, control inflammation, and promote joint health in dogs.
Is Omega 3 Bad for Dogs?
No, omega-3 fatty acids aren't bad for dogs if consumed below or equal to the daily recommended amount.
Is Your Dog Driving You Nuts During the Day?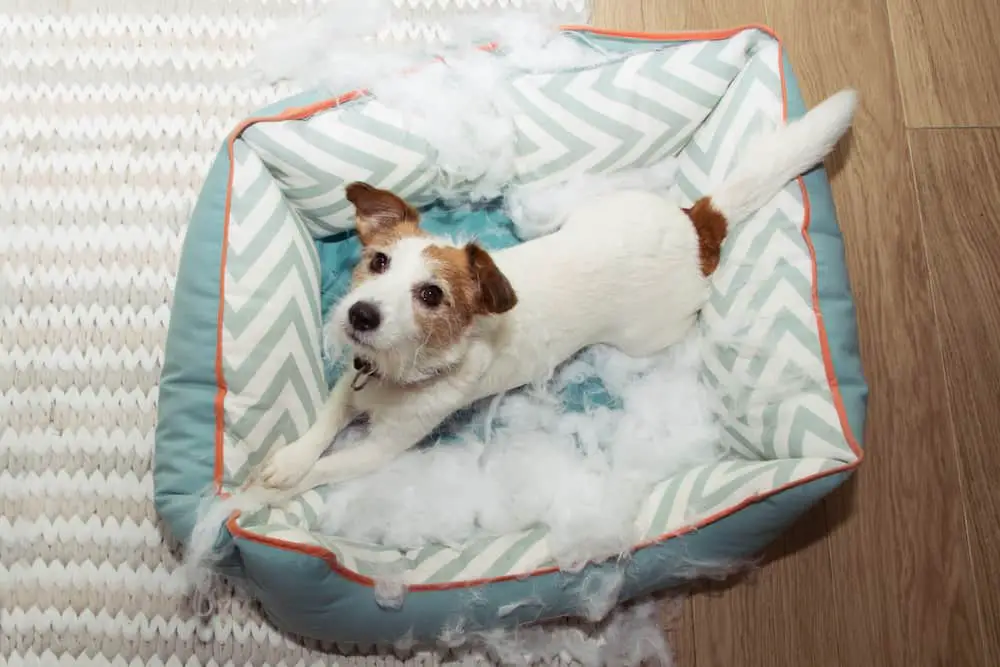 Get Our List of 11 Awesome Indoor Activities to Keep Your Dog Busy and Out of Trouble!
However, omega-3 overdose can cause diarrhea and vomiting3 in dogs.
In the worst cases, it can also lead to altered immune function, weight gain, delayed wound healing, and disturbed platelet function.
Related: Should Your Dog Food Have Coconut Oil in it?
Sources of Omega Fatty Acids in Dog Food
Omega fatty acids are most commonly obtained from small fatty ocean fishes, including sardines, salmon, and anchovies.
These are also used in fish oil production, which is used in dog foods and omega 3 supplements.
Krill oil is also a great source of these fats, which are made from shrimp-like crustaceans. They are also found in some plants and grains.
But fish and fish oil are the best and most commonly used source of omega fatty acids in dog food.
Benefits of Omega-3 and -6 Fatty Acids for Dogs
DHA and EPA are most powerful when it comes to the benefits of omega-3 and -6 fatty acids. These fats help dogs by:
Helping puppies in brain development
Improving dogs' ability to fight cancer
Reducing inflammation to help dogs with arthritis
Supporting the immune system
Improving the kidney and heart health
Helping canines by reducing or eliminating hyperactivity, depression, and anxiety
How Much Omega 3 Do Dogs Need?
The total daily recommended amount of DHA and EPA varies from dog to dog depending upon various factors such as weight and treatment of different health problems.
The best source of omega-3 fatty acids is fish oil. The daily recommended amount4 of fish oil for dogs is 75 to100 milligrams per kilogram (EPA and DHA combined).
Dog Foods with Omega 3
You can use any of the following dog foods if your pup needs to consume more omega-3 fatty acids.
True Acre Foods Chicken & Vegetable Dry Dog Food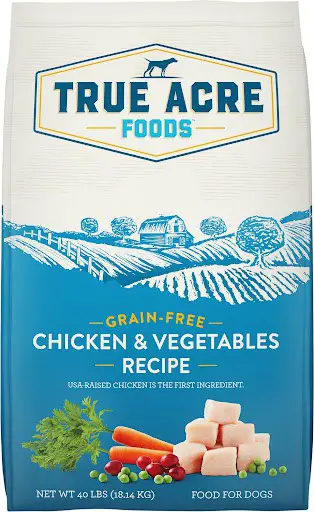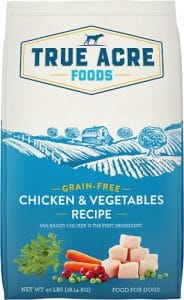 True Acre Foods Chicken & Vegetable dry dog food contains chicken as the primary source of protein.
It's a grain-free diet that features omegas, fiber, and antioxidants, and you can use it for adult dogs of all breeds.
This Purina Pro Plan recipe is easily digestible as it doesn't contain any soy, wheat, or corn.
It's a high-protein recipe specially designed for adult dogs with a sensitive or upset stomachs, and you can use it for all breeds.
It's yet another grain-free formula that offers nutritious vegetables and fruits such as dried kelp, carrots, and blueberries.
The American Journey Salmon & Sweet Potato recipe contains both omega 3 and 6 fatty acids, and you can give it to adult dogs of all breeds.
Dog Foods without Omega 3
The following are our favorite dog foods that don't contain omega-3 fatty acids in their formulation.
This Royal Canin blend is specially formulated for small dog breeds.
It offers hydrolyzed protein that reduces GI and skin reactions and also supports healthy teeth.
This Instinct Rawboost product is basically a topper that's free of omega 3 fatty acids. It features whole food ingredients and doesn't contain any artificial colors or flavors.
You can use it for adult dogs of all breeds.
Purina only uses farm-raised chicken in this blend as a primary protein source.
It offers balanced and complete nutrition to promote strong muscles and maintain a healthy weight. You can give it to adult dogs of all breeds.
Final Thoughts
The right types and quantities of omega fatty acids can offer incredible health benefits to dogs.
I recommend you select the omega-3 sources that are high in DHA and EPA. They should also have low omega-6 quantities.
That's because omega-3 is more beneficial and essential for dogs.
It's also crucial to make sure that your dog doesn't eat more than the recommended daily amount of these fatty acids to achieve the best results.
FAQs
Here are a few other common questions people ask about omega fatty acids.
What Foods Contain Omega-3 for My Dog?
Sardines, salmon, anchovies, herring, halibut, and mackerel are great foods that contain omega-3 for your dog. You can also use fish oil or omega-3 supplements to ensure that your pup consumes the required amount of these fats.
Soybeans, walnuts, and some plants like flax also contain omega-3 fatty acids. But for dogs, fish oil is the most potent DHA and EPA source.
How Can I Increase Omega-3 in My Dog's Diet?
You need to give your pup foods that are rich in DHA and EPA to increase the omega-3 consumption in your dog. The most suitable food sources are fish and supplements.
Do All Dogs Need Omega Fatty Acids?
Yes, all dogs need omega fatty acids because they can't produce these fats naturally in their bodies. The only way your canine friend can get these materials is by eating foods like fish or supplements.
Omega-3 is important for dogs because it ensures proper eye and brain development in puppies. They also improve the healing process and cognitive functions in dogs and help them fight chronic diseases related to the kidneys and heart.
Resources