This post may contain affiliate links. It doesn't cost you anything extra and it keeps our lights on, our families fed, and our dogs spoiled. For all the juicy fine print, see our affiliate disclosure
Dog Probiotic Guide
We all love our dogs!
The health of your animals is, of course, the first thing in your mind when it comes to ensuring their well-being.
Keeping them safe from fleas, ticks, cars, and injuries can be a full-time job.
Injuries can happen for a variety of reasons from accidents during play or at home or when out on walks in urban and rural areas alike.
A further threat to the health of household pets can be somewhat harder to detect, however – bacteria. This is nothing too drastic for the average well-kept pet but is a very important consideration for keeping them in tip top shape.
Millions of microorganisms dwell within the bodies and particularly the intestinal tracts of humans and pets alike. Research is increasingly uncovering the importance of this area of health and the impact it can have on mental and physical health.
As far as immune bodies go, the gut is the largest in humans. While the function of the gut is to absorb food and its nutrients it is also important in the process of removing damaging bacteria and different types of toxins. The same applies to pets.
So how can we ensure the good health of our pets and their organs?
Probiotics are a great choice. Let's go over the details.
What are the Benefits of Probiotics?
A healthy balance of bacteria in the gut is absolutely critical to ensure a strong gastrointestinal tract. The gut in both humans and dogs contains flora and different types of mucosa that function as protection against various threats to the health of the tract such as that from pathogens.
The gut also works its magic by removing different toxins and ensuring that only positive microorganisms survive. They also have an obvious effect on the digestion and as a result the appetite of the pet.
Probiotics work intricately with the gut and all within it. As the health of the gut can affect the wellbeing of a pet or human in such a drastic number of ways, probiotics work by ensuring that the best functions of the gut work properly and aid in increasing the above mentioned positive functions.
There are a number of differences as you might imagine between human and dog probiotics.
It comes down to species. There are specific species or strains that we know can have a positive effect on dogs. These include, to name a few, Bacillus coagulans, enterococcus faecium, and lactobacillus acidophilus. Big words!
These different species all have different functions that interact with the guts of your pet. Benefits include the prevention of diarrhea as well as improvement to appetite and mental health.
Is Your Dog Driving You Nuts During the Day?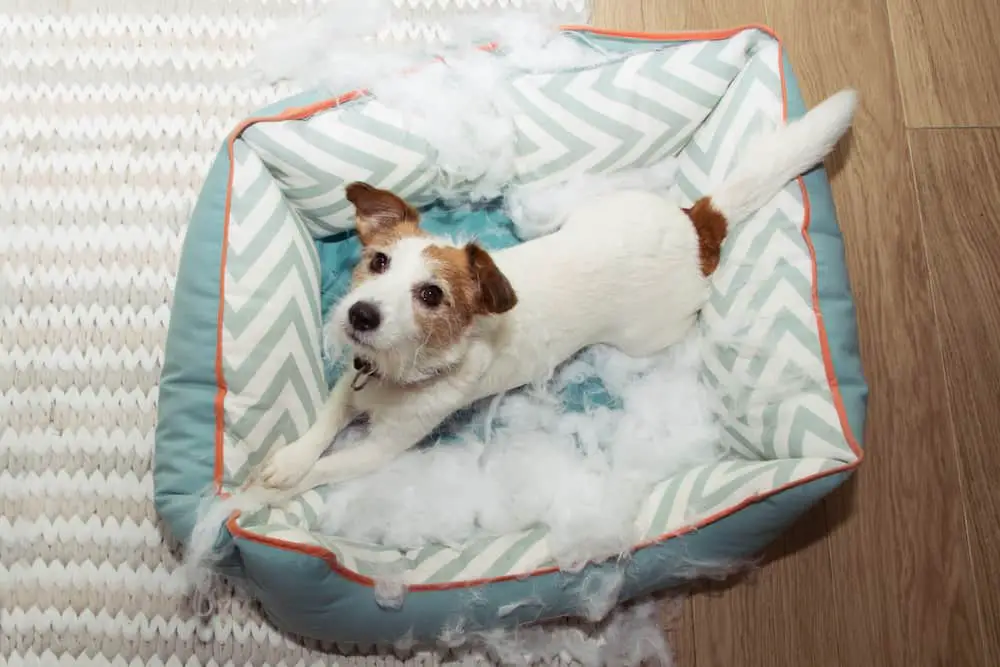 Get Our List of 11 Awesome Indoor Activities to Keep Your Dog Busy and Out of Trouble!
What are the Side Effects of Probiotics in Dogs?
It's worth noting right away that any probiotic or substance in general that has any ingredients in it which can impact the function and health of a living organism will ultimately come with a side effect in some way.
This isn't always a subject to worry about as some of these won't move beyond levels such as the cellular level. That said, some impact can be more significant and it's worth being aware of what can happen with your pet.
Probiotic pill-based supplements are well researched with safety in mind. It should be appreciated that safety research is done with the lowest common denominator in mind – you don't have to be a PhD to be comfortable in the use of these products.
They're as effective as they can be while being safe to use.
That said, if side effects do happen they are commonly along the lines of an allergic reaction. These can, in bad cases, manifest in reactions such as increased itching, difficulty in the ability to breath normally or a swelling of the lips and tongue. Some difficulty in the pet being able to walk steadily can also occur.
It's very important to note that these are specific and extreme reactions to such probiotics and are mostly due to a low-quality product.
A properly designed probiotic will be very safe for any dog that doesn't have any serious allergies and absolutely won't cause such significant negative effects on their health.
So What are the Best Probiotics for Dogs?
With the science intro out of the way let's get specific! You can narrow down your search for probiotics to a few key products that contain the species strains we mentioned above.
These are the specific products that are tailored towards the health of your dog and by reviewing the following list you'll be sure to come across a specific product that matches the breed and general wellbeing of your dog to a tee.
We'll be going over five specific products within the probiotics field. We all love pets and have our own and we've taken specific care to make sure that we are only recommending the ones we are sure are of high quality with the right balance of ingredients.
Purina Fortiflora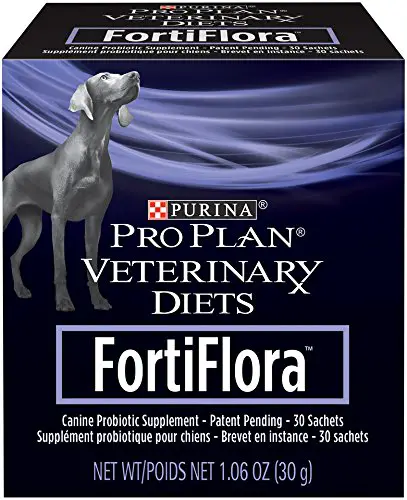 Purina has a very well respected product that we're happy to recommend in this article. You only have to look at pages like their Amazon product page where you can see close to three thousand separate cleared customer reviews with an average of four and a half out of five stars!
There's a key reason FortiFlora is so popular and that reason is enterococcus faecium.
We discussed this above as one of the best probiotic ingredients that works with dogs. It's naturally occurring in humans and animals and when included in the FortiFlora probiotic does wondrous results.
Further key ingredients in the product are a range of vitamins and nutrients and some sensible additions such as salt and minerals that are hard to find in a natural pet diet such as manganese proteinate and copper proteinate.
FortiFlora has shown its efficiency in working with aging dogs as well as those with general lethargy and digestive problems including diarrhea.
Dr. Mercola Complete Probiotics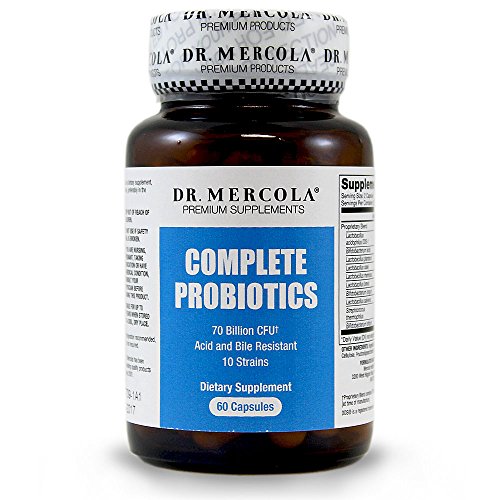 A further recommendation we are very happy to provide. Dr. Mercola has done a great job in blending together the right mixture of ingredients and bacteria strains to benefit pet health. The product is highly regarded and with good reason.
The key statement for the product is its positive effect on the gastrointestinal health and bowel health of your dog.
It brings together over ten separate bacterial strains which are each proven to be effective in the promotion of the best gastrointestinal health.
Every single serving is particularly drawn to be dense with over fifty million bacteria. The ingredients of the product assist in the support of the immune system of your pet with the end goal of providing good health and a long and happy life.
As with Purina the product also includes a range of vitamins and nutrients that by themselves form a powerful supplement to ensure overall health of your pet.
Nusentia Probiotic Miracle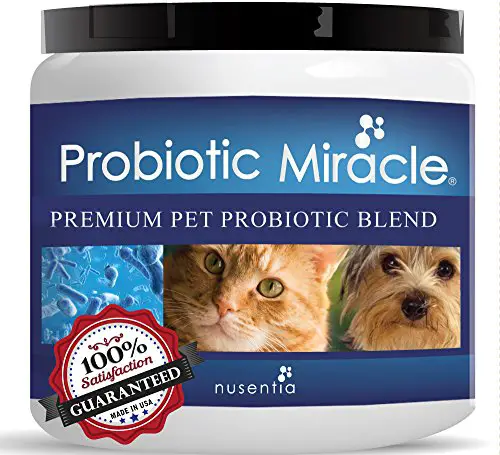 Nusentia is a great addition to our list of recommended probiotics. It's a leading seller within the range that we suggest and for good reason.
With a generous number of doses for each container, the powder is easily taken by cats and dogs with a tasteless and stable powder form.
There are a number of guarantees provided by Nusentia for their product and the ingredients within give good reason.
A key ingredient in this probiotic is B. animalis. This is a heavily researched strain of probiotics and is intended specifically to be used with domestic animals such as cats and dogs. It is naturally found within large intestines and is effective in removing toxins and aiding digestion.
Nusentia's offering also has a key feature in that it contains L salivarius which is a very potent strain aimed at fighting infections in the urinary tract as well as any occurrences of yeast infections.
VetriScience Vetri Mega Probiotic
VetriScience deserve to be recommended as a solid probiotic choice for your dog.
As you might imagine all probiotic products are deeply steeped in accurate and critical scientific research and VetriScience is a leader amongst peers in this respect.
With a guaranteed five billion microorganisms over eight different strains provided in each capsule the product is dense in species-specific strains and of high quality.
It's also dairy free which is a fantastic draw for some pet owners depending on the needs of their cats and dogs.
The price is reasonable for a product that contains a fully comprehensive range of probiotic ingredients that tick all the boxes in improving general health as well as alleviating specific issues like diarrhoea or itching. It's a great addition among our recommendations for the best probiotics for dogs.
Iams Prostora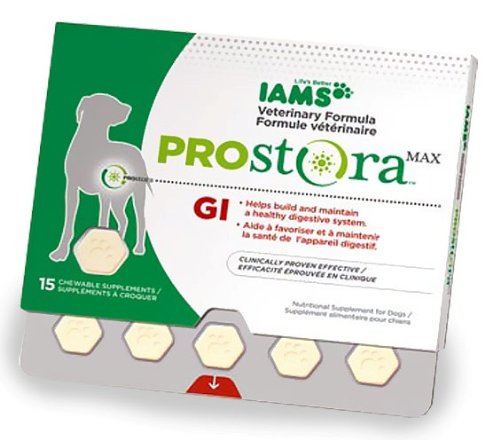 Finally, we come to our last recommendation – Iams Prostora.
The interesting draw for this Iams product is Bifidalis. This is a tailor-made strain that has a patent pending for its use by Iams. It has been clinically researched and is a powerful form of bacteria that works with a range of bodily functions in your pet.
Prostora will work similarly to the above in that it will enhance the overall health of your dog as well as helping with specific ailments.
The best probiotics for your dog will vary but we are happy to include Prostora in this list due to its great general content as well as the unique Bifidalis.
A lovely practical point to note for Prostora is that it is a very gentle functioning product and also comes packaged not in an odorless powder but a treat form designed be tasty to your dog.
What are Some Natural Probiotics for Dogs?
The friendly bacteria in these probiotic products makes them a clear choice for a low cost and efficient way to ensure a great level of general well-being for your dog.
Good bacteria work on assisting the process of the digestive tract and its function and all bad bacteria are minimized and regulated to avoid any concentration building up to the point where health complications can occur.
Natural probiotics do occur and are located particularly within some types of food that we'll list briefly.
You can find a large range of the more common strains or species of probiotics within foods such as sourdough bread and various types of fermented vegetables including soybeans and sauerkraut. Milk and certain types of dairy products are, as you might imagine, high in probiotic content also.
The workings of these natural probiotics are key as the aid the immune system and can also help (in both pets and humans) the absorption of certain types of antioxidants, minerals, and nutrients.
Interestingly, the addition of probiotics such as from natural sources can actually decrease symptoms of allergies. It can be tricky in the case of your dog to confirm the best natural probiotic sources as it will depend heavily on your staple diet and food products chosen, but it is great knowledge to have regardless.
In Conclusion
There's a great range of products around at present that can help ensure the health of your dog.
It comes down to how you view the value of the purchase. We've established that these probiotics are generally purchased for two reasons:
1. The first is that your dog has a specific issue such as their digestion and a probiotic can cure it. It's often the case, as you can see via reviews such as on Amazon, that veterinarians and other professionals will search for a long time for the specific cause of an ailment and recommend changes to diet and exercise in an effort to solve the issue.
In cases such as these probiotics can commonly be given to the dog and immediately cure its illnesses thanks to the vast range of different positive ingredients that work together to increase health.
2. The second main case is that your pet is in good health but you want to ensure they stay at a high level of wellbeing. In cases like these, you'll be sure to see an increase in general energy and wellbeing following the feeding of any of these recommended dog probiotics.
In both cases you can help your pet have a loving and happy life for longer by adding in a simple, easily added item to their regular diet and intake. That's a great value however you look at it.