This post may contain affiliate links. It doesn't cost you anything extra and it keeps our lights on, our families fed, and our dogs spoiled. For all the juicy fine print, see our affiliate disclosure
I have a household of senior pets, and as they aged, particular challenges have popped up along the way.
Some of the difficulties we have encountered are arthritis, common senior diseases, and changes in their nutritional needs and eating habits.
For our older pups (they will always be pups to me), we use supplements to aid in promoting good health.
Also, we have had to make some adjustments to their day to day diets as well.
For example, Sophie has always had horrible teeth, and age has not helped the situation. So in Sophie's case, we soften her kibble to make it easier to eat.
Another issue we battle is loss of appetite.
It is not unusual for older dogs to lose interest in their kibble.
Dogs' appetites often change as they age for a variety of reasons like the dulled sense of taste and smell, GI upset, or common senior illnesses and disease.
Related: Best Pet Insurance for Older Dogs
Senior Dog's Nutritional Needs
Calories
As our pooches age their nutritional needs change, too.
Most seniors are less active, plus their metabolisms have slowed down, creating a surplus of calories in their daily diet. The surplus in calories adds up equally, resulting in an overweight dog.
We're all aware that it is unhealthy to carry around the extra pounds, but this goes doubly for seniors.
The changes in their bodies, like arthritis and muscle loss, make carrying the extra pounds all the more difficult.
However, if your dog is losing weight because they find their dog food less appealing, there are some great and easy ways to jazz up mealtime.
Additionally, it may be beneficial to add supplements to your dog's daily routine to help provide supportive care for specific illnesses and ailments without giving your pup excess calories.
The dilemma is this: Keeping your dog on a balanced diet, maintaining a healthy weight, and also finding a dog food that is appealing to their senior senses.
As always, it's best to ask your veterinarian to figure out the recommended calorie intake for your dog.
Boost Protein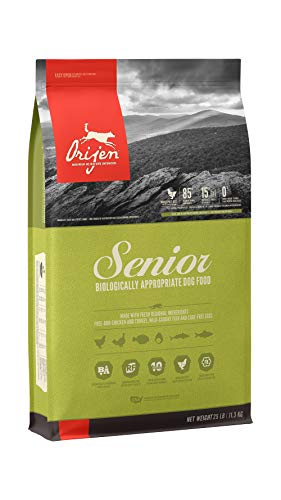 Dogs tend to lose muscle mass as they age.
Ensuring the correct protein intake is key to helping slow down muscle loss.
However, as with all things, your dog can have too much of a good thing. Most older dogs require about 50% more protein than younger dogs[1].
Is Your Dog Driving You Nuts During the Day?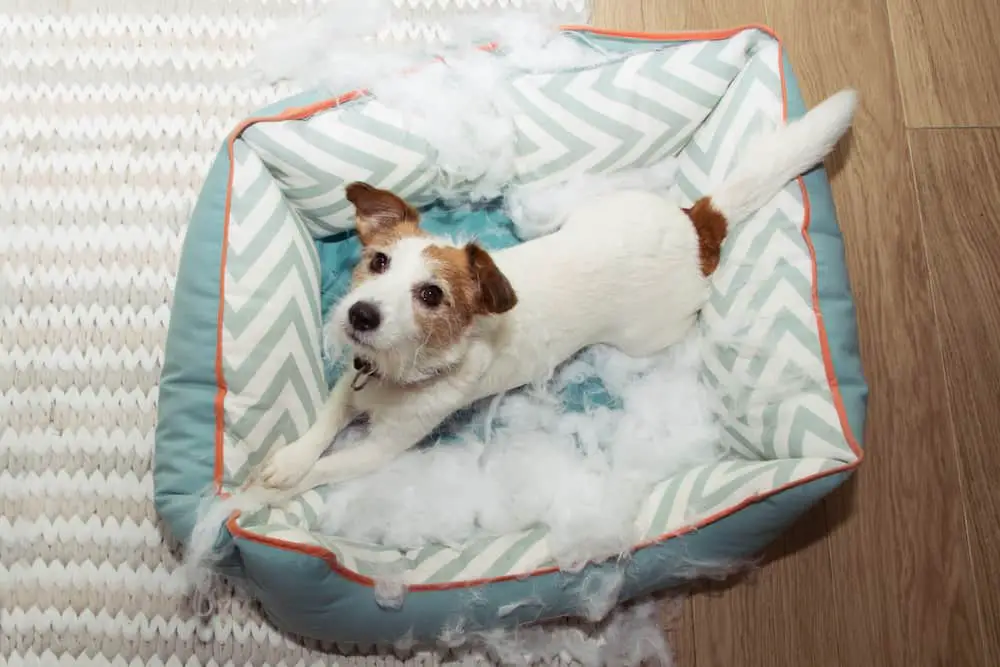 Get Our List of 11 Awesome Indoor Activities to Keep Your Dog Busy and Out of Trouble!
With an increase in protein, there is a direct increase in phosphorus intake, and an abundance of phosphorus can negatively impact your dog's kidneys[2].
Dehydration
Senior pups are more sensitive to dehydration than younger dogs.
A few ways to help ensure your dog is receiving proper hydration are:
Adding water to their food. Not necessarily to soften their kibble, but when you add a bit of water to the food, it will aid in ensuring your dog stays adequately hydrated.
Adding canned food to their dry food. This has two benefits. First, adding moisture to assist in hydration, and adding greater appeal to the menu.
Softening Dry Dog Food
Why Soften Dog Food
There are two common reasons people soften their dog's kibble.
First, like Sophie, some dogs may have horrible teeth or even lack teeth.
Sophie's start in life contributed to her lifelong dental issues.
Though we provide her the best care we can, her teeth (what's left of them) are atrocious. Her teeth are either nonexistent or worn down to tiny nubbins.
I've attached a couple of pictures of what I am talking about.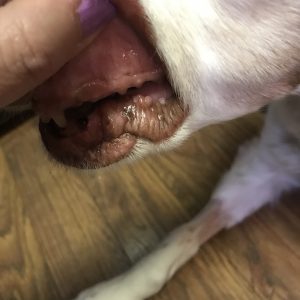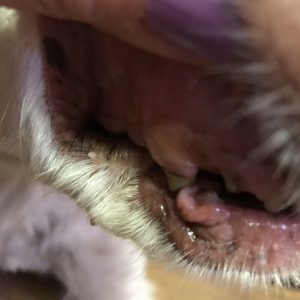 The second reason people soften their senior's dog food is sometimes it's more appealing to the dog.
A lot of dogs prefer soft food to hard food, and by adding liquid to your dog's kibble, you are essentially creating soft food without the need for changing their diet.
How to Make Dog Food Soft
Something to think about when softening your dog's food is that it may impact their overall dental health, eventually enabling plaque and tartar growth to form quicker.
Also, if you are softening your dog's food to increase its appeal, you will want to test different amounts of liquid as too much will create a mush, which some dogs dig on.
In our house, Sophie prefers the kibble to be soft but still retains its form.
Here are a couple of pictures of what it looks like in our house…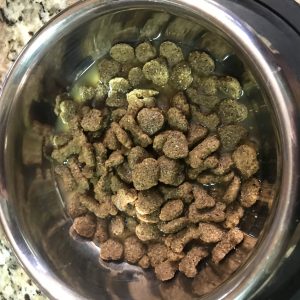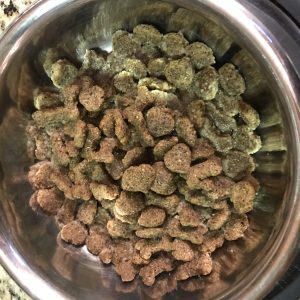 I know it's not a huge difference, but the majority of the kibble is as soft as a tortilla (but you shouldn't feed your dog tortillas!).
Here are a couple of ways to soften your dog's dry food:
Water
You can quickly soften food by adding water to your dog's kibble and let it sit for a 10-15 minute or even overnight.
As I am sure you can guess, the longer it sits, the softer it will become.
Bone Broth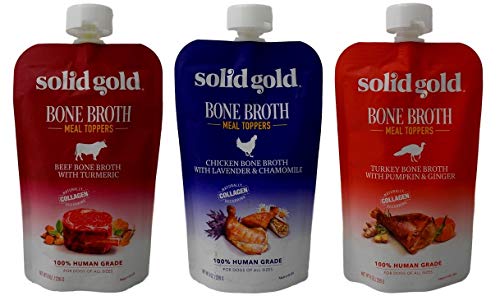 In the event, your dog needs their food softened as well as jazzed up, try using bone broth (or chicken broth if you're in a pinch) instead of plain water.
The only caution with using bone broth is that it can be high in sodium.
I've tried both Solid Gold (which is a liquid) and Honest Kitchen, which is a powder and requires water to be added before use.
The benefit of Solid Gold is the convenience of having it premixed. The disadvantage of using it is that it should be used within a week after opening.
The benefit of using Honest Kitchen is that it keeps for longer after opening the package, but it does require premixing before use.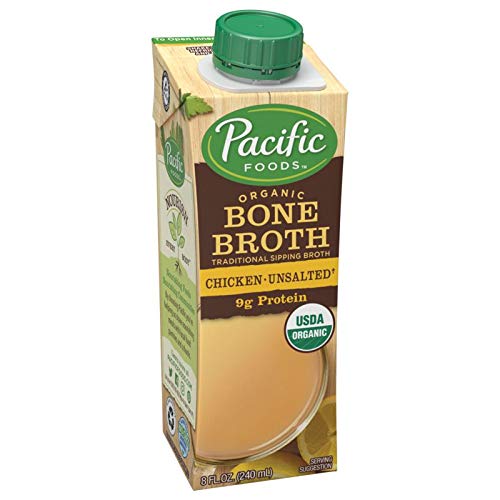 Unfortunately, my dogs didn't like either, so I picked up a human-grade Pacific Foods brand Organic Bone Broth.
It is low in sodium and the dogs love it.
I simply add the bone broth to the food, the same as I would start with the water, and it both softens and flavors the kibble.
Bonus: Bone broth is an excellent supplement for joint health, liver health, and a healthy GI system[3]
Tip
Warming the broth slightly will make it more aromatic and ultimately more appetizing.
Adding Supplements
There are a variety of supplements you can add to your dog's food.
As I said before, seniors have often contract issues like arthritis, slower digestion, or liver disease.
By adding supplements to your dog's diet or daily routine, you can aid in promoting better health.
Arthritis
Fish oil is good for your dog's arthritic joints and also can assist with skin issues or allergies. I give my dogs Welectin.
There are also soft chews that contains chondroitin and glucosamine to promote good joint health, such as Dasaquin.
You can also try certain essential oils, though those are rarely given as an oral supplement.
Product Recommendations
Digestion
There are a few great options on the market for pre- and probiotics to help boost digestive health.
Adding prebiotics, probiotics, and digestive enzymes to your dog's diet will help encourage the growth of good bacteria and improve their digestion[4].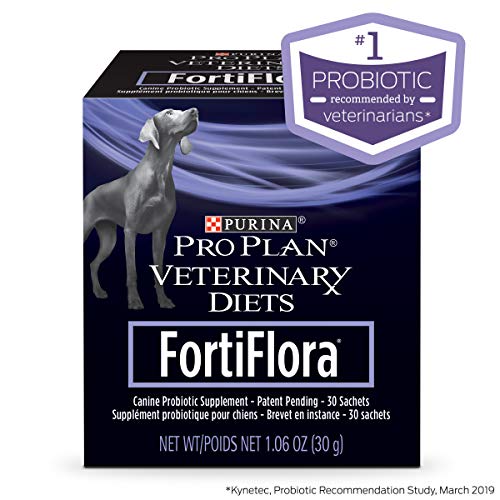 Purina Pro Plan Fortiflora
Fortiflora has been recommended to us by several of our veterinarians.
Unfortunately, Sophie didn't care for the taste, so we had to switch.
I will say, of all of the probiotics we've tried, this one has worked the best by far.
Diggin' Your Dog Firm Up Pumpkin
It is not uncommon for our senior dogs to have loose stool from time to time. This supplement can be used on an as-needed basis or daily.
I like Firm Up Pumpkin better than regular canned pumpkin for two reasons:
First, I never use the entire can of pumpkin, so I end up wasting more than half of it.
Second, I like this product because it only has two ingredients (pumpkin and apple), both of which are sourced from farms based in the US.
Zesty Paws Probiotic Bites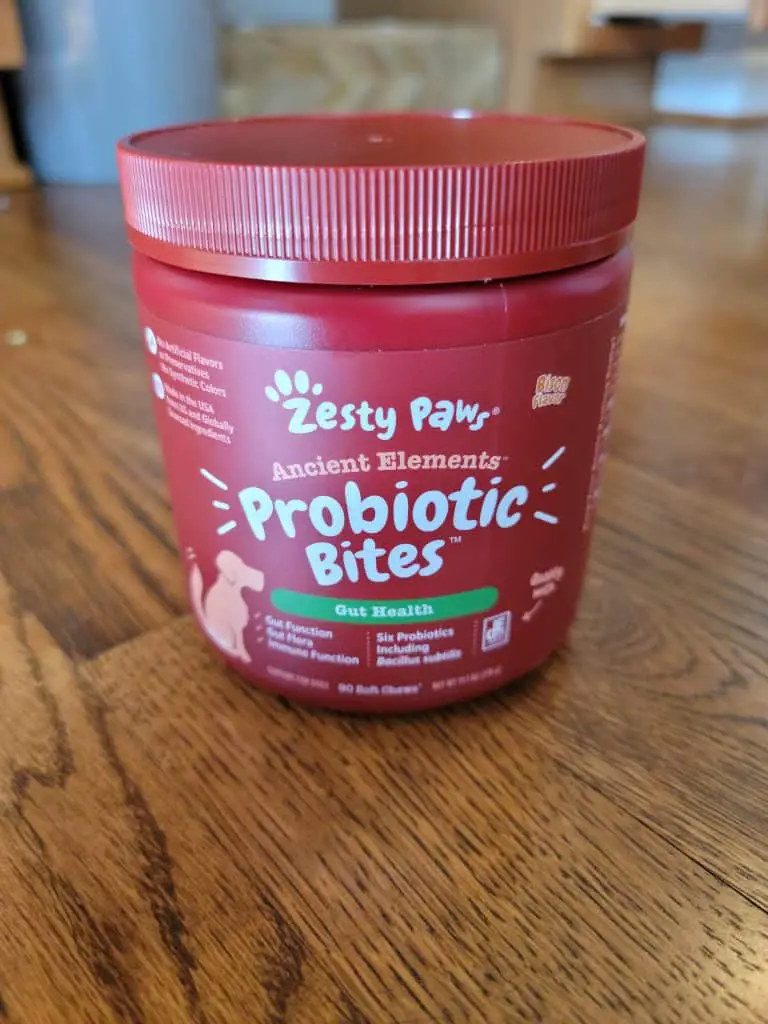 For the dogs that share Sophie's dislike for the Fortiflora, Zesty Paws is a great alternative.
In our house, we pretend the bites are treats, and they get gobbled up pretty quickly.
One of the reasons I like Zesty Paws Probiotics is because it can be used on dogs with horrible food allergies, like Sophie and Calvin.
Zesty Paws doesn't contain any of the common allergens like chicken, wheat, or soy.
Boosting Flavor and Appeal
As mentioned earlier, seniors can show a lack of appetite due to dulled senses of smell and taste, making mealtime less appealing.
So, I've listed a few ways to put the pizzazz back into their food below.
Adding a tablespoon of canned food can really boost interest in a meal, and since you aren't changing their primary diet, you don't need to worry as much about disturbing their GI system
Adding rice. I know rice isn't known for its flavorful punch, but dogs love it.
Adding healthy table scraps. Most dogs love human food, so if you have a bit of leftover chicken or potatoes, save it for your dog's next meal.
Smaller meals throughout the day. Sophie does better when she can eat multiple small meals throughout the day. I know this is not an available option for all families due to schedules, but timed feeders work great for this.
Using Timed Feeders
Ultimately, you are feeding the same quantity of food, just breaking it up throughout the day.
The one cautionary statement is if you increase the number of feeding times, your dog may need to relieve themselves more frequently as well.
For those who have pet sitters that come in halfway through the day, this would work out fantastically.
Product Recommedations
Final Thoughts
Having senior dogs is both a joy and a challenge. It is always hard to see our dogs age, but I still love looking into their beautiful soulful eyes.
In addition to the hardship of watching our dogs age, there are the unique challenges we need to face when caring for our senior fur babies.
We all know how much impact, both positive and negative, their diet has on their overall health.
But with a bit of creativity, we will find a good balance between appeal and nutrition so we can help provide the best care possible for our pup's golden years.
Resources