This post may contain affiliate links. It doesn't cost you anything extra and it keeps our lights on, our families fed, and our dogs spoiled. For all the juicy fine print, see our affiliate disclosure
We all know that fish oil is good for both humans and dogs. But how many of us are familiar with the various benefits or how to choose the right fish oil.
I admit I didn't realize that fish oil has as many benefits as it does, nor did I know the right things to look for when choosing it, such as where it is sourced.
Although I have been using fish oil for years for my dogs, recently Ginger and Mira decided they don't like the newest brand I chose for them, so I needed to find tastier fish oil.
I give my dogs fish oil because they are active dogs prone to joint issues, so I do my best to provide preventative care to stave off early joint disease.
Through my research, I found some new facts about fish oil I was unaware of previously and thought that many other dog parents could benefit from what I learned.
Related: Are Fish Skin Chews Good for Dogs?
What's in Fish Oil
So what is fish oil?
The short answer is that fish oil is a triglyceride, which is made up of three components EPA, DHA, and glycerol[1].
EPA, eicosapentaenoic, is an omega-3 fatty acid that is only found in cold-water fish like salmon, mackerel, sardines, anchovies, and shellfish[2].
DHA, docosahexaenoic, is also a fatty acid sourced from fish, shellfish, and some algaes[3].
Both EPA and DHA are essential for our dog's health but aren't something your dog's body naturally produces.
So it is vital we provide a diet that contains the proper amount of fatty acids to keep our dogs healthy.
Benefits of Giving Your Dog Fish Oil
There are several proven benefits of giving your dog fish oil.
Some of which I was already familiar with, but others were a pleasant surprise.
Heart Health
Fish oil has been proven to help improve heart health and reduce developing an irregular heart rhythm.
Is Your Dog Driving You Nuts During the Day?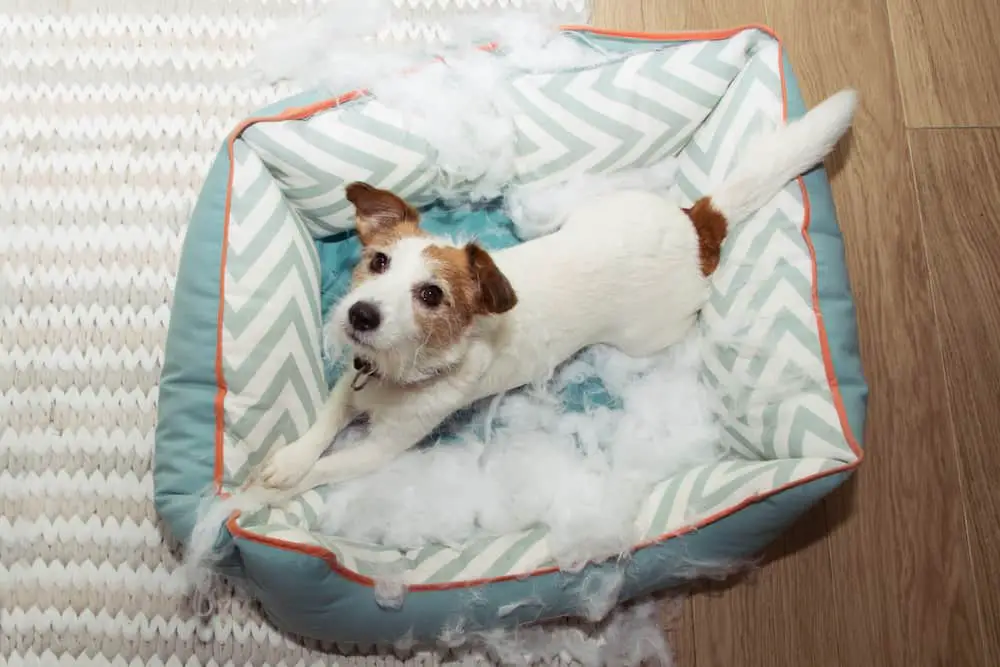 Get Our List of 11 Awesome Indoor Activities to Keep Your Dog Busy and Out of Trouble!
And may aid dogs suffering from heart disease.
Improves Brain Development and Function
DHA, found in fish oil, has been scientifically proven to help brain and eye development in puppies[4].
Additionally, other research has proven that DHA may help improve cognitive function in senior dogs.
Joint Health
According to Tufts University, both DHA and EPA can help reduce inflammation caused by arthritis, which in turn can help relieve some of your dog's pain[5].
And it can help improve mobility in dogs with joint pain.
Skin Health
Sophie's dermatologist was the first vet to recommend fish oil.
She said that a fish oil supplement would help with itchy skin and inflammation caused by her allergies.
Plus, she said it would help improve the health of her coat.
Kidney Disease
Dogs diagnosed with kidney disease may benefit from fish oil supplements since it can help lower blood pressure and protein loss when urinating.
Plus, like with joint health, it can help reduce inflammation associated with kidney disease.
How Long Does It Take for Fish Oil to Work?
Fish oil can take up to three weeks to see significant improvements, but many dog owners may see slight differences after a few days.
How Much Fish Oil Should I Give My Dog?
Determining how much fish oil you should give your dog depends upon your dog's size and the type of fish oil you're giving them.
Most supplements will provide the proper daily dose for your dog's size.
And when giving fish oil to your dog, it is essential that you gradually add it to their diet to avoid GI upset.
How to Choose Fish Oil for Your Dog
Over the years, fish oil has gained tremendous popularity, so there is an abundance of choices.
Though it is nice to have various options, it can also make it challenging to know which one to choose.
However, the good news is there are a few guidelines to pay attention to in order the best possible fish oil for your dog.
Choose a natural fish oil, not a synthetic option, as they are more challenging for your dog's body to absorb
Natural fish oils are the easiest to absorb but are not purified, so they may contain unwanted contaminants
Ethyl ester oil is a semi-natural oil that has had contaminants removed
Cod oil is not recommended since it is also a good source of vitamins A and D which may exceed the daily recommendation for your dog
Find out what type of fish the oil is sourced from, since it can help determine the level of heavy metal contaminants. Fish lower on the food chain will have a lower heavy metal level.
See if it lists how the oil is processed. Oils obtained through cold press methods keep the oil in its most natural form.
And, last but not least, look for companies that reputable and use sustainable fishing methods.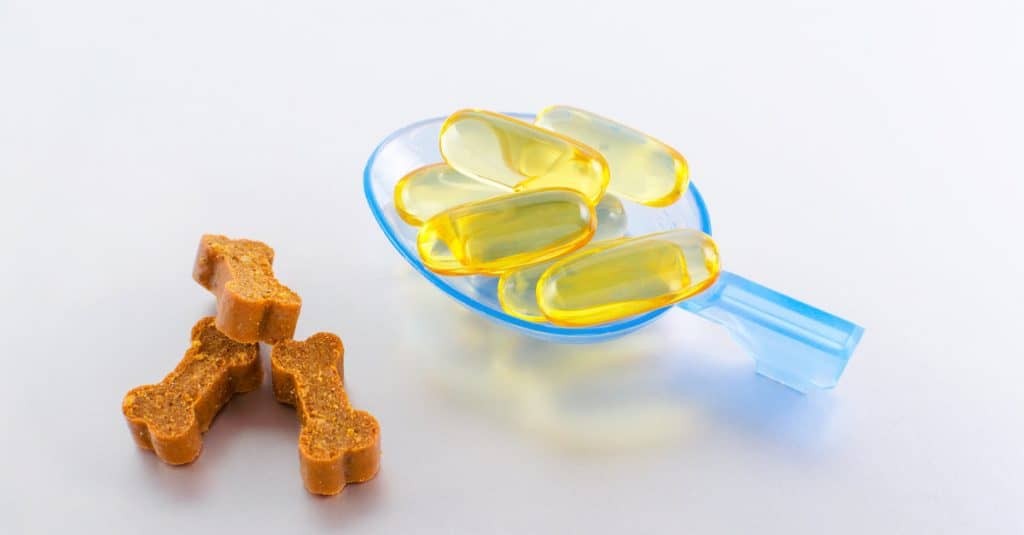 Recommendations
Welectin Canine Omega-3 Supplement
Welectin (link) is the brand recommended to me by the dermatologist at the University of Minnesota Veterinary hospital.
But, even if it weren't recommended, I would choose this brand anyways since it is[6]:
Obtained through cold-press methods
Sourced from anchovies and sardines because they have a lower heavy metal level
Certified by Friend of the Sea, which indicates traceability, sustainability, and quality
Undergoes 80 quality checks ensuring safety
Pet Honesty's Wild Caught fish oil (link) is sourced from anchovies, mackerel, herring, and sardines, all of which are excellent sources of Omega-3 fatty acids.
Also, Wild Caught fish oil is GMP compliant, meaning that it meets high production quality standards from start to finish.
And it comes in an easy pump bottle, reducing the chances of a smelly mess.
And it is made from just the four types of fish and nothing more.
For dogs who don't like the oil added to their food, I recommend trying a soft gel.
Nordic Naturals soft gels (link) are made from wild-caught sardines and anchovies. Nordic naturals does not use artificial flavors, colors, or preservatives.
Plus, Nordic Naturals only uses sustainable and ethical practices when they source their ingredients.
How to Give it Your My Dog?
Fish oil comes in various ways; it comes in a liquid, flavored chew, and capsule form.
You can try to give it to your dog without food, but it is best to provide it at mealtimes to avoid stomach upset.
Possible Side Effects
Even the most beneficial supplements come with a risk of side effects.
Also, most side effects have been noted when dogs are taking high doses of fish oil.
Some of the more common side effects associated with fish oil include:
GI upset
Slowed wound healing
Drowsiness
Fishy breath
Oily coat
Serious, less common side effects are:
Pancreatitis
Abnormal bleeding or bruising
Heavy metal toxicity
Also, dogs on a grain diet should talk to their vet about a possible vitamin E deficiency caused by fish oil; in the rare event, this occurs your vet may recommend a vitamin E supplement.
To avoid possible severe side effects, it is always best to contact your veterinarian before giving your dog any supplements.
Final Thoughts
Fish oil is something that I think all dogs could benefit from, even if they don't have any current health issues.
Giving your dog fish oil can be a proactive means in the fight against cognitive dysfunction, heart disease, and kidney disease.
Plus, fish oil can help promote healthy joints.
Additionally, fish oil is excellent for your dog's coat and skin.
And those who live in colder regions such as Minnesota, fish oil can help keep your dog skin from drying out in the winter.
Resources
H. Fields (Personal Communication, October 8, 2021)