This post may contain affiliate links. It doesn't cost you anything extra and it keeps our lights on, our families fed, and our dogs spoiled. For all the juicy fine print, see our affiliate disclosure
Pet owners, myself included, are always looking for different ways to keep their pet healthy and happy, from
keeping dog's nails trimmed
to worrying about
what foods dogs can and can't eat
.
Sometimes it's easy to forget to make sure to keep their pet's mouth healthy, too. It's not a fun or cheap task to treat a dog's dental problems.
There have been many products developed to help with the sometimes tough job of keeping your pet's mouth healthier. One of my favorite products for this is Greenies.
Greenies help keep your pet's teeth and gums clean between brushings and dental check ups with their vet.
What are Greenies Dental Treats?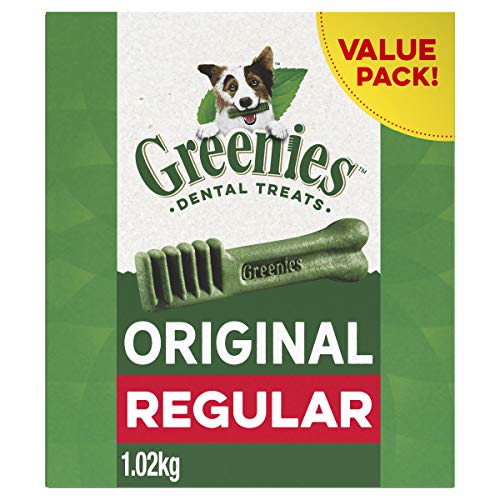 Greenies are a treat for your pet to eat that is designed help keep their teeth clean and free of tartar. This will help them to avoid dog cavities.
They have different grooves and bristle like designs that scrape your pet's teeth as they chew on them. With their unique shape, they work like a toothbrush to help scrub away tater and plaque from the teeth and even work to clean food particles from the gum line.
They come in different flavors, and even though they all help clean their mouth, some even help with weight management and for their joints as they get older!
Although there were problems with the original formula, Greenies are now easier to digest and help to brush away plaque and tarter from your pet's teeth and to help make their breath fresh.
And I like that they are made right here in the U.S.A.
Greenies also make a few other products including a pill pocket treat for dogs who don't like to take pills.
How do Greenies Work?
The distinctive pattern on the outside of the Greenie has grooves and ridges so that as your pet chews on them they help scrub the surface of their teeth.
Is Your Dog Driving You Nuts During the Day?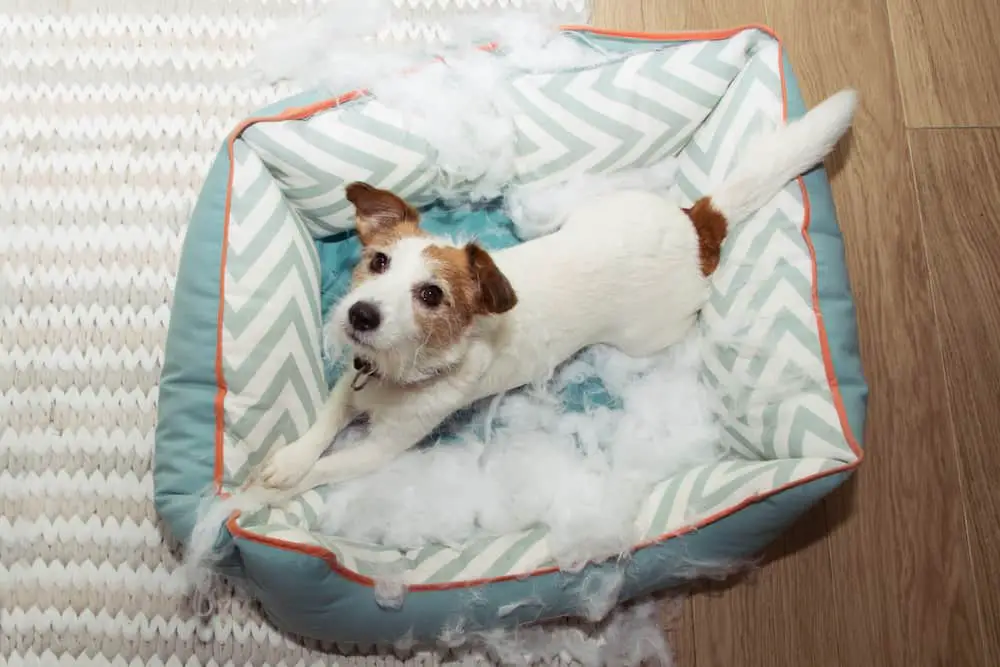 Get Our List of 11 Awesome Indoor Activities to Keep Your Dog Busy and Out of Trouble!
They are not brittle like some dental chews.  Greenies are flexible to give a deeper clean down to the gumline as your dog chews on the treat.
The ingredients they are made from can help prevent the regrowth of more tartar. According to a clinical trial, Greenies reduced tarter in pets by 60%.
As the reviews will show, most pets love the flavors and many pet owners found the same thing I did:  Grenies helped reduced their pet's bad breath.
These dental chews will not replace regular dental care for your dog.  You still need to take your pets to the vet to get their teeth cleaned and checked on a regular basis.
Are Greenies Safe for Dogs to Eat?
At one time there were reports that Greenies are bad for dogs and causing them to have many medical issues. It was suggested that the Greenies were not digesting in the pets intestines and were causing obstructions.
It was causing pet owners a lot of money for a vet to perform surgery to remove the blockages. Some of the pets were reported to have died after eating the original formula of these dental chews.
The makers of Greenies had to recall the products so there was less of a chance that pets would come into contact with them. Since the Greenies recall, the makers have developed a new formula to make the chews more digestible.
What are Greenies Made From?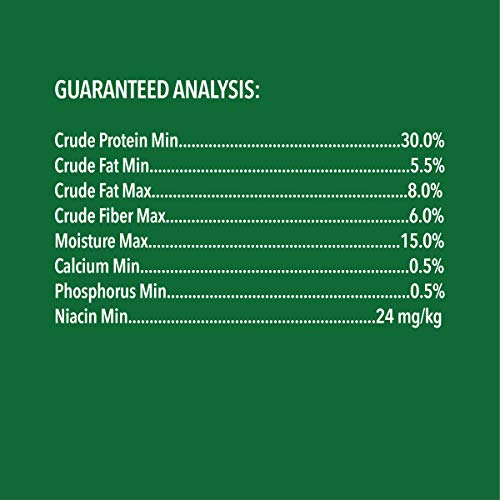 With this new formula, Greenies now dissolve faster and are safe for your dog. They are no longer likely to get stuck in your pet once they eat them, especially if your pets are like mine and barely even the treats wolfing them down in huge chunks.
The new chews are not as stiff as the original treats were, so that helps if they swallow the bigger pieces. Even though the new Greenies bend easier, they still offer the same brushing effect when being chewed so that they help clean the teeth and gums of your pet.
These dental chews are available in a variety of flavors, but the original flavor contains wheat flour, glycerin, wheat gluten, gelatin, water, powdered cellulose, lecithin, minerals, and natural poultry flavor as the top ingredients.
What Size Greenies is Right for My Dog?
There are different size Greenies for different size pets. Pet owners must be vigilant when giving their pet these treats, or any treat, to ensure that their small pet doesn't get ahold of their larger pets' Greenies.
If they do, it might cause medical issues because they are made for the larger dogs and can get stuck in their tiny little throats.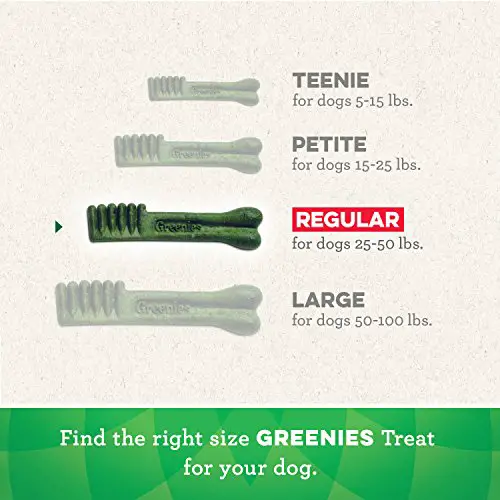 For tiny dogs weighing between 5 and 15 pounds, the Teenie variety of Greenies is the correct size.
If your dog weighs between 15 and 25 pounds, you'll want to purchase the Petite variety of Greenies treats.
The Regular variety of Greenies is ideal for dogs weighing 25 to 50 pounds.
Big dogs weighing over 50 pounds will need the Large variety of Greenies treats.
Are Greenies Safe for Puppies, too?
Like almost any other chew for your pets, you should not give them to your puppy if they are under 6 months of age.
Their teeth are still not permanent yet at that young of an age, and eating the chews can damage their teeth or pull them out prematurely.
Pet owners, please wait till your puppy is at least 6 months old before giving them Greenies.
How Often Should I Give my Dog Greenies?
The offficial Greenies website states, "One a day is enough to achieve all four oral health benefits of Greenies®. All foods contribute to the calorie consumption of the pet so it's important to monitor all the food your dog eats to ensure they do not put on weight."
Why is Dental Care Important for Dogs?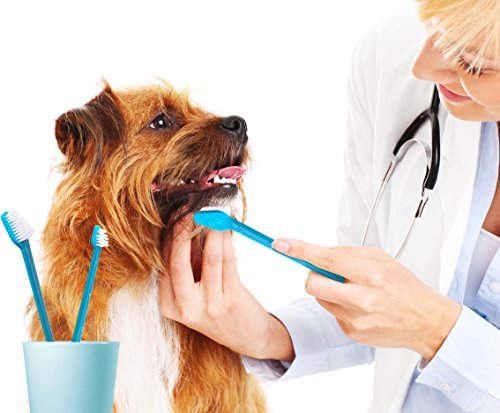 Dental health problems are one of the leading reasons dogs have to visit the vet.  Tartar, bad breath and bleeding gums are all signs of problems with oral hygiene. This can result in problems for the dog that can cause your pet pain and discomfort.
know that poor dental health is one of the primary reasons for dogs to visit the vet. Bad breath, tartar and bleeding gums are all signs of poor oral hygiene and can result in pain and discomfort for the dog. There may be some evidence that the bacteria responsible for the dental problems can infect other organs of the body.
Daily brushing along with regular veterinary visits will help keep your dog's mouth healthy. It's important to start these habits with your dog from an early age.
A dog's tooth's enamel is softer than humans, so it can be damaged from all the thing they chew on. Proper dental care is just as important for dogs as it is for their owners to ensure there are no oral health problems.
A Few Warnings About Greenies
As far as your older dogs, although the new formula of Greenies dissolve so they are less likely to cause digestive issues for your pet. If you have an older dog, you should still use discretion on what you give them.
It should depend on their health, their teeth health and everything. If they have preexisting problems digesting foods or being over weight, then it is probably not a good idea to constantly give them Greenies or any other type of treat for that matter.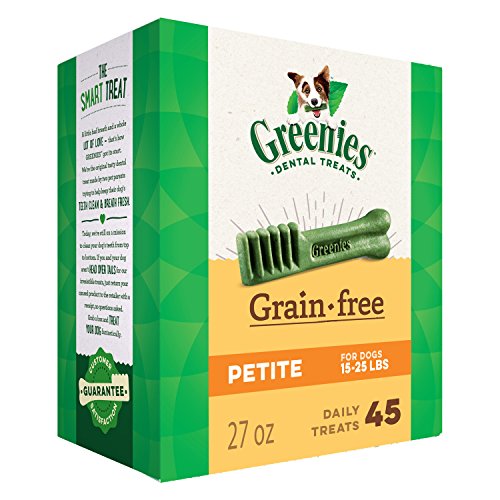 Greenies original formula treats are made from wheat gluten, so if your pet has any kind of wheat or gluten allergies, we would recommend using Greenies grain-free formula.
Giving your pet Greenies is a good aid in helping to keep your pets teeth clean and breath fresh, but it is not a complete dental treatment. Pet owners should still take them to the vet to get a regular cleaning.
For dogs with severe food allergies, I'd say to try Nylabone non-edible chew toys as a gluten-free alternative to Greenies.