This post may contain affiliate links. It doesn't cost you anything extra and it keeps our lights on, our families fed, and our dogs spoiled. For all the juicy fine print, see our affiliate disclosure
I like to take Maggie for special weekend trips to our local pet store.
She gets to make new furry friends and we usually walk out with a toy she picks out for herself, but I also get something from the trip.
While we're walking around the store, I tend to see what's being stocked at the front and which products dog owners are taking to the register.
What's also important to note is which dog products are being sold online, and recently I've seen American Journey dog food becoming more popular.
I've bought that brand for Maggie once, so I know a thing or two about the business and the food.
Here's everything I've learned about American Journey and why it could be your dog's next favorite brand of food.
Related: Where to Find Free Dog Food Samples
About the Brand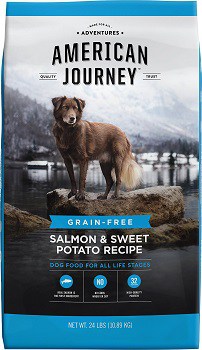 Once you've walked down the dog food aisle a couple times, you get to know the biggest brands.
Still, the world of online shopping has changed how consumers view and buy the products they love.
American Journey is more of a new-age dog food, since it's made exclusively by Chewy.
You may know Chewy from their website, which sells pet products of all kinds for a discount.
Chewy seems to really care about what they sell and their customer's satisfaction, so when I discovered that they make American Journey, it made me like the food even more.
It's sold exclusively online through their website, since Chewy doesn't have any brick and mortar locations.
Ingredients
Seven of the American Journey dog food blends are grain free, which means you have seven formulas to choose from.
While the specific ingredients differ with each bag of food, the foundational ingredients stay the same.
American Journey's grain-free formulas don't use ingredients like: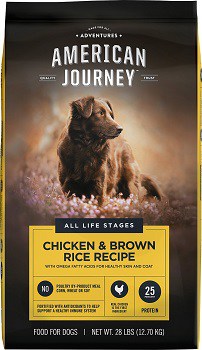 Is Your Dog Driving You Nuts During the Day?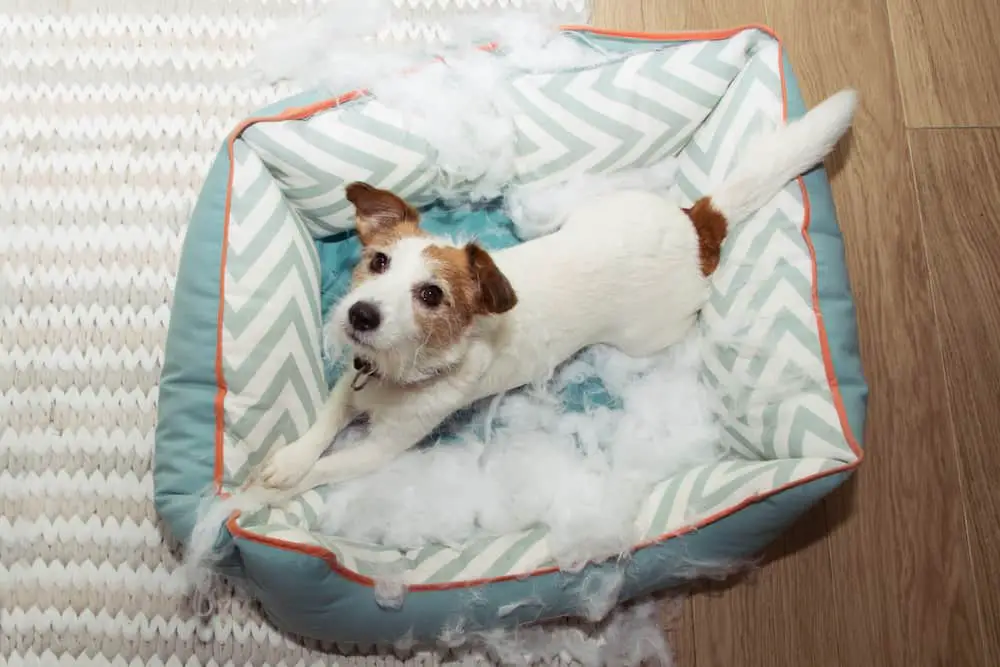 Get Our List of 11 Awesome Indoor Activities to Keep Your Dog Busy and Out of Trouble!
Corn, wheat, and soy
Meat by-products
Fillers
The six grain-based formulas also avoid the same ingredients, although they do include rice.
You'll also find whole fruits and vegetables used in both blends, plus amino acids and a high protein content to round out your dog's meals.
An important thing to note is that part of the protein will come from chickpeas[1], and while it's an excellent source to get protein from, some dogs may be more sensitive to it than others.
Features
There are a few features of this brand that make it stand out from others on the market.
The first is that it's sold online by one of the top dog supply websites.
When you buy from Chewy, part of the profits are donated to shelters and charities[2], so you're helping more than just your dog with your purchase.
It's also at a lower price than most other brands.
The standard 25 pound bag averages about $40 and comes with free shipping, which made a huge difference to me when I switched Maggie over to American Journey from a brand that cost $60 per bag.
What I Liked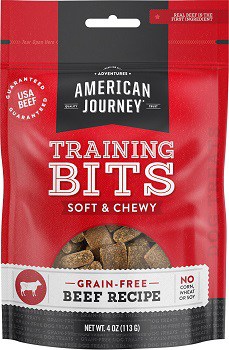 I really like that you can order American Journey online, but more specifically, through Chewy.
I can add Maggie's food to my cart and still get the major discounts while adding in other things she needs like treats and supplies.
It's also a major budget relief to pay less for food that's still of good quality.
Other foods around that same price contain fillers and ingredients I can't recognize. Dogs shouldn't have to eat bad food just because their owners have a limited budget.
Another thing that's great is that there are so many grain-free formulas to choose from.
Maggie tried out three different kinds before we found one she loved. I could switch her autoship order to something new without worrying about her stomach being upset from changing flavors or brands.
What I Didn't Like
Even with so many formulas to choose from, the typical calorie count in American Journey dog food is higher than the protein content.
It's not a great option for dogs needing to cut down on their caloric intake, which is unfortunate.
I'm also not a fan of being able to check around for price changes.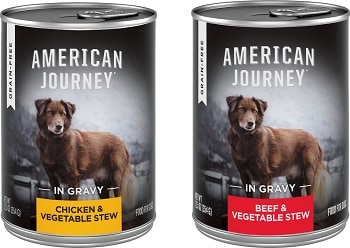 Chewy offers some great discounts and shipping rates, but I always wondered if the price would be different elsewhere. It made me uncomfortable not to be able to check.
Maggie also got bored of this food very quickly.
Even when we found the third formula that she got the most excited for, she would hesitate to eat after a month on the food.
That may be just a Maggie thing, but I related it back to the way the food tasted.
Ratings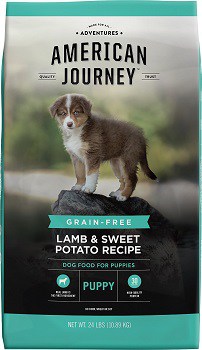 There's a good variety of recipes, all made with high-quality ingredients. But your dog may be out of luck if they can't handle chickpeas.
American Journey may be more expensive than cheap dog foods but it's cheaper than other quality dog foods.
American Journey being inexpensive while providing high-quality ingredients combines with Chewy's nifty features to provide a high value for your dollar.
It took three flavors to find one Maggie liked. Then, she became bored of it after a month. That's better than outright rejection, though!
Recommendation
American Journey is a food that's definitely a safe option for your dog to try.
There are a ton of formulas for them to choose from that all contain quality ingredients.
Plus, you can't beat the free shipping and autoship feature that Chewy offers.
Alternatives
If you're not entirely sold on the idea of buying American Journey, there are a few other alternatives you can look into:
Merrick
Merrick offers many grain-free formulas to rival American Journey.
There's a great salmon and sweet potato bag that I bought for Maggie when she was a puppy, and she absolutely loved it.
It contains whole foods like peas, apples, and blueberries, as well as salmon and sweet potatoes[3].
Instinct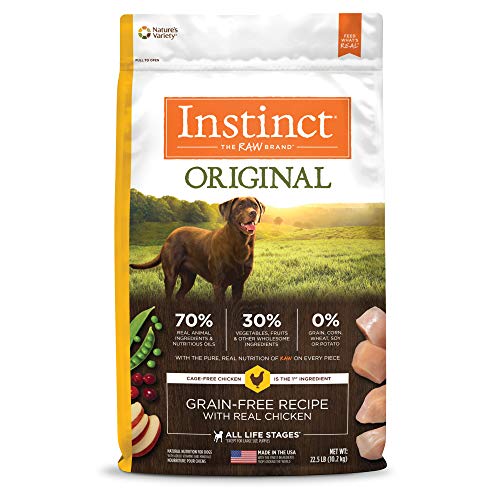 You may not have heard of Instinct before, but you'll want to try it after reading more about their brand.
They have a grain-free duck formula that I'd love to let Maggie try sometime.
The protein comes from whole duck[4], instead of a source like chickpeas
Plus, there's still fatty acids and immune strengthening antioxidants to improve your dog's health.
Blue Buffalo
Blue Buffalo may be the brand for you if you want the flexibility of buying it in a store or online.
They're one of the top selling dog food brands in the world, thanks to their limited ingredient diet[5].
It was made with the help of animal nutritionists, so it contains everything a dog could nutritionally need at any given life stage.
Conclusion
American Journey was great for Maggie while it lasted.
Although she never totally fell in love with the way it tasted, it never upset her stomach while we tried the different formulas.
It's also super easy to buy online for a great price, so check it out if you and your dog haven't given it a shot already.
Resources