Best Soft Foods for Toothless Dogs: Winners
Owning a dog is a lifetime journey, which means you're going to learn a lot along the way.
You adjusted to their puppy habits, trained them into their adult years, and made sure to stay on top of their needs.
Even if your dog got regular dental care, they may have faced some health issues which resulted in the loss of their teeth, which isn't something many people are prepared for.
It isn't unheard of for dogs to struggle with no teeth, even if you feel like you've never heard of it happening before.
The first challenge is to find good food for your dog, since they can't enjoy their old kibble anymore.
Check out what you can feed a dog with no teeth so your dog can get all their nutritional needs met in the tastiest in the simplest way possible.
Best Dog Foods for Dogs with No Teeth
Many dog owners don't have the time or the resources to make homemade food all the time.
That's when you want to turn to these best dog foods for dogs with no teeth.
Best Soft Food for Toothless Dogs
✔
What I Liked
This dog food option is notable because:
Purina never uses artificial flavors, colors, or preservatives
Although this food has chunks, they're always soft and easy to mash
Each blend includes fiber that won't disrupt sensitive stomachs
✘
What I Didn't Like
A few customers have also noted that this dog food:
This recipe is not grain free because it uses rice, wheat gluten, and barley
May require reusable lids, instead of the lids that they come with that could break easily
Each case comes with 10-ounce cans, which may be a small serving size for larger dogs
Conclusion
Purina includes all the nutrients and essential vitamins a dog needs.
Their wet food comes with reasonable lids instead of canned tops, which may make a big difference for dog owners who dislike using regular tupperware to save leftover canned food.
Is Your Dog Driving You Nuts During the Day?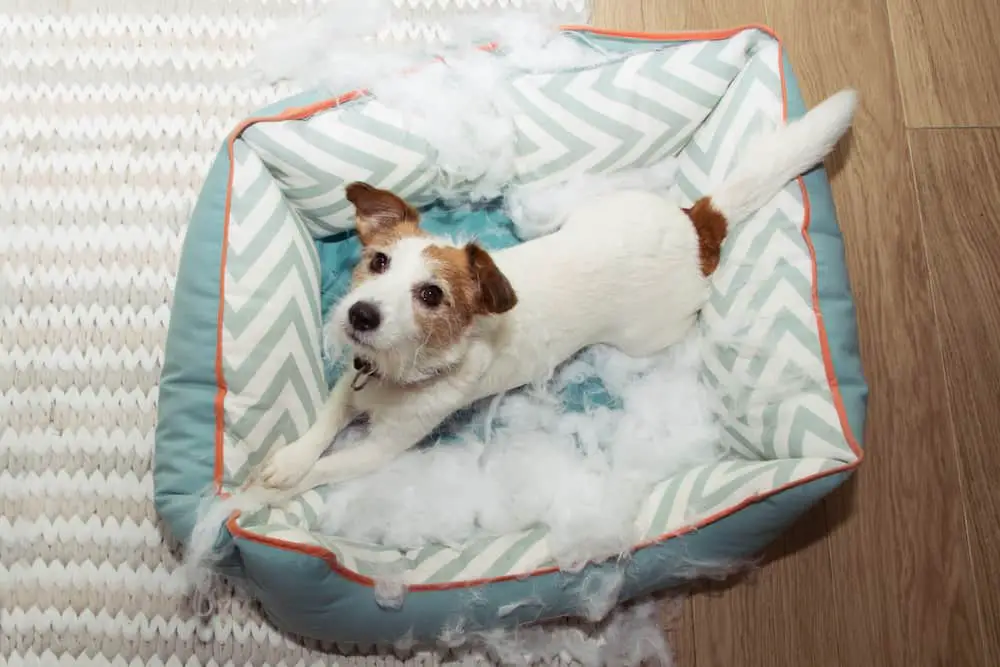 Get Our List of 11 Awesome Indoor Activities to Keep Your Dog Busy and Out of Trouble!
Best Budget Choice
Hill's Science Diet Adult 7+ Savory Stew
Hill's Science Diet always wants to make food specifically formulated for a dog's needs.
Their canned food is especially great because it includes enough protein and fiber for dogs who may require more nutrients because they can't chew.
✔
What I Liked
This canned food is great for toothless dogs because:
It includes beef and vegetables, but never has chunks
It comes in multi packs
The gravy has an enticing scent for dogs not used to wet food
✘
What I Didn't Like
Here are a few things I didn't like about this food:
It may cost more per month than you're used to paying with dry kibble
It's most commonly found in 12.8 ounce cans, which may leave some dog owners with half-eaten cans in their fridge every day
It's not grain-free
Conclusion
You can always trust Hill's Science Diet to provide nutritious food for your pet.
This canned food is a great option for toothless dogs because it provides everything they need without being as pricey as some other premium dog food brands.
Grain-Free Upgrade Pick
Taste of the Wild Southwest Canyon Grain-Free Wild Boar Stew
Anyone looking for grain-free canned dog food can look to Taste of the Wild for a reliable source of nutrition.
They make canned stew that comes in large cases and serving sizes, offering many different recipes for dogs who want to try out new foods before deciding on their favorite blend.
✔
What I Liked
Taste of the Wild's canned food is great because:
The premium ingredients ensure that your dog will get all the nutrients they need
It's grain-free for dogs with food allergies and sensitive stomachs
All the food is made in America, so the pricing will be a little cheaper than other premium brands
✘
What I Didn't Like
You may not enjoy this food for your dog because:
The prebiotic fiber may not be something your dogs gut is used to
Some dogs experience bad gas after starting this formula
It is a premium product, so it may cost more than your current budget
Conclusion
Taste of the Wild always ensures that their premium ingredients are whole foods that are good for your dog.
Their wet food is smooth, easy to eat, and packed with everything your dog's DNA requires, so they always get a good meal from any recipe.
Why Toothless Dogs Face Nutritional Challenges
Some dogs face nutritional challenges even before they lose their teeth.
Toothlessness can sometimes be related to an underlying metabolism disorder, which leads to tooth loss[1].
Your dog may also have nutritional deficits that contribute to poor dental health, which are sometimes hard for owners to spot.
After your dog loses their teeth, they also have to shift their entire diet. Dry kibble is no longer an option because they can't crunch on it, which is mainly where a lot of dogs get their entire source of nutrients.
Other things like dental chews and healthy treats may also be out of the picture because your dog can't chew even the softest options at the store.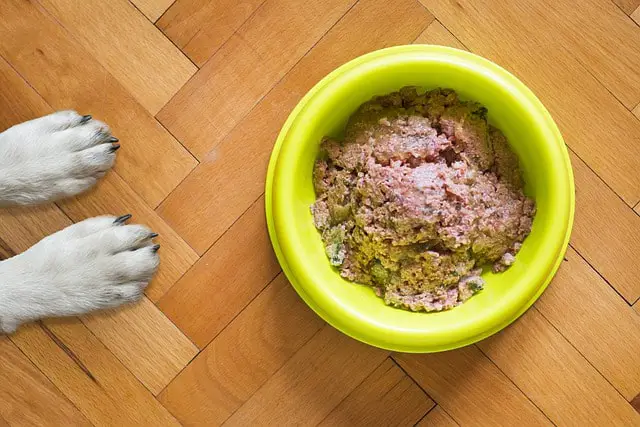 Things to Keep in Mind When Feeding a Toothless Dog
There are a few things you must always keep in mind when you feed a senior or toothless dog.
Even if your dog acts like everything is well, you must be their advocate for health issues they may not know they have.
Use these steps to be proactive about feeding your dog and making sure they're okay.
Related: See the Best Wet Dog Food to Mix with Dry Kibble
Food Must Be Smaller
Let's say you find kibble that your dog loves so you soak it for 15 to 30 minutes before meal times.
Even if the kibble pieces fall apart in your hands, they may be too big for your dog to comfortably eat.
Always take the extra precautionary step of cutting any food or treats into the smallest piece as possible. It will prevent your dog from potentially choking and make it easier for them to eat.
Remember this tip especially when you want to give your dog a treat.
Softening it is great, but you should also cut it up into teeny tiny pieces so every bite is enjoyable.
Related: How to Brush Your Dog's Teeth without a Toothbrush
Mashed Food is Preferable
Another way you can help your dog is to mash up their food, similar to making puppy gruel.
This means potentially soaking the kibble for up to a half hour before meal times and mashing it with the back of a spoon.
You should also stir any wet food so your dog doesn't have to bite into it.
Watch For Infections
Depending on the condition of your dog's mouth, they may be more likely to get gum infections[2].
If dog food or treats find its way into holes left behind from your dog's teeth, the food could rot and hurt their gums.
Talk with your vet about the conditions of your dog's gums and if this kind of infection is more likely with them. They'll give you specific cleaning tips to rinse out your dogs gums or clean away stuck food.
You'll save yourself and your dog a lot of time by always staying alert for infections.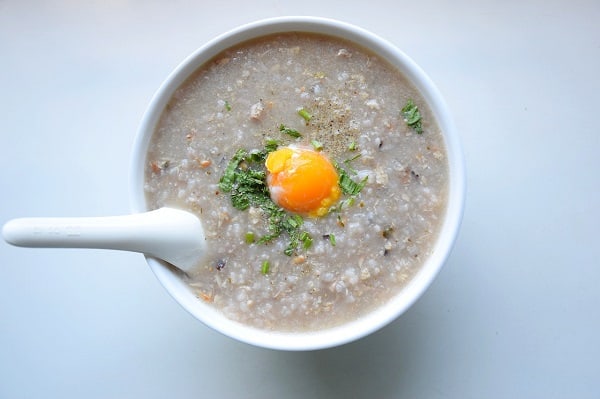 Homemade Dog Food Recipes for Toothless Dogs
Check out these homemade dog food recipes for toothless dogs that are easy to make and even easier for your dog to enjoy.
Beef-Based Meals
Fry up some ground beef and put it in a blender along with low-sodium beef broth and whatever greens you want your dog to eat.
Blend until it reaches a smoothie-like consistency. This kind of meal can be served fresh or frozen for up to a week.
Talk with your vet about what your dog needs, which allergens to avoid, and if you should add any supplements before serving this kind of food for the first time.
Related: What is Beef Meal in Dog Food?
Chicken-Based Meals
Some dogs are allergic to red meat, which is when you could swap out ground beef for cooked chicken breast.
Chicken, cooked eggs, and greens make a wonderful meal, alongside any fresh veggies your dog enjoys, like carrots[3].
Always make sure to blend your homemade meals with either a matching broth or enough water.
There should be no chunks left over before you serve it to your dog.
Conclusion
Adapting to life with a toothless dog isn't always easy, but finding new food for them doesn't have to be hard.
Try these tips to find great store-bought or homemade dog food recipes that will thrill your dog at every meal.
Talk with your vet if you have any concerns about the nutritional needs, allergies, or supplemental requirements as they get used to their new lifestyle.
Resources