This post may contain affiliate links. It doesn't cost you anything extra and it keeps our lights on, our families fed, and our dogs spoiled. For all the juicy fine print, see our affiliate disclosure
Protein is one of the most important ingredients in dog foods.
In this article, we'll discuss two of the most common types of protein sources, lamb and chicken.
Lamb in Dog Food
Lamb, red meat, is a great source of fats, protein, and iron for your furry friend.
It comes with linoleic acid to support muscle functions and vitamin B to keep your dog's cognitive and nervous system heavy.
It also offers amino acids, zinc, and selenium[1] and supports eye health, joints, and skin. You can even give it to pups with allergies and sensitivities as well.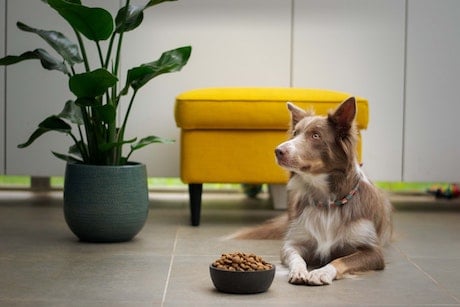 Benefits
Great source of iron
Can be used for dogs with sensitivities and allergies
Excellent choice for picky eaters
Loaded with omega fatty acids
Cons
Might not be suitable for senior or less active dogs because it's rich in fat content
Dog foods with lamb meat are usually more expensive than chicken diets
Dog Foods with Lamb
The following are some of the best dog food products that contain lamb as their primary source of protein.
Related: What is Guar Gum in Dog Food? What's it for?
Nutro Grain-Free Lamb & Sweet Potato Dry Dog Food
Nutro lamb-based dog food comes with natural flavors, minerals, vitamins, and amino acids to promote healthy metabolism and build lean muscles.
It's suitable for dogs with sensitive tummies and delivers a shiny coat and healthy skin.
This dog food formula is most suitable for adult dogs of all breeds.
Blue Buffalo Life Protection Lamb & Brown Rice Dry Dog Food
This Blue Buffalo blend offers high-quality protein, essential vitamins, and carbs to boost energy and maintain teeth and bone health.
Is Your Dog Driving You Nuts During the Day?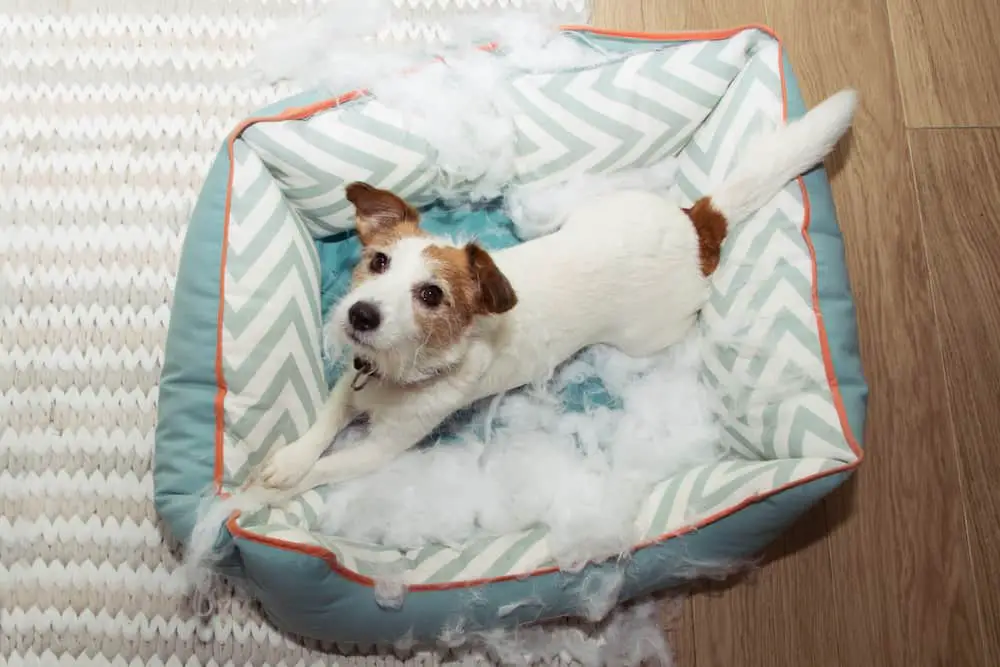 Get Our List of 11 Awesome Indoor Activities to Keep Your Dog Busy and Out of Trouble!
It's also rich in omega 6 and 3 fatty acids to support a healthy coat and skin.
The formula of this dog food doesn't contain soy, wheat, and corn by-products, and it's most suitable for adult dogs of all breeds.
Chicken in Dog Food
Chicken is the most commonly used protein source in dog foods because it's readily available and affordable.
Most importantly, it's good for dogs and makes for an incredible protein source.
It also offers many other nutrients that your pooch needs to perform its daily activities. In addition, it is also low in fats, which means you can give it to senior and less active dogs as well.
It offers omega-6 fatty acids[2] that support coat and skin. It is also a great source of protein for dogs with joint problems such as dysplasia.
Benefits
Offers low fats
Can be used for senior and less active dogs
Affordable and readily available
Comes with glucosamine and amino acids to support bones and joints
Rich in protein content
Cons
Might not be suitable for dogs with sensitivities and food allergies
Homemade and raw dog food based on chicken increases the risk of Salmonella contamination[3]
Dog Foods with Chicken
The following products are our favorite dog food picks that come with chicken as their primary protein source.
American Journey Chicken, Brown Rice & Vegetables Dry Dog Food
This American Journey dog food is a well-rounded formula that offers 25 percent of top-quality protein from boneless chicken.
It comes with a precise blend of antioxidants and nutrients to promote a healthy immune system, lustrous coat, and skin.
You can use it for adult dogs of all breeds.
Purina Pro Plan Chicken & Rice with Probiotics Dog Food
Purina is known to offer incredibly delicious dog foods, and this chicken and rice blend is no exception.
It's designed for adult dogs of all breeds, supports immune and digestive systems, and promotes a shiny coat and healthy skin.
Lamb vs. Chicken: Which Meat is Best for Dogs?
There is no straightforward answer to this question because it depends upon your dog. The right answer is "the one that works best for your pooch."
Based on food preferences, energy levels, age, size, and allergies, different dogs can have different dietary needs.
For example, the chicken will suit your less active or senior dog the best.
On the other hand, a lamb could be a better option for pups who have sensitivities and food allergies.
The best way to determine the most suitable protein source for your dog is to consult your vet.
Final Thoughts
The nutrient profile of lamb and chicken differ slightly. Both of these protein sources can be healthy for your dog for different purposes.
Chicken is high in protein content and low in fat, whereas lamb, being red meat, offers a higher fat content.
You'll need to choose the one that suits your dog's needs the best.
FAQs
Here are a few other common questions people ask.
Is Lamb Better for Dogs Than Chicken?
When it comes to lamb vs. chicken, the better protein source is the one that suits your dog the best. Both of these meat options can be beneficial for your dog.
However, some dogs are allergic to chicken[4], and if that's the case, you'll need to buy dog food with lamb.
If your dog needs to lose some weight, using chicken will be a wise choice because it comes with high protein and less fat content.
So, it all boils down to your dog's dietary requirements and preferences.
Is Chicken or Lamb Easier for Dogs to Digest?
Both chicken and lamb are packed with amino acids, fats, minerals, and essential vitamins, and usually, they're easy to digest for dogs.
However, some of them are allergic to chicken, so using dog foods with chicken as a protein source is not recommended.
Additionally, some dogs find it difficult to digest certain types of protein. Again, you can consult your vet to find out the right meat to give your dog.  
What is The Healthiest Meat for Dogs?
Quality protein sources work as the building blocks of life for dogs, and they can eat pretty much all meat types.
But leaner meat options such as chicken, lean ground beef, turkey, and lamb are preferable.
You should consider ethics, environment, quality, affordability, and most importantly, your pup's preferences and dietary needs while choosing dog food.
Resources