This post may contain affiliate links. It doesn't cost you anything extra and it keeps our lights on, our families fed, and our dogs spoiled. For all the juicy fine print, see our affiliate disclosure
Does your dog have fleas, and you need an easy, fast way to get rid of them?
Well, Capstar or Comfortis may be exactly what your dog needs. Both flea medicines are reliable solutions that start killing fleas in less than an hour.
Capstar and Comfortis are both oral medications that will take care of fleas on your dog.
Though neither are effective against eggs or larvae, they will kill all adult fleas within 24-hours.
Though Capstar and Comfortis are similar, they have their differences, such as active ingredients, duration, cost, and availability.
This Capstar vs. Comfortis review covers each of the products' strengths, side effects, cost, and best use.
Capstar
Active Ingredients: Nitenpyram
Type: Tablet
Duration: 24 Hours
Capstar is an Elanco Animal Health Incorporated product. It was originally a PetIQ product, but the U.S. rights were divested to Elanco in early 2020[1].
Capstar is an oral flea medication designed to aid dogs with an active flea infestation (see our Capstar review here).
Capstar goes to work quickly, starting to kill fleas in just 30 minutes. One dose is often enough; however, for severe flea infestations, a second dose the next day may be necessary.
Though Capstar is one of the best flea medications without a prescription for ridding your dog of fleas, it is not a flea preventative.
Capstar should only be used when a dog actively has fleas and is not intended for monthly use.
Is Your Dog Driving You Nuts During the Day?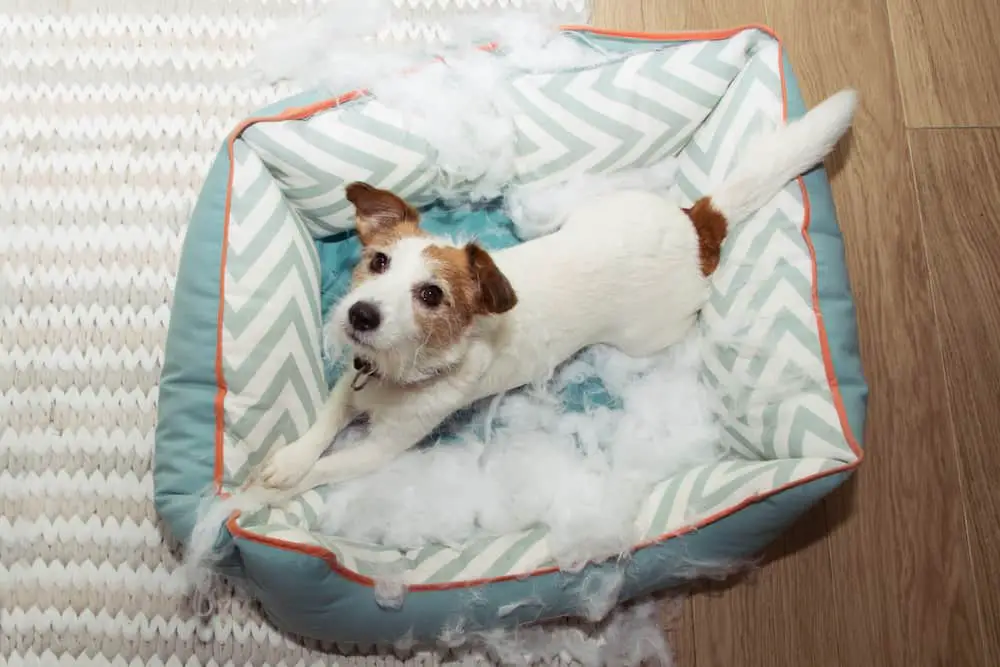 Get Our List of 11 Awesome Indoor Activities to Keep Your Dog Busy and Out of Trouble!
After ridding your dog of fleas with Capstar, you should start using a flea preventative, like Frontline Plus, Bravecto, or K9 Advantix II, to ensure you keep fleas away.
However, always consult your veterinarian before using multiple flea medications together.
Capstar is available for purchase without a prescription and is found online (you can check the latest price on Amazon here) as well as at local pet supply stores.
Capstar is a relatively safe option and can be used for small dogs and puppies as young as 4-weeks old.
Pros:
It kills fleas in just thirty minutes
Easy to administer
Economical about $5 per dose
Safe for young puppies and small dogs
Cons:
Does not work as a preventative
If your dog has fleas and you need a fast-acting flea medicine, order Capstar today!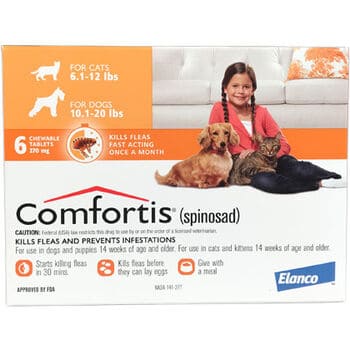 Comfortis
Active Ingredients: Spinosad
Type: Flavored Tablet
Duration: 1 Month
Comfortis is another product of Elanco Animal Health Incorporated. Elanco first opened in 1954 and is a pharmaceutical company based in the U.S.
The active ingredient used in Comfortis is spinosad, which is part of the spinosyn family.
Chemicals that fall into the spinosyn group are created from fermented compounds. Most insecticides made from spinosyn chemicals are used for vegetation.
Comfortis is a palatable beef-flavored chewable; however, it does not contain beef but instead uses pork, making it a better choice for dogs with food sensitivities.
Comfortis starts to kill fleas in just 30 minutes. And it only takes four hours for Comfortis to eradicate the whole adult flea population.
And Comfortis continues to work for a full month and is easy to administer because of its appealing flavor.
Comfortis does not kill all flea life cycles. So, if your dog suffers from an active flea infestation, you should continue to use Comfortis for at least three months to avoid reinfestation.
However, it is best to use Comfortis year-round to proactively protect your dog against fleas.
Pros:
Starts to work in just 30 Minutes
It comes in an easy to administer beef-flavored tablet
Hypo-allergenic
It can be used in dogs as young as 14-weeks and older
Cons:
It does not work as a repellent
Interacts with ivermectin[2] – A common active ingredient in heartworm preventative
If you think Comfortis is the right option for your dog, click here to get your order started today.
Capstar vs. Comfortis
| | | |
| --- | --- | --- |
| | Capstar | Comfortis |
| Form | Tablet | Flavored Tablet |
| Kills Fleas and Ticks | Fleas Only | Fleas Only |
| Repels Fleas | No | No |
| Other Parasites | No | No |
| Active Ingredient | Nitenpyram | Spinosad |
| Duration | 24 Hours | 1 Month |
| Prescription Needed | No | Yes |
| Waterproof or Water Resistant | Yes | Yes |
| Price per Dose (Based on a Small Sized Dog) | $5.00 | $17.00 |
| Minimum Age Requirement | 4-weeks | 14 -Weeks |
Side Effects
All flea medications, regardless of how safe they claim to be, have the chance of side effects.
Capstar Side Effects
Vomiting
Diarrhea
Lack of appetite
Increased or decreased energy
Itching
Hives
Trouble breathing
Comfortis Side Effects
Vomiting
Depression
Diarrhea
Decreased appetite
Lethargy
However, if you are using a product with ivermectin, such as Heartgard, at the same time as Comfortis, additional side-effects are possible, such as:
Trembling and twitching
Salivation and drooling
Disorientation
Seizures
Which Flea Treatment is Better?
Which is Safest?
Winner: Capstar
Capstar is a safe flea treatment; though it has side effects, they are not common. Plus, Capstar is safe enough to administer for two consecutive days.
Which Works Fastest?
Winner: Tie
They both start working in just 30 minutes.
Which is Cheapest?
Winner: Capstar
Capstar, is only $5 per dose.
Which Lasts Longer?
Winner: Comfortis
Comfortis lasts up to one month, Capstar only lasts for a day.
Standout Features
Capstar does not require a prescription and is an economical choice.
Comfortis is a flea preventative that kills fleas quickly and lasts for up to a month.
Conclusion
Overall winner is Comfortis.
Comfortis not only kills fleas but works as a preventative that will continue to keep your dog safe from fleas.
Though I like both Capstar and Comfortis, especially since they work faster than most flea products, they are very different, and each is better in specific situations.
Use Capstar if:
Your dog has fleas and you don't have access to a prescription
You recently picked up a dog from the shelter that has fleas and hasn't seen a vet yet
If your dog is already on a product with ivermectin and you need to get rid of fleas quickly
Use Comfortis if:
Your dog actively has fleas but is not already on a preventative
You are looking for an effective fast-acting flea medicine that will last the whole month
FAQs
Can you use Comfortis and Capstar together?
No, it is not a good idea to use the two flea medicines at the same time.
Does Comfortis or Capstar kill ticks?
No, both products are only effective against fleas.
Can you use Capstar with Heartgard?
Yes, but you should not use Comfortis with Heartgard.
Resources
https://www.businesswire.com/news/home/20200113005467/en/Elanco-Signs-Agreement-with-PetIQ-to-Divest-Capstar%C2%AE