I went to the vet today to pick up their flea and tick preventative.
When I arrived, there was some confusion regarding which of my pets took Bravecto.
I have four dogs, and only two take Bravecto.
My adult dog, Sophie, is not on Bravecto since she is on an array of other medications that may interact poorly with Bravecto. Which is unfortunate since Sophie does all she can to drop and roll when I am attempting to apply the topical flea medication.
Mira, my puppy, has been on a topical option, but I am debating on switching her to Bravecto.
However, I wanted to do a bit more research since she is still under a year old.
In this Bravecto review, I will share with you all that I found in the hope that it will help you decide if Bravecto is the right preventative for your dog.
What Is Bravecto?
Bravecto is an effective flea and tick preventative that comes in a flavored chewable tablet.
What makes Bravecto stand out apart from other flea and tick options is that it lasts up to three months and is consumed, as opposed to applying topically.
Read more: Seresto vs Frontline vs Bravecto
Bravecto Ingredients
Because some of my dogs have allergies I was concerned that the ingredients in Bravecto would not be a good fit.
I was disappointed that the inactive ingredients are listed as "secret" on the safety data sheet.
Additional research did not turn anything more up outside of Bravecto not containing gluten or wheat.
What I was able to learn is that the active ingredient in Bravecto is fluralaner. This ectoparasiticide is what kills fleas and most varieties of ticks for twelve weeks[1].
How Does Bravecto Work?
After Bravecto has been ingested, it is then absorbed into the tissue under your dog's skin, where it remains over the next 12 weeks.
Bravecto is only effective when a flea or tick bites your dog and ingests the ectoparasiticide.
However, once the flea or tick consumes the fluralaner, they will die.
Is It Effective at Killing and Preventing Fleas and Ticks?
Bravecto starts working within 2 hours, which is excellent if you are dealing with an existing flea infestation.
Is Your Dog Driving You Nuts During the Day?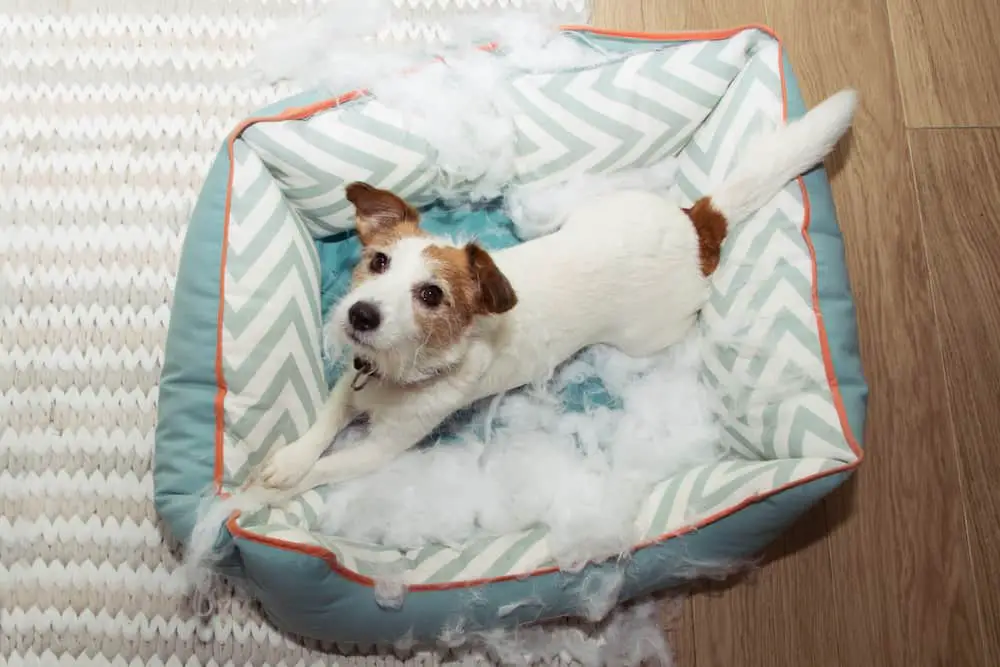 Get Our List of 11 Awesome Indoor Activities to Keep Your Dog Busy and Out of Trouble!
Another fabulous benefit is that it prevents fleas for up to three months.
Bravecto will start killing ticks within 12-hours.
It is effective against the American dog tick, black-legged tick, and brown dog tick for the full twelve weeks, but only works for eight weeks against lone star ticks.
Unfortunately, Bravecto does not act as a tick preventative.
Is Bravecto Safe for Dogs?
Bravecto is safe for dogs as small as 4.4 pounds.
It is even safe for dogs pregnant or lactating mother dogs.
That being said, I feel it is prudent to include in this Bravecto review that the active ingredient, fluralaner, is in the isoxazoline class.
This particular class of drugs is associated with neurological reactions such as tremors, ataxia, and seizures[2].
And Merck, Bravecto's parent company, advises caution when using Bravecto in dogs with a history of seizures.
Is Bravecto Safe for Puppies?
Bravecto is safe for puppies who are at least six months old[3].
However, if your puppy has other health issues, as Mira did when we adopted her, then it was recommended she be put on topical preventatives until things cleared up.
Bravecto Side Effects
All drugs have side effects and Bravecto's list includes:
Vomiting
Polydipsia – increased thirst
Decreased appetite
Diarrhea
Weakness
Lethargy
Flatulence
Seizures are also a possible side effect and not just in dogs with a history of seizures.
You can expect side effects to last anywhere between 30 minutes up to three hours, depending on which adverse reaction your dog is experiencing.
Where to Buy Bravecto
Bravecto is a prescription drug, but can still be purchased from various online retailers if you get a prescription from your vet clinic, which is the other place you can buy it.
There are 10 Bravecto Chews based on your dog's weight. However, the price is the same for dogs of all sizes.
The average price is $56.99 per dose, but remember that it is for three months, which averages out to $18.99/month.
What Else Does Bravecto Protect Against
In addition to killing fleas and ticks, Bravecto can also be used to treat:
Ear mites
Demodex mite
Sarcoptic mange[4]
If Mira had been a bit older when we brought her home, I could have used Bravecto to help manage her Demodex mite condition, which would have helped clear things up faster.
Alternatives
If Bravecto is not the right choice for you, there are some alternative chewable choices available.
All of the below alternatives require a prescription, just like Bravecto.
Also, all three alternatives listed below recommend exercising caution when using with dogs who have a history of seizures.
NexGard
Active Ingredient: Afoxolaner
Average Price: $18.99/Tablet
NexGard protects against flea and ticks, but what makes NexGard unique is that it is the only FDA-approved product that prevents Lyme infections.
Read also: Nexgard chewables vs Seresto collar
Unlike Bravecto, Nexgard is only effective for one month versus three months.
However, another benefit of NexGard is that it is safe to use in dogs as young as eight weeks old, making it an excellent choice for new puppies.
Some of the common side effects of NexGard include:
Vomiting
Itching
Lethargy
Diarrhea
Lack of appetite
See our full Nexgard Chewables review
Simparica Trio
Active Ingredients: Sarolaner, moxidectin, and pyrantel pamoate
Average Price: $21.63-$24.96/Tablet
Simparica Trio (see our review) not only protects against fleas and ticks but also against heartworm disease. Simparica is also effective against roundworms and hookworms, making it quite the powerhouse against parasites.
Plus, Simparica Trio is safe to use in puppies as young as eight weeks old and in dogs as small as 2.8 pounds, which is unique since most are only go down to 4.4 pounds.
Unlike Bravecto, Simparica Trio is only effective for up to one month.
See how Simparica compares to Nexgard Chewables
Some of the common side effects of Simparica Trio include:
Vomiting
Diarrhea
Lethargy
Anorexia
Otitis externa (ear infection)
Pruritus (itching)
Polyuria (urinating more frequently)
Hyperactivity
Polydipsia (drinking more water)
Trifexis
Active Ingredients: Spinosad and milbemycin oxime
Average Price: $18.16-$20.33/Tablet
Trifexis works as a preventative to kill fleas and prevent flea infestations.
Additionally, it helps to protect against heartworm disease, hookworm, roundworm, and whipworm infections. Unfortunately, it does not prevent or kill ticks.
Trifexis is safe to use for puppies eight weeks old and older and in dogs as small as five pounds.
The chewable tablets are relatively small and would be easy to wrap in cheese or peanut butter if your dog isn't excited about eating it on its own.
However, it is beef flavored to be more palatable to dogs.
Some of the common side effects of Trifexis include:
Vomiting
Decreased activity
Diarrhea
Decreased appetite
Pruritus (itching)
Recommendation
I have been using Bravecto for Calvin and Ginger for a year now, and I like it.
We live in Minnesota and do a lot of camping, and I have not seen one tick all season.
And, I have also chosen to use Bravecto with Mira, so I would say I recommend Bravecto.
However, I will continue to use topical treatments for Sophie due to her extensive medication list and a compromised immune system.
It isn't that there is evidence that Bravecto would have adverse side-effects, but what we are using now works.
And Sophie has a fragile system, so it is best to err on the side of caution.
FAQs
How Long Does It Take for Bravecto to Work?
Two hours against fleas and twelve hours to kill ticks.
How Long Does Bravecto Last?
Is Bravecto Harmful to Dogs?
There are potential side-effects with any medication.
But outside of that, Bravecto is rated as a safe flea and tick preventative.
Has Bravecto Killed Dogs?
There are no medically confirmed cases in which Bravecto is held responsible for killing dogs.
Can You Get Bravecto Without a Vet Prescription?
No. Bravecto requires a prescription.
Resources