Recently I did some research on NexGard but noticed that there is also a product called NexGard Spectra.
Unfortunately, when I searched for information for this NexGard Spectra review, I discovered it is currently not available in the US.
However, NexGard Spectra is available in other countries such as Canada, Brazil, and Australia.
Though NexGard Spectra isn't available from US vendors, I thought it was still worth sharing my NexGard Spectra review since I believe it is a great option for many dog parents.
What Is NexGard Spectra?
NexGard Spectra is made by Boehringer Ingelheim, which was founded in 1885[1]. Albert Boehringer founded the company in Ingelheim, a town in Germany.
Today, Boehringer Ingelheim is a global-wide company that creates and manufactures products to improve both humans' and animals' health.
This flea medication is a beef-flavored chewable broad-spectrum parasiticide.
NexGard Spectra contains the same active ingredient, afoxolaner, as NexGard, which protects against fleas, four types of ticks (American dog ticks, Black-legged ticks, Brown dog ticks, and Lone Star ticks), and three types of mites (Sarcoptes, Demodex, and Otodectes).
NexGard Spectra is also a heartworm preventative, and it can also eliminate other endoparasites like whipworm, hookworm, and roundworm.
NexGard vs NexGard Spectra
Both NexGard and NexGard Spectra work to protect against ectoparasites like ticks, fleas, and mites.
But what makes the two parasiticides different is that NexGard Spectra also contains another active ingredient that kills specific internal parasites.
Click here for our non-Spectra NexGard review!
NexGard Spectra Ingredients
NexGard Spectra contains two different active ingredients:
Afoxolaner – Afoxolaner impacts the nervous system of particular ectoparasites
Milbemycin Oxime – Milbemycin Oxime paralyzes endoparasites
In addition to these two active ingredients, it also contains soy[2], so for dogs with a soy sensitivity, NexGard Spectra would not be the right choice.
However, the good news is that NexGard Spectra is gluten-free and does not contain any animal proteins, making it an excellent option for dogs with allergies.
How Does NexGard Spectra Work?
NexGard Spectra kills ticks, fleas, and mites by overstimulating the parasites' nervous system and goes to work killing fleas in just 6-8 hours.
NexGard Spectra kills worms with a neurotoxin that paralyzes and then kills them.
Is Your Dog Driving You Nuts During the Day?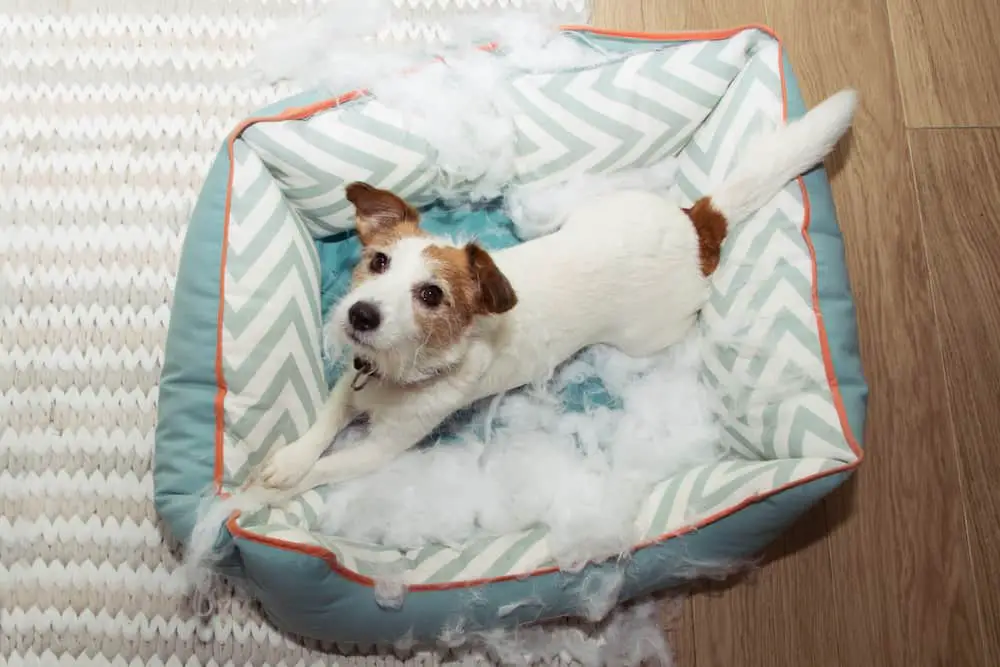 Get Our List of 11 Awesome Indoor Activities to Keep Your Dog Busy and Out of Trouble!
Unfortunately, NexGard Spectra requires parasites such as fleas, ticks, and mites to bite your dog for it to work.
Related: Credelio vs Nexgard
Is It Effective at Killing and Preventing Fleas and Ticks?
NexGard Spectra is excellent at killing fleas and ticks and takes care of all flea life stages, thereby interrupting their lifecycle.
Unfortunately, NexGard Spectra does not work as a repellent against these pests.
Is NexGard Spectra Safe to Use with Dogs Who Already Have Heartworms?
NexGard Spectra is not intended to be used with dogs currently dealing with an active heartworm infestation.
It will protect against heartworms but does not act as a treatment.
Is NexGard Spectra Safe for Dogs?
All flea, tick, and worm medicine comes with their share of health risks.
However, not using a parasiticide poses a greater health risk to your dog.
The most significant concern when using NexGard Spectra is that it can increase the risk of seizures, especially in dogs who are already prone to have seizure activity.
Also, because fleas and ticks need to bite your dog to work, it increases the chance of an allergic reaction at the bite's site.
Related: Seresto Flea Collar vs Nexgard Chewables
Is NexGard Spectra Safe for Puppies?
NexGard Spectra is safe for puppies as young as eight weeks old as long as they are at least 4.4 pounds.
NexGard Spectra Side Effects
There are multiple potential side effects including[3]:
Labored respiration
Lethargy
Vomiting
Excessive or decreased salivation
Tremors
Ataxia
Diarrhea
Pruritus
Dermatitis
Bacterial skin infection
Unspecified skin disorders
Erythema
Anorexia
The list seems so long because NexGard Spectra is essentially two preventative medications combined into one flavored chew.
How Long Do Side Effects Last?
Most side effects resolve in 2-3 days; however, it is best to contact your vet if you notice your dog suffering from any of the above side effects.
Although some side effects may resolve on their own, supportive care or treatments may be required to manage more serious side effects.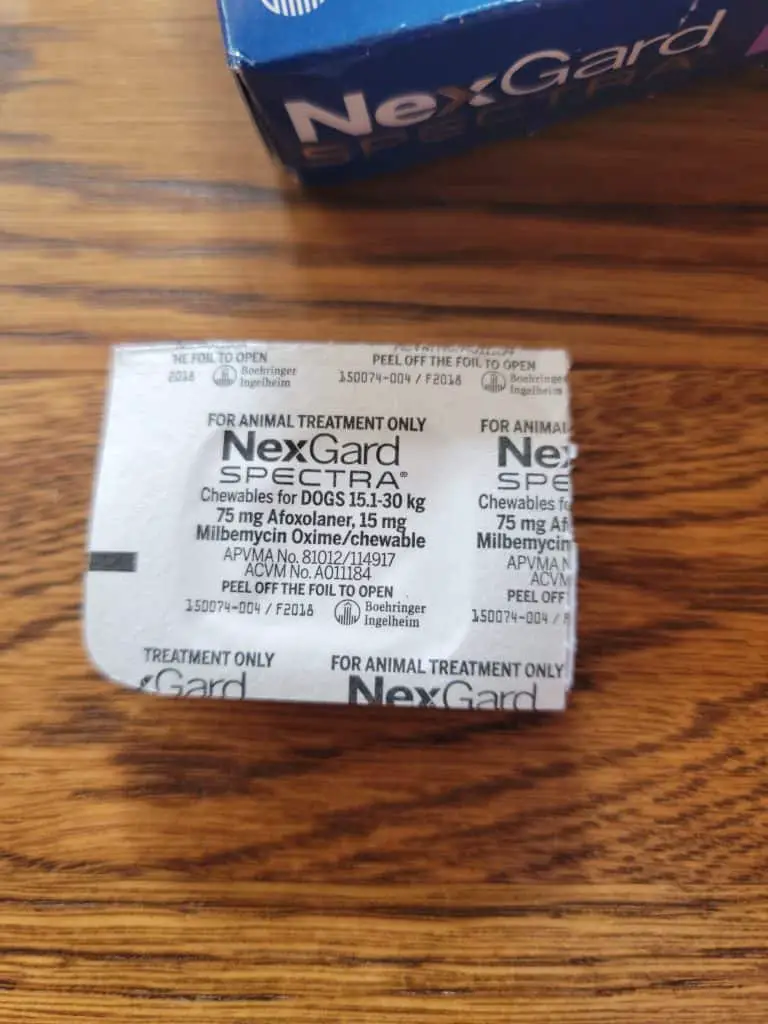 Where to Buy NexGard Spectra
Though you can not buy NexGard Spectra from a US company, you can purchase it from a few different global pet prescription online stores like:
The prices vary based on the number of chews you purchase.
The average cost per month for NexGard Spectra for medium-sized dogs 16-33 pounds is just under $20.
NexGard Spectra comes in four different quantities: 1, 3, 6, or 12 chews per box.
Alternatives
Vectra 3D
Vectra 3D is a Ceva Animal Health product. You can read our full review on Vectra 3D and why it's not our favorite flea medication. You can also see how Vectra stands up against Frontline Plus.
It is a topical broad-spectrum flea, and tick treatment that lasts 30 days and helps to protect against several parasites, including:
Ticks
Fleas
Lice
Mosquitos
Black Flies
Mites
The active ingredients in Vectra 3D are dinotefuran, pyriproxyfen, and permethrin.
Unfortunately, because it contains three potent pesticides, it does come with significant side effects:
Anxiety or manic behavior manifesting in jittery and relentless
Itchiness
Chemical burns
Less common side effects include:
Increased body temperature – skin warm to touch
GI upset, including diarrhea and vomiting
Increased thirst
Dehydration
Lethargy
Panting
Increased heart rate
However, the good news is that Vectra 3D works on contact to kill pests, so you never have to worry that your dog will get bit.
And it works to repel parasites even before they land.
Related: Best Dog Flea Treatments without a Vet Prescription
Bravecto
Bravecto is a chewable flea and tick preventative that lasts up to three months.
In addition to fleas and ticks, Bravecto also protects against three different mites: Sarcoptes, Demodex, and Otodectes.
Bravecto contains the active ingredient fluralaner. Fluralaner falls into the isoxazoline chemical class, which can cause increased seizure activity in dogs.
Other common side effects of Bravecto include:
Diarrhea
Weakness
Vomiting
Polydipsia – Increased thirst
Decreased appetite
Lethargy
Flatulence
For more detailed information about Bravecto, click here.
To see a detailed comparison of Bravecto vs Nexgard, click here.
Comfortis
Comfortis' parent company is Elanco Animal Health, which is an American pharmaceutical company.
Comfortis is an oral flea medication, which lasts up to 30 days.
One of the benefits of using Comfortis is that it goes to work in just 30 minutes. However, it only works on fleas.
The active ingredient in Comfortis is spinosad.
Common side effects associated with Comfortis include:
Decreased appetite
Incoordination
Diarrhea
Itching
Vomiting
Depression
Lethargy
Trembling
Excessive salivation
Seizures
It is not recommended to use heartworm preventatives that contain ivermectin.
Related: Comfortis vs Nexgard: Which is Better?
Recommendation
I would recommend NexGard Spectra for healthy adult dogs that are not infested with worms.
NexGard Spectra is a convenient and economical easy to use product that eliminates the need for using two different preventative medications.
FAQS
How Long Does It Take for NexGard Spectra to Work?
NexGard Spectra starts to go to work in just 4 hours.
How Long Does NexGard Spectra Last?
NexGard Spectra works for up to one month.
Is NexGard Spectra Harmful to Dogs?
NexGard Spectra comes with health risks, just like other parasiticides.
Has NexGard Spectra Killed Dogs?
There have been deaths related to the use of NexGard Spectra when dogs have been infested with worms.
In some cases, when a dog has a current worm infestation, adverse reactions to the treatment have resulted in death, but is associated with the worms' death due to an adverse reaction to the proteins released upon the demise of the worms.
Can You Get NexGard Spectra Without a Vet Prescription?
No. NexGard Spectra requires veterinary approval.
Resources