With a multitude of flea and tick preventatives on the market, it is hard to know which one is the best choice, especially when they come in a variety of forms.
As dog parents, we want to keep our dogs safe from parasites, but we also need to find a product we feel confident is safe for our dogs.
Living in tick country, it is a challenge to know which products are the best choice for my dogs.
As it turns out in my household, there isn't just one product used by all four of the dogs.
Between all four dogs, I use three different products.
My goal for writing this article is to compare Seresto vs Bravecto vs Frontline in one place to make it easier for dog parents to choose the one that is best for their pup.
Though all of these products are great, not all will work for everyone.
For example, Seresto is perfect for dogs who have sensitive systems, so using a collar is best (see our full Seresto review).
Whereas, Frontline Plus is relatively safe to use, especially for dogs like Sophie, who is a bit older and have several medical conditions.
And finally, Bravecto is an excellent choice since it lasts three months at a time.
Related: See How Bravecto Compares to Nexgard Flea Preventative
Seresto vs Frontline Plus vs Bravecto
Seresto – Collar
Active Ingredients: Imidacloprid and Flumethrin
Type: Collar
Duration: 8 Months
Seresto is a Bayer product that launched in 2011. Seresto is an effective flea and tick collar that both kills and repels these parasites.
The collar is made from a polymer matrix[1] which has been infused with insecticides that lasts up to 8 months.
The pesticides are slowly released into the skin then spreads over the body of the dog.
In addition to taking care of fleas and ticks, Seresto also kills biting lice and helps with treating with sarcoptic mange.
Plus, Seresto takes care of all flea life stages from larvae to adult.
Seresto collars go to work fast:
Is Your Dog Driving You Nuts During the Day?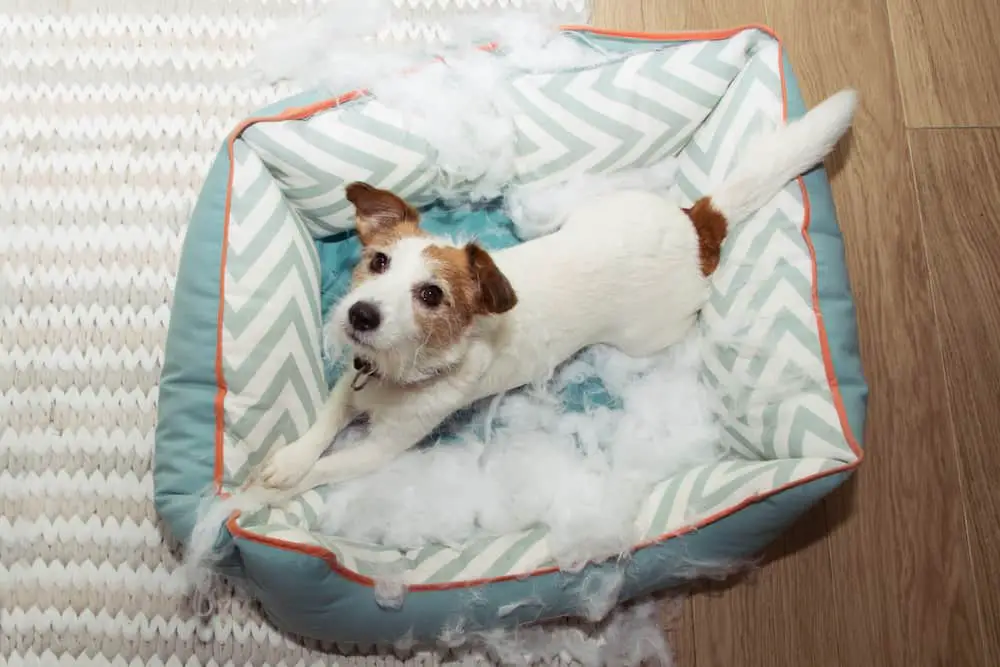 Get Our List of 11 Awesome Indoor Activities to Keep Your Dog Busy and Out of Trouble!
Killing fleas within 24 hours
Killing ticks within 48 hours
Takes care of flea reinfestation just in two hours
Takes care of tick reinfestation in just six hours.
The collar is most potent the first day you put it on your dog, so it is advised you keep children away from your dog for a day after putting on the collar[2].
However, overall it is recommended to prevent children from playing with the Seresto collar.
Plus, puppies as young as seven weeks old can use Seresto.
One of the most significant drawbacks of Seresto is that it isn't waterproof.
See how Seresto compares to Nexgard in our head-to-head comparison
Dogs can be bathed and swim with the collar on; however, for dogs that enjoy time in the water or require more than one bath a month, they will need to have their collar replaced at five months instead of eight.
Possible side effects
Hairloss
Skin irritation and rashes
Itching
Excessive Drooling
Shaking
Vomiting
Decreased Appetite
Sleepiness or lethargy
✔
Pros
Lasts longer than most preventative products
Kills fleas within 24 hours, at all life stages
Is effective against biting lice and Sarcoptic mange
✘
Cons
Higher upfront cost
Not waterproof
Buy Seresto flea collar at:
Frontline Plus – Topical
Active Ingredients: Fipronil and (S)-methoprene
Type: Topical
Duration: 1 Month
Frontline Plus came onto the market in 1993, though one of the active ingredients, fipronil was created back in 1985-1987, as a broad-use insecticide.
Frontline Plus is a topical flea and tick treatment that kills adult fleas and ticks and attacks flea eggs and larvae, interrupting the life cycle.
Frontline needs to applied to your dog's skin where it is absorbed and distributed throughout your dog's skin and hair follicles.
The insecticides are stored in your dog's oil glands in your dog's skin.
Frontline Plus starts killing fleas in as little as 4-8 hours and ticks within 12 hours. And it also helps to kill biting lice.
Pests do not need to bite your dog for Frontline Plus to be effective. Instead, fleas and ticks are killed once they come in contact with your dog's coat.
Frontline Plus is also waterproof 24 hours after application. And dogs as young as eight weeks old can start using Frontline.
Also, it is even safe to use on pregnant dogs.
See how Frontline compares to Nexgard.
Possible Side Effects
Skin irritation or hair loss
Irritation to the eyes
✔
Pros
Waterproof
Can be used on pregnant dogs
✘
Cons
Only lasts one month
Does not repel
Bravecto – Chewable
Active Ingredients: Fluralaner and Moxidectin
Type: Chewable
Duration: 3 Months
Bravecto, the newest preventative on this list, came out in 2014.
Bracevto is a flea and tick preventative, that lasts up to three months, and starts working in just hours. Since the launch in 2014, over 100 million have been sold worldwide.
Bravecto comes in a chewable and topical option.
Bravecto can be given as a treat since it is a flavored chew.
Once it is ingested, Bravecto spreads to the fluids in the tissue found under your dog's skin.
Bravecto goes to work, killing fleas within two hours and kills ticks within 12 hours.
Bravecto kills and prevents fleas and kills multiple varieties of ticks. Plus, Bravecto is effective against Sarcoptes mites, Demodex mites, and ear mites.
Bravecto is proven safe in dogs 8 weeks and older, in pregnant dogs, and lactating dogs.
Don't Miss Our Bravecto Chews Review!
Possible Side Effects
Vomiting[3]
Decreased appetite
Diarrhea
Lethargy
Polydipsia
Flatulence
✔
Pros
Easily administered as a flavored chewable
Kills mites associated with mange as well as ear mites
Lasts up to three months
Waterproof
✘
Cons
Requires a prescription
Expensive upfront cost
Face to Face
| | | | |
| --- | --- | --- | --- |
| | Seresto | Frontline Plus | Bravecto |
| Form | Collar | Topical | Chew |
| Kills Fleas and Ticks | Yes | Yes | Yes |
| Repels Fleas and Ticks | Yes | No | No |
| Other Parasites | Lice and Sarcoptic Mange | Biting Lice | Sarcoptes Mites, Demodex mites, and ear mites. |
| Active Ingredient | Imidacloprid and Flumethrin | Fipronil and (S)-methoprene | Fluralaner and moxidectin |
| Duration | 8 Months | 1 Months | 3 Months |
| Prescription Needed | No | No | Yes |
| Waterproof or Water Resistant | Water Resistant | Waterproof after 24 hours | Waterproof |
| Price per Month (Based on a Small Sized Dog) | $4.12* | $7.14* | $9.71* |
*Prices based on rates at BudgetPetCare at time of writing
Based on the price per month and duration Seresto is the best choice, but the drawback is that people with children need to be sure the kids don't have excessive contact with the collar.
Frontline Plus appears to be one of the safest choices with the fewest potential side effects.
Plus, it is waterproof after 24-hours.
However, it only lasts 30 days and requires monthly reapplication.
Bravecto is perfect for those looking for an easy three-month protection option that is waterproof, fast-acting, and covers for two types of mange and ear mites.
However, the two drawbacks with Bravecto is that it is the most expensive and requires a prescription.
Standout Features
Seresto
If you choose Seresto, it lasts the longest of all three options, even if you need to change it out every five months instead of every eight.
Additionally, Seresto is the only one of these products that also repels ticks in addition to killing them.
And though the initial cost for Seresto may seem high, it is less than $10 per month if your dog wears it for eight months.
Frontline
If you don't mind applying Frontline every month, it is a proven reliable product that has few side effects.
Plus, Frontline is easy to use, and after 24 hours it is waterproof, so you don't need to monitor how often your dog is swimming.
Bravecto
Bravecto kills the most parasites of any of these three options.
Plus, it is easy to administer, and you don't need to worry about coming into contact with the product once you have applied or attached it.
Additionally, it is waterproof immediately and goes to work quickly.
Though Bravecto is a bit more expensive, it is often well worth it for the convenience and additional parasite coverage it offers.
Conclusion
All three are great products, though if I had to choose just one, I would say Bravecto for its ease of use and not needing to worry about coming in contact with it when petting or playing with my dogs.
But I also really like Frontline due to how safe a product it is, which is not something that can be said for Bravecto as it does have more significant and common side effects.
However, you will not go wrong with any of the three options, and you must choose the option that will work best for you and your pup to keep the flea and ticks away.
FAQs
What is the safest flea and tick preventative?
Frontline, it not only deals with fleas and ticks but also kill biting lice.
Plus, if your dog licks the area of application to see what it is, it won't harm your dog[4].
This does not mean that excessive licking or ingestion is safe, but it also isn't so toxic you need to be overly concerned.
Is Seresto Safe to Handle?
According to the EPA, Seresto is safe for humans to handle though it can cause skin irritation.
Additionally, it is recommended to prevent kids from playing with the collars.
Does Bravecto Kill Other Parasites?
Yes, Bravecto is effective against three types of mites ear, Sarcoptes, and Demodex.
Resources