This post may contain affiliate links. It doesn't cost you anything extra and it keeps our lights on, our families fed, and our dogs spoiled. For all the juicy fine print, see our affiliate disclosure
There are many things I love about having dogs in my life; however, fleas and ticks are not one of them.
Fleas and ticks are common pests found everywhere outside.
Your dog only needs to rub up against a bush or take a good roll in the grass to pick up these hitchhikers.
Thankfully there is an abundance of excellent products available that help eliminate the risk of your pup getting infested with fleas and ticks.
This article, Seresto vs. Advantix, compares the two flea and tick options from Bayer to help dog owners make a better-informed choice on which one is best for their dog.
Though they are both effective products, if I had to pick just one, Advantix is the flea and tick product I would recommend.
It is safer around humans and repels fleas, ticks, mosquitos, and biting flies.
Seresto Flea Collar
Active Ingredients: Imidacloprid and Flumethrin
Type: Collar
Duration: 8 Months
Seresto is one of Bayer Animal Health's flea and tick products. It was introduced to the market in 2011 and is capable of killing and repelling fleas and ticks.
Bayer Animal Health is a globally recognized company that has been in business since 1919.
Unlike most flea and tick products, the Seresto collar lasts up to 8 months[1]. The collar is made from a polymer matrix which has been manufactured with insecticides infused into it.
The pesticides are slowly released into the dog's skin then spreads over their entire body. And flea and ticks are not the only things Seresto kills; it also takes care of biting lice and sarcoptic mange.
An additional difference between Seresto and many other flea and tick products is that Seresto kills on contact before the flea or tick bites your dog.
Is Your Dog Driving You Nuts During the Day?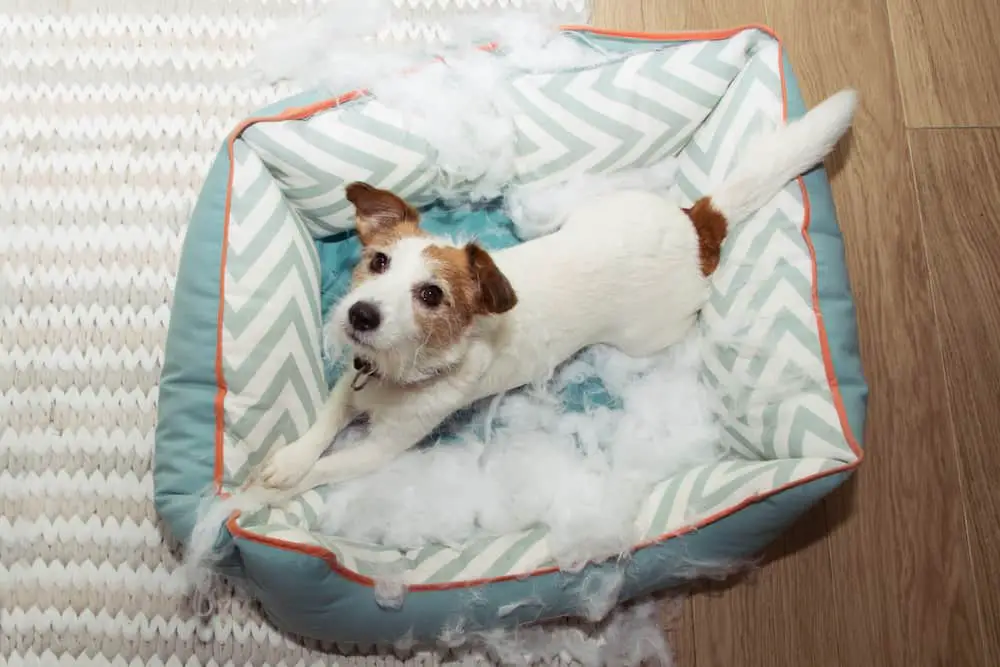 Get Our List of 11 Awesome Indoor Activities to Keep Your Dog Busy and Out of Trouble!
Plus, Seresto not only kills ticks, but it also repels them.
Seresto is water-resistant, so your dog can go swimming, but it does shorten the life of the collar from eight months to six months.
And Seresto is safe to use with dogs as young as seven weeks old.
✔
Pros
Lasts between 6-8 months
Repels fleas
Kills more than just fleas and ticks
Kills on contact
✘
Cons
May cause skin sensitivities in humans if they come in contact with the collar
The collar is not waterproof
If Seresto sounds like the product for you, click here to order!
If you still want to learn more, check out our full Seresto review!
K9 Advantix Topical Flea Treatment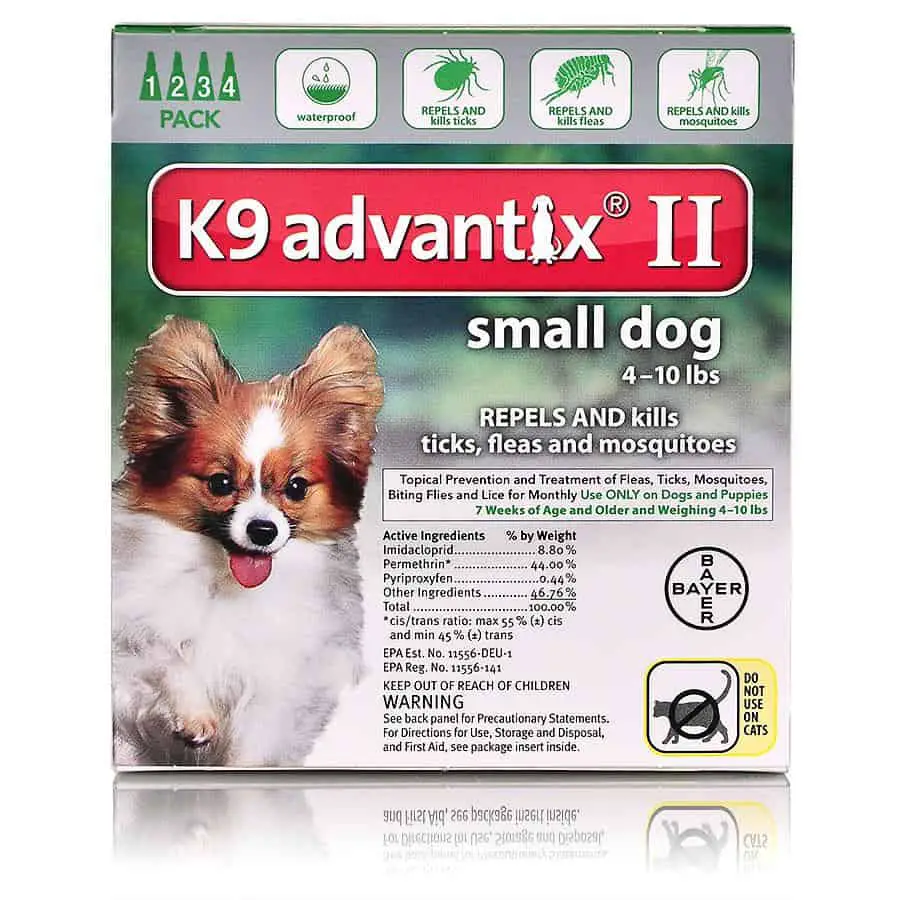 Active Ingredients: Imidacloprid, Permethrin, and Pyriproxyfen
Type: Topical
Duration: 1 Month
Advantix is another Bayer Animal Health flea and tick product. Advantix was introduced at the North American Veterinary Conference[2] in January of 2011 and was made available to the public in March 2011.
Bayer has been in business since 1867, but their pet products were not launched until 1919. Since then, Bayer Animal Health products have been a vital company in keeping our dogs healthy.
Advantix is a topical treatment for fleas and ticks. Once applied to the skin, it spreads through the skin, sebaceous glands, and hair follicles to repel and kill pests.
Unlike other flea and tick products, Advantix is also effective against mosquitoes, biting flies, and biting lice.
Which if you are a camper or hiker, using a product that protects against flies and mosquitoes is a huge bonus.
Advantix does not just kill parasites, but it also repels them. Most flea and tick products kill these pests but do not repel them.
See how Advantix II stacks up against Frontline Plus and Advantage II
✔
Pros
Repels fleas, ticks, mosquitoes, and biting flies
Kills fleas within 12 hours of application
Waterproof
Interrupts the flea life cycle
✘
Cons
May cause skin irritation
More expensive than other topical flea treatments
If you are ready to order Advantix, click here to get your order started!
Or learn more with our full Advantix review!
Seresto & Advantix Face to Face
Often when comparing products, I find it helpful to look at the key features side by side, to keep from having to scroll or toggle back and forth between screens.
Below I have added a side by side comparison for Seresto and Advantix to compare the two easier.
| | | |
| --- | --- | --- |
| | Seresto | Advantix |
| Form | Collar | Topical |
| Kills Fleas and Ticks | Yes | Yes |
| Repels Fleas and Ticks | Yes | Yes |
| Other Parasites | Lice and Sarcoptic Mange | Lice, Mosquitos, and Biting Flies |
| Active Ingredients | Imidacloprid and Flumethrin | Imidacloprid, Permethrin, and Pyriproxyfen |
| Duration | 8 Months | 1 Month |
| Prescription Needed | No | No |
| Waterproof or Water Resistant | Water Resistant | Waterproof |
| Price per Month (Based on a Small Sized Dog) | $4.12 | $10.76 |
| Minimum Age Requirement | 7 Weeks | 7 Weeks |
Side Effects
All flea and tick treatments have side effects. The side effects vary depending on how it is administered and the active ingredients.
Here are the most common side effects for Seresto and Advantix:
Seresto:
Shaking
Vomiting
Decreased appetite
Sleepiness or lethargy
Hairloss
Skin irritation and rashes
Itching
Excessive drooling
Advantix:
Skin irritation and redness
Itchiness
Vomiting or diarrhea
Lethargy
Winner
Advantix is my first choice between the two products. I chose Advantix vs. Seresto after comparing key features:
Which is Safest?
Advantix has fewer side effects and is safer to use around others, including other pets and humans in the household.
Seresto can pose a health concern, especially in multi-dog households, since there is a possibility of the other pets coming in contact with the collar.
Which Works Fastest?
Advantix kicks in faster than Seresto and starts killing fleas within 12 hours, versus Seresto, which takes up to 24 hours.
Which is the Cheapest?
Seresto is less than half the cost of Advantix.
Which Lasts Longer?
Seresto lasts between 6-8 months, and Advantix lasts one month.
Standout Features
Seresto lasts longer, is effective against sarcoptic mange, and is cheaper.
Advantix repels mosquitos and biting flies, it is waterproof, and it is safer to use overall.
Conclusion
Though Advantix is the overall winner, there are times that Seresto is definitely the better choice.
Use Seresto if:
You have a single dog household with older kids
Your dog doesn't spend a lot of time in the water
You are looking for an effective, economical flea and tick option
Use Advantix if:
You have a multi-dog household
You have small children who may be inclined to play or touch the dog's collar
Your dog enjoys swimming
Your dog enjoys the outdoors where there are mosquitos and biting flies
Overall both products are good choices for protecting your dog against fleas and ticks, though when deciding comparing Seresto vs Advantix, much depends on your dog and lifestyle.
FAQs
Can you use Seresto and Advantix together?
Because both products contain Imidacloprid, it is generally not recommended to use them together, but consult your vet for more information[3].
Resources
https://www.prnewswire.com/news-releases/bayer-animal-health-announces-the-launch-of-advantage-ii-and-k9-advantix-ii-114927354.html