Having worked with American Brittany Rescue for years, it is not uncommon to get a dog with fleas, which is why my friend called me when she found out her new foster was infested.
Because Amy had not picked up her foster dog from the shelter, I told her the easiest way to deal with the issue was to drop off a dose of Capstar.
Historically, the people at the shelter have always been more than happy to administer Capstar.
Plus, since Capstar comes in a pill form, it is easy to administer to dogs.
Capstar is one of my favorite over-the-counter flea management options for dogs with an active flea problem.
Though it comes with risks, as all medications do, it is one of the safer choices available.
What Is Capstar?
Capstar is a flea medication that comes in pill form and is designed to rid dogs of flea infestations.
Capstar was initially created by Elanco Animal Health Inc, but PetIQ later acquired the rights for it in July of 20201.
Capstar is not a flavored tablet, so it is best to hide it in food and give it as a treat.
However, the good news is Capstar is a small tablet, making it easy to hide.
Capstar is one of the fastest-acting flea medications on the market and starts to kill fleas in as little as thirty minutes.
Usually, one dose is enough; however, another treatment might be needed for stubborn flea infestations.
Capstar Ingredients
Nitenpyram is the active ingredient in Capstar, which belongs in the neonicotinoids chemical class.
Each Capstar tablet contains between 11.4 to 57.0 mg of nitenpyram.
In addition to nitenpyram, Capstar also includes five inactive ingredients:
Lactose Monohydrate
Corn Starch
Microcrystalline Cellulose
Colloidal Silicon Dioxide
Magnesium Stearate
The above are all common ingredients in the pharmaceutical industry for making tablets.
Is Your Dog Driving You Nuts During the Day?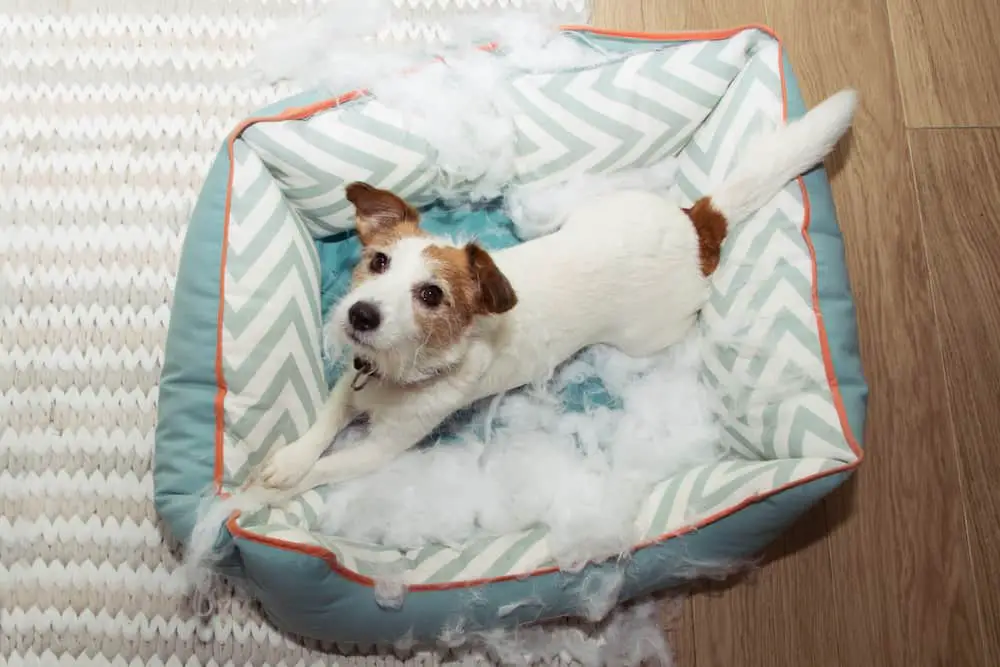 Get Our List of 11 Awesome Indoor Activities to Keep Your Dog Busy and Out of Trouble!
How Does Capstar Work?
Capstar works at killing adult fleas before they start laying eggs by inhibiting acetylcholine receptors, flooding the fleas with too many sodium ions2.
And Capstar has a greater than 90% success rate.
Is It Effective at Killing and Preventing Fleas and Ticks?
Capstar is very effective at killing fleas, but unfortunately, it is not a good option for prevention.
Additionally, Capstar does not kill any other parasites such as ticks.
Capstar starts working in just 30 minutes and will kill more than 90% of fleas within four hours.
Is Capstar Safe for Dogs?
Capstar is safe for healthy adult dogs who weigh at least two pounds.
Plus, it is safe enough to give two days in a row if needed.
And though Capstar is approved for pregnant and nursing dogs3, there have been some reports of birth defects and fetal and neonatal loss after using Capstar on pregnant or nursing females.
Though it is vital to note that side effects are always possible, serious adverse effects are more common in sick dogs or dogs who have a compromised immune system.
Is Capstar Safe for Puppies?
Capstar is approved for use in puppies as young as 4-weeks old and weight at least two pounds.
However, there is a greater risk of severe side effects for puppies under eight weeks and those under two pounds; more severe reactions include neurological symptoms and death.
Capstar Side Effects
The common side effects that have been reported include:
Depression
Lethargy
Vomiting
Diarrhea
Itching
Decreased Appetite
Hyperactivity
Trembling
Seizures
Lack of Coordination
Panting
Hives
Excess Salivation
Fever
Vocalization
Nervousness
Where to Buy Capstar
Capstar is available without a prescription and can often be purchased at most local pet supply stores, Amazon, and PetCareRX.
Also, you can find Capstar at some department stores like Walmart and Target.
And Capstar is inexpensive: A single dose is around $5 to $6, depending on your dog's weight.
Alternatives
Comfortis
Active Ingredients: Spinosad
Average Price: Over $16 per tablet for dogs 10-20 lbs
Comfortis is the flea medicine that is most like Capstar.
It is a flavored chewable flea control medicine. It comes in a beef flavor; however, there is no beef in this tablet.
Instead, it contains pork for flavor, making it a better fit for dogs with specific food sensitivities.
The active ingredient in Comfortis is spinosad, which works as an effective pesticide against fleas.
Like Capstar, Comfortis starts to kill fleas in as little as thirty minutes and only needs four hours for it to eliminate the adult fleas taking up residence on your dog.
But unlike Capstar, Comfortis works for 30 days instead of 24-hours, which is why you see the price difference.
It is critical to point out that Comfortis does not interrupt the flea life cycle, so continual use is required as the eggs hatch. Comfortis should be used year-round to manage fleas.
If you think Comfortis is the right choice for your pup, click here to order it today!
Trifexis
Active Ingredients: Spinosad and milbemycin oxime
Average Price: Over $39 per tablet for dogs 10-20 lbs
Trifexis works to both kill fleas and repel fleas, reducing any chance of your dog getting fleas again.
You likely noticed the price difference. That's because Trifexis protects against other parasites like heartworm, roundworm, hookworm, and whipworm infections.
But it is imperative to note that Trifexis does not guard against ticks.
Trifexis is a safe option for puppies as young as eight weeks old in dogs as small as five pounds.
Trifexis comes in a small beef-flavored tablet, but if your dog doesn't eat it on its own, you can hide it in food to make it more palatable.
Some of the more common side effects of Trifexis are:
Diarrhea
Decreased Appetite
Vomiting
Decreased Activity
Pruritus (Itching)
Bravecto
Active Ingredients: Fluralaner
Average Price: Over $58 per tablet ( Almost$20 per month) for dogs 9.9-22 lbs
Bravecto is a flavored chewable flea and tick treatment that keeps working for up to three months.
For active flea infestations, Bravecto goes to work in two hours.
And, Bravecto doesn't just kill fleas and ticks; it also protects against a few different mites Demodex, Sarcoptes, and Otodectes.
Bravecto uses the active ingredient fluralaner. Fluralaner is part of the isoxazoline chemical group, known to increase the risk of seizures in dogs.
Other reported side effects of Bravecto include:
Polydipsia (Increased Thirst)
Decreased Appetite
Diarrhea
Weakness
Vomiting
Lethargy
Flatulence
Many dog parents have switched to Bravecto because it only needs to be administered four times a year and fights against multiple parasites.
For more information about Bravecto, click here!
Recommendation
I wholeheartedly recommend Capstar to anyone dealing with a flea infestation.
However, that recommendation is only for healthy dogs at least eight weeks old and weighing more than two pounds.
In addition to Capstar, I also urge people to use Frontline or another flea treatment to avoid future problems with fleas.
FAQs
How Long Does Capstar Take To Work?
Capstar starts working in as little as 30 minutes and is more than 90% effective within four hours.
How Long Does Capstar Last?
Capstar lasts 24-hours, and for dogs who have a severe infestation, a second dose can be administered the next day.
Is Capstar Harmful to Dogs?
Capstar comes with potential risks as all medications do.
There are possible side effects, and if incorrectly given, the chances of issues are higher.
Has Capstar Killed Dogs?
Yes, Capstar has recorded some deaths; however, they happened to dogs who had compromised health and those who were too small.
Can You Get Capstar Without a Vet Prescription?
Yes! It is what makes Capstar so great since you can't always plan flea infestations around your vet's office hours.
How Often Can Capstar Be Given?
Capstar can be given two days in a row.
Resources
https://www.spglobal.com/marketintelligence/en/news-insights/latest-news-headlines/petiq-s-95m-acquisition-of-elanco-s-capstar-flea-products-gets-us-ftc-approval-59466716