Flea and tick treatment is a vital preventative for dogs everywhere.
Fleas are not only a pain to get rid of but can also cause significant health issues for your dog, including worms.
And tick infestations are nothing to scoff at either; they are not only painful to your dog but can make your dog quite ill, even causing Lyme Disease.
Using a preventative is the best way to avoid dealing with these parasites.
Frontline Plus is a 30-day topical treatment that kills fleas and ticks on contact.
In this Frontline Plus for dogs review, I will cover how Frontline Plus works, possible side effects, cost, and alternative options.
What Is Frontline Plus?
Frontline Plus hit the market in 1993 and is a topical flea and tick treatment that lasts up to thirty days.
Related: Frontline Plus vs Petarmor Plus
Who Makes It?
Frontline Plus is a Boehringer Ingelheim & Merial Limited product, though it is under the Merial division.
Merial, founded in 1981, is located in Duluth, Georgia[1].
Merial is an animal pharmaceutical company that focuses on pain medicines, parasiticides, anti-infectious drugs, and vaccines.
Frontline Plus Ingredients
Frontline Plus is made with two active ingredients, fipronil and (S)-methoprene.
Fipronil kills ticks and adult fleas.
And (S)-methoprene eliminates flea eggs and larvae ending the flea lifecycle and preventing reinfestation.
How Does Frontline Plus Work?
After applying Frontline Plus, it "self distributes" over your dog's body.
The treatment is stored in your dog's oil glands.
When fleas and ticks come in contact with your dog's hair, Frontline Plus transfers to the parasite, killing them.
Is Frontline Effective at Killing and Preventing Fleas and Ticks?
Frontline Plus is useful for killing fleas, ticks, and chewing lice.
Is Your Dog Driving You Nuts During the Day?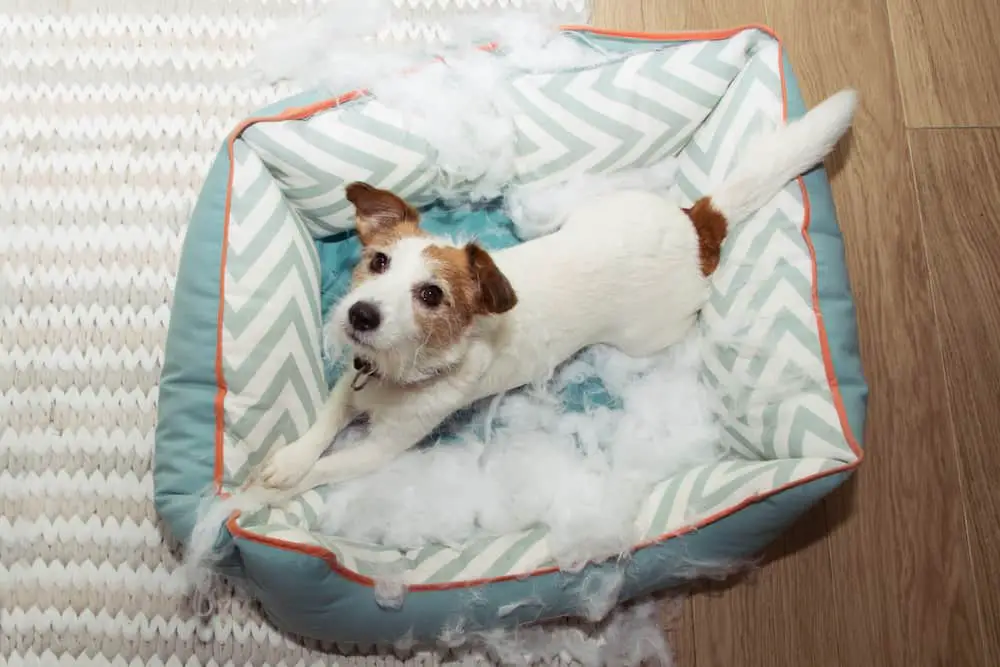 Get Our List of 11 Awesome Indoor Activities to Keep Your Dog Busy and Out of Trouble!
Unfortunately, Frontline Plus does not act as a repellent.
However, it does kill on contact before the flea or tick bites your pup.
See how Frontline Plus stacks up against Advantix II and Advantage II
Is Frontline Plus Safe for Dogs?
A study conducted for Australian Pesticides and Veterinary Medicines Authority (APVMA)[2] showed the Frontline Plus is safe to use with healthy dogs.
Frontline Plus is a safer flea and tick treatment with few side effects, plus it is safe to use around other pets.
According to the APVMA, dogs with a lowered immune system or dogs with skin conditions may have a higher risk of side effects.
So if your pup has a compromised immune system, it would be best to consult your veterinarian before using Frontline Plus.
Is Frontline Plus Safe for Puppies?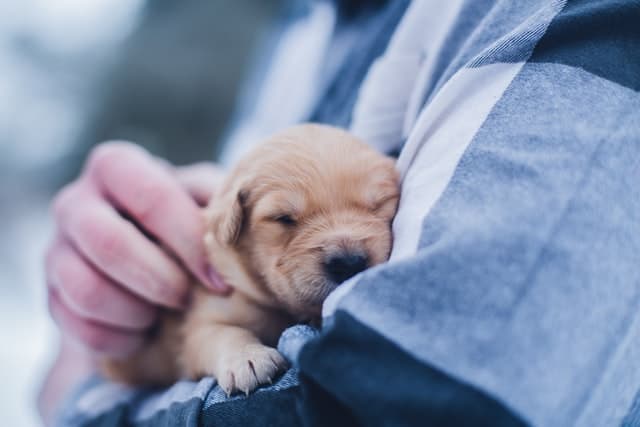 Puppies as young as eight weeks old can start using Frontline Plus.
Frontline Plus Side Effects
One thing I dislike about Frontline Plus it is that the website does not list any possible side effects on their website.
The Frontline Plus UK site states this about Frontline Plus' safety[3]:
"Frontline Plus has an exemplary safety profile and adverse reactions to the treatments are very rare."
Through my research the most common sides effects I've seen listed include:
Skin irritation, redness, and swelling
Itchiness in the area of application
How Long Do Side Effects Last?
Side effects last between one to two days and resolve on their own.
However, if your dog has a reaction to Frontline Plus that is not resolving after a couple of days, you should contact your vet.
Where to Buy Frontline Plus
Frontline Plus is a non-prescription flea and tick treatment, so you can purchase it at a variety of locations like:
Vet clinics
Department stores like Target and Walmart
Pet supply stores such as Petco
Farm supply stores
Online pet supply stores such as Budget Pet Care
The average cost per month for Frontline Plus is $7.33; however, for large breed dogs, 89-132 pounds, the average price is $10.21 per month.
Frontline Plus vs Frontline Gold
Frontline Gold and Frontline Plus are very similar.
Both products:
Kill fleas, ticks, and biting lice.
Are spot-on topical treatments
Last thirty days
The two products even share two of the same active ingredients, fipronil and (S)-methoprene.
But Frontline Gold also has pyriproxyfen, another insect growth regulator (IGR).
The addition of pyriproxyfen makes Frontline Gold work faster.
Frontline Gold kills fleas in just 30 minutes, whereas Frontline Plus kills fleas in 4 hours. Both kill ticks in 12 hours.
Related: How to Check Your Dog for Ticks
Alternatives
Frontline Plus and Frontline Gold are not the only products on the market.
There are flavored chews, tablets, and collars; below are some alternative flea and tick treatment choices.
PetArmor Plus
PetArmor Plus is a Perrigo Animal Health product.
The company manufactures an array of products, including dewormers, ear care, skincare, and joint care products, in addition to their flea and tick products.
PetArmor Plus is a topical flea and tick treatment that lasts up to 30 days.
Many price-conscious dog parents have considered using PetArmor Plus since it has the same active ingredients in the exact quantities as Frontline Plus.
However, the big difference between the two products is that PetArmor Plus uses less expensive and less safe inactive ingredients, resulting in more side effects and adverse reactions.
Side Effects: Skin irritation, scratching, vomiting, and diarrhea.
Average Price: $8.99/month
K9 Advantix
K9 Advantix is a monthly topical flea and tick treatment.
However, it does not just fight against fleas and ticks; it also helps to kill and repel mosquitos, biting lice, and biting flies.
K9 Advantix also kills all flea life cycles, preventing reinfestation.
The active ingredients in K9 Advantix are imidacloprid, pyriproxyfen, and permethrin.
K9 Advantix not only kills parasites, but it also works as a preventative. Best of all, it kills on contact before these ectoparasites can bite.
Side Effects: Skin irritation, scratching, vomiting, diarrhea, and lethargy.
Average Price: $11.33/month
NexGard
NexGard, unlike the other flea and tick treatments in this Frontline Plus review, is a flavored chew.
The active ingredient used in NexGard is afoxolaner.
NexGard lasts for thirty days and is safe enough to use in puppies as young as eight weeks old.
In addition to killing fleas and ticks, NexGard also kills three types of mites, Sarcoptes scabiei mites, Demodex mites, and ear mites.
Unfortunately, parasites need to bite your dog for NexGard to work.
You can check out a more in-depth comparison between NexGard and Frontline Plus here!
Side Effects: Vomiting, lethargy, itching, diarrhea, and lack of appetite. In dogs with a history of seizures, NexGard should be used with caution as there have been reports linking it to increased seizure activity.
Average Price: $11.33/month
Recommendation
I have used Frontline Plus for well over 15 years on most of my dogs.
Though I have switched some of my dogs to other flea and tick treatments, I still use it for Sophie, my 15-year-old.
In my opinion, Frontline Plus is one of the best flea and tick treatments available.
FAQS
How Long Does It Take for Frontline Plus to Work?
4 Hours for fleas and 12 hours for ticks.
How Long Does Frontline Plus Last?
Is Frontline Plus Harmful to Dogs?
With all flea and tick treatments, there is always a risk of side effects.
However, Frontline Plus seems to have fewer and less severe side effects compared to others.
Common side effects include skin irritation at the application site.
Has Frontline Plus Killed Dogs?
There have been no reports directly linking Frontline Plus with the death of a dog.
Can You Get Frontline Plus Without a Vet Prescription?
Yes! And it's sold at most pet supply stores.
Resources
https://apvma.gov.au/sites/default/files/publication/15191-fipronil-prf-vol2-animal-safety-literature_0.pdf