This post may contain affiliate links. It doesn't cost you anything extra and it keeps our lights on, our families fed, and our dogs spoiled. For all the juicy fine print, see our affiliate disclosure
Even though I spend a great deal of time researching everything I can about dogs, like behavior, foods, and medications, I am always finding new products.
Recently I discovered Comfortis, an effective flea product.
Because Comfortis appeared to be similar to NexGard, I thought it would be worth comparing the two side by side.
In this article, Comfortis vs NexGard, I will dive into how these products work, their pros and cons, and which situations are best suited for each product.
For those looking for a quick answer: NexGard is my initial pick for a flea and tick product since it is effective against more parasites than Comfortis.
Comfortis
Active Ingredients: Spinosad
Type: Flavored Tablet
Duration: 1 Month
Comfortis is an Elanco Animal Health Incorporated company[1]. Elanco, an American pharmaceutical company, was founded in 1954.
Comfortis' active ingredient is spinosad, which is in the spinosyn chemical family.
Chemicals in the spinosyn family are made up of two fermented compounds that have been proven as an effective insecticide, often used in fields.
Comfortis is a beef-flavored tablet that contains pork instead of beef, making it ideal for dogs with severe food allergies.
Comfortis lasts a full month, and it is easy to give because it's palatability.
Comfortis is effective at killing fleas quickly; in just 30-minutes, Comfortis starts going to work. And within four hours, Comfortis will eliminate all adult fleas.
For active flea infestations, it is recommended you use Comfortis for three months.
Comfortis is effective against adult fleas but not against eggs or larvae.
However, over the next months, it will continue to kill adult fleas, and in three months, the fleas will be fully eliminated.
Is Your Dog Driving You Nuts During the Day?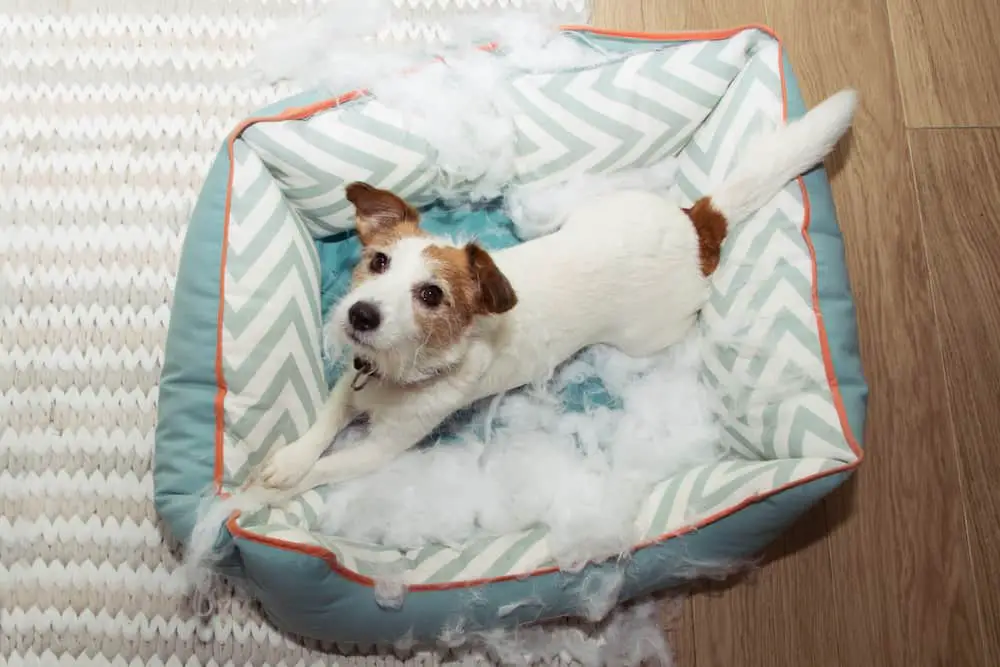 Get Our List of 11 Awesome Indoor Activities to Keep Your Dog Busy and Out of Trouble!
After all the fleas have been killed, you should continue to use Comfortis to prevent future flea infestations.
Comfortis is safe to use on puppies 14-weeks and older.
Read Also: Capstar vs Comfortis
✔
Pros:
Starts killing fleas in thirty minutes
Chewable tablets are easy to administer
Does not contain beef
Safe for puppies 14-weeks and older
✘
Cons:
Does not kill other parasites
Interacts with ivermectin
To start killing fleas fast with Comfortis, click here!
NexGard
Active Ingredients: Afoxolaner
Type: Chewable Tablet
Duration: 1 Month
NexGard is made by Boehringer Ingelheim & Merial Group pet products.
Boehringer Ingelheim Group is a family-owned company that focuses on improving both animal and humans' quality of life.
NexGard is a beef-flavored chewable tablet that is easy to give and lasts thirty-days.
NexGard is useful at eliminating fleas and ticks and killing three types of mites:
Sarcoptes mites, which cause sarcoptic mange[2]
Demodex mites, which cause demodectic mange
Otodectes mites, or ear mites
NexGard kills four varieties of ticks, including Black-legged ticks, American dog ticks, Lone Star ticks, and Brown dog ticks.
NexGard starts killing fleas in only four hours, including all life stages disrupting the life cycle.
NexGard is safe for puppies eight weeks old and older.
Afoxolaner is the primary ingredient in NexGard, which is a powerful parasiticide.
Afoxolaner attacks the insect's nervous system, resulting in uncontrolled overstimulation, eventually killing the parasite. The pesticide has been created to impact insects only and should not affect dogs.
The Afoxolaner spreads across the dog's body, so when a tick, flea, or mite bites them, the parasite will die.
Unfortunately, Afoxolaner needs insects to bite the dog and does not work as a preventative.
Afoxolaner is part of the isoxazoline chemical group.
The disadvantage of employing products in the isoxazoline family is that they can increase the risk of seizure activity in dogs who suffer from epilepsy and can bring about seizures in dogs with no seizure history.
Related: Nexgard vs Nexgard Spectra: Which Should You Use on Your Dog?
✔
Pros:
Is effective against three types of mites
Works to kill four varieties of ticks
Waterproof
Safe for puppies eight weeks old and older
✘
Cons:
Does not work as a preventative
Parasites need to bite the dog to be effective
Comfortis vs NexGard Compared
| | | |
| --- | --- | --- |
| | NexGard | Comfortis |
| Form | Chewable | Chewable |
| Kills Fleas and Ticks | Yes | Fleas Only |
| Repels Fleas and Ticks | No | No |
| Other Parasites | 3 Types of Mites | No |
| Active Ingredient | Afoxolaner | Spinosad |
| Duration | 1 Month | 1 Month |
| Prescription Needed | Yes | Yes |
| Waterproof or Water Resistant | Waterproof | Waterproof |
| Price per Month (Based on a Small Sized Dog) | $19.66 | $16.16 |
| Minimum Age Requirement | 8-weeks | 14-weeks |
Side Effects
Comfortis
Vomiting
Depression
Lethargy
Decreased appetite
Incoordination
Diarrhea
Itching
Trembling
Excessive salivation
Seizures
Also, using ivermectin, commonly used to prevent or treat heartworms, internal worms, and mites, with Comfortis may increase the risk of additional side effects, including[3]:
Trembling and twitching
Salivation and drooling
Seizures
Incoordination
Excessive dilation of pupils
Blindness
Disorientation
NexGard
Seizures
Vomiting
Diarrhea
Loss of appetite
Itching
Lethargy
Which Flea Treatment is Better?
Which is Safest?
Winner: NexGard
NexGard has side effects, though it does not have adverse drug interactions with ivermectin, commonly found in heartworm preventatives.
Additionally, NexGard has fewer possible side effects than Comfortis.
Which Works Fastest?
Winner: Comfortis
Comfortis starts killing fleas in just thirty minutes and kills 100% of adult fleas within four hours.
Which is the Cheapest?
Winner: Comfortis
Based on the pricing for small breeds, Comfortis is a few dollars less per month.
Which Lasts Longer?
Winner: Tie
Both products last for thirty days.
Standout Features
Comfortis kills fleas faster than most flea products, making it ideal for those combatting a current flea infestation.
NexGard works to eliminate three types of mites and four types of ticks.
Overall Winner
Winner: NexGard
Though NexGard is a bit more expensive than Comfortis, it works against more parasites than Comfortis.
Additionally, it is safe for younger puppies and has fewer side effects.
Conclusion
Comfortis and NexGard are both fast-acting effective products against fleas and last a full thirty days.
Even though NexGard is my preferred choice between the two, there are times when Comfortis may be the better option.
For example:
If your dog has a severe flea infestation, Comfortis is best to get rid of fleas fast.
If you have a current infestation and a multi-pet household, Comfortis might be the best choice to help prevent the spread of fleas.
If you have a younger dog then NexGard is the best choice.
If you are looking for a preventative against ticks, NexGard is the best option
FAQ
Can You Use Comfortis and NexGard together?
Though they both use different active ingredients, it should not be necessary to use multiple flea preventatives.
Is it Safe to Use Comfortis and Heartgard Together?
It is not recommended to use products containing ivermectin with Comfortis, so you should not use Heartgard and Comfortis together.
Resources
https://dailymed.nlm.nih.gov/dailymed/fda/fdaDrugXsl.cfm?setid=9e5580d1-d8ea-4e8d-9156-1741b13ba8c9&type=display