This post may contain affiliate links. It doesn't cost you anything extra and it keeps our lights on, our families fed, and our dogs spoiled. For all the juicy fine print, see our affiliate disclosure
Before I first brought Maggie home, people were giving me lots of advice about what to feed her.
Many of my dog loving friends told me about Blue Buffalo, which made me read more about the company.
While many people love and trust Blue Buffalo with their dog's health, I wanted to see what else was out there for my pup to choose from.
That's when I found Merrick, a highly competitive dog brand that often enters the running when people are trying to decide what to feed their dog.
Here's what I learned when I researched and compared the two, and which one I'd pick for Maggie.
Merrick's Company History
The Merrick brand began in 1988, when Garth Merrick decided to start feeding his dog, Gracie, with only home cooked food[1].
He spent a lot of time in the kitchen figuring out what foods were the most nutritious, which led to the Merrick brand.
Now, the company focuses on using high quality ingredients found in only fresh, whole foods. They refuse to use preservatives or fillers.
Plus, every new recipe is tested in Garth Merrick's original kitchen, so it still has that homemade care mixed into every blend.
Best Sellers
While Merrick makes many different dog food blends, their grain free recipes are what people love the most.
Their bestselling bags are:
Their blends go on to include ingredients like real rabbit and chickpeas, so owners have many sources of protein and nutrients to choose from.
Blue Buffalo's Company History
When the Bishop family's dog, Blue, was diagnosed with cancer, they became immediately interested in learning everything they could about dog nutrition[2].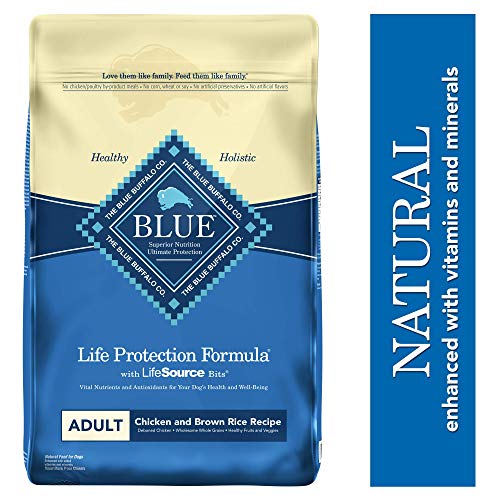 When they realized it all begins with the food they eat, they began making Blue his own food.
That led to the creation of Blue Buffalo, a dog food company that produces super premium pet food using only the best ingredients they can find.
Their initial blend, the BLUE Life Protection Formula, was created with a holistic veterinarian and animal nutritionist, so they could get everything right for the dogs their food would feed.
Best Sellers
The BLUE Life Protection Formula has become the top selling dog food in the country, so the Life Protection blends have followed right behind[3].
The bestselling Blue Buffalo products are:
Is Your Dog Driving You Nuts During the Day?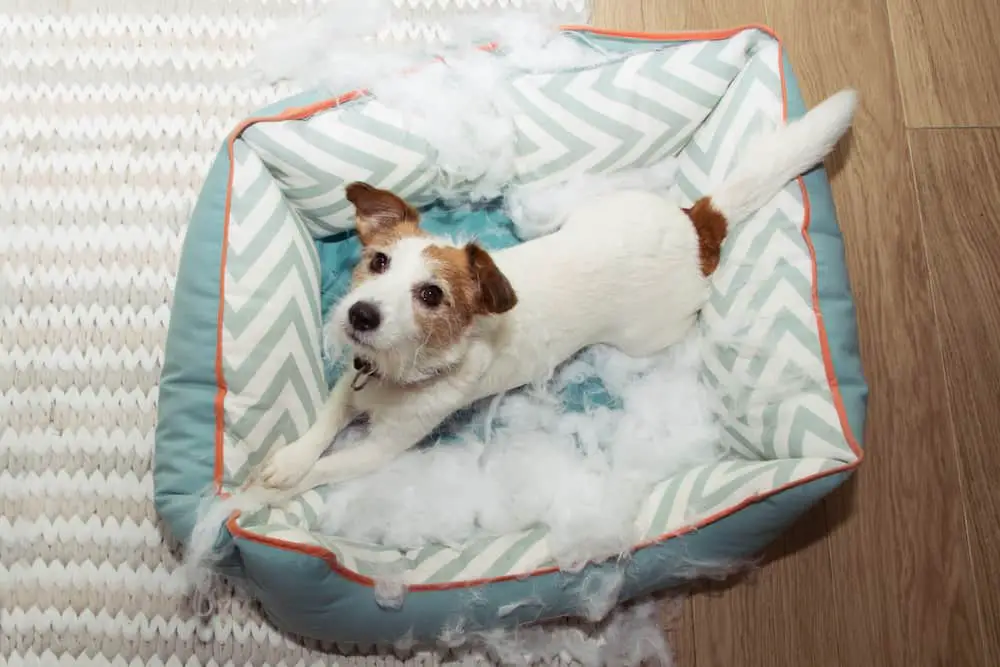 Get Our List of 11 Awesome Indoor Activities to Keep Your Dog Busy and Out of Trouble!
There are Life Protection Formulas for all life stages, which is what Blue Buffalo specializes in.
Recalls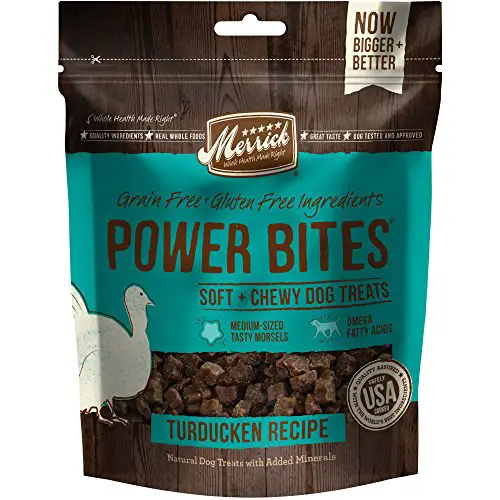 Unfortunately, both brands have faced recalls in the past.
Since 2009, Merrick has had seven recalls on treats of varying blends[4]. Most were found to be recalled because of elevated ingredient levels that could harm dogs, which was quickly fixed.
Blue Buffalo has also faced recalls, all of them much more serious than taking a few treats of the shelves of pet stores. In March of 2017, the Rocky Mountain wet dog food was recalled for toxic levels of lead[5].
In a separate recall that same month, 17 wet food blends were also recalled for foil seal issues[6].
Blue Buffalo has also faced recalls for dog food containing aluminum metal[7], high levels of mold[8], salmonella[9], and toxic levels of vitamin D[10].
That was only over the span of six years!
What's Important When Choosing a Dog Food?
When you're trying to choose a dog food for your furry best friend, you can't just grab the one that's on sale at your local pet store.
Consider these important factors to help you find the best food for your dog.
Ingredients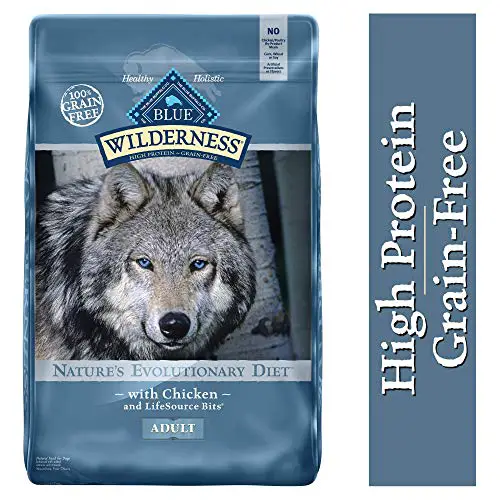 What ingredients do you value most in your dog's food?
Do you want them to get more natural sources of protein, or should the food be allergen free?
Depending on your dog's food sensitivities and allergies, the ingredients you look for could be different than any other dog you've fed before.
Differently aged dogs need different ingredients, too. What's good for a senior dog won't be good for a puppy!
Price
Price is always an important factor, especially for those who need to restock their dog's food regularly.
You'll want to make sure that you can afford your dog's food in the long run, rather than splurging big in the moment.
Availability
Where you live will have a big impact on the dog food you purchase.
If you have to drive thirty minutes to the nearest store, you may prefer online delivery.
Still, some places are too rural for delivery.
Research how you'll get the brands you're interested in so you know how to get it.
Taste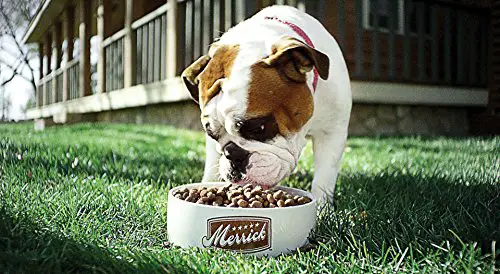 Your dog does get some say in their food when it comes to the taste.
Think about what your dog has enjoyed eating in the past to pick the best flavor.
You can't get peanut butter or bacon dog food, but go with something that's similar to what they enjoy.
Brand Reliability
Every brand out there is going to try to convince their consumers that they're the best in all natural, nutritious ingredients.
It's up to you to research the brand's history and then decide if they're reliable or not.
Comparison of Blue Buffalo vs Merrick
Here's where you can get down to business and compare the most important factors of both the Blue Buffalo and Merrick brands.
Ingredients
Winner: Merrick
Each of these brands says that use only the finest ingredients and no fillers, so let's compare the ingredients of their two bestselling foods.
Merrick's Grain Free Duck and Sweet Potato recipe has deboned duck as their first ingredient[11], which is super important.
The first ingredient listed is always the most plentiful, continuing down the list of ingredients[12].
I love that I can recognize the first 18 ingredients on Merrick's list. That shows that they really care about what they put in their dog food.
Blue Buffalo also has several recognizable ingredients, with deboned chicken being the first on their Life Protection ingredient list.
However, right above the ingredient list they have a picture saying they never start with chicken meals, but their second ingredient is chicken meal[13].
That seems a little fishy to me.
I'd choose Merrick in this case over Blue Buffalo, just because their ingredients appear to be more pure and honest.
Price/Value
Winner: Blue Buffalo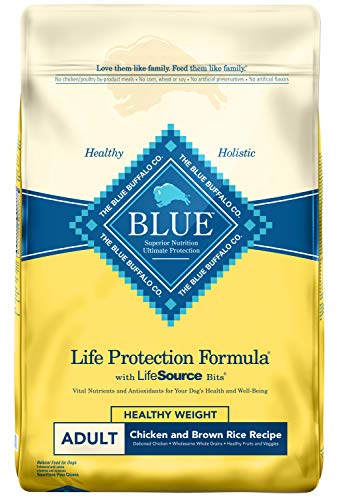 Blue Buffalo is also known for being expensive, but they average out at $2 per pound.
That's actually cheaper than Merrick, which averages almost $3 per pound.
That means Blue Buffalo wins the price round, although you'll have to personally weigh the value of the food based on what you learn from the ingredient list.
Availability
Winner: Tie
Both of these brands are sold online and in regular pet stores, so you don't need to worry about going to your vet for dog food.
Blue Buffalo is available at both Amazon and Chewy. Similarly, Merrick is available at both Amazon and Chewy.
Since they're both available at all the usual places dog owners go for kibble, I'd say this is a tie between the two brands.
Taste
Winner: Tie
Taste is another factor that has to be decided by your dog and what you've known them to eat.
People say their dogs enjoy eating both brands, so it's something your dog has to decide for itself.
Try both brands out on your pup to see which one they eat faster or wag their tail for more.
Maggie also does little twirling dance moves before she eats the food she loves, so pay attention to their physical signs of how much they love their food.
Brand Reliability
Winner: Merrick
Merrick wins the brand reliability, hands down. They've had several recalls, but only on treats.
Blue Buffalo has had multiple recalls in the same year, mostly for dog food.
I'd trust Merrick's history with my dog before Blue Buffalo any day.
Overall Winner
If I had to choose between these two, I'd feed Maggie Merrick.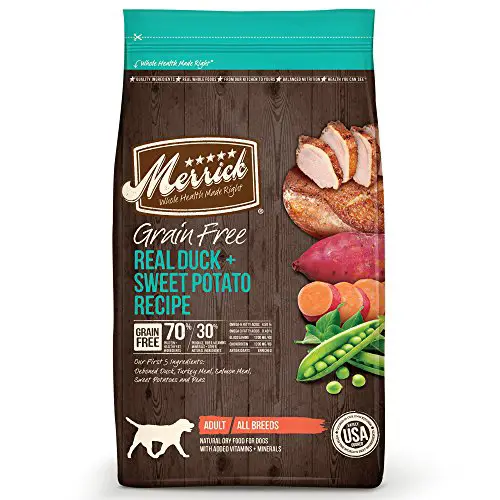 She has a grain-free diet, and I love that they have so many grain-free options for dogs. I also appreciate their extensive ingredient list, and that their history shows that they keep a close eye on their food production.
Quality and care beat Merrick's average higher price, although I do wish that it would be priced similarly to Blue Buffalo if I were to use it in the long run.
One thing to note is that the Blue Buffalo brand was built with Airedales in mind, so if your dog is an Airedale, the Blue Buffalo food may be more beneficial for your dog's biological make up than any other brand.
Resources