This post may contain affiliate links. It doesn't cost you anything extra and it keeps our lights on, our families fed, and our dogs spoiled. For all the juicy fine print, see our affiliate disclosure
I grew up with dogs who would eat just about anything they could get their paws on.
Whether it was scraps from the dinner table or the kibble in their bowl, they thought every bit of food was the best thing they've ever tasted.
Maggie is a different story.
She's always eaten dry kibble and was on the same food for a while. About six months ago, she started becoming a picky eater.
She ate her dinner slowly, taking breaks to come sit near me or stare at her food like it insulted her. It got me worried, big time.
Now I'm looking into different dog foods that she might find more interesting, so here's what I've learned about the Acana and Fromm brands.
Acana's Company History
I'd never heard of Acana before I began my research, but I wish I had. It's a dog food brand that has two goals[1]:
I love that they support their local economy, and the biological take on dog food is fascinating.
Dogs are built to eat a wide variety of meats out in the wild, even if modern day dogs would prefer an afternoon on the couch or in the doghouse than chasing down dinner.
Acana makes sure to produce food that reflects this biological need for protein variety[2], so your pup will get everything their body needs.
Best Sellers
Acana has many different types of dog food for owners to choose from, but these three have ended up becoming their best sellers:
Acana Ranchlands Dry Dog Food
Acana Wild Prairie Dry Dog Food
Acana Pacifica Dog Food
Notice the regional emphasis on each type of food? It's a fresh take that helps owners match their dog to the best food for them.
Recalls
Finding out that a dog food brand has been recalled in the past always makes me nervous about giving it to Maggie.
Surprisingly, Acana has never been recalled[3].
The only issue in their history is a class-action lawsuit that was filed in March of 2018.
Customers accused the company of not reporting heavy metals and toxins in the dog food, but the case was ultimately dismissed[4]. The judge found that the data was misinterpreted and the food was safe for dogs to eat.
Fromm's Company History
I love when a business is family run, which is certainly the case when it comes to Fromm dog food.
Is Your Dog Driving You Nuts During the Day?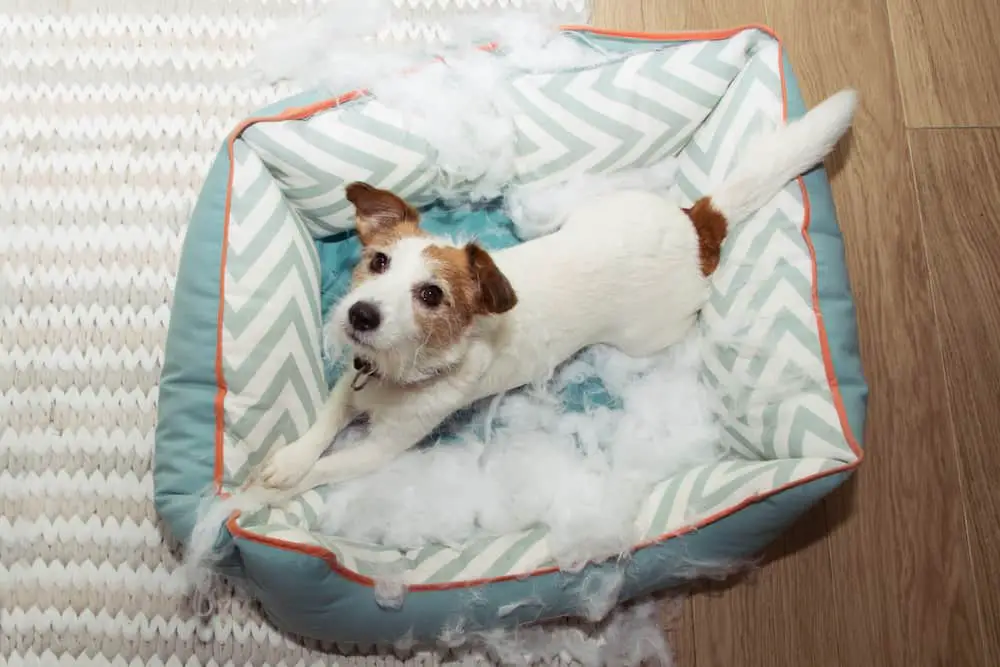 Get Our List of 11 Awesome Indoor Activities to Keep Your Dog Busy and Out of Trouble!
The Nieman family began the company in 1904 and since then have fine tuned the process of cooking grain and meats together to create the perfect kibble blend[5].
They emphasize that the key to good dog food isn't an increase in protein, but an increase in the quality of the protein used.
This initiative makes their food highly digestible and easier on sensitive stomachs.
Best Sellers
Fromm prides itself on offering many different varieties of high quality dog food.
These are some of the best sellers that customers have fallen in love with[6]:
I really like how some of their kibble varieties have names that look like they should be on a menu.
It shows that they care about what they're doing, which makes me more inclined to support their business.
Recalls
Even with their attention to detail, Fromm was recalled in 2016, specifically for their Gold canned foods[7].
It was reported to contain inadequate levels of minerals and vitamins.
This isn't a huge recall to be concerned about, since it didn't harm any dogs, but it is interesting that something could slip by a company that's proud of their focus on quality.
What's Important When Choosing a Dog Food?
Picking a new dog food brand is never a decision you can make by considering one factor.
Here's what you should think about before making a purchase.
Ingredients
What do you value most in your dog food's blend?
Look for ingredients that are all-natural, fresh, or at least recognizable.
The less chemicals in a food, the better it will be in the long run.
Price
You might be willing to shell out a few extra bucks for premium dog food, but is that price sustainable with your future budget?
Think about if you'll be able to afford the food on a regular schedule and what pricing would work best for you.
Availability
If you work in a vet's clinic, pet store, or other dog themed business, you might be able to grab a bag of food before you leave work in the evening.
Others might live in remote areas with only one store to choose from.
See if the food you're interested in is available in person or online, and then compare the two to help your price decision.

Taste
You'll probably never find dog food samples available at the store like you would with human food at a grocery store, but you can look up reviews online to see which brands get the best reaction from dogs.
No dog should have to eat food that tastes bad just because of the ingredients or the price.
Brand Reliability
How many recalls has a brand had?
Their history will prove whether or not their mission statement is what they truly believe in, or if they're the kind of business to cut corners to save some cash.
Comparison of Fromm vs Acana
These two brands both have great reputations, so here's how Acana and Fromm stack up against each other when it comes down to what's important.
Ingredients
Winner: Acana
The ingredients for each brand will differ based on which food you're reviewing, but Acana has a true focus on using only real ingredients.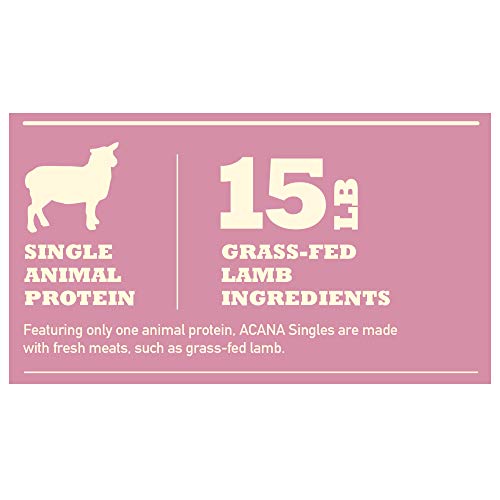 I can recognize everything in their Ranchlands formula, which is encouraging[8].
Fromm also prides itself on quality, but I'm not a fan that their second ingredient is "chicken meal" when their first ingredient is already chicken.
That makes me think they're using the meal as a filler to make more food for less money.
Acana wins the ingredients round for me, since nothing resembles any kind of filler or substitute.
Price/Value
Winner: Fromm
Both of these brands are top of the line, so they're going to be a little more expensive than your typical dog food. Acana averages over $2.50 per pound, whereas Fromm averages under $2 per pound.
You'll have to decide for yourself which price is better for you, since those will always change depending on where you shop and how often you need to restock.
Overall, Fromm seems to have more happy customers, since they offer 33 pound bags compared to Acana's 25 pound bags.
Availability
Winner: Tie
Neither of these brands can be purchased directly through their own websites, so you'll have to look around online at different sites and at in-person stores.
I depend on autoship deliveries for Maggie's food, so I'd call this section a tie.
Acana and Fromm are both available through the internet, and it's important to me to have the food shipped and not add another errand to my already tight schedule.
Taste
Winner: Acana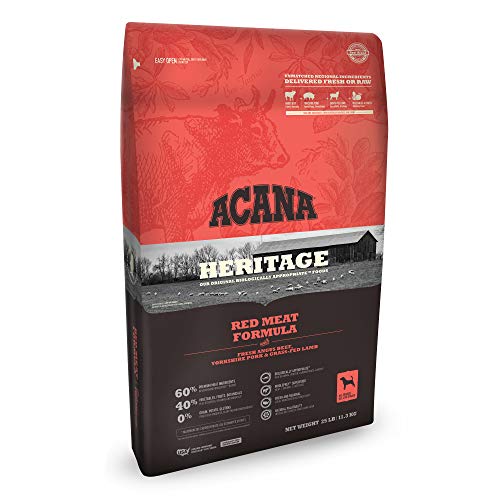 Maggie's never tried either of these brands, so I've had to read about what other dog owners have written about online.
Owners who have tried Acana say that they like that there's no one flavor to any food, since they all use a different blend of meat in each bag. It's enticing for dogs and seems to win most over.
Fromm customers also note that their dogs love the taste of the food, especially the canned version.
I'd say that Acana would win this round for me, since Maggie prefers dry food to wet food. Plus, I like that she'd get a totally new taste from the combined proteins.
Brand Reliability
Winner: Acana
Again, recalls are super important to me.
I like to know that my dog's food brand is reliable and not out for a profit.
These two brands have an almost squeaky clean record, with Acana coming out on top with zero recalls.
It concerns me that Fromm's canned food was recalled and that it's supposed to be the preferred product by dogs because of the taste.
Overall Winner
Winner: Acana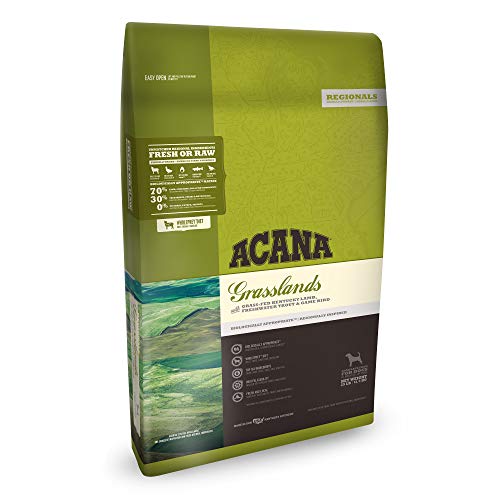 Both of these brands come close to each other in quality, reputation, and reviews, but Acana ended up being my favorite.
With no recalls, I already trust them with what they make.
I like that they play around with different meats and encourage kibble blends that are biologically appropriate for what dog's need.
If Maggie continues to be a picky eater, I'll try Acana before Fromm, although I think both could end up being a good choice if you want your dog to test them both out.
Resources