This post may contain affiliate links. It doesn't cost you anything extra and it keeps our lights on, our families fed, and our dogs spoiled. For all the juicy fine print, see our affiliate disclosure
Grain Free?
Puppy or Adult Formula
Primary Ingredients
Rating
Price
Wellness Complete Health Natural Dry Large Breed Puppy Food
no
puppy
deboned chicken, chicken meal, and peas
3.9
$$


Check Price
CANIDAE Grain Free PURE Dry Dog Food Limited Ingredient Diet for Puppies
yes
puppy
chicken, fish meal, and lentils
4.3
$$$

Check Price
IAMS Proactive Health Smart Puppy Large Breed Dry Dog Food
no
puppy
chicken, ground whole grain corn, and ground whole grain sorghum
4.1
$


Check Price
Halo Holistic Natural Dry Dog Food for Adult Dogs
no
adult
chicken, chicken liver, and dried eggs
4.3
$$$

Check Price
Taste of the Wild Grain-Free High Prairie
yes
adult
buffalo, lamb meal, and chicken meal
4.2
$$

Check Price
Castor & Pollux Organix Grain-Free
yes
adult
organic chicken, organic chicken meal, organic sweet potatoes.
4.1
$$$$

Check Price
Golden Retrievers are one of the most popular dog breeds around today. In addition to their reputation for being extremely smart and easily trainable, they are known for being good with children, making them an ideal choice for a family pet.
I was fortunate enough to grow up with a couple of goldens in my life. They really set the bar for me as far as what characteristics constitute a perfect dog in my mind.
At age 10, that list consisted of likes to play fetch, has soft and fluffy coat good for hugging, and looks like they are smiling when they pant. Golden retrievers checked off all those boxes for me, and they have always been one of my very favorite breeds.
An adult golden retriever generally stands between 21 and 24 inches tall and weighs between 55 and 75 pounds with the males of the breed typically being larger than the females. Goldens are large dogs that require plenty of exercise, as well as a healthy, nutritious diet. In addition to choosing the best dog food for golden retrievers, don't forget about healthy snacks and treats for your dog.
Dog Food Ingredients Golden Retrievers Need
It's important to note that not all sources of proteins and fats are equal. It's important that the brand you chose obtains these nutrients from quality sources. Learning to decipher the labels on dog food packaging is easy if you know what to look for.
Protein – The best dog foods will contain animal protein from quality meat sources such as chicken, beef, fish, and lamb. The protein the food contains the most of will be listed first on the ingredients list.
Fat – Your Golden Retriever also needs fat in his diet to help with the absorption of vitamins and other nutrients. Keep an eye out for fat sources like chicken fat or fish oil. For the diet of a golden retriever, the fat content of the dog food should not exceed 20%.
Vitamins and Minerals – Fruit and veggie ingredients in a dog food contribute vitamins and minerals like A, E, calcium, phosphorus, DHA, and glucosamine.
Complex Carbohydrates – The main concerns when looking at ingredients in dog food for golden retrievers should be protein and fat, but you also want to make sure it doesn't contain useless filler ingredients like soy, corn, wheat, or excessive amounts of sugar.  Ingredients like sweet potatoes, apples, and carrots are a better ingredients to find on your dog food label.
Ingredients to Avoid in Dog Food
While preservatives are necessary to stop the animal ingredients (like meats used as protein sources and animal fats) from going rancid, the best dog food for your golden retriever would ideally contain natural dog food preservatives. There are several varieties on the market to avoid as they contain chemical preservatives for dog food like the ones listed below.
BHA and BHT – Also known as butylated hydroxyanisole and butylated hydroxytoluene. I'm not going to sit here and pretend I know what any of those words mean. The World Health Organization has determined that they are carcinogenic, and I DO know what that means.  These are ingredients you don't want to find in your dog's food.
Propylene glycol – This substance has been banned by the FDA as an ingredient in cat food.  There are better ways to preserve the moisture content in dog food than with a substance that is known to cause anemia.
TBHQ – Tertiary butylhydroquinone is a preservative that has been shown to cause stomach tumors as well as damage to the DNA in cells.
Propyl gallate – This substance is full of something known as xenoestrogens which have been linked to breast cancer.
Ethoxyquin – This is used as a hardening agent in rubber and as a pesticide.  It has found its way to the banned substance list in both Australia and the EU and is currently under investigation by the FDA for concerns about liver and blood issues.
Golden Retriever Dog Food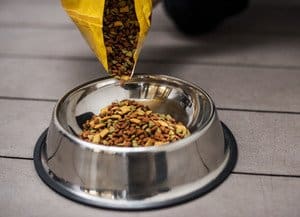 So what is the best dog food for golden retriever dogs? Like any dog breed, factors like age, weight, and activity level will affect their nutritional needs, so there is no one product that is the best fit for every golden retriever out there.
Based on their average weight, the National Research Council of the National Academies recommends shooting for a daily average of 1740 calories for this particular breed. If you have chosen to have your pet spayed or neutered or you have a very young pup or an older dog, their dietary needs may differ slightly.
The best food for a golden retriever puppy is not the same as the best variety for a fully grown golden.  That's why I've broken down the best choices I have found into two categories, puppy and adult.
Using Diet to Battle Common Golden Retriever Health Problems
Skin Issues –

Atopic dermatitis can be due to an allergic reaction to fleas or to other environmental factors or their food. Signs the conditions is related to a food allergy include loose stools, vomiting, and diarrhea.  Fish oil and flaxseed oil, both of which are high in omega-3s, have anti-inflammatory properties which help with this common skin issue in golden retrievers. If your choice of food is missing these as ingredients, a capsule can be opened and drizzled over their kibble.

Hip Dysplasia –

Maintaining a healthy weight can help your dog avoid this painful disorder resulting in the thigh bone not fitting property into your dog's hip socket. There are two ingredients to look for in a dog food, chondroitin and glucosamine, that are known to help repair damaged cartilage and reduce joint pain.

Subaortic stenosis (SAS) –

This heart condition can be fatal, and your dog's chances of developing this disease increase if they are overweight. A diet low in sodium can also help prevent water retention which can increase the fluid buildup that occurs with heart failure.
Eye diseases – Golden Retrievers are known for suffering from eye diseases including:

cataracts (p

roblems with the lens of the eye that affects vision), p

rogressive renal atrophy (c

auses progressive vision loss leading to blindness), pigmentary uveitis (a problem seen nearly exclusively in Golden Retrievers, this causes inflammation that can lead to other problems like glaucoma and blindness.)  Dog food ingredients to look for that contain large amounts of nutrients that are beneficial for your dog's optical health include foods like carrots, blueberries, salmon, kale, sardines, sweet potatoes, and broccoli.
Obesity –

High energy breeds tend to have large appetites. A dog food that is high in carbs is a common cause of dogs putting on extra weight. Carbohydrates get converted to glucose and then stored as fat. Measuring food, choosing a healthy diet, avoiding table scraps, and regular exercise can help reduce the risk of your golden retriever becoming obese. Obesity can put your dog at risk of cancer, heart disease, and joint problems. Also choosing a food with probiotics or even using a probiotic supplement for dogs can help with digestion and…ahem…output.

Bloat –

Large breeds like golden retrievers are prone to a stomach condition referred to as bloat. Their stomach becomes painfully twisted and bloated. Dividing your dog's meals into two or even three servings a day rather than one large feeding can help prevent this. Also using raised dog bowls have been known to contribute to this issue.

Cancer –

Unfortunately, one of the highest cancer rates in dogs occurs in golden retrievers, particularly hemangiosarcoma and lymphoma, a cancer affecting the immune system. Diet can help reduce your dog's risk of cancer. Maintaining a health weight in your dog and choosing a food with ingredients that are high in antioxidants, like fresh fruits and veggies.  Avoid dog foods with additives and colors that can result in a build up of toxins in your dog's body.
Best Puppy Food for Golden Retrievers
Specs
The first three ingredients are deboned chicken, chicken meal, and peas.

Larger kibble size for large breed puppies

Added DHA for healthy bone, brain and eye development

All natural ingredients

Does not contain unnecessary fillers like wheat, corn, or soy

No meat by-products, artificial flavors, colors, or preservatives
Overview – A great choice for golden retriever puppy food because it does not have common allergen ingredients that some dogs may be suffer from.
Is Your Dog Driving You Nuts During the Day?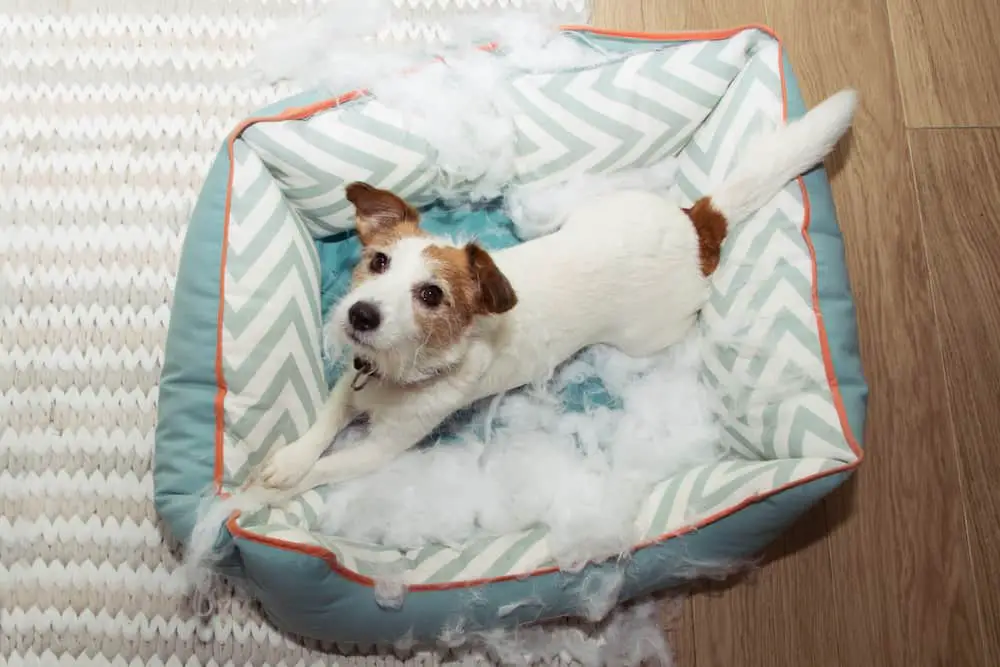 Get Our List of 11 Awesome Indoor Activities to Keep Your Dog Busy and Out of Trouble!
What You'll Like – Has a healthy ingredient list and no artificial preservatives. Contains ingredients high in antioxidants like blueberries and spinach.
What You Won't – It is one of the pricier golden retriever foods on our list.
Recommendation – This is a great choice of puppy dog food that checks a lot of boxes for golden retriever puppy food standards.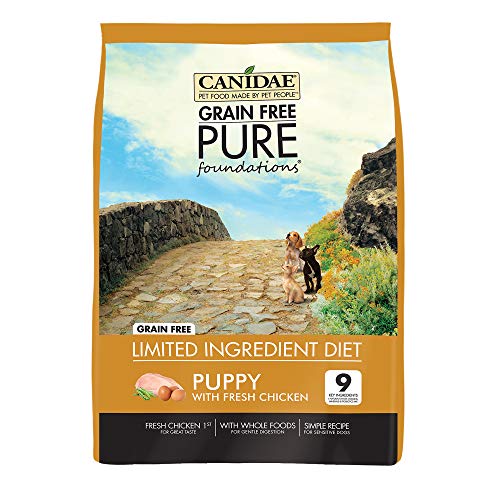 Specs
First three ingredients are chicken, fish meal, and lentils


With probiotics to aid in proper digestion

With antioxidant rich ingredients that support a healthy immune system

Simple recipes for puppies with sensitive stomachs

Also available in formulas for adults, weight management, and seniors
Overview – This grain free formula is excellent for pups with allergy and digestive issues.
What You'll Like – Uses a simple, nine ingredient recipe with no grains or fillers. Contains ingredients with antioxidants as well as added probiotics for digestion.
What You Won't – No zipper on the bag; complaints of excessively stinky dog breath.
Recommendation – This formula is priced fairly and is also available in formulas for other life stages, making switching easier when the time comes.
First three ingredients are chicken, ground whole grain corn, and ground whole grain sorghum

No wheat, no soy, and no artificial preservatives


Contains ingredients rich in antioxidants like spinach for immune system support



Also available in adult formula
Overview – Primary ingredient is real chicken in IAMS puppy food. Promotes healthy cognition with omega-3 and DHA for smarter, more trainable puppies
What You'll Like – This formula is for large breed puppies and the kibble is sized accordingly.  The primary ingredient is meat and contains no wheat, no soy, and no artificial preservatives.
What You Won't – Contains grains like barley and corn meal, a filler.
Recommendation – If budget is a concern, this may be the pick for you. This formula the most inexpensive dog food to make the list.
Best Dog Food Brands for Adult Golden Retrievers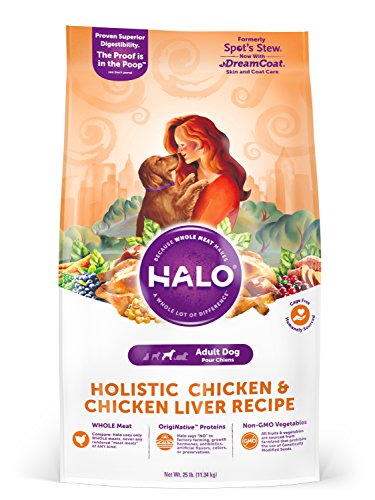 Specs
The first three ingredients are chicken, chicken liver, and dried eggs.

Contains omega-3 fatty acids to promote skin health
No rendered meat or meat meal
Contains easily digestible eggs as a protein, perfect for sensitive stomachs
Company slogan is "The proof is in the poop."
Overview – A great choice for golden retriever puppy food because it does not have common allergen ingredients that some dogs may be suffer from. This brand uses ingredients like flax seed, blueberries, zucchini, sweet potatoes, apple, green beans, carrots and cranberries.
What You'll Like – Made from cage-free poultry pasture raised beef, and wild caught fish. No meals or byproducts included in the ingredients.
What You Won't – Kibble pieces are on the smaller side for large breeds, which can be a problem for dogs who don't eat slowly and politely.
Recommendation – This food is made by a company with extremely high standards. If you can afford it, I absolutely recommend Halo.