This post may contain affiliate links. It doesn't cost you anything extra and it keeps our lights on, our families fed, and our dogs spoiled. For all the juicy fine print, see our affiliate disclosure
When I was younger, pretty much everyone fed their dog Purina or IAMS.
They were household brands and, at the time, two of just a few brands commonly seen in the grocery stores.
Not to sound like an old lady here, but back in my day, there weren't big chain pet stores, and there weren't any pet boutiques.
So, what happened to dog food companies like Purina and IAMS when the dog food market exploded?
I still see them on the shelves, but I tend to walk by them without thought.
However, I recently found out that my mom buys Purina for her dog. I was more than surprised to hear this and found out that it was our vet that recommended it.
I trust our vet and always go with their recommendations, but I couldn't help but wonder why of all brands she would recommend Purina.
Are Mainstream Food Brands Any Good?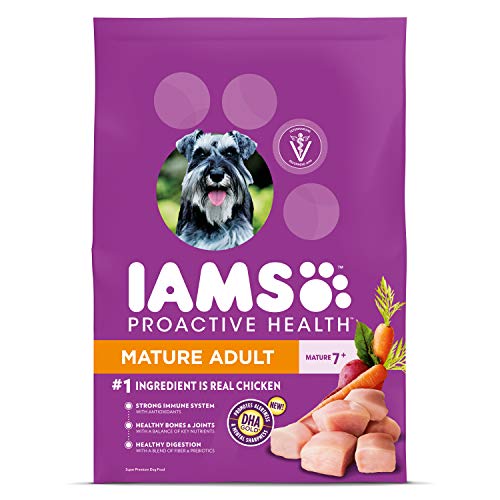 The last time I was in with one of my dogs for a check-up, I had to ask about her food recommendation.
My vet said she understood my surprise, but that brands like Purina and IAMS have really improved the quality and varieties of foods they offer.
Over the last several years, they have been forced to change to keep up with the growing market.
She also pointed out that the boutique foods are under scrutiny by the FDA as to the long-term effects concerning dilated cardiomyopathy (DCM).
The concern with the "boutique" foods is that they believe the grain-free foods are the cause of the increase in cases of dogs suffering from DCM.
So, many veterinarians are falling back on more tried and true brands such as Purina and IAMS.
Then at the end of my visit, the vet suggested I try ALPO kibble for Daisy.
She laughed at the look on my face when she suggested it. But she stated that it is a balanced diet and a lot of seniors that are picky eaters, like Daisy, tend to like it.
Purina's Company History
Purina has a very long history, stretching as far back as 1894[1].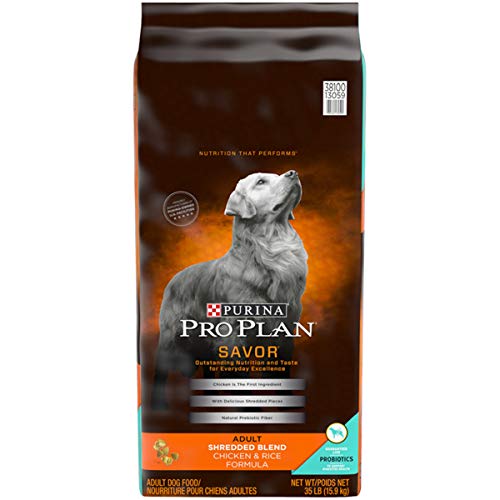 Back then it went by the name of Robinson-Danforth Commission Company for two of the three founders.
In 1902, they changed the name to Ralston Purina.
They originally started as a farm animal food company but over the years evolved into one of the biggest dog food companies in the industry.
In 1987, Purina shared their findings after a fourteen-year research project. The research proved feeding your dog appropriate foods throughout the different life stages can significantly impact the health and longevity of your dog.
In 1988, Purina launched the first hypoallergenic food that isolated the allergens and removed them from the food, creating a diet that was nutritious as well as safe for dogs with food allergies to eat.
Over the next years, Purina continued to grow, both in the pet food industry but also in different markets such as treats, dental chews, probiotics, and more.
In 2001, Nestle purchased Purina, making Purina a globally recognized name.
Is Your Dog Driving You Nuts During the Day?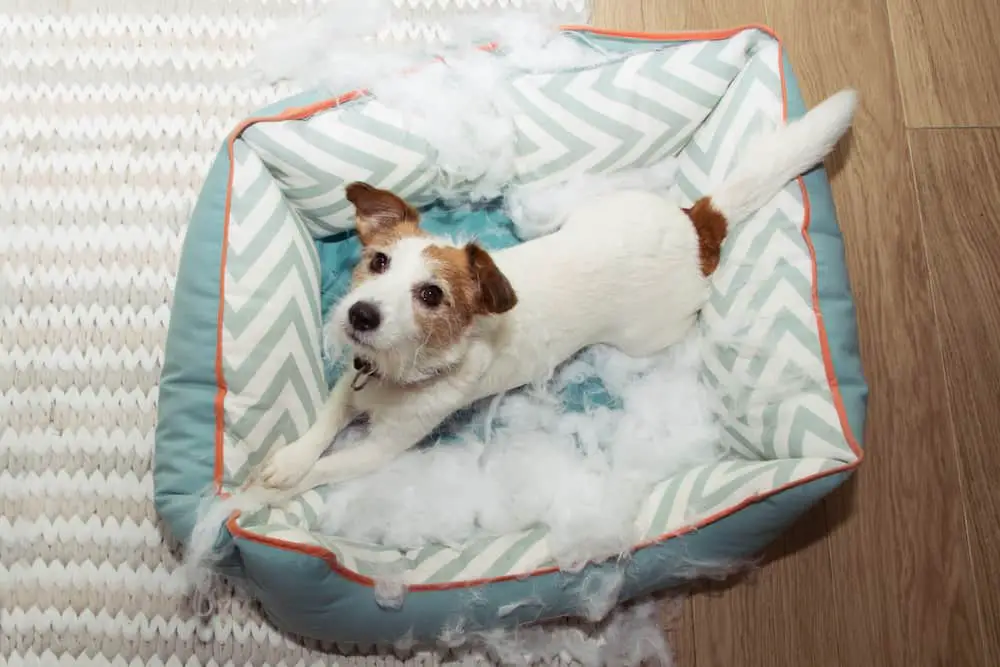 Get Our List of 11 Awesome Indoor Activities to Keep Your Dog Busy and Out of Trouble!
As of 2018 Purina is the second-largest dog food company in the world[2].
Purina's 3 Best Sellers
Purina One Smart Blend is a balanced food for adult dogs that don't have special dietary requirements.
The food is enhanced with antioxidants to promote a robust immune system.
Purina Pro Plan Focus is formulated to be rich in fatty acids to help improve good skin health.
Also, it has been enhanced with prebiotics for a healthy digestive system. Purina Pro Plan is not a hypoallergenic food, and it does contain grains.
Purina Pro Plan Savor is a highly digestible food containing prebiotics and probiotics to promote good digestive health.
This food has both dry kibble and shredded soft dog food to provide a more appealing texture for your dog.
IAMS' Company History
IAMS started in 1946 by Paul IAMS.
Paul IAMS would later launch the first animal-protein rich dog food, which was named IAMS 999.
In the 1980's, IAMS introduced their life stage dog formulas.
Then, in the 1990s, IAMS launched their natural dog food line and publicized their findings regarding the positive effects of fatty acids on a dog's skin and coat.
IAMS was privately owned until 1999, when Procter and Gamble purchased it[3]. When P&G purchased IAMS Co, they announced their intentions of expanding IAMS globally.
Later in the 2000s, IAMS brought their most advanced dog food formula line, Premium Protection, to market. Premium protection is a specially formulated food for puppies.
Finally, in 2014, MARS company announced the purchase of IAMS from P&G[4]. MARS is the largest dog food company in the world.
IAMS' 3 Best Sellers
IAMS Proactive Health is an excellent all-around food for adult dogs.
Chicken is the first ingredient in this formula, followed by corn and whole grain sorghum. It also contains beet pulp and prebiotics for healthy digestive systems.
Farm-raised chicken is the main ingredient in this food.
The chicken and chicken fat are a good source of glucosamine and chondroitin, which promotes healthy joints[5].
Like the other Proactive Health recipes, it contains an abundance of nutrients and vitamins to ensure a balanced diet.
This food is designed to help large breed puppies grow and develop at the proper pace. It also contains Omega-3 DHA to aid in brain development.
Finally, it has been enriched with 22 nutrients that are found in the puppy's mother's milk.
Purina Recalls
Purina has only had one dog food recall in the last ten years.
In August 2013 there was a recall (that included only one food, Purina ONE Beyond) due to possible Salmonella poisoning[6].
IAMS Recalls
IAMS has had two dog food recalls in the last ten years.
In December 2011 there was recall (for only one food, Iams ProActive Health Smart Puppy) due to possible aflatoxin contamination[7].
Then, in August 2013, there were six dry dog foods involved in a recall[8]. The recall was due to suspected salmonella contamination.
Healthy Naturals Weight Control Adult
Healthy Naturals Chicken Adult
Premium Protection Chicken
ProActive Health Small Breed
ProActive Health Large Breed
ProActive Health Large Chunks
Since the 2013 recall, IAMS has not had any additional recalls.
What's Important When Choosing a Dog Food?
There is a multitude of components that go into deciding on the ideal dog food.
Often, we only think of ingredients, and though that is a significant part of the decision process, it isn't the only factor to take into consideration.
Other things specific to your dog's dietary health requirements are essential when picking the right dog food.
Also, there are aspects of the decision-making process that do not have anything to do with your dog. But these elements are still essential when deciding on the best food for your dog.
There are two tiers to consider when deciding on the right dog food for your pooch.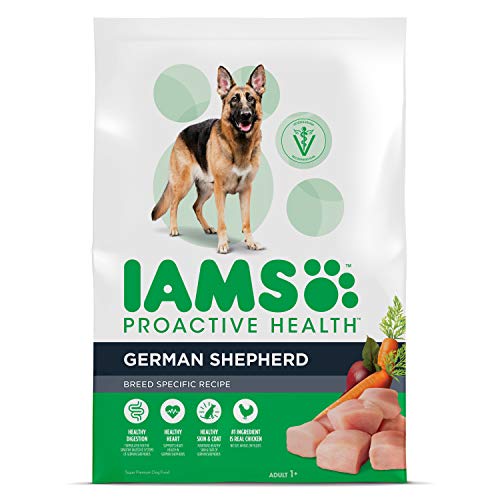 The first tier is made up of factors that directly relate to your dog's specific needs, like:
Breed (German Shepherds and Goldendoodles do better on different foods)
Activity Level
Size
Age (the best dog food will change as your dog grows from puppy to adult)
Health – Various diseases like Cushing's, heart disease, diabetes, and kidney disease, and GI issues
The second tier is made up of less critical, but still significant elements like:
Availability
Taste (what your dog thinks)
Price
Where the food is manufactured
Where the ingredients are sourced
Comparison of Purina vs. IAMS
Ingredients
Winner: IAMS
This was close, as the majority of the ingredients are similar.
However, I chose IAMS because of the additional superfoods found in their Proactive Health blend.
I compared each of the best sellers: Purina One Smart Blend Chicken and Rice and IAMS Proactive Health Adult Minichunks.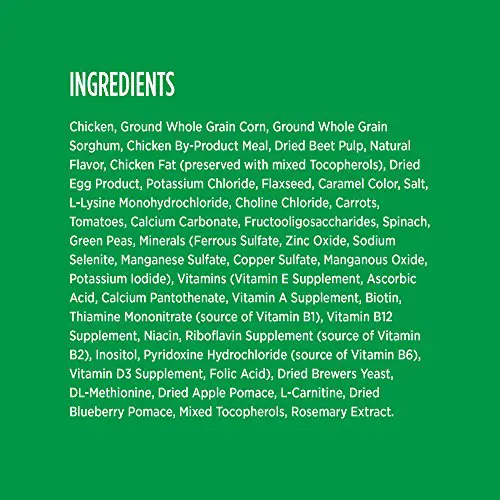 Purina's first ingredient is chicken, which is one of the natural sources for glucosamine.
Also, this food contains a variety of grains rice, wheat, and corn. There are a lot of added vitamins and nutrients listed, but not a lot of superfoods like spinach or blueberries.
However, they do use a variety of kibble to enhance the texture of the food.
IAMS first ingredient is also chicken, followed by two different grains.
IAMS also includes dried beet pulp to enhance the digestibility and promote good GI health. Also, this blend includes superfoods like blueberries, spinach, and apples.
Price/Value
Winner: IAMS
The average price per pound for IAMS is a hair over one dollar per pound. For Purina, it's three cents more expensive per pound.
The ingredients are pretty similar, but IAMs won because of the additional superfoods.
Combined with the ingredients and lower price, IAMS won for price and value as well.
Availability
Winner: Purina
Both brands can be found at the larger pet stores and online.
However, Purina is also available at more grocery stores and some boutique pet stores.
Varieties
Winner: Purina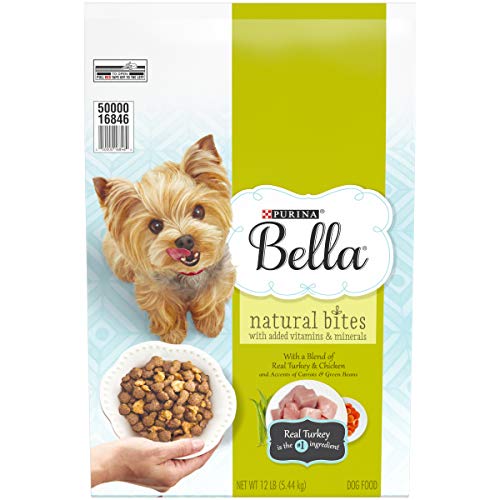 Purina is the winner with 96 unique recipes.
Purina Varieties
Purina has 96 different dry dog foods listed on their website. There are 7 different lines within these 96 foods.
Purina One – 18 Varieties
Purina Pro Plan – 41 Varieties
Purina Dog Chow – 10 Varieties
Beneful – 11 Varieties
Beyond – 9 Varieties
Bella – 2 Varieties
ALPO – 2 Varieties
Amongst these lines, they have specific recipes for seniors, puppies, large breeds, giant breeds, toy breeds, small breeds, weight management, hypoallergenic, skin and stomach sensitivities, grain-free, and sport.
IAMS Varieties
IAMS has 21 different dry dog foods listed on their website. These 21 foods are broken down into three categories:
Nutrition Tailored to a Dog's Age and Size – 8 Varieties
Nutrition Tailored to a Dog's Unique Dietary Needs – 4 Varieties
Nutrition Tailored to a Dog's Breed – 6 Varieties
Within these three lines, there are specific recipes for weight management, grain-free, and high protein.
Taste
Winner: IAMS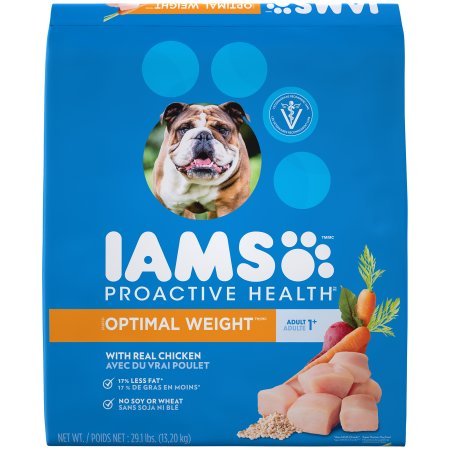 Even though the ingredients look similar to me, IAMS was the winner by a landslide.
I can't even begin to imagine what IAMS has that Purina does not.
Never mind, yes, I can imagine.
Purina has the "tender meaty morsels," which I thought dogs would prefer over standard dry kibble, but I guess I was proved wrong.
X-Factor
Winner: Purina
Both companies support their communities, but Purina's work stood out more to me.
Purina:
Donates $10,000,000 annually to Rescue Bank[9]. Rescue Bank aids animal rescues through donating foods from various animal food vendors.
Supports Leader Dogs for the Blind.
Partners with local animal shelters all over the US.
Supports Adopt a Pet.
Supports Duo Dogs, a program that connects dogs and people to help enhance their lives.
Supports Dogs on Deployment assisting troops in finding a safe place to board their pets while on deployment.
Partnered with St. Louis Children's Hospital and funded a room for children to be able to visit with their pets while staying in the hospital.
Red Rover and Purina started the Purple Leash Project to aid in keeping victims of domestic violence together with their pets in February 2019[10].
In addition to these ongoing partnerships, Purina also has donated money or food to help:
Pets and people impacted by tornadoes and flooding in the Midwest during June 2019.
Pets and people impacted by both Hurricane Florence and Hurricane Michael in 2018[11].
Build a dog park inside a domestic violence shelter in 2018[12].
Overall
Winner: Purina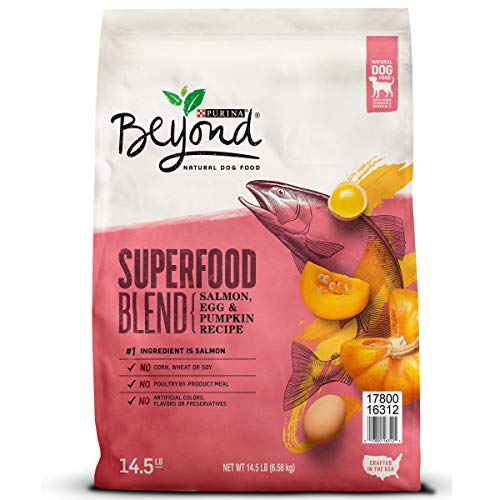 Purina is the overall winner because of their large variety and X factor.
The massive array of food Purina offers is impressive. I think it would be hard not to find a food that would meet a dog's dietary needs.
Also, with the ability to find Purina almost anywhere is a big bonus.
The X factor doesn't always make a significant impact on the decision-making process, but I am enamored with companies that support their communities.
Final Thoughts
I am honestly surprised at how impressed I am with the two brands.
Both companies surprised me with how much they have evolved over the years. They each offer an impressive selection of quality dog food, and they both have fewer recalls than I had expected.
I didn't expect they would have higher recalls because I thought they were terrible brands but because of the volume of food they produced and sold.
Both Purina and IAMS are companies that I would confidently recommend to friends and families looking for a specialty dog food.
Occasionally, after researching a dog food company, I come away disappointed.
However, today I am happy to say both companies impressed me with the quality of food they offer.
Resources
Still Have Questions?
Ask a Vet!