Best Foods for Shedding Dogs: Winners
Dogs shed all year long, and your pet's fur coat needs proper care to look its best.
However, there are many dog food options which means the market is competitive, and owners face difficult decisions.
In this article, I have reviewed the top 11 foods for shedding dogs in 2023 that can help you make a good choice.
The Best Dog Foods for Shedding
Overall Best Food for Shedding Dogs – Orijen Six Fish Grain Free Dog Food
When it comes to shedding, Orijen's Six Fish food contains high-quality ingredients that help reduce these issues. It is a well-rounded product that provides good nutrition without any fillers.
The fish proteins are unrivaled in quality, in my opinion, and the fact that there's no grain means no allergy potential.
The reason for this is that it is made from six different fish species, hence the name of the food. It is not made from one type of fish alone.
The omega fatty acids are also essential because it is equivalent to a fish oil supplement on its own.
Orijen Six Fish Grain Free Dog Food comprises diverse ingredients, including Atlantic mackerel, monkfish, herring, Acadian redfish, silver hake, and flounders. Fish organs, cartilage, and bones make up 85% of Orijen's food.
In addition to vegetables and botanicals, there are no grains in the remaining 15% of ingredients.
The nutrients in Orijen Six Fish Grain Free Dog Food are preserved because it is made with a freeze-dried process. As a result, it creates a fresh and tasty formula, which makes it appealing to dogs.
The food is also free from two common allergens, such as corn and soybeans.
Pros
Ingredients from whole foods
The protein content is high
Components of the highest quality
There have been no recalls
Free of grains
Presence of fruits and vegetables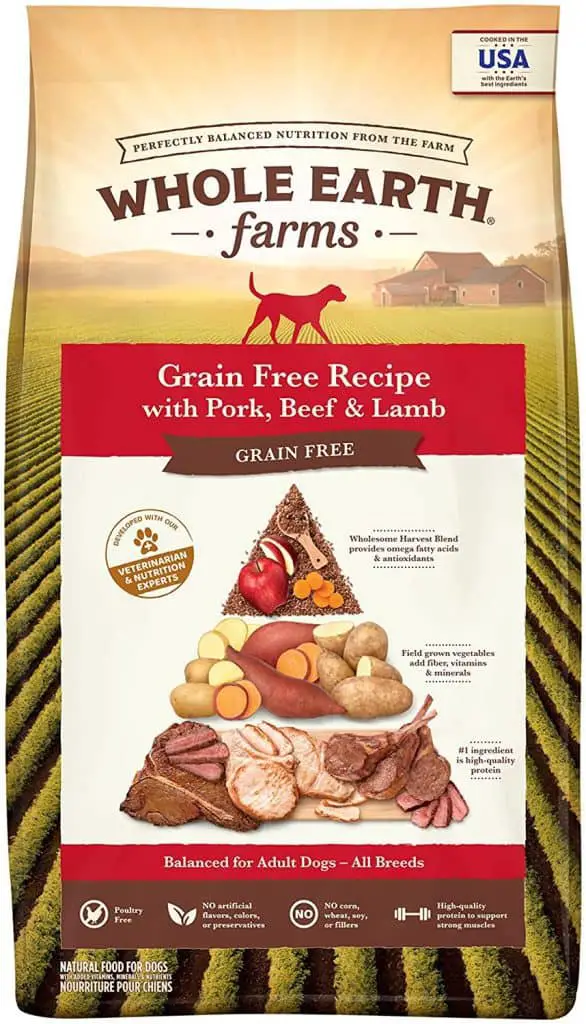 Budget Choice – Whole Earth Farms Grain-Free Recipe Dry Dog
Whole Earth Farms have been known to produce high-quality dog foods.
This grain-free dog food is made from beef, pork, and lamb. It contains enough protein for high-energy dogs and a decent proportion of fats to enhance the coat and skin.
Whole Earth Farms Grain-Free Recipe Dry Dog Food also contains fresh fruits, vegetables, and vitamins that provide nutrients and antioxidants for the immune system to function well.
In addition, the small kibbles make it easier for the dog to eat.
There is an absence of any type of fillers, which sometimes lead to allergies. The food is easily digested and does not cause stomach upsets.
Pros
It has essential nutrients like fiber and protein
It is effective for dealing with dog shedding
It is suitable for different breeds of dogs and of all ages
It is affordable
Cons
All dogs can eat it except the ones with chicken allergies.
Upgrade Pick – Crave Adult Dry Dog Food
The next on my list is Crave Adult Dry Dog Food.
This shedding-reducing food is high in protein and carbohydrates. What this means is this food is excellent for dogs that engage in a lot of physical activities.
The company thinks that the wild wolf diet, which exists upon high animal protein levels, should at least be imitated by the dog.
That is why the firm uses natural lamb as its principal component in the adult category of cuisine.
Is Your Dog Driving You Nuts During the Day?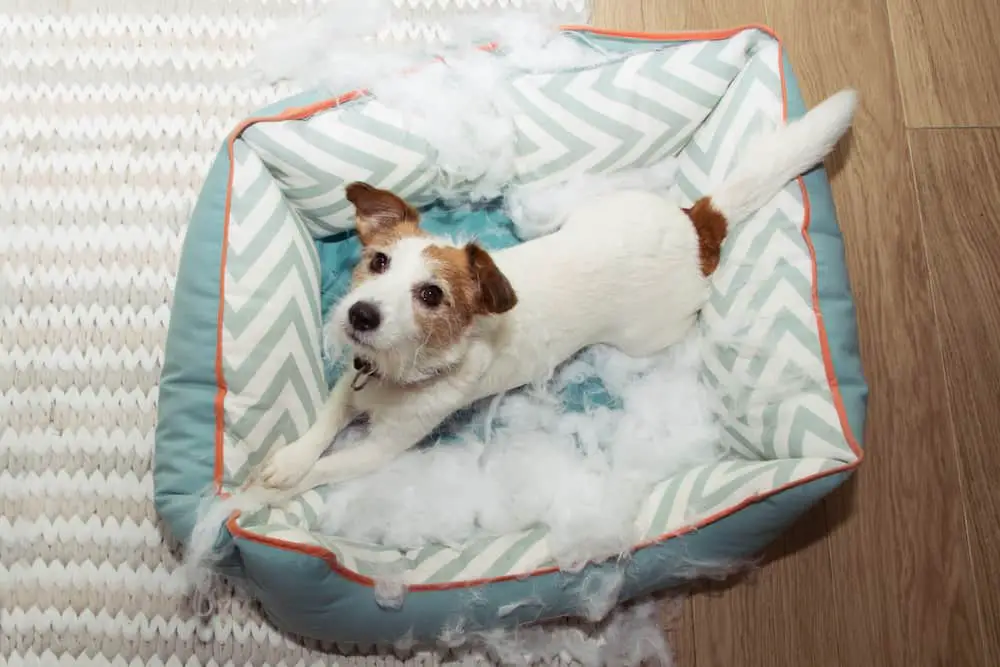 Get Our List of 11 Awesome Indoor Activities to Keep Your Dog Busy and Out of Trouble!
Another reason I like this brand because it is another excellent source of animal protein and DHA for dogs.
The meal is also rich in vitamins and provides the minerals needed for a highly active dog. This is a unique component.
Pros
Since the start, no food recalls
High levels of protein and carbohydrates for active adult dogs
Suitable for allergic dogs as chicken or grain-related items are not included
High-grade food is relatively inexpensive
Cons
It may not be ideal for high-energy dogs
Best Dog Food for Healthy Coats – Purina Pro Plan Sensitive Skin & Stomach
This food made my list because it contains all the nutrients your dog will need to reduce shedding and enhance its coat.
The appropriate balance of protein, fat, fiber, vitamins, and minerals is included on the nutritional front.
It also contains natural probiotics and oats that aid your dog's digestion1, making it particularly good for pups with sensitive stomachs.
In shedding, this product offers nutrients like Omega 3 and Omega 6, which can assist your dog's skin and coat feed. Omega 3 fatty acids are primarily obtained from salmon, whereas Omega 6 is mainly derived from sunflower oil.
Another excellent feature of Purina Pro Plan Sensitive Skin & Stomach is that it does not contain corn, soy, or wheat.
Although, it is not grain-free.
Pros
DHA enhances skin and vision health
It strengthens your dog's bones and joints with high calcium content
Strengthening growth with high protein levels
Cons
There have been some complaints concerning the high concentration of carbohydrates
Most Environmentally Friendly Food for Shedding Dogs – Annamaet Grain-Free Sustain Formula Dry Dog Food
If you need food that won't be hard to feed to a dog and that your pup will enjoy, then this is good for you.
It has a proven record of taste that your dog won't dislike. The ingredients are high-quality and will be able to keep your pet healthy.
This food is rich in protein, and the fat is sourced chiefly from vegetable oils. As a result, the vitamin content is balanced; it doesn't suffer from any nutrient deficiency.
In addition, the bioavailability of vital nutrients is ensured because of the consumption of minerals and dietary fiber.
The Annamaet Grain-Free Sustain Formula Dry Dog Food will make sure your dog is healthy, and it won't cause them to experience any digestive problems.
Also, it has a long shelf life, so your dog will be able to consume it for as long as you wish.
Pros
Wild-caught cod and turkey are used in this recipe
Healthy skin for your dog thanks to omega fatty acids
Healthy digestion is encouraged by the presence of probiotics in this product
Strengthens bones and ligaments with chelated minerals
Breed-neutral
Cons
It is pretty pricey
It is not safe for younger dogs
Best Food for Sensitive Shedding Dogs – Hill's Science Diet Adult Sensitive Stomach & Skin Chicken Recipe
Hill's Science Diet Adult Sensitive Stomach & Skin Chicken Recipe had to make my list because it helps prevent shedding and ensures your dog's overall health is cared for.
This brand has dramatically improved over the years and is now one of the most effective dog foods you can buy.
In addition, this kibble is high in protein, which will help keep your dog's hair looking great.
It is produced with a gentle, easy-to-digest formula that has been proven to help reduce the amount of shedding that your dog will experience.
This food is also easy on the stomach and will help keep any digestive issues at bay.
Prebiotics in this food will help support the growth of good bacteria in your dog's stomach, along with helping with the breakdown of protein. In addition, this formula will ensure that your dog's digestive system doesn't get backed up.
This food is also hypoallergenic and contains zero artificial ingredients.
Pros
Ingredients that are easily digested
The essential vitamins will strengthen the dog's immune system.
Healthy digestion is promoted by high fiber content
Omega-6 fatty acids protect skin and coat
The perfect choice for sensitive stomached dogs
Cons
The price is on the high side
Best Shedding Food for Large Dog Breeds – Blue Buffalo Life Protection Formula
The goal of any quality food for dog shedding is to reduce the amount of hair on your couches, floor, and clothes.
Blue Buffalo is one of the best dog foods with this goal. Blue Buffalo Life Protection Formula contains ingredients that help prevent shedding and other skin problems.
This dog food is made with the best quality of chicken, which is essential in developing muscles for your canine friend. It is tasty and chewy because of the inclusion of chicken fat and flavor during its production.
Fruits like berries, apples, spinach, and carrots are included in this food to help against the problems of loose fur.
In addition, these fruits and vegetables are full of fiber which helps to keep your dog's skin healthy and prevent it from shedding.
Healthy skin for your dog is the most beneficial of your investment in its food. Unfortunately, many skin issues cause your dog to shed too much hair, including allergic reactions, fleas, hot spots, and infections.
With the quality ingredients in this Blue buffalo, you will soon see a noticeable difference in your dog's coat.
Pros
Low-heat preparation prevents nutrients from being lost in the food
A dog's skin is restored to health with it
Dogs like the taste of it because it is familiar to them. The food is therefore delicious
There are no artificial flavors in it
Cons
This food is only suitable for large dogs
Best Shedding Food for Small Dog Breeds – Instinct Limited Ingredient Diet
If you are looking for affordable food that is safe for your small breed dog, Instinct Limited Ingredient Diet is one of the best foods for smaller canines.
It is also a complete food containing animal-based protein, fiber, and fat that can benefit any dog with a sensitive stomach.
Turkey is the main ingredient in this formula, and it is also the first ingredient on the list. Turkey is an excellent source of protein for your dog, which is vital for their overall health.
This food is also grain-free to avoid any potential allergies triggered by grains.
Furthermore, the manufacturers included Omega fatty acids, which dogs naturally do not produce. These fatty acids are essential for the development of your dog's skin and coat.
Also, this feed contains Chondroitin, which aids the cartilage and joints to support your dog better.
This food is also AAFCO-approved2, so you can be sure that your dog is getting the proper nutrition he needs.
Pros
Sensitivities are reduced by using a limited ingredient formulation
This recipe uses cage-free turkey to provide easy-to-digest protein
Made specifically for breeds of small dogs
The carefully balanced minerals in this supplement help reinforce the health of bones, ligaments, and teeth.
For a healthy and shiny coat, omega fatty acids are high in content
Budget-friendly
Cons
It is not recommended for larger breeds
Easiest to Digest Anti-Shedding Dog Food – Nature's Recipe Grain-Free Easy-to-Digest Recipe
Nature's Recipe Grain-Free Easy-to-Digest Recipe is a type of food that contains ingredients with high-quality nutrition.
These high-quality nutrients are essential for a healthy dog, and this formula includes everything you need to ensure your dog has a balanced diet.
Salmon is the primary ingredient used to produce this food, including pumpkin and sweet potatoes to ensure your dog can digest it.
Not many dog foods will use salmon to make their meals, but this one is fine as it is high in nutrients and vital fatty acids.
The salmon also retains the moisture that your dog may need to keep his skin hydrated and eliminate any dry skin or flaky coat.
Furthermore, this food is also great for shedding since it is rich in vitamins and provides your dog with energy and protein.
There are various vitamins, minerals, and antioxidants in Nature's Recipe that will reduce hair loss.
Pros
Salmon provides high-quality proteins
It contains ingredients that are easily digested
It has a delightful flavor
Artificial flavors and corn are not used
It enhances a solid immune system due to vitamin and antioxidant content.
Cons
Young dogs should not consume this food.
Best Dog Food for Shedding with Few Ingredients – Wellness Simple Limited Ingredient Dry Dog Food
If you have a high food intolerance dog, I recommend purchasing Wellness Simple Limited Ingredient Dry Dog Food.
It is free of preservatives like gluten, wheat, corn, soy, and artificial colors. It's also a holistic food that is not made up of animal by-products. As a result, it is bound to be one of the best dog foods for shedding in 2021.
This food is delicious and ideal for your dog. The primary source of protein for this food is lamb, which provides your dog with the necessary amount of amino acids that it will need.
Additional ingredients like peas, oatmeal, and ground rice are included to help supply carbohydrates that your dog will need to stay energetic.
The peas and ground rice will also help your dog maintain its body weight by providing sugars and starch.
Flaxseed, rich in fatty acids, is another ingredient in the food that helps keep your dog's skin healthy and shiny.
You can expect your dog to be energetic and healthy with this food.
Flaxseed, rich in fatty acids, is another ingredient in the food that helps keep your dog's skin healthy and shiny.
In addition to this, all of the ingredients are easily digestible and absorbed in the gut.
Pros
The food is specially formulated to appeal to dogs with food sensitivities and allergies
The primary ingredient is lamb
Corn, corn gluten, eggs, and artificial preservatives are not included
Digestion-friendly ingredients
Probiotic-enriched
Cons
This product is expensive
Best Dehydrated Anti-Shedding Dog Food – The Honest Kitchen: A Dehydrated Grain Free Dog Food
This dog food is preserved through dehydration instead of using the usual chemicals, which is a great thing.
However, while most dog owners would typically look at the ingredients before buying any dog food, when it comes to dehydrated food, you need to look at how they dry the food and also how they store it.
Protein and vitamins are abundant in this low carbohydrate food. The key ingredients in this recipe are carrots, eggs, turkey, cranberries, spinach, coconut, and potatoes.
Additionally, it contains vitamins D3, E, and B12. Minerals like potassium, chloride, and zinc are also used in manufacturing this nutritious dog shedding food.
The Honest Kitchen also made sure this food is FDA approved, which means that you can be assured that this dog food is of the highest quality.
In addition, the ingredients used in this dog food are made from all-natural and organic sources, which gives it a pleasant taste that many dogs love.
Pros
Adults, as well as puppies, can enjoy it
Carbohydrate content is minimal
This easy-to-use product is suitable for taking your dog on a trip
All ingredients are organic and non-GMO
4.3 lbs are all it weighs
Cons
This food is not suitable for highly active dogs because it is low in carbohydrates
Conclusion
Suppose you have chosen a food based on my list, congratulations.
However, if you are still unsure and your dog's shedding is too much of an issue, I recommend doing a little research and finding the right formula for your dog.
There are many factors to consider, and I hope that I have been able to help you a little.
Resources