Though I had heard of NexGard, I had never used it until I adopted Mira.
When Mira came to us, she had a case of Demodectic mange, likely from a diet lacking proper nutrition.
After noticing small spots where Mira was losing hair, I brought her in to see the vet. I found out she had mange, but thankfully not the contagious kind.
Mira was only 14-weeks old, so we were told to use NexGard for three months, or until it cleared up.
Though I had already started Mira on NexGard, I wanted to learn more about it and see what people had to say about it.
After reading a few NexGard reviews and doing my own digging, I liked what I found out.
I found some useful and interesting stuff about NexGard and thought it would be worth sharing what I learned, so I put together a NexGard flea and tick review of my own.
What Is NexGard
NexGard is a beef-flavored chewable that protects against fleas, ticks, and mites.
It comes in a monthly dose and is flavored to make it more palatable.
I've never had a problem getting Mira to take her pill!
Additionally, there is also Nexgard Spectra, which protects against fleas, ticks, mites, heartworms, and intestinal worms.
NexGard Ingredients
The primary active ingredient in NexGard is afoxolaner, an insecticide and acaricide.
NexGard Spectra also contains afoxolaner plus milbemycin oxime for protection against worms.
Related: Nexgard vs Nexgard Spectra: Should You Switch
How Does NexGard Work?
Afoxolaner, the active ingredient in NexGard, kills fleas and ticks by binding to channels in the parasite's nerve cell membranes[1].
Afoxolaner ultimately attacks the central nervous system, causing the parasite to become overstimulated, resulting in uncontrolled activity and eventually death.
Because the nervous systems are different in dogs, afoxolaner should not affect the dog.
Is NexGard Effective at Killing and Preventing Fleas and Ticks?
Afoxolaner kills adult fleas, mites, and various tick species like Lone Star ticks, American dog ticks, Black-legged ticks, and Brown dog ticks.
Unfortunately, NexGard does not prevent fleas, ticks, or mites. The parasite must bite your dog and ingest the poison to be effective.
NexGard starts killing fleas in as little as four hours after administering and 48 hours for ticks.
Is Your Dog Driving You Nuts During the Day?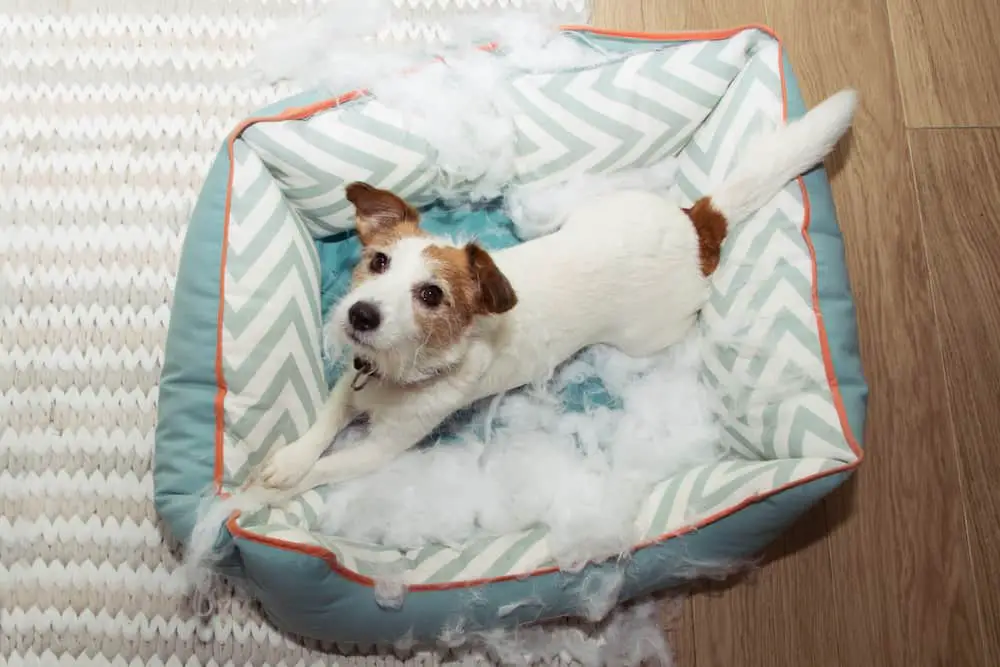 Get Our List of 11 Awesome Indoor Activities to Keep Your Dog Busy and Out of Trouble!
Read Also: Credelio vs Nexgard: Which is the Better Chewable Flea Med?
Is NexGard Safe for Dogs?
NexGard and NexGard Spectra are generally considered safe for all breeds, including Collie breeds.
However, it is vital you use NexGard as directed to ensure they receive the proper dosage.
Also, NexGard is safe for use with small dogs weighing at least 4 pounds.
However, like many flea and tick protection options, the primary ingredient in NexGard is afoxolaner.
This insecticide falls into the isoxazoline family of chemicals. The isoxazoline category of chemicals has been linked to an increase in seizure activity in dogs that have a history of seizure disorders[2].
Also, there have been some cases of seizures in dogs without a history of this condition.
Is NexGard Safe for Puppies?
NexGard is safe for puppies as young as eight weeks as long as they weight at least 4 pounds[3].
NexGard Side Effects
Side effects commonly associated with afoxolaner include:
Vomiting
Diarrhea
Lethargy
Loss of appetite
Itching
Seizures
Most side effects will resolve without medical treatment and only last a short duration.
However, if any of the side effects are severe or persist for more than 24 hours, seek veterinary assistance immediately.
If your dog is experiencing GI side effects, changing your dog to a bland diet can help your dog recover faster.
Also, if your dog is itchy (from NexGard or the flea bites), you can usually use diphenhydramine (Benedryl or a dog-specific brand such as Prosense)[4]; just be sure to consult your vet first.
Where to Buy NexGard
Because NexGard requires a prescription, you can only find it at certain retailers.
However, most vet clinics carry NexGard either in-house or on their online store.
However, you can also get NexGard online from Chewy.com, 1-800-PetMeds, VetApprovedRx, and more websites.
Remember, even though you can order it online, you still need a prescription. Some companies will contact your vet, but others request a scanned copy from you.
Most NexGard is about $18.99 per month, except for the NexGard for 4-10 pounds, which is slightly less,
However, Nexgard Spectra is more expensive per month, and the price is based on your dog's weight.
Alternatives
NexGard is not the only choice for flea and tick protection available on the market.
Below are some alternatives to NexGard.
Also, you can see how Nexgard chewables compare to the popular topical treatment, Frontline Plus.
Bravecto
Bravecto and NexGard are very similar. Both:
Are flavored chews
Protect against the same parasites fleas, ticks, and mites
Cost about $56.99 for three months
Are prescription only
However, there are a couple of differences.
Bravecto is a three-month tablet, whereas NexGard is only for one month.
Also, Bravecto uses a different active ingredient, Fluralaner. Fluralaner is in the same family as afoxolaner, so it has comparable side-effects.
Bravecto is an excellent option for families looking for a preventative that lasts longer than just a month.
Click here to learn more about Bravecto in our comprehensive review!
Seresto
If you would prefer a flea and tick collar, Seresto lasts up to eight months, which is one of the key features of using this option.
See how Nexgard compares to Seresto in our comparison
The active ingredients in the collar are imidacloprid and flumethrin, which protect against fleas, ticks, lice, and Sarcoptic mange.
Another feature that sets Seresto apart from its competition is that it not only kills these parasites but also repels them. Most flea and tick protection requires the parasite to bite your dog to be effective.
Seresto is also cheaper than most other flea and tick protection coming in at $4.12 per month.
However, all things have their drawbacks, and Seresto is no exception.
Seresto is a flea and tick collar which poses a possible risk for other dogs and humans in the household from either direct or indirect contact.
Also, since Seresto is a collar, it is most effective in the region around the neck, but can be less effective on body parts further from the area such as legs and paws.
Seresto is a good choice for those looking for a more economical option, as well as for those who have dogs that have not responded well to oral treatment.
Click here for our comprehensive Seresto review!
Sentinel
Sentinel, like NexGard, is a flavored chewable monthly flea preventative.
However, Sentinel works more like NexGard Spectrum in that it protects against:
Heartworms
Fleas
Intestinal worms
Also, Sentinel both kills and prevents fleas.
Sentinel contains two active ingredients, milbemycin oxime and lufenuron. When combined, these two insecticides do an excellent job controlling parasites.
However, Sentinel is not effective against ticks.
The cost of Sentinel varies depending on your dog's size but averages $9.15 per month.
Sentinel is ideal for those who do not have ticks in the area they live or travel.
Recommendation
NexGard is an excellent and effective product.
I have used NexGard and did not see any adverse side-effects, even in a puppy.
Though NexGard does have some side effects, all flea and tick products do regardless of if it is an oral medication, collar, or topical solution.
NexGard is as safe as any oral flea and tick preventative, and it is one I would highly recommend.
FAQS
How Long Does It Take for NexGard to Work?
It takes 4 hours to work on fleas and 48 hours for ticks.
How Long Does NexGard Last?
NexGard lasts up to 30 days.
Is NexGard Harmful to Dogs?
NexGard has its side effects like any other medication, and caution is advised in dogs who suffer from seizures.
However, the side effects of NexGard are no worse than other oral flea and tick preventatives.
Does NexGard Kill Dogs?
Dogs can experience severe side effects from NexGard, including death; however, few cases are confirmed.
Though my heart breaks for those who have lost a dog, I believe that the benefits of a flea and tick preventative outweigh that of possible side effects.
It is also prudent to point out that many medications for humans and dogs alike often list death as a possible side effect.
Resources