This post may contain affiliate links. It doesn't cost you anything extra and it keeps our lights on, our families fed, and our dogs spoiled. For all the juicy fine print, see our affiliate disclosure
There are many joys of having dogs part of your life.
However, fleas are not one of them.
Fleas are far more than a nuisance; they can be hazardous to your dog's health, causing issues such as anemia, dermatitis, and tapeworms[1].
The best way to battle fleas is to avoid them altogether. Using preventative medications such as Credelio and NexGard can make all the difference.
But with numerous flea preventatives to choose from, it can be challenging to know which is best.
This article, Credelio vs Nexgard, compares these two chewable flea and tick preventatives.
Below, I will introduce how they work, pros and cons, side effects, and more.
Spoiler Alert: My preference between the two options is NexGard because it is a bit safer when it comes to possible side effects, it is effective against mites, and it is FDA-approved to prevent infections that cause Lyme Disease.
Credelio
Active Ingredient: Lotilaner
Type: Oral Chewable Tablet
Duration: 1 Month
Credelio is an Elanco product.
Elanco has been helping pet parents keep their pets safe for over 65 years and is an American based company.
In addition to Credelio, Elanco manufactures vaccines, medications, and pet therapeutics.
Credelio uses the lotilaner pesticide to kill fleas and ticks. It starts eliminating fleas and ticks in just 4 hours and is 100% effective at 24 hours[2].
Lotilaner is a parasiticide that fatally interferes with the nerve receptors.
Is Your Dog Driving You Nuts During the Day?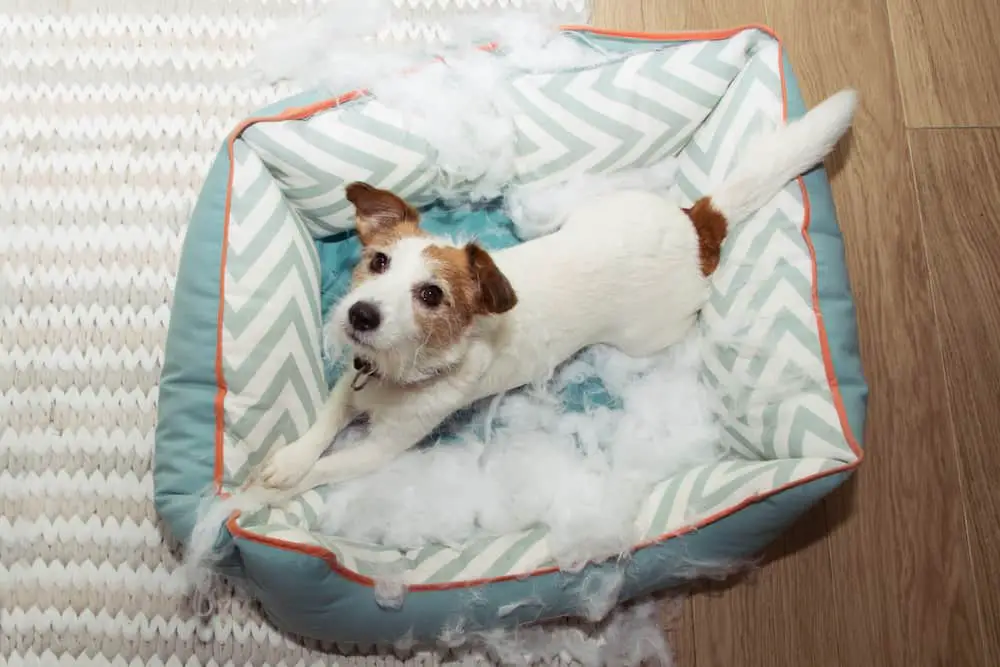 Get Our List of 11 Awesome Indoor Activities to Keep Your Dog Busy and Out of Trouble!
Credelio kills Lone Star ticks, American dog ticks, Brown dog ticks, and Black-legged ticks.
You can find more in-depth info in our review of Credelio flea treatment.
✔
Pros
Goes to work in just four hours
Easy to administer
Extra purified for easier digestion
Kills four varieties of ticks
✘
Cons
The parasite must ingest the lotilaner from biting the dog for the medicine to work
Contains pork, wheat, barley, lactose, and soy
NexGard
Active Ingredient: Afoxolaner
Type: Chewable Tablet
Duration: 1 Month
NexGard is manufactured by the Boehringer Ingelheim Group.
Boehringer Ingelheim Group's goal is "to improve the quality of life of humans and animals." Boehringer Ingelheim is a family-owned global company.
NexGard is a beef-flavored chewable that uses afoxolaner, a parasiticide that disturbs the flea and tick's nervous system.
NexGard starts killing fleas in 4 hours and ticks in 12 hours[3].
NexGard kills Black-legged ticks, American dog ticks, Lone Star ticks, and Brown dog ticks.
In addition to fleas and ticks, NexGard is effective against three different varieties of mites: Sarcoptes, Demodex, and Otodectes.
Related: Nexgard vs Nexgard Spectra: Which One is Right for Your Dog?
✔
Pros
Ideal for dogs with food allergies or sensitivities to gluten and animal proteins, though it does contain soy
Works in just four hours
Protects against mites
Only FDA-approved tick protection to prevent Lyme Disease infection[4]
✘
Cons
The parasite must ingest the afoxolaner from biting the dog for the medicine to work
Does not work as a parasite repellent
Credelio vs NexGard Compared
Below I have pulled together information for a side by side comparison for Credelio and NexGard.
I think the chart makes it faster and easier to compare the two products.
| | | |
| --- | --- | --- |
| | NexGard | Credelio |
| Form | Chewable | Chewable |
| Kills Fleas and Ticks | Yes | Yes |
| Repels Fleas and Ticks | No | No |
| Other Parasites | Demodex mites, Sarcoptes Mites, and Otodectes mites | Nothing listed |
| Active Ingredient | Afoxolaner | Lotilaner |
| Duration | 1 Month | 1 Month |
| Prescription Needed | Yes | Yes |
| Waterproof or Water Resistant | Waterproof | Waterproof |
| Price per Month (Based on a Small Sized Dog) | $18.68 | $18.52 |
| Minimum Age Requirement | 8 Weeks | 8 Weeks |
Side Effects
All medications have side effects, and flea and tick treatments are not exempt.
These are the most common side effects for Credelio and NexGard:
Credelio
Weight loss
Elevated blood urea nitrogen
Increased urination
Diarrhea
Seizures
NexGard
Vomiting
Diarrhea
Lethargy
Loss of appetite
Itching
Seizures
✘
Note:
Both Credelio and NexGard use active ingredients in the isoxazoline class of drugs, which has been documented to cause adverse neurological reactions such as seizures, tremors, and lack of coordination
[5]
.
Additionally, it is advised to use caution with dogs with a history of seizure activity when using isoxazoline class medications.
Which is Safest?
Winner: NexGard
They are about the same, and though the side effects are similar, Credelio lists elevated blood urea nitrogen, which impacts the kidneys' function.
Which Works Fastest?
Winner: Credelio
Credelio states that it starts working to kill flea and ticks in just four hours.
NexGard does not state how long it takes for it to kill ticks, though it is only four hours for fleas.
Which is the Cheapest?
Winner: Credelio
Credelio is cheaper than NexGard by about sixteen cents, so they are pretty much the same per month.
Which Lasts Longer?
Winner: Tie
They are both listed to last 30 days.
Overall Winner
Winner: NexGard
NexGard protects against more parasites, has fewer allergens, and is the only FDA approved tick preventative that protects against Lyme Disease.
Standout Features
Though the two medications are very comparable, there are a couple of small differences that set them apart from one another:
NexGard kills more parasites and is more allergy-friendly.
Credelio kills ticks in less time than many other tick preventatives.
Conclusion
The two products are very much alike.
Though, NexGard is a product I have confidently used with my puppy Mira.
It is safe, and it helped take care of her demodectic mange when she was around 12 weeks old, which is why I am partial to this product.
However, even if I hadn't used it for Mira, I would still pick NexGard over Credelio for the slight differences in ingredients, side effects, and its protection against Lyme Disease.
Use NexGard If:
Your dog has food allergies such as pork, wheat, barley, or lactose
Your dog has issues with mites
Your dog has kidney issues
Use Credelio If:
You need a fast acting flea and tick preventative
FAQs
Can I Use NexGard and Credelio Together?
Though they do not use the same active ingredient, both parasiticides are in the isoxazoline class of drugs, so it is not recommended to use the two together.
Which is More Effective Against Fleas, NexGard or Credelio?
The two are about the same.
They both start killing fleas in just four hours.
Resources